Introduction
Conventional wisdom is that Brexit won't be significant for financial markets. But while it's true that the S&P has bounced back, we are starting to see real-world evidence that Brexit will actually have a big impact. Yesterday's luxury goods sales data, and the recent performance of precious metals, indicate that we're dealing with a very significant event.
The reassuring narrative in the aftermath of the Brexit vote was coined by Ben Hunt of Salient Partners. Mr. Hunt is a wonderful financial analyst and writer who comments weekly about game theory issues in the investing world. He has often pointed how central banker "narratives" affect financial markets. Here is a link to his recent article about the Brexit vote. I highly recommend reading his work.
Mr. Hunt wrote that Brexit isn't a Lehman event; it's a Bear Stearns event. Risk assets will recover shortly. We'll have a good amount of time to put our investment houses in order before the main event - a Lehman event - comes along.
Here's a very quick summary of Bear Stearns. In March of 2008, Bear Stearns collapsed when investors refused to buy its short-term paper because of concerns about the company's financial stability. Bear held a lot of subprime mortgage debt whose value was suspect. The company's stock fell from $93 per share in February of 2008 down to $2 in March of 2008. The Federal Reserve then intervened to broker a shotgun wedding pay the dowry for a wedding between Bear Stearns and JPMorgan Chase (NYSE:JPM). The big financial events of 2008 came later, in September, starting with the collapse of Lehman Brothers.
Mr. Hunt is telling us that Brexit is the same as Bear Stearns. Brexit won't tank markets, though it might be a foreshock to events which really will be consequential. (It's ironic that his comments about the post-Brexit narrative have themselves become the accepted narrative to describe Brexit.)
So far, Mr. Hunt has certainly been right about the markets. Most stock markets have fully recovered, though it's been an ugly period for European banks. The VIX has fallen to pre-Brexit levels. Maybe Brexit was just a visit by a swarm of angry voters who like so many bees, covered our TV screens and then buzzed away to parts unknown and presumably inconsequential.
The Real Impact of Brexit
I think that the analogy between Brexit and Bear Stearns is flawed because it does not properly characterize the real nature of the Brexit vote. Bear Stearns was mainly a financial event. Brexit was a real world event- as real world as you can get. The ripples from Bear Stearns were primarily in financial markets. The ripples from Brexit are in the real world.
Yesterday we felt one of the first such ripples. According to the real-time analytics firm, Edited, luxury goods sales fell dramatically after Brexit.
Here's a link to the Seeking Alpha summary. The more detailed press release by Edited provided additional important data. The report compared full-price online sale prices (called "sell-outs") for luxury goods for the period between June 24 and July 3 of 2016 versus 2015. (For reference, the Brexit vote was on June 23.) Edited found that the number of items that sold for full price during the first two weeks post-Brexit fell by 48% year-over-year. Full price sell-outs for European brands were hit particularly hard, with Luis Vuitton falling 73%; Saint Laurent by 68%; Bottega Veneta by 81%; and Balenciaga by 55%.
Study authors noted that Brexit seemed to be the culprit. They found that sales fell 60% when comparing the two weeks immediately prior to Brexit to the two weeks immediately after.
There are some important qualifications to note here.
First, the data addressed only online sales. Online sales are generally less important for luxury retailers than for some other businesses, though surely there is an overall correlation in sales trends.
Second, the study focused only on full-priced, as opposed to discounted-price sales.
Third, we are talking about a short period of time here, only two weeks. Short-term trends show much more volatility than longer term trends. It is not clear whether the sales decline will persist. It may or may not.
Finally, not all luxury goods manufacturers were hurt. For instance, the suddenly weaker British pound helped Burberry (OTCPK:BURBY) to increase its online full-priced sales by 50%.
But despite the qualifications, this data from Edited should not be ignored. It's the first real-world study of Brexit's impact on consumer decision-making.
No similar sudden decline in luxury goods sales happened after Bear Stearns. For instance, sales of Tiffany's (NYSE:TIF) and LVMH-Moet Hennessy Louis Vuitton (OTCPK: OTCPK:LVMHF) were strong throughout the first couple of quarters of 2008. For the three months ending on April 30, 2008, TIF sales were up 12%, and same-store comps were up 3%. Coach (NYSE:COH) sales were up 18.9% for the quarter ending March 29, 2008, and rose 11% for the third quarter (despite the fact that the Lehman bankruptcy hit in the third quarter).
Here are charts for performance of TIF and LVMHF immediately post-Bear and post-Brexit. In both charts, an index of 1 represents the stock price on the day of the event.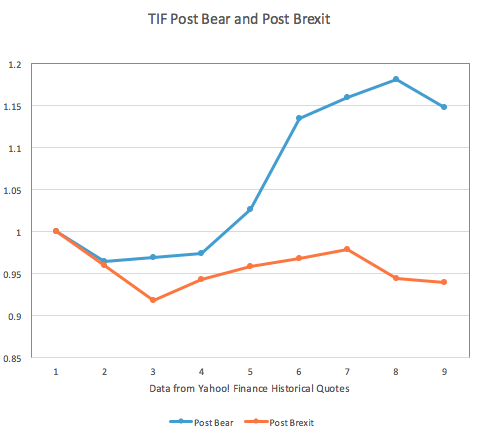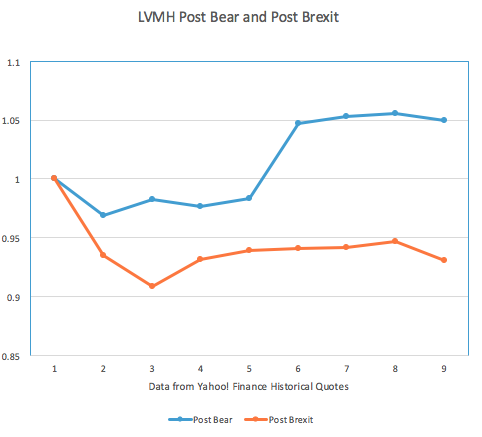 There is another more tangible, measurable, real-world indicator that Brexit is not Bear. It's the trend in precious metal prices since Brexit. Gold (NYSE:GLD) and silver (NYSE:SLV) prices rose immediately after the event, which is to be expected, but then their rise continued late last week. Maybe last week was a blow-off top of a nice run in the metals prices. But maybe it wasn't. Anyway, it's notable that precious metals didn't act this way after Bear Stearns. Here's an overlay of gold prices immediately after both events.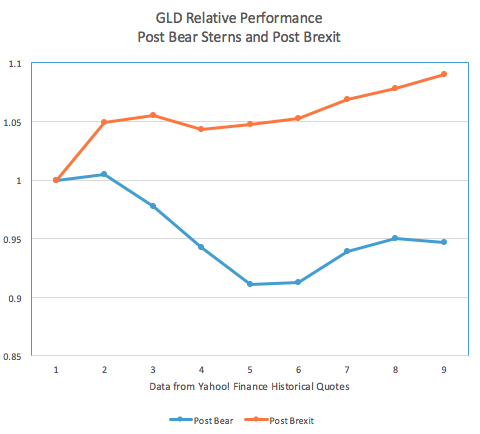 So we are seeing early evidence that the Brexit vote is causing effects in the real economy, something that Bear didn't. Does this make sense intuitively? I would argue, yes.
Individuals throughout Europe but especially in the UK have good reason to cut back spending. Remember that for months leading up to the Brexit vote, British citizens were subjected to nonstop claims about how Brexit would destroy the British economy and cause massive layoffs. The voters chose Brexit. So now of course they fear the worst.
Brexit will immediately freeze investment decisions of many European companies. After all, the UK economy is the fifth largest in the world. The UK accounts for 17% of total EU GDP. It's now possible that if companies invest in the UK, they could face tariffs from mainland Europe - and vice versa. They are better served in the short term by waiting to see what happens.
Brexit is likely to affect trade between the UK and the EU. German manufacturers can't be happy now. More than 40% of Germany's GDP is from exports. If the UK's access to European markets is limited as a result of its exit from the EU, then EU access to the UK will likely be similarly limited. Germany will suffer just as will the UK. So one would think that German manufacturers are probably already delaying some decisions about manufacturing and investment.
The British pound has declined by more than 10% against the euro in the last two weeks. Just as important, the pound is down a similar amount against the RMB. China is already facing weak domestic and export demand. There's a strong possibility that the Chinese will devalue if the pound and euro weaken further. The political upheaval in Britain is causing currency market changes, some of which may be very large and consequential. These currency changes are already affecting trade and are creating more uncertainty.
In my opinion, what we've seen so far from Brexit is a trend, not a trade. Brexit was an event. But it was an event that won't resolve itself quickly at all. Brits disagree about when to trigger Article 50. The EU is also divided. Bureaucrats in Brussels want to punish the UK, while big business and many countries want to continue to trade with the UK and therefore take a softer line. The EU has kicked the Greek can down the road for eight years now. They will have great difficulty agreeing on what to do with the Brits.
So in my view, Brexit will have several significant, investable real-world effects.
First, we will see weakening in European GDP. The luxury goods sales data was just the canary in the coal mine. Weakness will be caused by uncertainty about the economic and political arrangements to be negotiated between the UK and Europe.
Stock market performance will likely be weak as a result of economic weakness. We will continue to see poor retail sales, particularly for high end retail. It's time to trade out of luxury retailers for now.
We will see two types of financial impacts. One will be the "normal" financial strains caused by weakening economies. We've already started to see this in Italy. The other will be a potential liquidity crunch, as we've seen already with British property investment companies.
Conventional wisdom comparing Brexit to Bear understates the likely real economic term consequences of Brexit. Comparing the Brexit real-world event to the Bear Stearns financial world event isn't the right analogy. Perhaps the best analogies would be to compare Brexit to other consequential, unexpected real-world events. You can pick your own political event from times past. But Brexit isn't 1987's Black Monday; the Asian and Russian financial crises of 1998; Enron or Lehman. It's a different beast entirely.
Disclosure: I/we have no positions in any stocks mentioned, and no plans to initiate any positions within the next 72 hours.
I wrote this article myself, and it expresses my own opinions. I am not receiving compensation for it (other than from Seeking Alpha). I have no business relationship with any company whose stock is mentioned in this article.
Editor's Note: This article discusses one or more securities that do not trade on a major U.S. exchange. Please be aware of the risks associated with these stocks.