Nasdaq Inc (NASDAQ:NDAQ) is a financial services company that owns and operates the NASAQ stock market, as well as eight European stock exchanges. While NDAQ is headquartered in NYC, it has a global reach fueling operations across 6 continents. Since first being traded on OTC markets in 2002, NDAQ has grown to over $10B in market cap.
As an investor in financial markets, I'm obviously familiar with Nasdaq. But I hadn't considered investing in it until recently. It's only when I noticed the stock was trading near all time highs that I knew it was time to dig deeper.
I'm particularly interested to look into the long term financial statements (source) to try and get a feel for the company's historical operating results. Since the company has few competitors, I'm curious to see if these oligopoly-like traits show up in historical financial data. But before we get into that, below is a long-term price chart, so you can see for yourself how you would have benefited from an investment in NDAQ.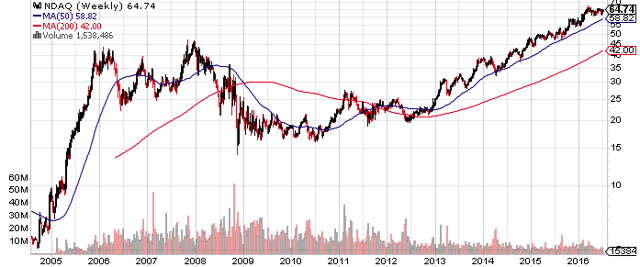 Click to enlarge
Now, with that backdrop in mind, let's get into the financial data. I'm curious to see how NDAQ's unique competitive position and strong share price performance is reflected in their data.
Nasdaq Inc: 10 years in review
When getting familiar with a company, I like to look at their long term operating results, as shown by their financial data, to try and find trends. And the first place I like to start is the top line. So what does the data look on NDAQ?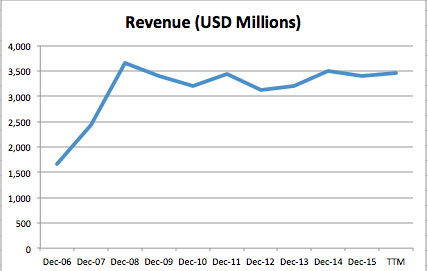 As you can see, after a quick jump, revenue has been more or less stagnant for the last 10 years. This isn't exactly an encouraging sign. And if you look closer into the segment data (source), you can see the mixed results. The largest segment has stalled the last year. And while information services and listing services are growing, will this be enough to drive top line improvements?

Click to enlarge
Another potential headwind is that IPOs have slowed in recent years (source). Despite this, listing services revenue has continued to slowly grow. So it will be curious to see if this segment gets a bump as the number of IPOs revert positively to the mean; or, is NDAQ facing a secular shift with companies like Uber and AirBnB staying private? Only time will tell.
Further, consensus estimates indicate growth over the next 5 years is likely to be in line with what we've been seeing (source). So if revenue growth has plateaued, what's driving the price increase in shares of NDAQ?
Well, a quick look at the bottom line indicates that despite the flat revenue, NDAQ has been able to grow earnings quite consistently. It's actually rather remarkable. And it also looks like the earnings are high quality, given they're backed by cash flow. See for yourself: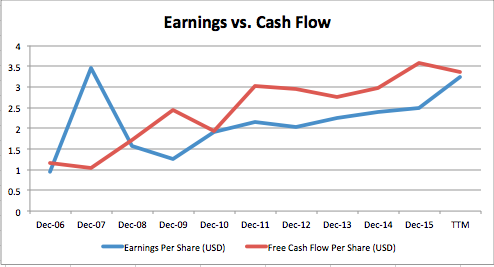 Those numbers look pretty good, right? I'm particularly impressed by the cash flow numbers, which show earnings aren't being manipulated with accounting tricks. So given the discrepancy between the top and bottom line, the key variable left is probably margins. If NDAQ has been able to generate profits from their revenue more efficiently, this would explain the extra bottom-line cash. Given that NDAQ operates a technology-driven business with plenty of opportunity for automation, it's conceivable they could be improving their operational efficiency pretty consistently. And as you can see, the margin story checks out: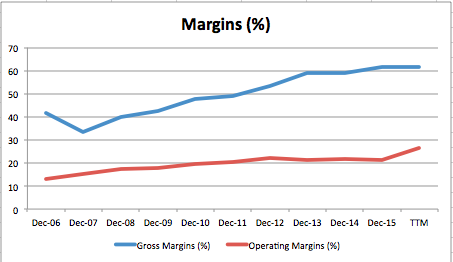 To be frank, those margins look great. NDAQ has consistently improved gross margins by selling higher value-add services at higher price points. The steadily improving operating margins also indicate the underlying business is consistent, healthy and being run with increasing efficiency. So how does this relate to the business model?
Well, NDAQ has over 17,000 clients, and a great ability to cross-sell and upsell their higher margin services. Credit Suisse predicts a move into corporate governance, compliance services and other recurring value-adds for their clients that will meaningfully contribute to the bottom line (source). They also cite growth of the ETF and index categories as a secular tailwind for NDAQ listing services. That said, since NDAQ provides a lower cost listing option, the company does face some pricing pressure compared to NYSE.
Another reason I'm somewhat optimistic about NDAQ is because they've recently begun returning cash to shareholders via dividends. While it's still a short track record and the current yield is below 2%, the dividend growth has been impressive: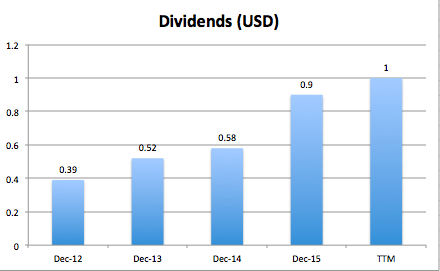 A 30% payout ratio also indicates there is further upside to grow distributions to shareholders. So if the company can continue executing, this could be a compelling dividend growth opportunity. Given the unique niche of NDAQ, I'm inclined to think they'll be able to continue growing their dividend. All that said, investing in NDAQ isn't anything close to a sure bet.
Potential Risks Facing NDAQ Investors:
When it comes to risks, NDAQ has a couple of hurdles on the horizon. For one, if they can't start growing revenue, the company will be hard pressed to consistently increase their dividend. This is the biggest risk to dividend growth I can see, though it might be mitigated by their push into new services. I'm also curious to see how the exchange landscape continues to evolve, with competition from IEX on one end and International Continental Exchange on the other.
Another big headwind for NDAQ is valuation. Despite the stalling top line, the unique nature of NDAQ's business (as reinforced by their strong margins) seems to be commanding a premium price. But no investment is perfect at too high a price. That's why investors who buy shares of NDAQ at over 15 times cash flow right now risk overpaying. Historical data suggests it may be more prudent to wait until NDAQ valuation falls back in line with the S&P 500: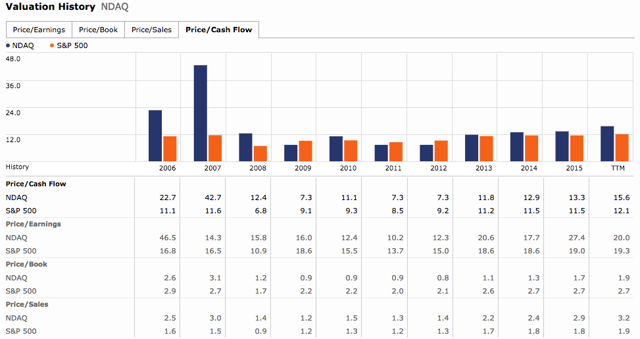 Click to enlarge
In addition to being aware of valuation, it's worth considering how NDAQ has been financing itself. The company has consistently maintained a debt/equity ratio of about 0.4. Given that interest expense is only about 5% of operating income, this isn't too much of a concern for me and the operating leverage may be allowing them to improve margins. The other thing to note is that while shareholders haven't been hugely diluted, NDAQ has issued more shares in the past. So should the company need to raise a large amount capital (for a future acquisition, for example), it wouldn't be unprecedented for NDAQ to dilute shareholders.
Conclusion: Placing an Order for NDAQ
While NDAQ does have some warts, no investment is perfect. And in this case, I'm willing to put earnings above sales. Given the strong profit trends and unique competitive position, I've started a small position in NDAQ and will monitor the situation closely. As long as cash flow per share looks as though it will continue to increase, I'll probably stick with my position and opportunistically add on any sustained pullbacks, as the yield pulls higher. I'm impressed by the competitive moat, diverse list of customers and happy to own a piece of this business.
But that's just my take based on the historical financial trends. What do you think about NDAQ? Can it continue to grow earnings and the dividend, or will the lack of topline growth catch up to it?
Disclosure: I am/we are long NDAQ.
I wrote this article myself, and it expresses my own opinions. I am not receiving compensation for it (other than from Seeking Alpha). I have no business relationship with any company whose stock is mentioned in this article.