Despite Google's (NASDAQ:GOOG) (NASDAQ:GOOGL) ambitions to move from the device to an AI-based future, the company's involvement in hardware is in fact growing. According to a recent report from The Telegraph, Google plans to further expand its product portfolio of tablets, laptops, and streaming devices, and introduce its very own smartphone:
"Google is planning a shake-up of the smartphone market by releasing its own handset, a move that would tighten its grip on mobile software and see it compete directly with the iPhone. The new device, which will be released by the end of the year according to a senior source, will see Google take more control over design, manufacturing and software."
Google's long-time interest in hardware is well known. Despite having had its share of misses with Google Glass and Motorola and Nest acquisitions, Google is determined to succeed in the device business. Earlier this year, the company hired Rick Osterloh, the former president of Motorola, to lead a new hardware division and unify Google's various hardware projects under one roof. The company's growing ambitions with devices then inevitably result in plans to design, brand and sell the most important technology product in our lives -- the smartphone (Google is still expected to continue working with OEMs on further Nexus handsets).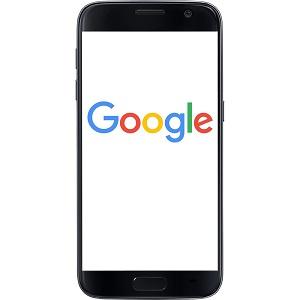 Google has quite a few reasons to design its own smartphone and have better control over its software, services, and total user experience. In the Android segment, the company is losing power to companies like Samsung and Huawei, fragmentation continues to plague the platform, and the European Commission is leading an antitrust investigation into Google's prioritizing of its own services on Android devices. On iOS, Google enjoys having access to hundreds of millions of highly engaged and affluent iPhone users (Goldman Sachs analysts estimate that ~75% of Google's mobile search revenue in CY14 was made from iOS) but its position there is getting weaker as Apple stealthily pushes Google to the edge of iOS's search ecosystem.
If you are Google, you need to act and take control. The problem is -- it is now too late. What's more, Google is not well positioned to compete and find long-term success in the only segment which offers differentiation, engaged users, and sustainability -- the high-end of the smartphone market.
Timing. In 2016, the smartphone market is less attractive, with flat growth and firmly established players in the premium segment. At this stage, it is simply too late to compete against hardware powerhouses like Apple (NASDAQ:AAPL), Samsung (OTC:SSNLF), or Huawei. Their success in the handset business based on sustained innovation, vertical integration, and strong distribution has been years in the making. For example, Apple's in-house chip development goes back a decade and the same applies to building its carrier relations and extensive distribution network, which has now over 200,000 POS.
Strategic fit. Google is organized in a way to support the company's core services business built around data and scale. In such a corporate environment, resource allocation (including time, focus and energy) will always discriminate against hardware products. These will essentially be seen as side projects as they represent just a small piece in a giant puzzle of different devices needed to collect as much data as possible. In the case of Android, that puzzle has more than 24,000 different pieces -- that many distinct models of Android smartphones and tablets were counted by OpenSignal in 2015. On top of its service-oriented culture, Google lacks vertical integration and carrier distribution -- critical components to succeed in today's smartphone market.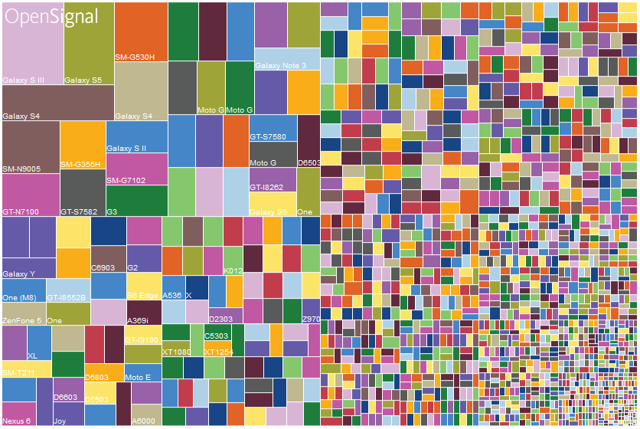 Click to enlarge
Android fragmentation as measured by OpenSignal (as of 2015)
Overall, Google's own smartphone offers little upside compared to its current Nexus strategy (Nexus devices have never been great sellers in the first place) while the initiative is likely to provide an unnecessary strain on the company's resources and expose Google to risks like inventory management. Having its own smartphone brand next to the Nexus line then actually further increases Android's fragmentation. All in all, given Google's inherent limitations in the hardware space, the company would be best served by improving on its current Nexus strategy, namely expanding carrier distribution.
Investor takeaway
Google is sometimes a study in contrasts. The company wants to move beyond the device and embrace an AI-based future, yet it actually increasingly invests in hardware and expands its product portfolio. It wants to collect and organize as much data as possible, yet at the same time wants to exert more control and release its own smartphone. While a Google-designed handset would give the company increased control over the Android user experience, the product would have little chance of achieving long-term success as timing and poor strategic fit work against the company. Investors should not expect a positive impact on the company's bottom line.
Author's Note: If you have enjoyed reading my article and found its content valuable, please take five seconds to follow me by clicking the "Follow" button next to my name at the top of the page.
Disclosure: I/we have no positions in any stocks mentioned, and no plans to initiate any positions within the next 72 hours.
I wrote this article myself, and it expresses my own opinions. I am not receiving compensation for it (other than from Seeking Alpha). I have no business relationship with any company whose stock is mentioned in this article.
Additional disclosure: This is no recommendation to buy or sell securities as that carries with it very high risks. The information contained in this article is for informational purposes only and subject to change at any time. Do your own due diligence and consult with a licensed professional before making any investment decision.
Editor's Note: This article discusses one or more securities that do not trade on a major U.S. exchange. Please be aware of the risks associated with these stocks.