It's been 2 months since my last update on the sector. Time constraints and 100% focus on making as much money during this bull market in gold has been the reasoning. However, I laid out an extensive blueprint in my early May article: about how I was playing this breakout, where I thought the sector was going, as well as discussing over 40 individual gold and silver stocks (valuations, prospects, and my overall opinion). For a refresher, you can find the article here: How I'm Playing The Breakout In GLD.
In that update, I mentioned that gold seemed well on its way to the $1,350-1,400 level in the short term, which equated to about 130-135 for the SPDR Gold Trust ETF (NYSEARCA:GLD). At the time, GLD was around 123 and change, and I thought those targets would be reached by early June. However, it played out slightly different as GLD took a small detour and began to correct in May instead of continuing to move higher.
But within two weeks GLD made back those losses, and it's now right in that 130-135 target zone. This is the first real area of resistance that I saw and it could be tough for gold to bust through this on the first try. I believe that GLD will put in a short-term peak here over the next few days and then we will see some consolidation for the rest of July - with possibly a swift $50-$75 sell-off in the precious metal.
(Source: StockCharts.com)
I mentioned in the last update about how July was a very tough month for the gold sector in terms of seasonality, which is why I thought gold would make a big move before then. And I'm not convinced that it will spend the rest of the month going parabolic. Rather I believe the dog days of summer will eventually start to weigh on the metal as the month progresses. Should it indeed play out this way, then by mid-to-late August it could be retesting those levels again. If it hasn't by that time, then it will eventually surpass them sometime in the Fall.
Basically, GLD is getting slightly over-extended in the short term, and is becoming too overbought. A perfect time to shake the tree a little (or a lot), before the rally resumes.
So the answer to the question of this article is: "a little bit of both."
As for the HUI, it has played out exactly as I forecasted it would back in early May (at least so far but that could always change). At that time, it was at 233.46, and had reached my 225-250 price objective set forth a few months before. That's where I always believed the HUI would end up before we saw the first decent sized correction of this run that started at 100 back in January.
The 250 level would be the first real overhead resistance area, and it seemed possible for a reverse head and shoulders pattern to form with 200 being the low point of that inverse pattern. So it was now in the "caution zone," as I warned, and I saw two scenarios going forward for the Gold Bugs Index. Scenario 1 would entail the HUI peaking at 225-250 and spending the next several months consolidating in the 200-250 range. Then there was scenario two, in which the HUI just keeps on increasing from now until the end of the year, with several brief but possible sharp corrections along the way to work off over-bought conditions. Below is a look at these two possible outcomes that I laid out.
(click to enlarge)

Click to enlarge
(Source: StockCharts.com)
As I mentioned in the article:
In both scenarios a correction could begin sometime in the next several weeks, and I think there is a good probability that the HUI will see the 200-210 region again between now and the mid-summer time-table.
That 233 level was actually the short-term peak for the HUI, and it proceeded to decline for the rest of May, finally bottoming out around that 200 region that I had set as my target low for the consolidation period. Curiously enough, the HUI is following scenario 2 to a T. It would be nice if that continued, but my experience in the markets tells me that the odds are against this occurring.
It's impossible to predict with a very high degree of accuracy what is exactly going to happen in an extremely volatile sector like gold. But I will say should it continue to follow this path that I laid out and reach 285-290 sometime in the next week, don't be surprised if we get a pullback to the 240-250 range by the close of this month. Either way, I think we retest 250 at minimum sometime in mid-late July.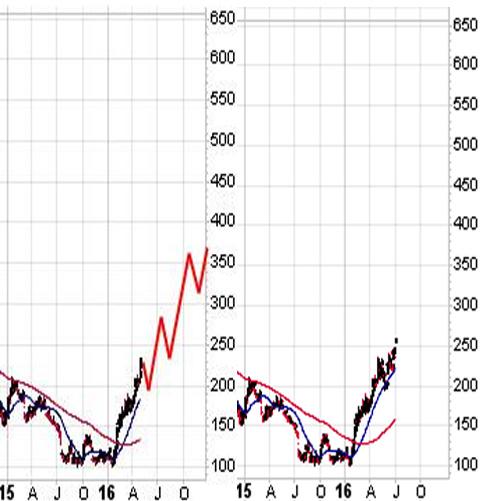 (Source: StockCharts.com)
But it's still too early to say which scenario is ultimately going to play out, and even though the HUI is at 272 and looking very strong, I would never rule out a retest of 200 again. For most investors that might seem unlikely at the moment, probably just as much as 272 by the start of July did a month ago when the HUI had tanked to that 200 level.
I must admit that I now favor a continued uptrend with a possible sharp pullback starting in a week or two. I was fairly confident that the HUI would retest 200 back in May. Now I'm not so sure we will see a second retest, but I will leave open the door ever so slightly for that to occur.
As I mentioned last time, there is a strong seasonality that the gold sector is coming up to during the July period. This month in particular is a tough period for the sector in general, as only 25% of the time over the last 20 years has the HUI managed to close the month of July higher than it opened (with the average loss for that month being -3.7%). So I think caution is warranted here - at least until we get through this month - and especially given the run the HUI has had already.
USLV Is Going Vertical
The divergence that was occurring in early April between physical silver and gold/precious metal stocks is now starting to close. At that time, I stated that given how far silver was lagging the sector, I decided to invest in the VelocityShares 3x Long Silver ETN (NASDAQ:USLV), as I expected USLV to possibly produce returns in the 200% range over the following weeks and months (far outperforming silver stocks in general).
USLV is up 118.5% since early April, with gains exceeding even some of the best performing silver stocks.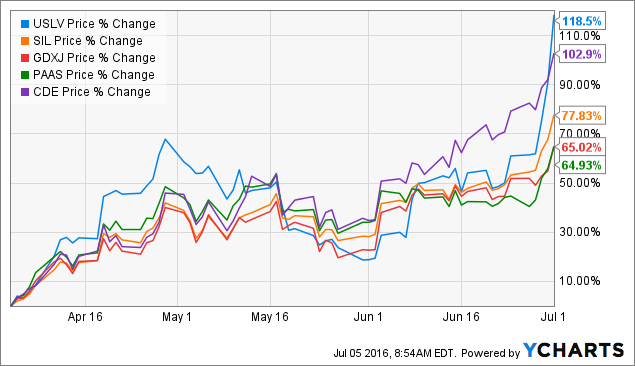 In my May 4th update, I mentioned that my very near-term (May/June) target for silver remains the $20-22 region. Silver just reached the midpoint of that target hitting $21. It has backed off a little but is still slightly above $20. This is most likely going to be the first real overhead resistance level for the metal, as that was the high mark where it was consolidating back in 2014 after the initial plunge.
So it's time to be very cautious on USLV. I had always planned to at least exit half of this trade at around $28 (it's just over $27 now), and actually did so yesterday. To understand why I picked that level and was confident USLV would hit it when the ETN was only $12 a few months ago, you must look at USLV's counterpart - the VelocityShares 3x Inverse Silver ETN (NASDAQ:DSLV).
I posted this chart below of DSLV in April to show the gains that were possible in the VelocityShares 3x Long Silver ETN. The 350% increase in DSLV in late 2012 to mid-2013 occurred when the price of silver plunged almost 50%, going from $34 to $18 over the course of 9 months. Silver bottomed in December 2015 at around $13.75, a move up to $20-$22 by the early part of summer would equate to a 45-60% gain for the physical metal.
Similar percent increases and time frames. So it was very possible for a 350% move in USLV from the lows hit late last year, which would equate to a maximum price objective of around $40. However, both of these are 3x leveraged funds, and their ultimate percent increases depend on the size of their corrections along the way. In other words, I wasn't going to wait for $40 on USLV before I sold because it might not be reached.
By early April, silver was still very lethargic and USLV was only 15% off of its lows from late last year. Silver itself had only gone from $13.75 in December of 2015 to $15 by that time. Given that I felt silver would play catch-up in a hurry - and at minimum reach $20 considering what the rest of the sector was doing and factoring in resistance levels - I felt strongly that USLV should be able to capture at minimum a 125-150% increase.
Meaning, I expected it to go from $12 to $26-$30, with $40 being an outside shot depending on if there was a major correction along the way and if silver reached the high mark of $22. If it wasn't for the sharp drop in silver that occurred in May, USLV would be closer to that $40 level than it is today. But I already compensated for that, which is my exit point was around current levels.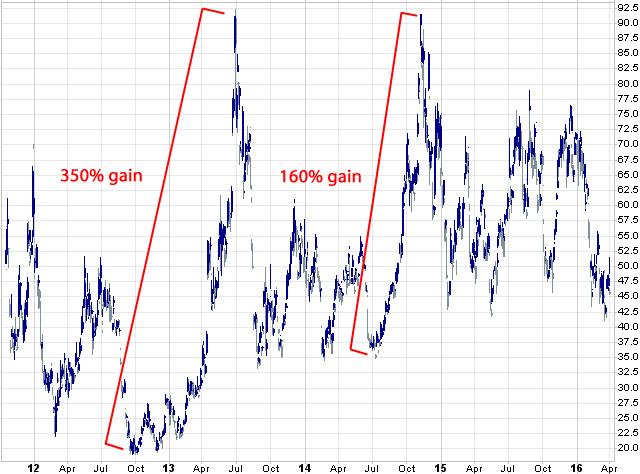 (Source: StockCharts.com)
If physical makes a move to $22, then USLV will be in the mid $30s soon. But we are in that target zone for silver and could easily see a correction back down to $18-19.
Since USLV is a 3x leveraged fund, it's important to be careful and not over-extend your stay as profits will evaporate fast. In the above chart, look at how DSLV surrendered almost all of its gains in just 2 months while silver took a breather and rebounded from the massive sell-off. USLV will do the same in the near future.
So it's time to be very cautious with USLV, I doubt that it will have far greater gains than DSLV had during its "bull run." There will be opportunities in the future to play USLV again and rack up some stellar profits. Now isn't one of those times. I have a little USLV left, which I might sell in the short term depending on where silver trades.
Gold And Silver Stocks
My preferred way to play this gold and silver bull market is via precious metal shares. I have been stating that ever since this sector was bottoming out and that remains the case today even after the monster runs that many stocks have experienced. Some gold and silver producers' share prices are very overextended, but there are still major opportunities as we do have some laggards. And by no means do I feel that we are close to this run being over with anyway.
This is a bull market, one that I believe will be with us for at least a few years. Right now, we are most likely coming up to the transition to Stage 2 of the bull run. The first stage is the initial surge off of the bottom, that has already occurred (or at least is now winding up). Stage 2 will last the longest and is the heart of the bull market, but gains won't be as impressive as they have been during the last 6 months. I still envision 200-300% increases across the precious metal share landscape during this stage, but it will occur at a slower pace. More of a steady crawl higher with a lot of backing and filling. Stage 3 is the mania, where we get another (and final) massive surge in valuations.
The easy money has been made. Now it's time to focus on companies that still have tremendous value and that could outperform during Stage 2. I highlighted many of those companies in my May update, so again use that article for reference if you need to. However, a lot has happened over the last 2 months in terms of company specific news and individual stock price appreciation/valuation metrics. So I wanted to give a brief update on some of these names and let everybody know where I continue to see opportunities. As a side note, I plan to do major updates with much more detailed analysis on many of these stocks over the next few weeks. So look for a lot more company specific articles soon.
B2Gold (NYSEMKT:BTG) - I scaled back my BTG position slightly in May, as it has a major run from where I bought, but I still held a large amount of shares in terms of overall portfolio percentage. However, I actually sold out completely several days ago as I'm concerned about news coming out of the Philippines. BTG has a major gold mining operation in the country, as its Masbate mine produces roughly 200,000 ounces of gold annually and makes up a large chunk of B2Gold's total 500,000+ ounce gold output.
The issue is a new President has been elected in the Philippines, and he has warned that he could cancel mining projects that are causing environmental harm (not that Masbate is). He isn't against mining though. However, more concerning is the person he appointed to the head of the Department of Environment and Natural Resources - Regina Lopez. From a recent article on the issue:
Lopez has described as "madness" even to consider open pit mining - a method used by many miners in the Philippines and elsewhere - because of the environmental impact.

Regina Lopez's appointment to head the Department of Environment and Natural Resources, has sent shockwaves through the mining sector, which fears a nationwide crackdown.

"I'm not against the mining industry but I'm against suffering," Lopez told reporters on her first day in office as part of the administration of Rodrigo Duterte.
Masbate is an open pit mine, so this would be squarely in the sight of the new environmental minister. I'm still bullish on BTG, as they have some very strong growth planned and I don't find their valuation too outlandish given the increase in production that will be brought into the fold over the next 1-2 years. However, there is too much uncertainty regarding Masbate right now. What's interesting is the stock hasn't reacted negatively to this news at all. It's basically ignoring it altogether. But I feel that it's best to move to the sidelines for now until we get more clarification on the matter, that might take a while though.
Aurico Metals (OTCPK:ARCTF) - Still massively undervalued today just as it was a few months ago, but it is increasing in price. They have a major royalty on Alamos Gold's Young-Davidson mine, plus they own many other smaller royalties. When you combine the Kemess project, the valuation of Aurico becomes extremely compelling. I have scaled back on Alamos and put more into Aurico because any negative news on YD will hit both companies. This is a great pair trade (although I wouldn't short Alamos at this time, rather just rotate into Aurico more) and I plan to write a more in depth article on this in the short term.
Eldorado Gold (NYSE:EGO) - Added more to this position recently but still higher risk given exposure to Turkey, and Greece to a lesser extent. But they announced in mid-May that they have now sold all of their gold mines in China, which should bring in about $900 million of cash when the deals close. I wasn't one that felt EGO needed to move out of China, so I'm on the fence ultimately about whether this was the right move. However, it does bring in substantial cash and EGO's mines in Greece seem to be back on track in terms of construction. They will be very low-cost mines and will eventually make up for the production that will be lost from the exit from China. The whole Brexit issue though brings a little more uncertainty to Greece and the European Union.
Exeter (NYSEMKT:XRA) and Almaden (NYSEMKT:AAU) - I'm bullish on both of these junior developers, more bullish on AAU with their very strong Ixtaca gold/silver project in Mexico. But these have risks too. Probably more in terms of local Governmental approval on Ixtaca (some mixed signals here). In terms of XRA, their Caspiche project in Chile will gain more and more attention as the price of gold moves higher, but copper needs to come along for the ride for XRA to really appreciate like I think it can.
Both stocks seem to be moving in tandem - big spikes into April and then a few months of consolidation followed by big spikes again. Welcome to the world of investing in junior miners with small floats and low average volume. The second somebody decides to buy a decent size position these move at double-digit percentages. I added more XRA before the latest spike, and I added more AAU when it started to retest the previous highs in April.

Click to enlarge
(Source: StockCharts.com)
First Majestic (NYSE:AG) - I sold out of all of my position in AG over the last few weeks as it has run too far compared to other silver producers in the sector and now offers inferior value at the moment. AG was one of the first companies I started buying in January of this year. This was a $2.50 stock at that time and now it's at $15. Nobody wanted it then, but now a lot of people are piling into the shares and not paying attention to valuation. They just want momo.
But I'm a value investor (which is why I was pounding the table on this sector before this bull started), and I find something like Pan American Silver (NASDAQ:PAAS) much more compelling. It trades at a market cap of $2.6 billion compared to $2.3 billion for First Majestic, yet PAAS produces twice as much silver (25 million ounces) and gold (180,000 ounces) annually compared to AG's 12-13 million ounce silver and 70,000 ounce gold annual haul. AG has an advantage in terms of AISCs, but not nearly enough to warrant this valuation gap. And PAAS will actually see a significant drop in terms of cost in the next few years as two major new expansion projects at Dolores and La Colorada come online.
Throw in the potential of Navidad being back on the table considering the new Argentinean Government seems very pro-mining, and PAAS becomes a bargain in comparison to AG. I don't expect AG to crash, I just think the upside is greater with PAAS. PAAS isn't dirt cheap though like it was 6 months ago, but by comparison to others, it remains compelling. Even a company like Endeavour Silver (NYSE:EXK) is a better valuation play at the moment compared to First Majestic. I'm still bullish on AG "the company," just more neutral now on the stock.
Primero Mining (NYSE:PPP) - I have been watching this one from the sidelines during the last few months - given the tax issue they are having with their San Dimas mine - but I took a position when it got close to breaking above the 200-day. There is still a lot of risk to Primero depending on the outcome of all of this. However, up until a few days ago, the stock had barely moved off of its lows and will probably be $5-$7 a share if this tax issue with the Mexican Government is resolved amicably.
I think the share price was already reflecting a worst-case scenario (much lower cash flow from San Dimas if Primero is taxed based on the price of silver sold). Still risky though given all of the unknowns so a smaller position is warranted but I like the risk/reward opportunity at this point given the gains in the rest of the sector.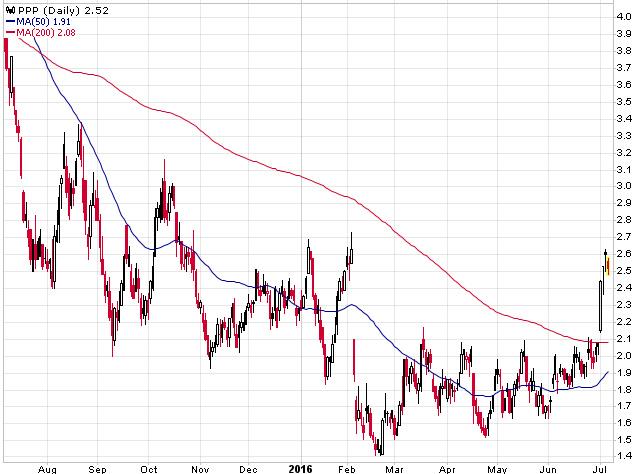 (Source: StockCharts.com)
Sabina Gold & Silver (OTCPK:SGSVF) - A favorite junior miner of mine, unfortunately, it received some very negative news a few weeks ago regarding its Back River gold project in terms of permitting. The Nunavut Impact Review Board recommended to minister that Back River not proceed to the licensing and permitting regulatory phase at this time, but they indicated that the proposal could be reconsidered. The issues to address were the uncertainties regarding effects to climate change in the region because of the mine, the remediation of the tailings facilities, as well as how the mine would impact local caribou herds (the caribou issue seems to be the biggest one).
According to Sabina, the local caribou herds haven't used the Back River area as a migratory ground for the last 20 years. So it seems like an odd issue to halt a major project that most locals strongly approve of. But I remember when Northgate's Kemess North project was rejected back in 2007 because a lake was going to be used that was considered "spiritual" to the local community. That's not a knock to the decision to reject Kemess, rather I just want to point out that sometimes small and seemingly unimportant issues to most might not be so unimportant to a few. This can halt a mine in its tracks.
By luck, I wasn't in the stock at the time when this news was announced, as I sold out a few weeks earlier because of valuation. It tanked 40-45% when the news was released, but has since rebounded somewhat and is now down only about 20% from those previous levels. I decided to remain on the sidelines until more positive news develops, or unless the shares get a lot cheaper. I will say that if I still owned the stock, I would be selling out during this most recent rebound.
As I warned in early May about Sabina: "High-risk stock so a more prudent position is warranted."
Sandstorm Gold (NYSEMKT:SAND) - I was buying more SAND in early May, and I purchased additional shares last week after they announced the $50 million bought deal financing. The stock tanked 10% that day so it seemed like a good time to pick up some more. It has since rebounded and is above where it was before the offering was announced. As a side note, given the recent runs in the gold and silver stocks, I imagine the floodgates are going to open over the coming weeks as these companies rush to do bought deals and take advantage of their recently surging stock prices.
But this will give investors on the sidelines - or those looking to add to current positions - the opportunity to do so at much more attractive prices. These offerings are double-edged swords, but I will say at least companies in this space weren't in a hurry to tap the equity market a few months ago, when stock prices were much lower and dilution potential was much higher.
The rest of my positions are largely unchanged. I'm still maintaining core positions in companies like Kinross (NYSE:KGC), Yamana (NYSE:AUY), New Gold (NYSEMKT:NGD), Gold Fields (NYSE:GFI), Goldcorp (NYSE:GG), along with many other names. It's important to spread out the risk.
Disclosure: I am/we are long PAAS, AAU, XRA, USLV, KGC, AUY, NGD, EGO, GFI, GG, SAND, EXK.
I wrote this article myself, and it expresses my own opinions. I am not receiving compensation for it (other than from Seeking Alpha). I have no business relationship with any company whose stock is mentioned in this article.
Editor's Note: This article discusses one or more securities that do not trade on a major U.S. exchange. Please be aware of the risks associated with these stocks.