(Figures via Yahoo Finance unless otherwise noted)
For those who choose to invest their money in the semiconductor industry, the names Broadcom Limited (NASDAQ:AVGO) and Texas Instruments (NASDAQ: TXN) are usually found in their portfolios. But for those searching for a smaller, lesser known diamond in the rough, we urge you to take a look at MaxLinear (NYSE:MXL).
Per Yahoo Finance, "MaxLinear, Inc. provides integrated, radio-frequency ((NYSE:RF)) and mixed-signal circuits for broadband communication and data center, metro and long-haul transport network applications worldwide." In other words, they provide the semiconductors that enable the reception of your personal computers, televisions, and laptops. MaxLinear is one of the many behind-the-scenes input producers of your favorite technological devices. Now we have a chance to pay them back for all their service to our guilty pleasures by investing.
CFA Chris Kuiper of The Motley Fool writes that increasing demand for video and digital services has created complementary demand for "fatter pipes to the home." He continues, "In other words, more content demanded means more chips to deliver and process that content." As cable television companies begin to ship out new products for the second half of the fiscal year, MaxLinear prepares for the onslaught. With a new deal with Broadcam earlier in this year, the product possibilities are endless.
CEO is prepared to market new cable and DOCSIS products such as an 8-channel DOCSIS 3.0 modem. CEO Kishore Seendripu said in a May earnings call, "The DOCSIS data gateway market continues to be an exciting and strategic growth platform for us, which enables us to address the expanding over-the-top video and data markets." As MaxLinear continues to expand, MXL has noticed unprecedented levels of earnings.
Here are MXL's earnings estimates courtesy of TheStreet.
MaxLinear's earnings grew 270% over the last year and is looking to climb even further. Their EPS is looking to grow from $.32 (current) to $1.40 (estimated) by 2017. The YOY estimate for 12/2016 also is something investors should take a look at. MaxLinear is expected to see earnings grow 48.94% by 12/2016. If you are new to the investing game and are looking for a stock that has a low risk but a high reward, consider diversifying to the semiconductor industry and adding MaxLinear to your portfolio. With a buying price remaining around $17.00 per share, the stock has room to grow. The 52-week high of MXL is $20.98 while the low is $9.00.
MaxLinear's RSI, a good indicator of a stock's fortitude, has been steadily climbing in the past month. It is beginning to reach over that 30.0 threshold that analysts use to determine whether the stock is oversold or overbought. Currently it is trading in oversold territory at 29.06. This is a great opportunity for investors to get a bargain on this stock as it is currently selling at a price many analysts believe is undervalued.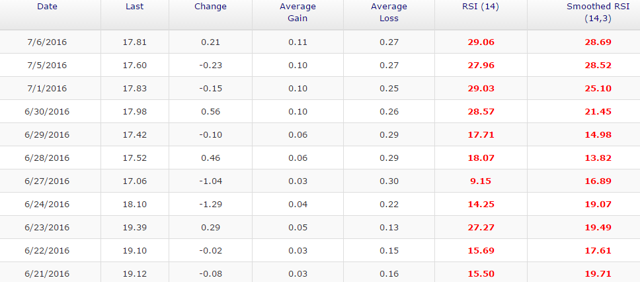 Source: MarketVolume
However, investors have been buying up as much as they can of MaxLinear. In fact, economic analyzers such as Zacks.com have recently rated MXL a "Strong Buy" among their picks for the tech industry. Zacks.com reports that MaxLinear has seen an average daily volume of 1,454,296 shares. This has been an unusually high figure for MaxLinear's financial reporting but one that indicates the stock is being bought in high demand. Zacks also reported in March that MXL shares had risen 18% in just the last month. If this unprecedented growth keeps up, as analysts predict it will, MXL will soon be a competitor with the big names of the semiconductor industry.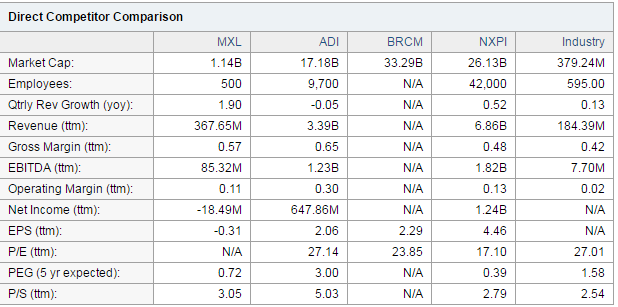 Source: Yahoo Finance
As we can see from the chart above, MXL has some rugged competitors. Nonetheless, it is fairing well in the industry. With a gross margin above the industry average, it is accurate to say that MXL is on the road to a healthier financial future. MXL's figures for net income and EPS may be red flags for many investors, but those numbers are often disputed between analysts. Regardless, MaxLinear's earnings have and will continue to speak for themselves (EBITDA is 77.62M above industry average). Even the PEG ratio of MXL is in good condition as it remains lower than many competitors at between .72 to .85. A lower PEG ratio indicates that the investor is paying less for future growth.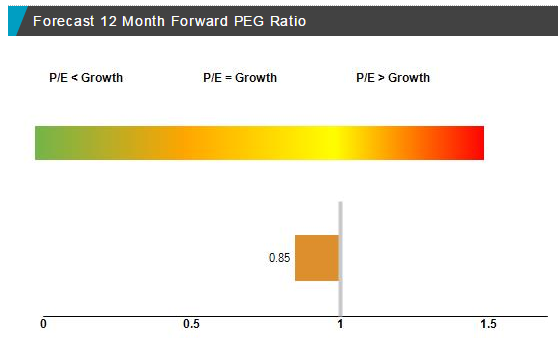 Source: NASDAQ
The recent financial reporting of MaxLinear makes it easy to see why buyers and analysts alike keep the stock in high regard. It is a stock that operates in a lucrative industry and appears to be growing without any signs of slowing down.
Disclosure: I/we have no positions in any stocks mentioned, but may initiate a long position in MXL over the next 72 hours.
I wrote this article myself, and it expresses my own opinions. I am not receiving compensation for it (other than from Seeking Alpha). I have no business relationship with any company whose stock is mentioned in this article.