PPG Industries (NYSE: PPG) is an excellent business and a member of the ProShares S&P 500 Dividend Aristocrats Index (NYSE: NOBL) offering an attractive entry point on fears due to its European exposure.

Click to enlarge
History of Shareholder Returns
PPG Industries was established 133 years ago as a plate glass company (PPG stands for Pittsburgh Plate Glass). They have since grown into an international coatings, paint, and glass stalwart, and have been paying increasing dividends to shareholders for 45 consecutive years. That is an accomplishment only shared by 37 other companies, according to the CCC list kept by David Fish. Their dividend growth rate has sped up lately, as well:

I will talk about their dividend sustainability with regards to earnings growth and cash flows later in the article.
European Exposure
PPG is around 12% off of their highs around $115 that they reached last year and then again around mid-April. After the Brexit referendum, they dipped below $100 and are now resting at about $103. This gives them a ttm P/E of 19.58 and a forward one of 14.70. This seems undervalued for such a strong and stable business, but obviously more than just a P/E ratio goes into valuing a company.
They have a significant European exposure, and their growth rates have been increasing in the EMEA region:
"Regionally, our highest first quarter sales volume growth rate was in Europe, Middle East and Africa, which delivered over 3% growth. We continue to experience a broadening improvement in Europe demand with our fifth consecutive quarter of improving growth rates. PPG's volume growth rates were positive across Western Europe with most countries improving year-over-year. Despite overall growth, this quarter, regional demand levels remain uneven."
Michael H. McGarry, CEO on Q1 2016 Earnings Call
PPG is proud of their diversification and growth globally. They have expanded their geographical footprint substantially in the last decade: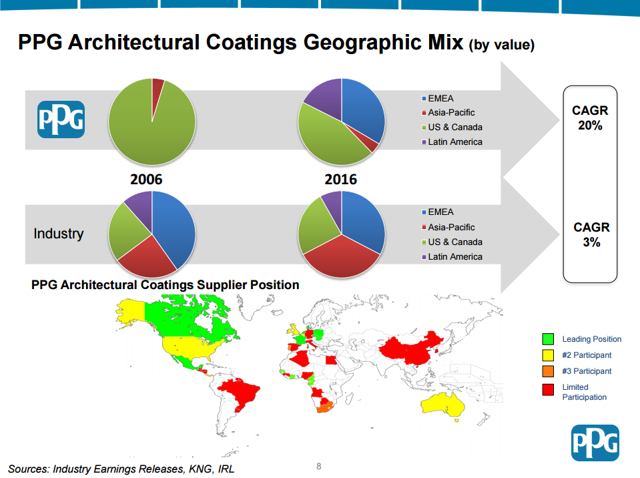 Click to enlarge
Source: Goldman Sachs Investor's Presentation
So, what does this mean for their business? Honestly, it shouldn't matter much in the long run. A recent article in USA Today discussed the response by American companies to the Brexit referendum. The big takeaway is that companies are not overly concerned about their business overseas. As a long-term investor, neither am I. There is obviously risk involved. They will take a hit to their earnings if Europe enters a recession. During the Great Recession, their earnings dropped 60% peak to trough due to being closely tied to both the housing and automobile industries. However, they maintained and increased their dividend, maintained profitability, and came out to a new earnings high 37% higher than 2007 in 2011. Because of this quick rebound and their demonstrated shareholder returns, I think that the risks are warranted of buying a company like this one when issues present themselves.
Cash Flows and Debt
PPG has increased their FCF generation both of the last 2 years. Their FCF yield based on an EV of $33.36B is 5.5%, which is a little below what I would like to see. However, they have about $1.5B in cash on hand and their FCF is trending upwards. Their payout ratio is only 27.3%, so their dividend is both sustainable and should keep growing for years to come.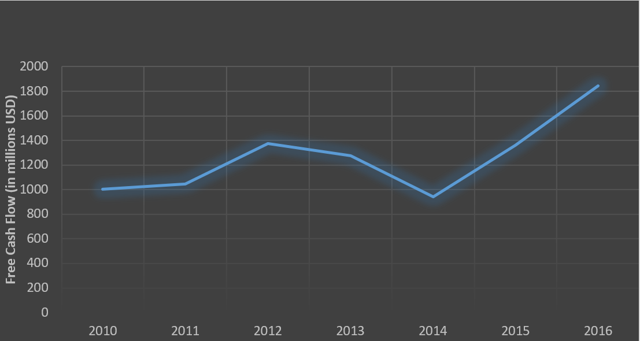 Click to enlargeTheir long-term debt of $4.4B is a bit high, and investors should watch to make sure it is being paid down. PPG has been very acquisitive in the last few years, since outside of the 4 leading companies, the industry is very fragmented: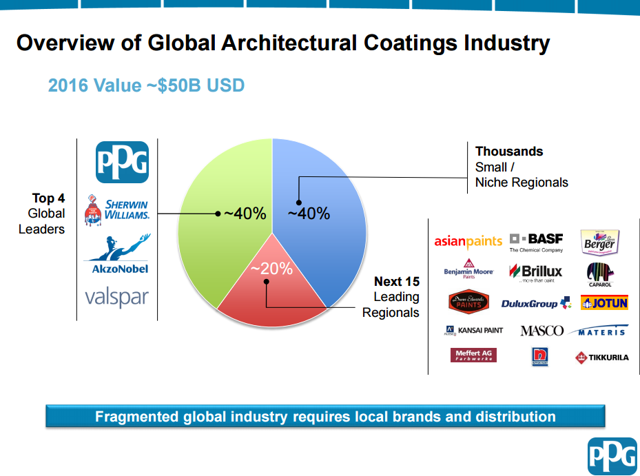 Click to enlarge
Bolt-on acquisitions with low integration risk tend to be great for driving shareholder value, so as long as they keep their debt levels within reason, I think this is a great way to spur growth by grabbing market share. An easy metric to watch for is the current ratio, which stands right now at 1.50. A current ratio under 1 indicates the company may have difficulty meeting short-term obligations.
Profitability
As one might expect based on their long history of excellent returns, PPG has a stellar return on equity over time: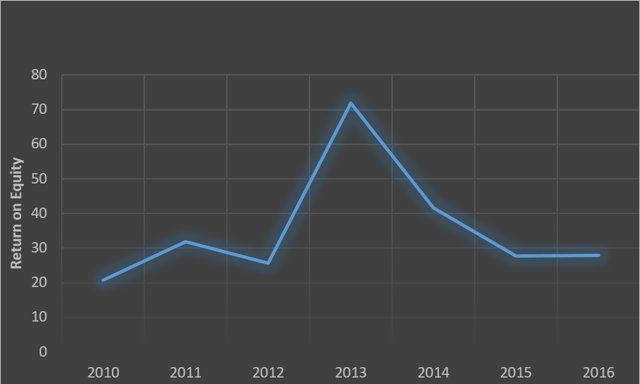 Click to enlarge
Additionally, their ROIC-WACC, or economic spread, is positive and relatively steady: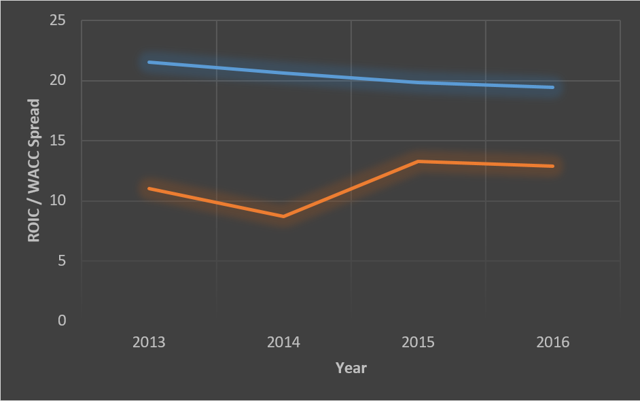 Click to enlarge
These metrics are helpful in determining long-term profitability isn't deteriorating. Additionally, the economic spread shows that their deployment of capital is driving shareholder value, something that is vitally important especially in the case of a company performing a lot of acquisitions.
Valuation
Lastly, I want to discuss their valuation, and compare it to their largest rival. I will use FAST Graphs to show their price compared with their normal P/E ratio over the last 8 years.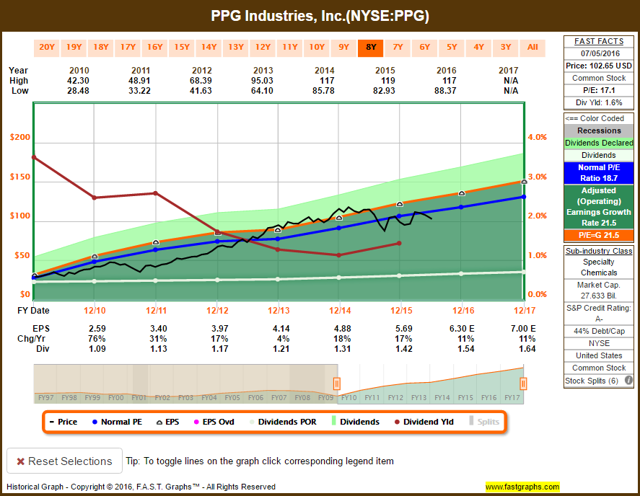 Click to enlarge
Their rival, Sherwin-Williams (NYSE: SHW), is another well-run Dividend Aristocrat company that almost any investor should be happy to own. They don't share PPG's exposure to Europe, and so I have included their FAST Graphs to give a reference as to how the industry may be trading right now, valuation wise.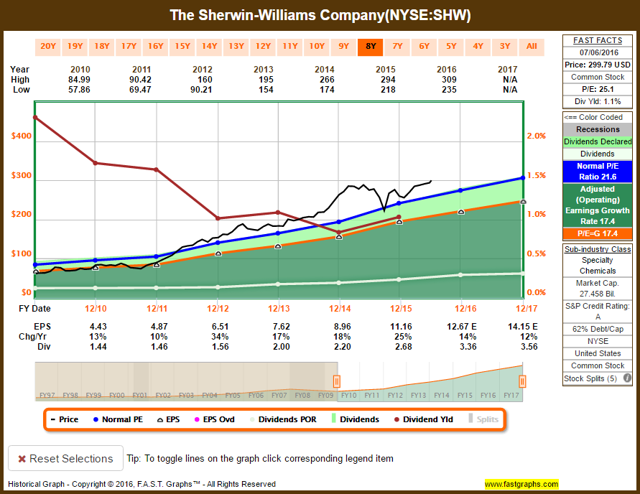 Click to enlarge
SHW has traditionally traded at a higher multiple than PPG, but they are even higher than that, at the moment. They are trading at a ttm P/E of 26.39 and a forward P/E of 21.12. Even with the European exposure risks, I think that there is significantly more downside possible from a purchase of SHW than with PPG.
Conclusion
PPG is a very stable and well-run company that carries some risk associated with its global exposure. However, it is trading at what I believe to be fair value and now is a good time to initiate a position.
If you liked this article, and would like to read more like it, please click the follow button next to my picture at the top. Thanks for reading.
Financial statistics were sourced from FinViz, unless otherwise stated. This article is for informational purposes only and is not a formal recommendation to buy or sell any stock. Please do your own due diligence and/or consult a financial professional prior to making investment decisions.
Disclosure: I am/we are long PPG.
I wrote this article myself, and it expresses my own opinions. I am not receiving compensation for it (other than from Seeking Alpha). I have no business relationship with any company whose stock is mentioned in this article.