My Ian's Million Fund "IMF" is a quasi-index fund where I have two main goals. One: Beat the S&P 500 over time with my own diversified basket of stocks while avoiding any ongoing management fees.
Two: Build a model that my non-investment professional friends can copy. If I didn't have other investments and had $1,000/month to invest, what retirement portfolio would I build to ensure I ended up with a strong solid nest egg? The "IMF" answers that question.
This marks the sixth month of purchases since I launched the fund, and as last month's review versus the market showed, for the first time, my fund had fallen behind the S&P 500 in performance. So I felt a little extra pressure to find some good buys for this month.
And thanks to the Brexit scare, I believe I've succeeded. I made these purchases towards the end of the initial 600-point market meltdown. Alas, had I waited until the following Monday, I'd have gotten the European names even cheaper. But overall, the basket was offered at a huge discount to pre-Brexit prices. It was a timely opportunity to pick up European exposure.
What all did I add for the month? There were three main themes: foreign telecoms, UK stocks, and community banks. In all, here are the 21 stakes I added: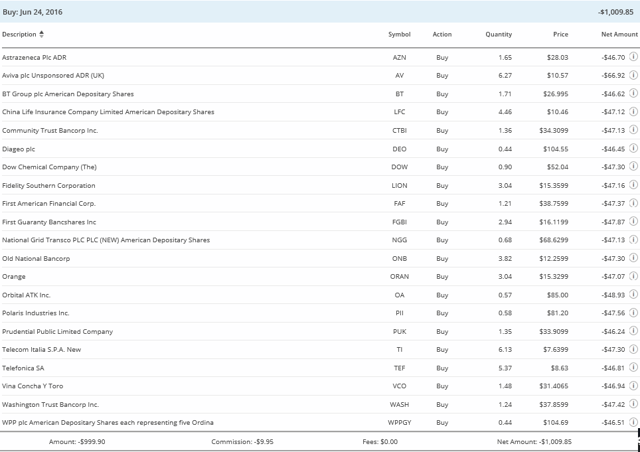 Click to enlarge
The first of these themes was to establish positions in a variety of European telecom firms. These companies have seen their share prices hard hit in recent weeks. Unlike US telcos such as AT&T (NYSE:T) and Verizon (NYSE:VZ) which trade to ever-loftier heights, the European operators by and large are now trading at acceptable valuations and have healthy yields.
For a company with as minimal growth prospects as AT&T has, paying the current price is an act of investor yield-based desperation. It'd be hard to justify a fair value above $38/share for AT&T, and with the yield down to 4.4% now, the dividend hardly shields you from the substantial chance of capital loss over the next 3-5 years as its valuation returns to normal from its current inflated level.
If you want to take new positions in telecoms, you have to think outside of the US at this point. With what all is happening in Europe, the time seems right to consider positions there. To that end, I opened positions in Telefonica (NYSE:TEF), Telecom Italia (NYSE:TI), BT Group (NYSE:BT), and Orange (NYSE:ORAN).
Generally, of this group, Telefonica has the best emerging market assets, Telecom Italia has the most raw upside if Europe turns around, BT Group is most exposed to the UK, and Orange has the most secure dividend of the bunch. I have a more detailed post on these companies in Ian's Insider Corner so I won't go into broad detail here.
As a whole, they trade at far more compelling valuations than the American telecoms and I'd be very surprised if an equal-weighted basket of the four didn't trounce AT&T over the next decade. They start with a strong edge based on the recent divergence in share prices:

Click to enlarge
Next up, I added to my basket of UK stocks for the fund. Given the general sell-off there thanks to Brexit, I was able to add to existing positions and start some new ones, all at fairly decent valuations.
To the surprise of no one that follows me closely, I purchased more Diageo (NYSE:DEO). Under $110/share, it was one of my top ideas, although it appears that ship may have now sailed: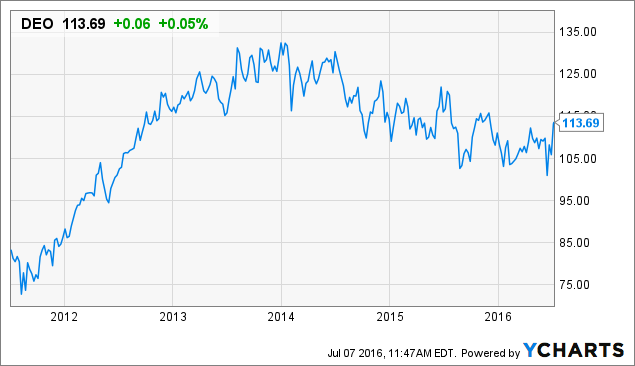 June may have been the last time the IMF gets to purchase Diageo at a price as low as $104. If so, thankfully the fund has already established a sizable position - it's the IMF's top holding and accounts for just under 7% of the total fund assets. Ultimately, I don't intend to have positions that big (it very much goes against the index fund idea) but I aim to build positions when they are cheap, and Diageo has been a gift from the market gods in the first half of 2016.
Moving along in the UK, I purchased more AstraZeneca (NYSE:AZN). Like Diageo, its shares have actually risen post-Brexit, as British investors rotate out of risky stocks and into their nation's blue chips. If the company's profitability rebounds quickly enough to maintain the dividend at current levels, the total return on this holding should be very nice.
I added to my position in British insurance firms Aviva (NYSE:AV) and Prudential plc (NYSE:PUK). Don't confuse the British Prudential with the American one by the way - the British Prudential owns Jackson National Life in the US but is more focused on Europe rather than the states.
Additionally, I added to my position in National Grid (NYSE:NGG) at $68, just prior to it blasting off post-Brexit. Even after the recent gain, it is still significantly cheaper than the US utility alternatives. National Grid trades at about 15x earnings, compared with 16x median for global utilities and 21x earnings for US-based ones.
Like the telcos, don't overpay for perceived safety in the US utilities. American utilities are hitting record-high P/E ratios. You can get the same industry overseas at near normal valuation levels.
Finally, I established a position in WPP (NASDAQ:WPPGY), a leading British advertising firm. If you're looking for reasonably strong yields from dominant companies at 15 P/E ratios, this is a nice option on the post-Brexit slump. Compared to US-advertisers such as Omnicom (NYSE:OMC), WPP is cheaper, yields more, and is currently offered at a Brexit discount.
Moving away from Europe, my next biggest focus was in continuing to accumulate community bank positions. With the recent reversal in yields, the banks have started moving lower again, offering another entry for anyone who missed them earlier this year.
I continued to add to my favorites, including Washington Trust (NASDAQ:WASH), Fidelity Southern (NASDAQ:LION), First Guaranty (NASDAQ:FGBI), and Old National (NASDAQ:ONB). In addition, I started a new position in Community Trust Bancorp (NASDAQ:CTBI).
Finally, before leaving the topic of financials, I purchased shares in First American (NYSE:FAF). Please see my recent article on the company. It has strong prospects given the current move lower in interest rates, which will likely set off another profit-producing refi boom.
Aside from the main themes for June, I picked up a few more one-off positions mostly for the sake of diversification - there's more to life than banks and European stocks after all.
With the weakness in emerging markets, there was finally a dip in shares of Chilean winemaker Concha y Toro (NYSE:VCO). Say what you will about gold's recent rally. If you're inclined to protect yourself against inflation, high-quality agricultural land is a good holding. Concha y Toro, with tens of thousands of acres of company-owned vineyards in Chile, Argentina, and California, fits that description perfectly. And unlike gold, Concha has a fairly profitable business and offers a moderate dividend while you wait for the value of its land holdings to rise with inflation.
China Life Insurance (NYSE:LFC) continues to be my Seinfeld pick. Like Costanza, this position is the opposite of what common sense would dictate. The Chinese economy is in all sorts of trouble, its banks likely require a massive bailout, and the country's markets remain a minefield for foreigners. In all, there's little reason to see why a sane investor would think to buy China Life now, which has been reflected in the price; it's been whacked.
The company is large and also has a few other positive signs that make me think it isn't a fraud, and sentiment is so awful that just about any improvement would make shares fly. And as an index fund, I really should have at least some exposure to China. This is better than buying overhyped stuff like Alibaba (NYSE:BABA) in any case.
Polaris (NYSE:PII) is cheap again. The stock collapsed during the back half of 2015 as a warm winter devastated last year's snowmobile market. Presumably, the weather should revert back toward normal in future years, and in any case, Polaris isn't a one-trick pony. The company remained significantly profitable despite the weak season, and things should look stronger again for next season. After a 40% rally off the lows earlier this year, Polaris has slumped again, and I'm happy to add to my position. Big discount here: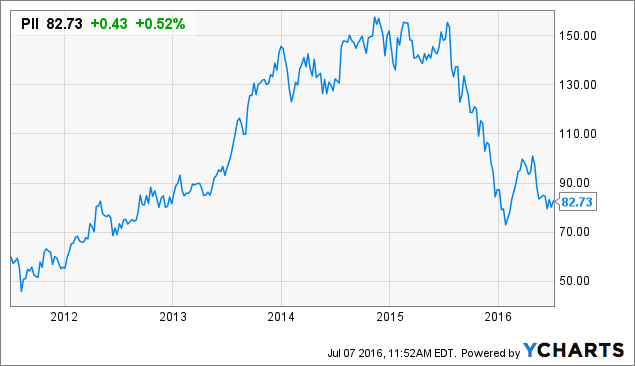 Dow Chemical (NYSE:DOW) is a strong company at a decent price. Don't read too much into this buy. I wanted some sector diversity and I'm underrepresented in chemicals.
Last but not least, we have Orbital ATK (NYSE:OA), maker of military armaments and space materials. They produce space launch vehicles, satellites, and tactical missiles among other things.
I'm happy to add a position in this for several reasons. This fund, generally, doesn't have a lot of traditional big growth story sorts of stocks. The IMF owns a lot of things that can grow earnings 5-10% a year and pay a strong dividend, but there's very little tech, biotech, or other shoot for the stars types of investments.
In Orbital, you can get a company with several product lines that could see massive growth over the course of my investing time horizon. And it is available at a sub-20 P/E ratio and pays a reasonable starting yield for a growth company. Even a pure DGI type portfolio may want some names that offer more explosive upside possibility. To that end, something like Orbital would be a lot more attractive than the current bunch of overpriced barely profitable tech unicorns.
Early next week, the IMF will be back with our June performance update and comparison against the broad market.
Disclosure: I am/we are long ALL 21 STOCKS MENTIONED.AS BUYS.
I wrote this article myself, and it expresses my own opinions. I am not receiving compensation for it (other than from Seeking Alpha). I have no business relationship with any company whose stock is mentioned in this article.
Additional disclosure: No positions in T, VZ, OMC, or BABA.