One potential headwind for US natural gas storage is the recent rise in Canadian gas imports. Imports to the US is now 6.7 Bcf/d. As we said in May when imports were only around 5 Bcf/d that imports should remain stable while Wall Street had this figure decreasing. We also said that imports could actually pick up this year relative to the years before, thanks to a widening AECO basis differential. (If you're unfamiliar with this differential, please read this article before continuing.)
Looking at the AECO basis differential, imports should continue over 6 Bcf/d before falling back down to 5 Bcf/d later this year when the differential narrows.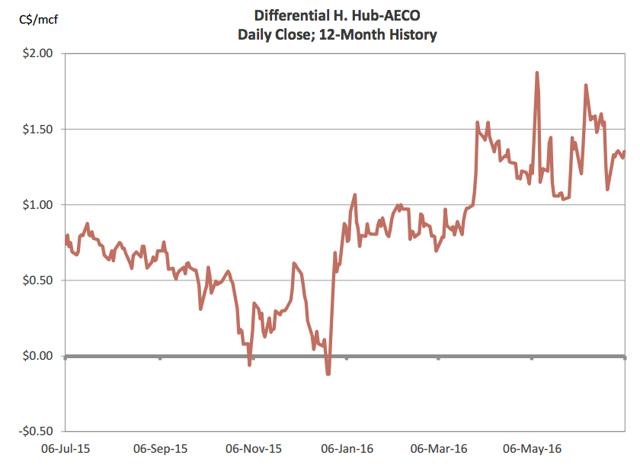 Click to enlarge
As you can also see in the chart below, AECO prices really took a hit around April to May of this year.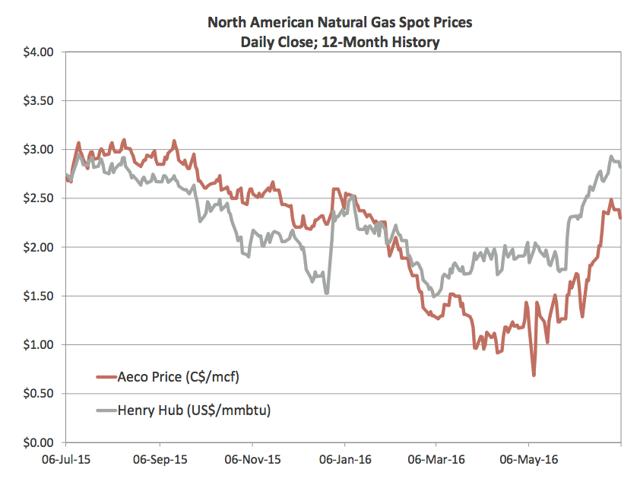 Click to enlarge
Traders usually lock in deals in advance, so we are likely seeing the increased import figures from deals that were locked in when AECO was below C$2/GJ.
Another point we want to make is that the Canadian storage situation is far worse than what's happening in the US.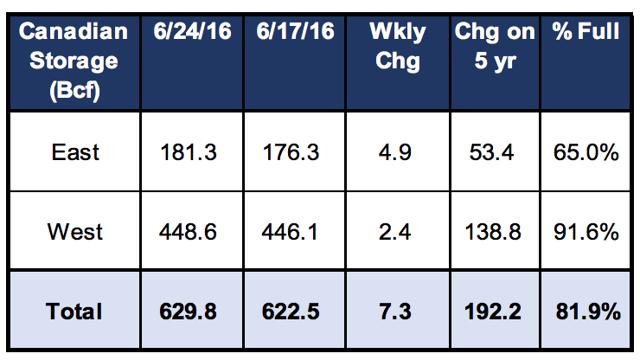 Click to enlarge
Storage in the West is already 91.6% full, and more exports are needed to keep storage from being full. There are approximately 17 weeks left till the end of injection, so exports need to remain above 6.5 Bcf/d for storage to stay below capacity.
We think AECO basis will continue to be wide until the storage situation in Canada gets resolved. The basis won't likely narrow till winter of this year, and this could present a potential headwind for US gas storage over the next several months.
However, we look at this situation as an opportunity to buy Canadian natural gas producers. Not only would investors get the benefit of a tighter US gas market, but a decrease in the basis differential would yield even higher price appreciation potential.
Some of the names we particularly like:
(Note: Most of these also trade on the Canadian exchange in much higher volume.)
As always, if you enjoy our Natural Gas Daily, please click on the "Follow" button above and read our other energy write-ups. We also have a premium service tailored to investors looking to how we are thinking about some of the positions we listed above. You can view our delayed one-month portfolio update here. We hope to see you join the HFI community.
Disclosure: I am/we are long BXE, PDPYF, BIREF, AAV, PEYUF.
I wrote this article myself, and it expresses my own opinions. I am not receiving compensation for it (other than from Seeking Alpha). I have no business relationship with any company whose stock is mentioned in this article.
Editor's Note: This article covers one or more stocks trading at less than $1 per share and/or with less than a $100 million market cap. Please be aware of the risks associated with these stocks.