ImmunoGen (NASDAQ:IMGN) is a pharmaceutical company specializing in ADC (antibody drug conjugate) technologies. Since it is receiving a royalty on its contribution to a commercial drug, it is not strictly development stage. However, most of the value of the company is in the clinical stage of its pipeline. ImmunoGen has a number of major pharmaceutical partners for parts of its pipeline, as well as therapies it has retained the rights for.
In my opinion, ImmunoGen's stock is very attractive right now, both on an absolute and on a relative basis. Its 52-week high was $19.43 almost a year ago on July 17, 2015. Its 52-week low was $2.96 on June 27, 2016. It closed at $3.13 on July 6, about 6% off the 52-week low. At this price, ImmunoGen is a micro cap with a market capitalization of $273 million. It is subject to all the risks of micro caps, plus all the risks of an essentially development-stage pharmaceutical company.
At the end of Q1, ImmunoGen had $183 million in cash. It is burning about $30 million in cash per quarter, mostly for research and development. Since Q1, between $97 million and $111 million was raised by selling 4.5% senior convertible notes due in 2021. So a rough estimate is cash will be $250 million at the end of Q2. The market is valuing ImmunoGen at barely above its cash balances.
While there are some reasons for the valuation, which I will discuss below, I believe ImmunoGen is grossly undervalued at this price.
Bad News First
ImmunoGen has been hit by both financial bad news and by pipeline bad news.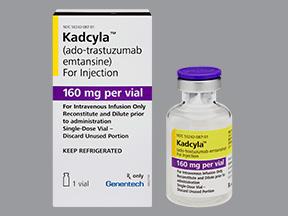 ImmunoGen contributed a component to Kadcyla, which Roche's (OTCQX:RHHBY) Genentech division developed and commercialized to treat second line metastatic HER2+ breast cancer. In addition to the earlier milestone payments it had received, ImmunoGen gets a royalty on sales.
But ImmunoGen was running out of cash in the spring of 2015. Cash for biotechs has been scarce since late 2014. Raising cash usually involves share dilution, which investors dislike. So, in March 2015, ImmunoGen sold its rights to its future Kadcyla revenue for $194 million. "With these funds, we are well positioned to implement strong clinical development programs for our promising product candidates, including initiation of potential registration trials as appropriate," commented David Johnston, EVP and Chief Financial Officer. "This transaction has met our objectives of obtaining significant cash while avoiding the dilutive effect of a stock offering and retaining for our shareholders the majority of upside from substantial Kadcyla sales development."
It made sense, especially with Kadcyla sales ramping and a clinical trial underway that was intended to expand the label, and would have increased the royalty stream. But the Phase II/III trial for HER2+ gastric cancer failed.
In the cash-for-royalties program, ImmunoGen owes interest on the cash advanced, so the total royalties that will be used to pay for the cash advance with interest are $235 million or more. After that, the stream would return to ImmunoGen. Given that the royalties reported in Q1 were $7.1 million, we can guess at an annual run rate of no more than $30 million. Or seven to eight years' worth, before that stream returns.
So while the company has plenty of cash from the new notes and the royalty conversion, it currently has no cash revenue stream from its one commercial drug. That is why I treat it as a development-stage company.
What you need to know about ADC science
ADCs (antibody drug conjugates) are one of a number of relatively new paradigms biotechnology companies are pursuing right now. They are mainly targeted at cancers, so I'll explain in terms of the cancer model.
Antibodies target specific proteins. Cancer cells, because they are mutated, often have proteins on their surfaces that are not expressed by other cells. ADCs take a drug payload that can kill a cell (cancer or healthy), with an antibody could guide it specifically to the cancer cells. Instead of chemotherapy, which is like shooting buckshot at a body to try to kill a cancer, the ADC is a tiny guided missile. In theory.
The devil is in the details. So far ADCs have not been wildly successful. Nor have their cousins, nanoparticle-based delivery therapies.
Success is a matter of engineering. Better antibodies, better payloads, and better linkers could produce ADCs that destroy cancers without poisoning other parts of the body.
Kadcyla is a good example. It is Herceptin attached to Emtansine, a cytotoxic agent. The Herceptin antibody targets HER2+ cancer cells, and hopefully, the Emtansine kills them. And it does, at least often enough to get an FDA approval.
The Pipeline
The expected future value of ImmunoGen depends on how successful its pipeline candidates become. As I said above, the market is saying that any future profits from approved drugs will only replace the cash that will be burned getting those drugs through trials and commercialized. That basically assumes the failure of most of the pipeline. I don't find that reasonable.
Let's start with the fact that ImmunoGen received a $10 million milestone payment from Bayer (OTCPK:BAYRY) in Q1. That's real money, even to Bayer. Why did it pay it?
Bayer has bought the rights to an ADC called Ravtansine, which received good results in its Phase I trial for mesothelioma and so initiated a Phase II trial. It will need successful Phase II and Phase III trials to get regulatory approval. Mesothelioma has a variety of causes, but the most common is exposure to asbestos. For more, see the January 2016 Ravtansine press release.
I don't think so many companies would partner with ImmunoGen if they thought the technology was without value. These partnerships typically can result in milestone payments during the development process, then royalties if the drug has commercial sales. It is a big pipeline: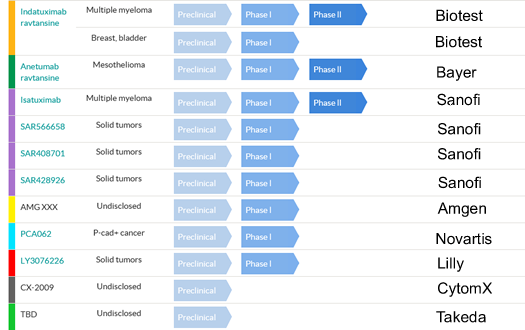 Source: ImmunoGen
True, most of the pipeline is very early stage. Nothing is near FDA approval, and we can expect some therapies to fail along the way. But with a pipeline this broad, it would be highly unlikely that they would all fail.
The Sanofi (NYSE:SNY) partnership of Isatuximab is particularly worth watching. Phase II data was recently announced, showing a response rate of 25% for heavily pretreated patients, with relapsed or refractory multiple myeloma, at ASCO in early June. The results were dose-dependent, hitting 29% at the 10 mg/kg dose. Interestingly, Isatuximab is a monoclonal antibody, not an ADC. It targets CD38, and so would compete with other therapies targeting cancers expressing CD38.
Then, there is the wholly-owned part of the ImmunoGen pipeline: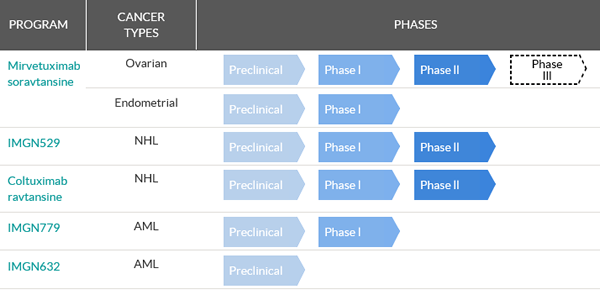 Mirvetuximab soravtansine for ovarian cancer is the most advanced candidate, so I'll concentrate on that. A Phase III trial may be started this fall, but that is essentially skipping Phase II, which is risky. The Phase I results were positive, both the initial results and for the expansion cohort data reported in May. ImmunoGen may be able to skip Phase II, with FDA permission, because it was already okayed for potential accelerated approval. According to CEO Dan Junius:
"Based on the expanded body of data now available, we are moving FORWARD 1 from a two-stage phase 2 trial designed to support accelerated approval to a single stage phase 3 trial designed to support full marketing approval of mirvetuximab soravtansine for folate receptor alpha positive ovarian cancer in early lines of platinum-resistance diseases." Fiscal Q3 Earnings Call Transcript
While mirvetuximab soravtansine is being tested in FRα-positive platinum-resistant ovarian cancer, the number of patients could be large, up to perhaps 7,000 per year. At $100,000 per treatment, not an unusual number any more for effective cancer therapies, that would generate $700 million per year in revenue. Of course, if there is competition or lower pricing, revenue would be less.
The protocol for the Phase III trial has not been agreed to yet by the FDA. Based on what is known from the Phase I trial, ImmunoGen wants the limit of prior failed therapies to be three. It wants medium-to-high folate receptor alpha expression to be required. PFS (progression free survival) will be the primary endpoint, but an overall survival trend will likely also be required by the FDA. Some analysts have questioned using PFS as the primary endpoint, but that decision will be up to the FDA.
Given those specifications, there is a high probability that the trial will be a success. However, given the relatively small number of patients in the Phase I results, it is possible that the prior results could turn out to be misleading for a larger patient group. A Phase II trial would have been less risky, but it also would have added a couple of years to the process, and a considerable amount of cash burn.
I think it is a reasonable risk for ImmunoGen to take, but don't kid yourself: the risk of failing in Phase III is real.
Summary
Mirvetuximab soravtansine could be a blockbuster, but we have to weigh that against some reasonable chance that the planned trial will fail. And we won't know the results until sometime in 2018.
But we also have the dozen partnered therapies that could generate milestones and royalties, and the technology to produce more. Behind mirvetuximab soravtansine is a secondary field of potential NHL and AML therapies wholly owned by ImmunoGen.
So I expect ImmunoGen to burn cash for a couple of years, supplemented by milestone payments. The stock price will go up if partners or ImmunoGen announce positive results. It will dip on negative results, but there are a lot of potential results ahead in, say, the next three years. Positive results are more important than negative results in this situation since they are not built into the present price.
I believe it is a good strategy to buy the stock until it has a more appropriate value. For me, at my level of risk appetite, and keeping in mind that I would only allow it to be 1% to 5% of my portfolio, I would say appropriate value would be at something like a 50% chance of having a $700 million per year ovarian cancer therapy. That estimated $300 million per year, excluding any large expansion of R&D expense, might generate $100 million in annual operating profits. A P/E of 20 would give it a $2 billion market capitalization.
If we did see this scenario, or investors acting on it, that would bring us back up to the 52-week high, which in retrospect was not unreasonable.
All this assumes an investor can wait three years for results, if necessary, and can stand the risk of failure. But I would up my estimate if there are any good Phase II results in the meantime, for any part of the pipeline.
Disclosure: I am/we are long IMGN.
I wrote this article myself, and it expresses my own opinions. I am not receiving compensation for it (other than from Seeking Alpha). I have no business relationship with any company whose stock is mentioned in this article.