In a further update to our ongoing series on layoffs (links below), we have 4 new companies to add to our radar as well as 2 returning companies. We publish this series of articles because we believe that they provide a contrasting view on the labor market compared to widely followed statistics such as jobless claims.
As jobless claims are backward looking, we wanted to give investors a view into upcoming cuts in the labor force from major publicly traded companies. Watching announcements of future job cuts is a great way to get a jump on lagging indicators. Also be sure to read Advisor Perspectives' Research Director Jill Mislinski's thorough explanation of jobless claims and the business cycle.
Lockheed Martin Corporation (LMT)

Lockheed Martin will be cutting over 100 jobs from their San Antonio, TX workforce. The jobs cut will be from LMT's operations at Randolph Air Force Base and will be taking place the beginning of September.
Genworth Financial, Inc. (GNW)
Announced this week were plans to cut just under 50 jobs from the Richmond, VA and Lynchburg, VA facilities of Genworth Financial. This move comes as part of a restructuring plan for GNW's life insurance businesses in the United States.
MetLife, Inc. (MET)
MetLife announced that they would be cutting roughly 74 people from their Tampa, FL area workforce. This is in a move to trim support operations no longer necessary following Massachusetts Mutual's acquisition of MetLife Premier Client Group, as well as plans to no longer accept new individual disability policies in September. These job cuts are expected to happen between the end of August and the end of October.
General Electric Company (GE)
To combat a persisting low-oil-price environment, General Electric will be cutting roughly 269 jobs from as it closes down its plant in Pineville, LA. These cuts are supposed to take place from September through December as the plant is reportedly closing by the end of 2016.
Xerox Corporation (XRX)
Back on our layoffs watch yet again, is Xerox. This time, XRX is planning to layoff 85 workers from its Aurora, CO State Healthcare workforce. Planned to occur by late August, these cuts will further trim the XRX workforce.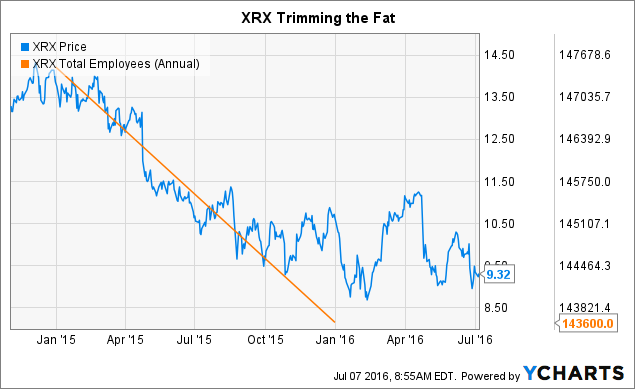 ALJ Regional Holdings, Inc. (ALJJ)
ALJ's subsidiary, Faneuil Inc., has announced that they would be cutting over 250 jobs from its Orlando, FL location. This move is supposedly due to the loss of a service contract from the Florida Dept. of Transportation. This contract has been picked up by Xerox, and hopes are that workers can seek out employment at their new Ocoee, FL call center that is currently under construction. If possible, this would significantly mitigate job loss in the area.
MVC Capital, Inc. (MVC)
Biogenic Reagents, a portfolio company of MVC Capital, has announced 35 layoffs due to a temporary shut-down of a K.I. Sawyer, MI facility. There is currently no estimate as to how long these jobs may last, however we will keep readers updated as more information is released.
Conclusion
We will be sure to keep readers posted as more companies have been announcing job cuts recently. Be sure to read our previously articles in this series to stay fully informed on the topic. As more and more companies cut jobs to cut costs and preserve profits, we will expect to see a turnaround in jobless claims as is the case historically.
Additionally, to give a more full picture of the layoffs happening we have included links below for layoffs announced in both the public sector as well as large private companies.
References & Further Reading
Disclosure: I/we have no positions in any stocks mentioned, and no plans to initiate any positions within the next 72 hours.
I wrote this article myself, and it expresses my own opinions. I am not receiving compensation for it (other than from Seeking Alpha). I have no business relationship with any company whose stock is mentioned in this article.
Editor's Note: This article discusses one or more securities that do not trade on a major U.S. exchange. Please be aware of the risks associated with these stocks.