On July 7, 2016, Synchrony Financial (NYSE:SYF) announced its first quarterly dividend of $0.13/share and a $952m share repurchase plan. The annual dividend translates into a yield of ~2% and the buyback accounts for ~4% of the company's total market cap. I previously estimated for an annual dividend in the range of $0.16-$0.30, so I am very impressed with the established quarterly dividend amount.
This capital return plan is larger than most estimates that I have seen over the last few months, so, in my opinion, management made a strong statement with this announcement. The statement was heard loud and clear, this company is committed to returning a significant portion of capital to shareholders. Moreover, I consider this capital return plan icing on the cake because there is already many other reasons for investors to be excited about Synchrony Financial as a long-term investment.

Click to enlarge
(Source)
What's Not To Like About This Company?
In "Synchrony Financial: The Sell-Off Could Have Been Avoided", I was critical of management's actions that likely contributed to the ~13% one-day decline in the share price. However, it is important to remember that a slight uptick in the reserves/net charge-offs does not materially change Synchrony's earnings picture for 2016. Additionally, long-term investors should not be overly concerned at this point in time with Synchrony's asset quality but the metrics should indeed be closely monitored over the next few quarters.
Besides the slight downturn in the company's asset quality, there is a lot to like about Synchrony's long-term business prospects. To start, Synchrony has reported stellar top-line and bottom-line growth since going public in mid-2014. In the latest quarter, Synchrony reported net earnings of $582m, or $0.70/share, on revenue of $3.21b, which compares favorably to the 1q2015 results (1q2016 EPS was up 6% YoY and revenue was up 12% YoY).
Synchrony also reported double digit increases in three of the four growth metrics that the company tracks and discloses.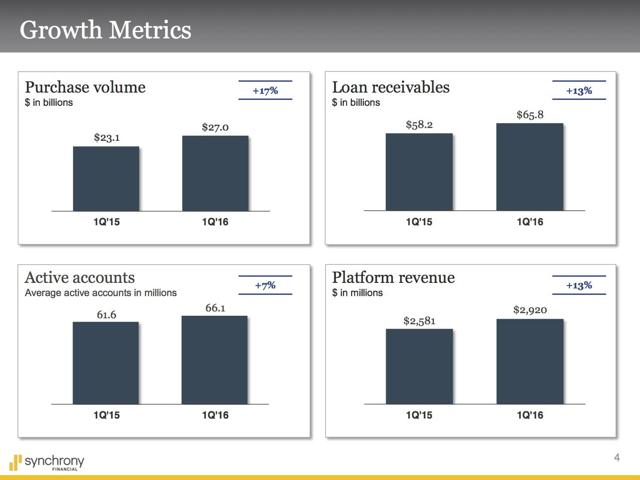 Click to enlarge
(Source: 1q2016 Earnings Presentation)
This quarter was not an outlier either, as Synchrony has reported impressive growth in these metrics over the last year. More importantly, this growth should continue throughout 2016 and 2017 barring a significant deterioration of the overall economy --see this article for detail on how Synchrony has been able to outperform its competitors in a growing industry.
Returning Capital to Shareholders, How Does Synchrony Compare To Peers?
I created the table below to examine how Synchrony now stacks up to its peers in relation to returning capital to shareholders. I used the following companies as the peer group: Capital One (NYSE:COF), Discover Financial (NYSE:DFS), and American Express (NYSE:AXP).
| | | | | |
| --- | --- | --- | --- | --- |
| Company | Forward P/E | P/E [ttm] | Dividend Yield | Payout Ratio |
| Capital One | 8.26 | 8.97 | 2.59% | 23% |
| Discover | 9.34 | 10.24 | 2.25% | 22% |
| American Express | 10.76 | 11.94 | 2.14% | 23% |
| Average | 9.45 | 10.38 | 2.33% | 23% |
| | | | | |
| Synchrony* | 9.86 | 9.67 | 2.00% | 19%* |
(Source: Yahoo! Finance for COF, DFS, AXP, and SYF)
*Based on the TTM --see Financial Summary (page 6)
Full Disclosure: See links below for the 2016 approved capital plans for Capital One, Discover, and American Express.
As shown, Synchrony's dividend yield and payout ratio are slightly below the averages. This means that there is still room for Synchrony to grow its dividend in the years ahead. Furthermore, Synchrony has also been able to grow revenue and earnings at a fast pace so this will likely provide even more wiggle room in fiscal 2017 and beyond. Another S.A. contributor, Mr. Patrick Gunn, did an excellent job describing how returning capital will be a catalyst for SYF shares.
Bottom Line
I was very surprised by Synchrony's large capital return plan, but this alone does not necessarily make the stock a buy at today's price. Instead, the impressive growth, both revenue and earnings, that the company is expected to experience over the next few years is the reason why investors should be adding this company to their watchlists. At the end of the day, there is a lot to like about this growing consumer financial services company.
The SYF share price will likely be under pressure if the overall market pulls back, but any significant sell-off should be considered a buying opportunity.
If you found this article to be informative and would like to hear more about this company, or any other company that I analyze, please consider hitting the "Follow" button above.
Disclaimer: This article is not a recommendation to buy or sell any stock mentioned. These are only my personal opinions. Every investor must do his/her own due diligence before making any investment decision.
Disclosure: I am/we are long SYF.
I wrote this article myself, and it expresses my own opinions. I am not receiving compensation for it (other than from Seeking Alpha). I have no business relationship with any company whose stock is mentioned in this article.