Top News
Building on the conversation from yesterday, I thought it would be prudent to continue to explore this European Banking situation a little bit further today. I went back to my playbook from 2008 and decided it was time to start looking at what the Credit Default Swap (CDS) market was saying about these European banks. Is this being overblown or is there something more here?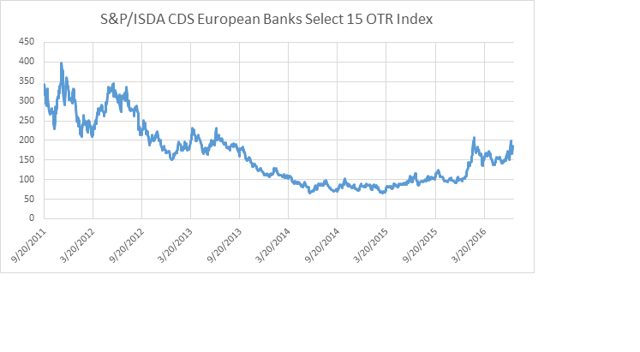 Click to enlarge
The chart above (thanks to the data provided by S&P), shows the pricing of CDS on 15 European Banks as an index. As you can from the chart above CDS has gotten more gotten more expensive recently. At this point, I think this situation needs to be monitor and watched carefully. However, I don't believe we are close to a panic scenario yet.
Equity Market
The equity market is moving flat, following yesterday's afternoon bounce. However, tomorrow's Jobs report will take center stage once again. That will likely be a driving force for the market tomorrow.
I want to turn your attention to the spread between the 10-year Treasury yield and S&P 500 Dividend Yield. The spread as of yesterday was at nearly 75bps, for the S&P 500. The only time it was wider was in December of 2008 when it was almost 90bps for the S&P 500. At that point, the S&P was yielding 3.14%, and the 10-year was at 2.25%. As of yesterday, we were at 2.09% on the S&P 500 and the 10-year was at 1.36%. If you wanted to know where the S&P 500 would have to trade to have a yield equal to or lower than the 10-year, it would 3,250. Yep, the final dividend amount as of 3/31/16 was 44.26 divide that by 1.36% you get 3,254!
What does it say? Well either the S&P 500 is either undervalued, or the 10-year Treasury is over-valued. The chart of the yields is below.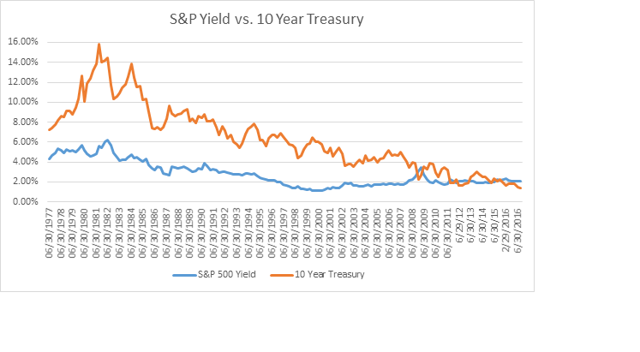 Click to enlarge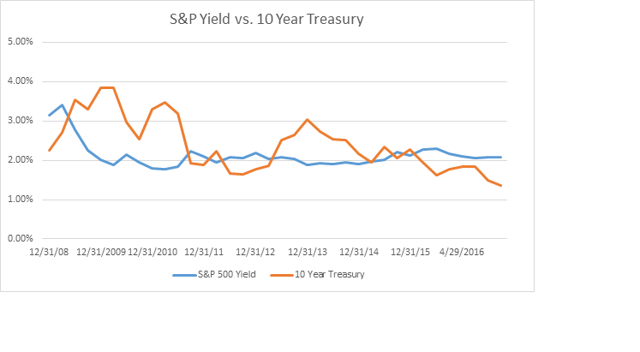 Click to enlarge
Negative rates around the world are causing distortion all over the place.
Sector Spotlight
As of 11am the XLE (energy sector) is leading the sector.

Click to enlarge
The sector has been stuck in the mud since the middle of April. There is an interesting little set-up in it, though. I would not be surprised to see the sector continue it previous trend higher in the not to distance future.
Currencies
The Yen continues to make it march to par, at this point, it is no longer a matter of if, it is a matter of how soon. The current course the Yen is on would indicate that at some point in the not to distance future the BOJ will have to get involved. The more the Yen strengthens, the more it damages the Japanese economy. I can't see them not doing something soon.

Click to enlarge
Commodities
Gold is slightly lower today. I can't say I have too much to say regarding it either. Gold is one of those things I never understood. It is always a haven play, I know. When there is panic in the world everyone runs to Gold. Why not look at metals that have an industrial component to them as well? At least you know in that case there is also some demand/supply value to it as well.
There was a mighty large gap created post-Brexit, my hunch is that we fill that gap back to around 1250.

Click to enlarge
Yield
Yields on the 10-year are continuing to move up again today. I think this just a continuation from the previous day. Tomorrow's job report will likely have an impact on yield, good or bad.
Disclosure: I/we have no positions in any stocks mentioned, and no plans to initiate any positions within the next 72 hours.
I wrote this article myself, and it expresses my own opinions. I am not receiving compensation for it (other than from Seeking Alpha). I have no business relationship with any company whose stock is mentioned in this article.
Additional disclosure: Mott Capital Management, LLC is a registered investment adviser. Information presented is for educational purposes only and does not intend to make an offer or solicitation for the sale or purchase of any specific securities, investments, or investment strategies. Investments involve risk and unless otherwise stated, are not guaranteed. Be sure to first consult with a qualified financial adviser and/or tax professional before implementing any strategy discussed herein. Past performance is not indicative of future performance.