Well, with Brexit having materialized and the pound hovering at 31-year lows, I have to hold my hands up and admit that my prior assessment of the GBP was wrong. I had initially taken the stance that since the pound had declined significantly against other major currencies, that a Brexit had already been priced into the currency and we would not see further dips from here.
However, in the days leading up to Brexit (a point at which I personally changed my position and took the short side), we saw that the pound had begun to decline significantly. Moreover, when looking at a 1-day chart, we see that the brief uptrend before the Brexit was simply a correction point at what has been a prolonged slide for the pound: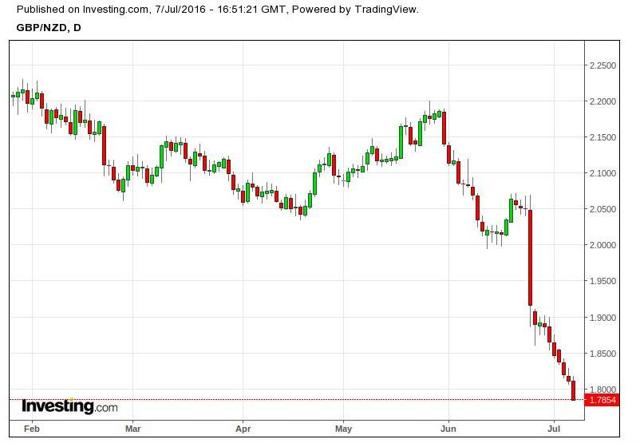 Click to enlarge
However, unlike some, I am not flocking to the traditionally safe-haven currencies such as the yen or the Swiss franc. Instead, I see the current short GBP/NZD trend as showing no signs of slowing, and indeed the position has proven profitable since my entry point of 1.8189, currently trading at a price of 1.7872 at the time of writing. Here is why I see the kiwi dollar as potentially serving as a more profitable asset than traditional safe haven currencies at this point in time:
- While Japan and Switzerland have continued to keep interest rates low in order to combat deflation, the Reserve Bank of New Zealand is currently holding an official cash rate of 2.25 percent, which is a highly attractive proposition to investors seeking higher-yielding currencies.
- The New Zealand economy itself is on the up, and the property sector in particular is undergoing sound growth. I expect that this will continue to fuel demand for NZD, and it is likely we will see the currency appreciate accordingly.
- Moreover, the soft commodity market continues to do well in New Zealand, given gains in seafood and dairy prices.
In this context, I see the NZD as a highly attractive hedge against the GBP. Moreover, a strong-weak analysis reveals that against the US dollar, the NZD has consistently been one of the strongest currencies while the GBP has been one of the weakest. Therefore, while I expect some volatility going forward and wide stop losses are appropriate, I see a very high probability of the NZD appreciating further against the GBP.
Disclosure: I am/we are short GBP/NZD.
I wrote this article myself, and it expresses my own opinions. I am not receiving compensation for it (other than from Seeking Alpha). I have no business relationship with any company whose stock is mentioned in this article.