Introduction
Three months ago, I was quite positive about the prospects of the Dutch interim-group Randstad (OTCPK:RANJF) (OTCPK:RANJY) as the company had finally pulled itself together after the Global Financial Crisis. The company had dealt with its net debt position and had just $200M of net debt left as of at the end of last year. And of course, I have no reason not to like a capex-light company with a robust business model. I also said I would use my 'sniper-strategy' and wait for Randstad's share price to come within my range.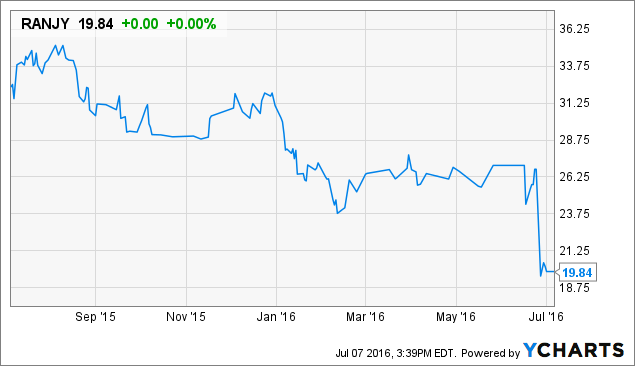 As Randstad is a Dutch company, its most liquid listing is on the company's home turf (Euronext Amsterdam) where it's listed with RAND as its ticker. Considering the average daily volume is approximately 1 million shares ($30M), you would be better off by trading in the company's securities there.
The company's Q1 results are backing up my previous thesis
After an excellent FY 2015, I said I expected the company to continue to generate a substantial amount of free cash flow as the capital expenditures of running an staffing services company are pretty low (it's pretty much one of the least capital-intensive business models).
Click to enlarge
Source: company presentation
Without further ado, let's have a closer look at those results. The total revenue already increased by approximately 6% to 4.7B EUR ($5.2B), whilst the operating profit increased by more than 30% to 135M EUR on the back of just a slight increase in its operating expenses and a lower amortization and impairment charge compared to the first quarter of the previous financial year.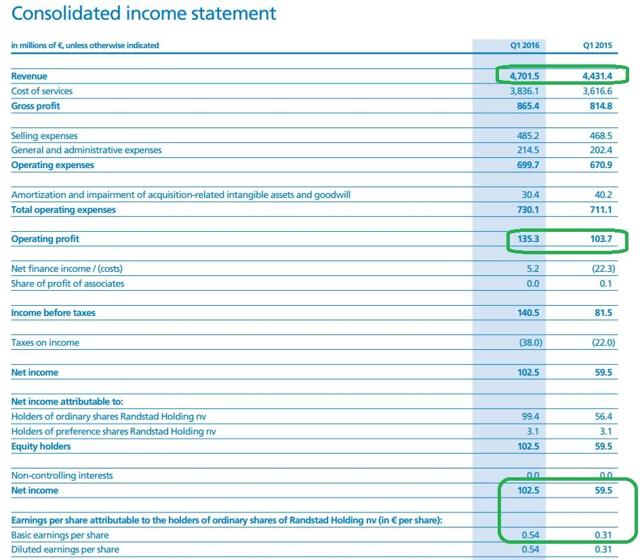 Click to enlarge
Source: quarterly report
On top of that, whereas Randstad had to pay 22.3M EUR ($25M) in financial expenses last year, it now reported a net financial income of 5.2M EUR ($5.8M) which further increases the pre-tax income by approximately 75% (!) to 140.5M EUR ($155M). The net income increased to 102.5M EUR or 0.54 EUR per share ($0.60), 74% higher than the result of the first quarter last year.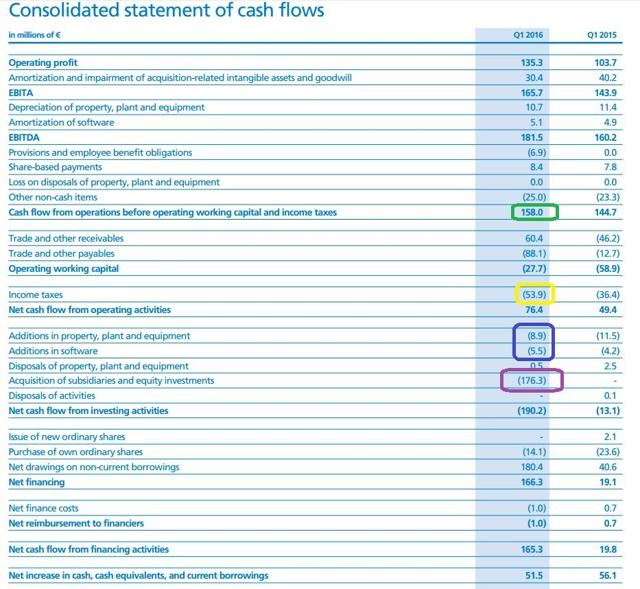 Click to enlarge
Source: quarterly report
That's very nice and definitely an important improvement, but the cash flows are definitely as important. Well, even more important. Randstad generated 158M EUR in pre-tax operating income, which ended up being roughly 105M EUR ($116M) in after-tax OpCF. A pretty decent result but slightly lower than last year due to a higher tax bill caused by the better financial results in FY 2015 (as back in FY 2015, the tax outflow was based on the taxable year 2014, so there's a one-year delay). The capex remained extremely limited at 14.5M EUR ($16M), resulting in a positive free cash flow of 89M EUR ($98M) after deducting the net payment of 1M EUR in interest expenses.
The net debt position didn't improve anymore considering Randstad completed an acquisition (of Proffice AB, a Swedish company) , and the net debt as of at the end of Q1 was approximately 300M EUR ($330M). This means Randstad definitely remains a company with a robust balance sheet as the net debt of 300M EUR is quite low considering the Q1 EBITDA came in at in excess of 180M EUR ($200M) (and the FY 2015 EBITDA was in excess of 900M EUR ($1B)).
What would the impact of a Brexit be?
Right after the Brexit-vote, Randstad's share price crashed, losing just 10% at the open, but giving up more ground later as the impact of the Brexit vote was becoming clear. Using the closing price of right before the vote and the closing price of Tuesday, Randstad's share price has lost 29%, wiping out approximately $2.7B in market capitalization. Is this freefall warranted? Or is it time for me to get my rifle out and start my 'sniper strategy'?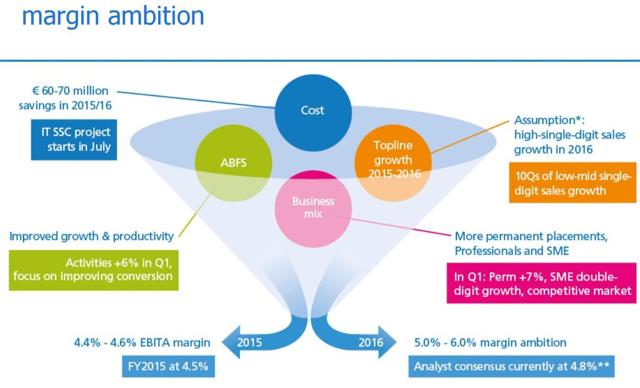 Click to enlarge
Source: company presentation
First of all, the United Kingdom leaving the European Union wouldn't have a huge impact on Randstad's financials. According to the breakdown in the first quarter of the year, Randstad generated just 217M EUR in revenue in the UK (less than 5% of the consolidated revenue, with the UK actually being the geographical area with the lowest revenue), whilst the total EBITA contribution was just 4%. So, even if the revenue in the UK would fall to zero (which won't happen), Randstad would see its consolidated revenue fall by just 5%, and that doesn't really seem to warrant a 29% share price decline.
But the impact of the Brexit vote is obviously much bigger than just taking potentially lower revenues from the UK division into consideration. The main issue of the Brexit vote is the fact it does create a lot more uncertainty on the financial markets, as there's no clarity nor visibility of where the world (economy) is heading, and that's very painful for a company who's thriving on the different cycles of the economy. As Randstad acts as a 'middle man' to source staff, it will see the demand for its services (and its revenue) increase during prosperous times, whilst the tougher times will definitely lead to a lower revenue and cash flow.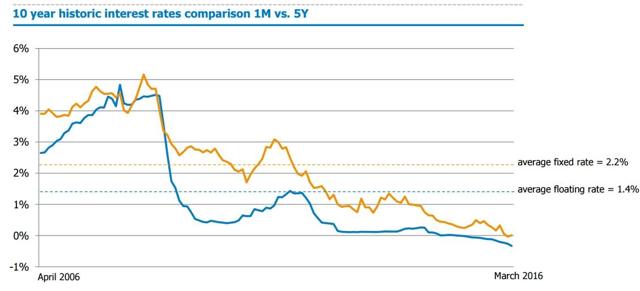 Click to enlarge
Source: company presentation
And that's what's hurting the company more than anything else, the fear of a new global recession, created by this Brexit. And that's a valid concern, as I'm personally not too convinced about the current situation of the world economy. And the impact doesn't remain limited to just Randstad, as ManpowerGroup (NYSE:MAN) also saw its share price fall by 25% on the back of the increased concerns.
Investment thesis
But let's keep an eye on the bigger picture here. Should the world economy fall back into a recession, Randstad's business will most definitely get hurt but keep in mind it doesn't need to generate a massive amount of operating cash flow to cover its sustaining capex (which I expect to be less than 75M EUR/$83M this year), which puts the company in an excellent position to survive another economic downturn. Also keep in mind Randstad is now in a much stronger position compared to 2008/2009 when it just added a massive amount of debt to its balance sheet right when the GFC broke out. Whereas Randstad paid in excess of 110M EUR ($122M) in interest payments in FY 2008, this amount will be reduced to a single-digit amount as I still think Randstad will be able to reduce its net debt.
Long story short, I do like the risk/reward ratio at Randstad better than three months ago. I have initiated a long position and have written some out of the money put options.
Disclosure: I am/we are long RANJF.
I wrote this article myself, and it expresses my own opinions. I am not receiving compensation for it (other than from Seeking Alpha). I have no business relationship with any company whose stock is mentioned in this article.
Additional disclosure: Long the common stock, and I also wrote some out of the money put options
Editor's Note: This article discusses one or more securities that do not trade on a major U.S. exchange. Please be aware of the risks associated with these stocks.