Boeing (NYSE:BA) might be facing a $10bn charge related to its accounting practices on the Dreamliner program. In earlier pieces, I already looked at how Boeing's accounting practice affects the reported profits, and I had a look at the remaining costs that need to be recouped at the end of the Dreamliner's accounting block.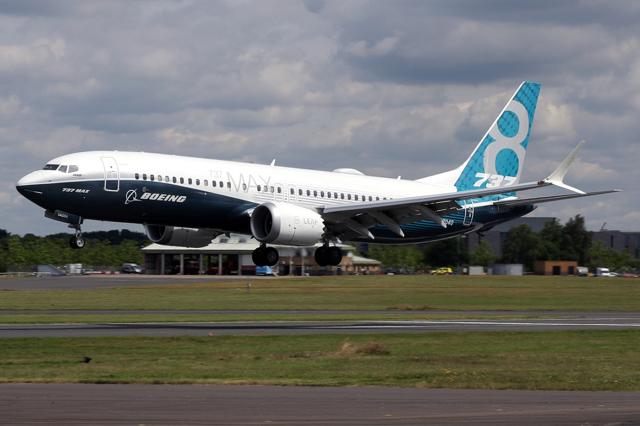 Click to enlarge
These two researches are somewhat tied to the subject of a potential charge and therefore are interesting reading material:
One important conclusion I drew is that the $10bn charge is not a random figure. My calculations show that remaining costs to be recouped by the last unit in the accounting block are $9.7bn. On the other hand, I think the most important conclusion is that claims that Boeing will never be able to recoup the costs are far from the truth.
In this article, I will explain why I think investors should take notice of the charge, but why there is no reason to panic.
Operating Cash Flow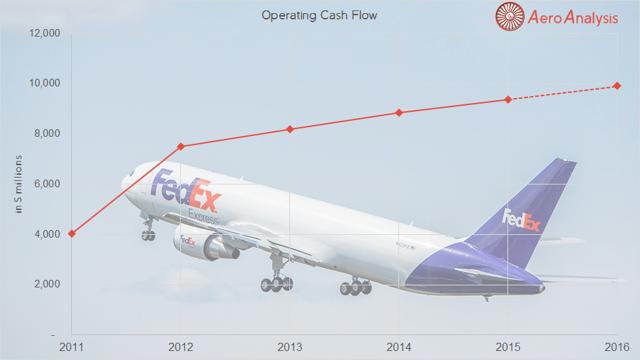 Click to enlarge
Figure 1: Operating Cash Flow (Source: www.AeroAnalysis.net)
What can be seen from Figure 1 is that the cash flow pattern is rock solid. Since 2011, cash flow has more than doubled. Since 2012, the operating cash flow grew by 7.6% annually. If we use this figure to estimate the operating cash flow, we get to $10.1bn in cash flows. Using the same growth patterns as last year, I calculated an operating cash flow of $9.9bn. Both figures are close to the guidance of approximately $10bn, but I tend towards a figure slightly below $10bn since the jet maker has guided lower on commercial deliveries for 2016.
Free Cash Flow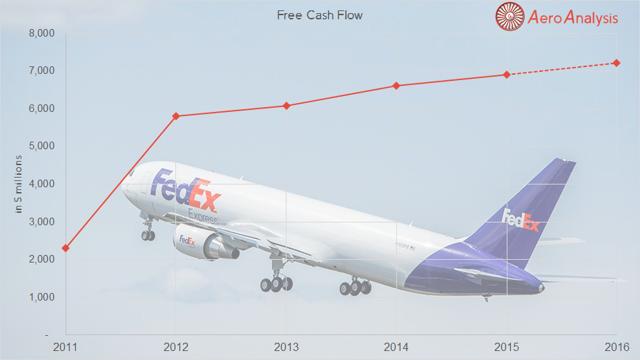 Click to enlarge
Figure 2: Free Cash Flow (Source: AeroAnalysis)
Capital expenditures are expected to grow by roughly 10% this year, indicating capital expenditures of around $2.7bn. This means that the free cash flow for 2016 should be around $7.2bn per my calculations.
Cash per share
When Boeing reported Q4 2015 and full-year results for 2015, it had roughly 662.5 million shares outstanding. This means that Boeing generated $10.43 per share. Using the closing price of the earnings date, it had a free cash multiple of 11.2.
Currently, Boeing trades around $127 or 11.5 times its 2015 cash multiple. If Boeing would have done no buybacks since reporting its full-year 2015 earnings, it would generate $10.89 in cash per share for 2016. Applying a cash multiple of 11 and 11.5 would give a price range of $120-$125.50 (rounded).
Taking the last 4 quarters, the generated cash flow was around $7.9bn, and dividing by the 637.01 million shares outstanding gives $12.37 per share. When applying a cash multiple of 11-11.5, we get a price in the range of $136-$142. Based on this estimate, one would say Boeing is undervalued by at least 7% and at most 12%.
What needs to be noted is that the expected free cash flow for 2016 is lower than the current twelve-month trailing figure. This means that any rise in share prices based on free cash flow per share has to come from stock buyback. In 2015, 40 million shares were bought back. Given the weakness in share prices so far in 2016, I think Boeing will be buying back more shares than it did in 2015. Assuming that there will be 600-610 million shares outstanding, we get a cash flow per share of $11.83-$12.03. Applying a cash multiple of 11-11.5 on this per share cash flow figure gives a price range of $130.10-$138.30.
Conclusion

Figure 3: Wall Street Horizon - @WallStHorizon - Create your own custom event calendar today
Boeing's year-over-year growth profile of free cash flow is still intact, despite the challenges it is facing, and I think that is worth something. Earlier I marked Boeing as an unattractive risk-reward play due to a potential multi-billion charge which will affect the company's earnings. Looking at Boeing's cash generation, coupled with its buyback program, I think Boeing is currently undervalued.
Boeing is currently valued as if it has not repurchased shares since reporting its full-year earnings. Based on its free cash flow growth, I think Boeing shares should be trading around the $135 level.
This article serves 2 purposes. The first is to have a look at a fair value based on cash flow multiples. The second is to explain why investors should not worry about a $10bn charge. As I outlined in one of my previous articles, the charge is not certain yet. Boeing could have an aggressive cost-cutting process in place to avoid a charge. Additionally, it could increase the accounting block size.
Even if there will be a charge related to its accounting practice, Boeing shares should be able to hold firmly as the cash flow profile remains unchanged. For investors that like the Boeing dividends and stock repurchases, the cash flow growth is more interesting. Additionally, the cash Boeing possesses allows the company to work on developments. Therefore, I deem cash and growing cash flows more important than profits or charges.
If you would like to receive updates for my upcoming articles, please click the "Follow" text at the top of this page next to my profile. If you enjoyed reading this article, please consider sharing this article to your social network (Twitter, Facebook, LinkedIn).
Disclosure: I am/we are long BA.
I wrote this article myself, and it expresses my own opinions. I am not receiving compensation for it (other than from Seeking Alpha). I have no business relationship with any company whose stock is mentioned in this article.