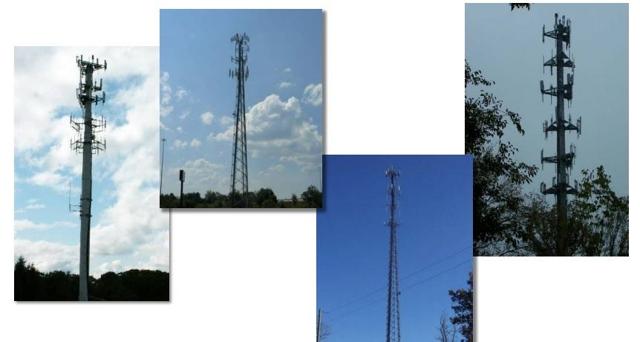 Click to enlarge
Source: Crown Castle International
REITs have been one of the hottest sectors over the past year, with the Schwab US REIT ETF (NYSEARCA:SCHH), the gold standard of REIT performance, posting a total return of almost 20%. American Tower (NYSE:AMT) and Crown Castle International (NYSE:CCI) have not just kept pace with SCHH, but have actually beaten it. Combined with the fact that both REITs have crushed the S&P 500's total returns over this time, many investors might understandably think both REITs are overvalued at today's share prices.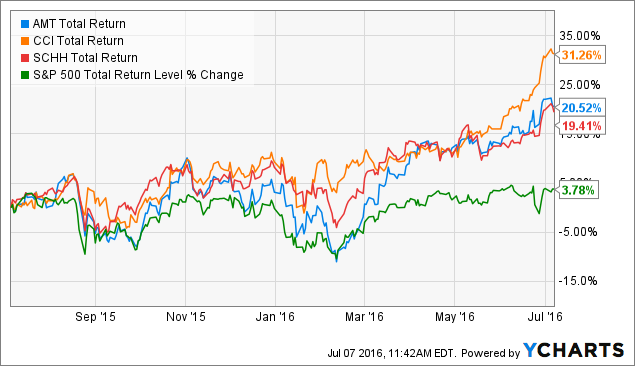 AMT Total Return Price data by YCharts
However, when you consider the long-term dividend growth thesis American Tower represents, it's actually possible that the REIT may be significantly undervalued. Read on to find out why American Tower may actually be trading 21% below its fair value, and thus be capable of supercharging your diversified dividend growth portfolio in the decade to come.
Continued strong growth
| | | | | |
| --- | --- | --- | --- | --- |
| REIT | Q1 2016 Revenue Growth | Q1 2016 Adjusted EBITDA Growth | Q1 2016 AFFO/Share Growth | Q1 2016 Dividend Growth |
| American Tower | 19.4% | 15.1% | 12.8% | 21.4% |
| Crown Castle International | 9.0% | 2.0% | 7.0% | 7.9% |
Sources: Company earnings releases
American Tower's growth machine continues to fire on all cylinders, far outpacing the growth Crown Castle was able to generate in the first quarter of the year. According to CEO Jim Taiclet, this was because:
"The global proliferation of smartphones is driving significant growth in subscriber demand for higher bandwidth applications. As a result, during the first quarter, we continued to experience solid leasing demand across our served markets as mobile operators invest in their networks to manage key performance factors, including coverage, capacity and peak network speed."
This strong ongoing demand resulted in core site growth and organic revenue growth of 25% and 8.7%, respectively. That translated into very strong respective growth in FFO and AFFO of 32.8% and 17.3%, respectively.
During the quarter, American Tower was able to close on its $179 million acquisition of 1,350 towers from Airtel Tanzania, showing the REIT's strong continued growth into key emerging markets. Then, on April 21, 2016, the company closed on its 51% controlling stake in Viom Networks, which owns 42,000 towers in the fast-growing Indian telecom sector.
Better yet, with $3.2 billion in remaining liquidity, American Tower has plenty of growth capital available to maintain its extremely compelling dividend growth profile.
Dividend profile points to strong total returns in the years to come
| | | | | |
| --- | --- | --- | --- | --- |
| REIT | Yield | Q1 2016 AFFO Payout Ratio | 10-Year Projected Dividend Growth | 10-Year Projected Total Return |
| American Tower | 1.9% | 37.6% | 15.6% | 17.5% |
| Crown Castle International | 3.5% | 75.0% | 6% to 7% | 9.5% to |
| S&P 500 | 2.1% | 37.9% | 5.8% | 9.1% |
Sources: Company earnings releases, Management guidance, Yahoo Finance, F.A.S.T. Graphs, FactSet Research, Multipl.com, Moneychimp.com
While American Tower's dividend yield may pale in comparison to that of Crown Castle, analysts expect it to generate far stronger dividend growth over the coming decade. While I'll be the first to admit that long-term analyst projections should always be viewed skeptically (and never be the sole basis for any investment decision), there are several reasons to expect American Tower to be able to deliver on those payout growth forecasts.
First is its exceptionally low AFFO payout ratio, which means the REIT can afford to safely raise the dividend faster than AFFO/share for many years to come. Next, and more importantly, is the fact that the company's growth runway potentially stretches decades into the future, powered by two of this century's strongest economic mega-trends.
Massive growth catalyst creates a potentially large margin of safety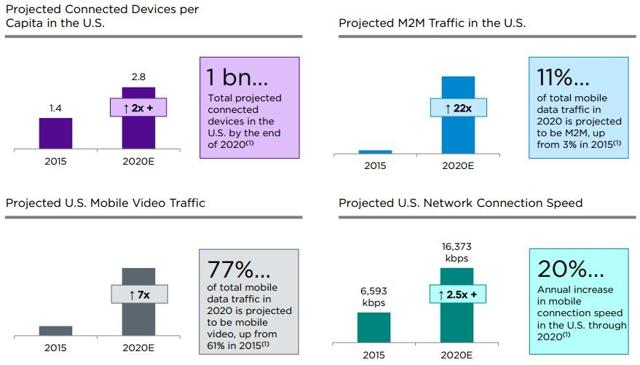 Click to enlarge
Source: Crown Castle International investor presentation
While the US smartphone market may be saturated, the growth of US mobile data is expected to continue grow strongly, thanks to the rise of technologies like video streaming and the Internet of Things (IoT).
Add to this American Telecom's strong presence in the global telecom tower market, where average data use per user is still far less than in the US, and you can see the incredible growth potential of the REIT ahead.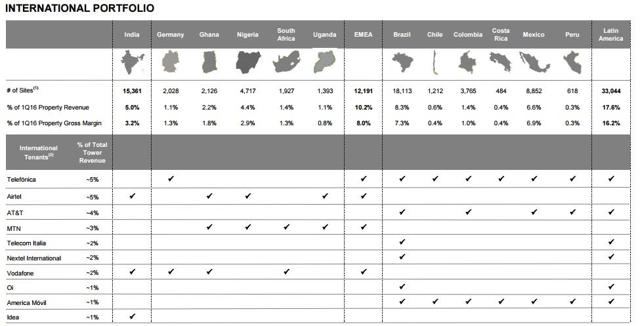 Click to enlarge
Source: American Tower investor presentation
Better yet, according to the UN, over the coming 34 years the world's population is expected to increase by about 2.4 billion people, mostly in emerging markets. That will create a strong secular trend for the continued growth of global smartphones. In addition, as those emerging markets catch up with the developing world, it's highly likely their mobile data use will follow a similar trend to that of the US and other developed markets. Put it all together, and you have one of the best long-term growth catalysts for any dividend stock you can buy today.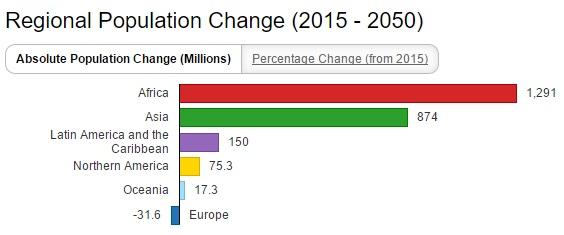 Source: UN 2015 Population Forecast
Which brings me to a potentially surprising fact. Despite American Tower's strong run-up over the past year, the company's shares might not just be justifiably priced, but actually undervalued.
Why American Tower might be trading at a 21% discount to fair value
| | | | |
| --- | --- | --- | --- |
| REIT | Price/AFFO | Historic P/AFFO | Historical Discount |
| American Tower | 20.7 | 22.0 | 5.1% |
| Crown Castle International | 22.6 | 18.7 | 20.9% |
Source: F.A.S.T. Graphs
My favorite valuation metric for any REIT is price to adjusted funds from operations, or AFFO. That's because AFFO is what funds the dividend, and thus, is the most important thing with regard to long-term sustainable payout growth.
As you can see, compared to its historic P/AFFO ratio, American Tower is actually trading at a historical discount. Perhaps more surprisingly, it's also trading cheaper than the slower-growing Crown Castle. That may have to do with today's ultra-low rate environment and the fact that yield-starved investors have been bidding up the share prices of any stock paying a decent dividend.
That being said, 20.7 times AFFO isn't cheap on an absolute basis, so how's an investor to know if American Tower is a good long-term buy at today's share price? For that, we can turn to a discounted cash flow analysis to provide an estimate of a fair value for American Tower, the growth rate that is currently priced into the stock, and the kind of margin of safety the current share price represents.
| | | | | | |
| --- | --- | --- | --- | --- | --- |
| REIT | TTM AFFO/Share | 10-Year Projected AFFO Growth | DCF Fair Value Estimate | Reverse DCF Implied Growth | Margin of Safety |
| American Tower | $5.38 | 15.3% | $141.49 | 12.4% | 21% |
| Crown Castle International | $4.50 | 15.5% | $127.84 | 11.6% | 20% |
Sources: F.A.S.T. Graphs, Morningstar, GuruFocus
Note that DCF analyses should never be the sole reason for making any buy, sell, or hold decisions. That's because they have two major weaknesses. First, they require long-term growth assumptions, which are tricky even at the best of times. Second, their results can be widely affected by the discount rate one uses to determine the present value of future cash flows and intrinsic value (net asset value).
In this case, I used the market's historical return since 1871 of 9.1% as the discount value. That's in order to estimate at what price American Tower and Crown Castle would be likely to at least match the market over the next 20 years. I also used analyst estimates for AFFO growth over the next decade, and then cut that estimate in half for the following 10 years to represent slowing growth over time.
So keep in mind that the above fair values and margins of safety are simply best guesstimates. However, that being said, even at today's seemingly high share prices, both American Tower and Crown Castle have the potential to make strong long-term, market-beating dividend investments. But only if both REITs can live up to their impressive growth potential and investors are willing to ignore short-term price action and hold for the VERY long term (20 + years).
Which brings me to the three risk factors that current and potential investors in these REITs need to keep in mind.
Risks to consider
First, and I can't stress this enough, the investment thesis for both American Tower and Crown Castle (and the reason I think both are still potentially undervalued) is based on a very long time horizon. For example, my DCF model is based on 20 years of growth, so even if the model proves highly accurate in terms of the ultimate fair value of either REIT, in the short term I can't even begin to predict what the share prices will do.
The stock market is inherently unpredictable, and with American Tower's beta of 0.96 (sky-high by REIT standards), it's possible that over the next 1-5 years, investors could suffer unrealized capital losses.
| | | | | | |
| --- | --- | --- | --- | --- | --- |
| REIT | Debt/EBITDA | EBITDA/Interest | Debt/Equity | S&P Credit Rating | Average Debt Cost |
| American Tower | 5.88 | 4.75 | 2.46 | BBB- | 3.58% |
| Crown Castle International | 6.05 | 4.05 | 1.66 | BBB- | 4.08% |
| Industry Average | 2.72 | NA | 0.87 | NA | NA |
Source: Morningstar
That's due to the other two main risk factors facing both American Tower and Crown Castle: the fact that both REITs are highly leveraged. This creates two specific risk factors to their growth potential.
First, while access to plenty of cheap debt over the past few years have allowed both REITs to grow quickly, debt is always a double-edged sword. Interest rates are likely to rise in the long term, which would make refinancing their debt loads more difficult, as well as raise the cost of capital for American Tower and Crown Castle. This means potentially lower future margins and slower AFFO growth.
In addition, because of their high debt loads, it's likely that both REITs will need to rely on equity markets for future growth capital. Over the last five years, investors have largely been spared excessive shareholder dilution, which helped fuel the companies' strong dividend growth rates.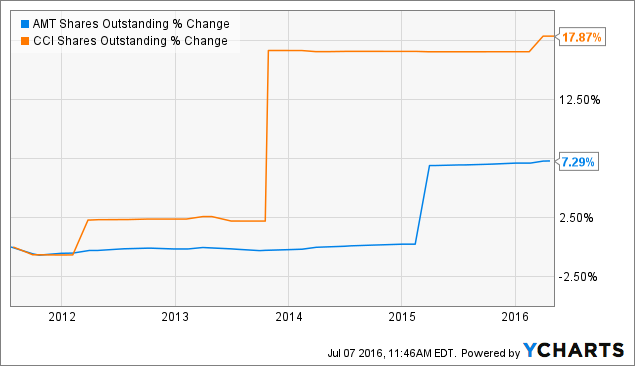 AMT Shares Outstanding data by YCharts
While today's prices mean equity capital is cheap, it also means that both REITs' future growth rates could be dependent on fickle investor sentiment. In addition, with shareholder dilution more likely in the future, AFFO/share growth will be harder to come by. Which, in turn, could mean that achieving the kind of strong dividend growth that investors have come to expect from these REITs might not be possible.
Bottom line: Despite last year's rally, American Tower still represents an excellent long-term dividend growth thesis
Don't get me wrong, I'm not saying that in the short term American Tower or Crown Castle may not suffer a potentially sharp share price reversal. However, given the potentially decades long growth runway both REITs could be facing, I'm confident that long-term dividend investors will come out ahead - even at today's seemingly high share prices.
That's especially true given American Tower's international business, which gives the REIT exposure to two of the strongest mega-trends of the coming century: continued growth of telecom data, as well as emerging market economic and population growth.
Disclosure: I/we have no positions in any stocks mentioned, and no plans to initiate any positions within the next 72 hours.
I wrote this article myself, and it expresses my own opinions. I am not receiving compensation for it (other than from Seeking Alpha). I have no business relationship with any company whose stock is mentioned in this article.