Mcdonald's (NYSE:MCD) expansion of its all-day breakfast menu will likely have bigger implications on operating results than most think. The stock finished flat on the day, but I argue that shares should've moved higher given how much the expansion could boost sales and traffic.
Mcdonald's first launched all-day breakfast last year in October. This simple move sparked a 5.7% comp in the last three months of 2015 as well as the company's biggest quarterly sales gain in nearly 4 years. This growth came despite many consumers being disappointed the menu did not offer McGriddles. Indeed, the original all-day breakfast menu was greatly limited. The menu was focused on either Biscuits of McMuffins, depending on your location, but not both. It also didn't include McGriddles or hash browns. Nonetheless, the company still managed a 5.7% comp following the all-day breakfast launch.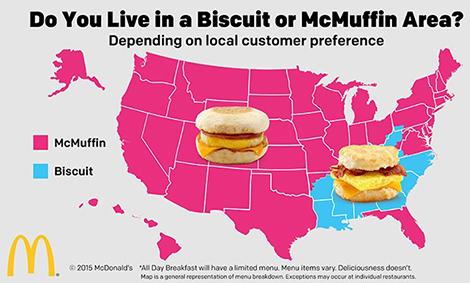 McDonald's then introduced McGriddles to the all-day breakfast menu to 72 locations in Oklahoma on February 1. On March 25, the company announced they would introduce the McGriddle to the all-day breakfast menu at 1,000 more locations, with some offering the specialty item as early as March 28. For the quarter ended March 31, McDonald's posted a 6.2% comp, an accleration from Q4's 5.7% comp. Again, the growth was driven by all-day breakfast.
Today, McDonald's announced that Biscuits, McMuffins, and McGriddles would be available at every location in the United States. This is a pretty significant expansion, as from the McDonalds investor relations, it looks like the McGriddle is currently only available fully across 9 states (small penetration in Virgina, Kentucky, Pennsylvania, and Maryland). This means the McGriddle expansion is a 41 state expansion, including big markets like California, Texas, and New York.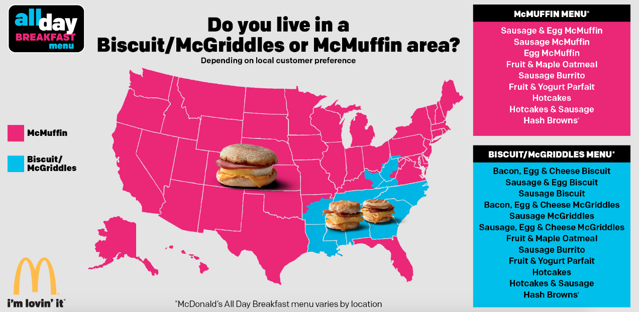 Click to enlarge
Considering the growth previous breakfast expansions have sparked, this 41-state McGriddle expansion should boost near-term sales. YoY revenue declines are projected to accelerate over the next 2 quarters relative to Q1, and I really do not think that will happen with such a huge domestic tailwind.
The McGriddle is the second most popular breakfast sandwich at McDonald's, behind the McMuffin, so this is an expansion of a historically preferred breakfast item. Back when the McGriddle launched, it contributed to 40% of comp growth. It is a popular sandwich, and considering how popular the all-day breakfast menu was without the McGriddle, it seems very likely that the popularity only booms when the McGriddle becomes made available everywhere.
One concern here is how expansion of all-day breakfast will affect margins. Breakfast items are usually of the lower margin variety than higher ASP lunch items, so expansion could cause some margin compression. In Q4 and Q1, US company-operated margins did compress, but that was due to increased wage pressure. Meanwhile, the company benefited from higher sales-driven franchise margins in the US in both Q4 and Q1. Clearly, MCD can drive margin expansion even with lower ASP all-day breakfast (margin expansion driven by higher unit sales).
Some investors are concerned with MCD's valuation, but it looks like the valuation is supported by strong growth prospects. MCD is trading at 23x price-to-earnings versus the market's 24x P/E multiple. MCD earnings growth, though, is projected at 10.5% per year over the next 5 years, while the market is projected to grow earnings at a 7.4% clip. That means MCD sports a far more attractive PEG ratio than the market does.
The 10.5% earnings growth projection also seems light. Earnings are well-off their highs ($4.80 MRFY versus $5.55 in 2013), but the company's aggressive refranchising and cost-cutting plan is resulting in boosted margins and higher earnings this year. Diluted EPS rose almost 50% in Q1, and the company still has lots of refranchising left to do with only 700 restaurants refranchised so far (out of a 3,500 goal by the end of 2018). Earnings have a lot of growth potential in front of them.
From this standpoint, I think the P/E ratio has some room to expand. The trailing P/E multiple is off its highs from where the stock traded earlier this year, and I think all it takes to get that multiple back up is one strong quarter.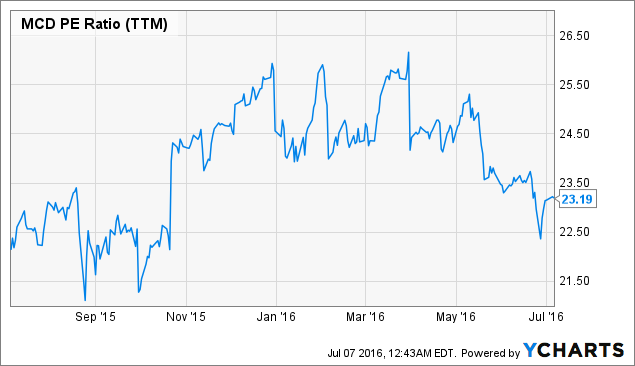 MCD PE Ratio (NYSE:TTM) data by YCharts
I think we get that strong quarter relatively soon with the expansion of all-day breakfast. I think a flat stock reaction to this big news implies a potential buying opportunity for investors who recognize the sales boost an all-day breakfast expansion will provide.
Disclosure: I/we have no positions in any stocks mentioned, and no plans to initiate any positions within the next 72 hours.
I wrote this article myself, and it expresses my own opinions. I am not receiving compensation for it (other than from Seeking Alpha). I have no business relationship with any company whose stock is mentioned in this article.