My newfound interest in preferred shares has taken me down many roads, one of which ended at Canaccord Genuity's (OTCPK:CCORF) preferred shares. The company has two series (A and C), both of which yield over 10%, currently.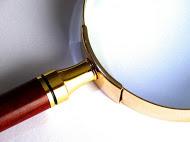 10%, eh? That's the type of yield that normally makes people run for the hills. But the greedy side of me said, "Let's spend 30 minutes to take a closer look."
Surprisingly enough, I was somewhat encouraged by what I saw.
Some background
Canaccord is a financial services firm providing both wealth management and capital markets services. Primary revenue drivers are private client trading activity and institutional sales and trading ("Commissions and fees" in the chart below), investment banking, advisory services, principal trading and other activities.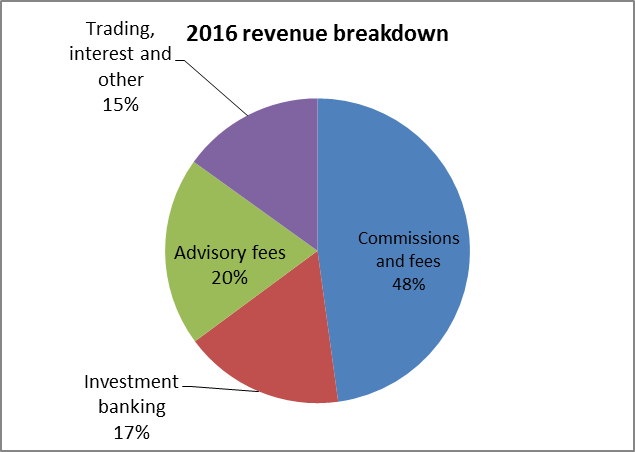 Basically, the company makes money when markets are active.
What's happening today?
Without a doubt, the company had a tough FY 2016 (Canaccord's fiscal year ends in March): sales were down 11% and the company reported a net loss…again.
The company highlights a number of reasons for weak markets, most of which boil down to reduced economic activity, fears of another global slowdown and the resulting effect on commodity markets.
The company also notes that a strong USD is detrimental to emerging market economies. With the Fed hinting at possible rate hikes in the future, Canaccord may be stuck with a strong USD for the foreseeable future.
A weak FY 2016 has led the company to rationalize its workforce and suspend its common share dividend, neither of which is uncommon in turbulent markets (explained further below).
What happened during previous downturns?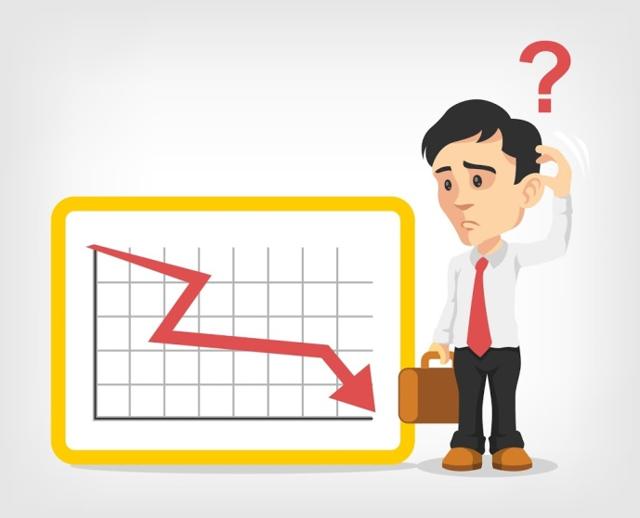 I believe the price (and, therefore, yield) of the preferred shares is a direct effect of weak company results, which, in turn, are caused by weak markets. Therefore, I believe it is worth investigating what has happened in previous downturns.
2009
The markets of 2009 need no introduction. Conditions were poor, business suffered. Canaccord's revenue was down 35% overall and 50% in the investment banking segment. Between FY 2008 and FY 2009 the company recorded a total of $111MM of charges related to the Canaccord Relief Program (designed to make retail investors whole on their ABCP holdings) and goodwill impairments.
In FY 2009, the company took a number of actions designed to strengthen the balance sheet: issuing common shares, suspending the common dividend and cutting 10% of its workforce.
Surprisingly, FY 2009 brought the strongest free cash flow in years, although it was thanks to working capital items. On an ex-WC basis, FCF slumped to $17MM (FYE 2008: $43MM; FYE 2007: $77MM). (Working capital is dominated by A/R and A/P, which are generally comprised of amounts due to/from brokers for trade settlement (usually settled in a three-day window) or amounts from collateralized securities borrowed and/or loaned. Because these items are volatile and have the ability to greatly influence cash flow metrics, and because I do not view them as a sustainable source of or perpetual use of cash, I will present cash flow metrics on an ex-working capital basis.)
Sure enough, business bounced back in FY 2010, with revenue up 21%, and again in 2011 (up 39%). By the end of FY 2011, revenue was 10% above FY 2008 and the dividend was reinstated and approaching pre-crisis levels.
2012
Fiscal 2012 was another difficult year for Canaccord as the European debt crisis and the prospect of contagion refreshed global economic fears. Concern emerged of a double-dip recession in the U.S. Markets slowed. Revenue dropped 25% (47% for the investment banking division).
Free cash flow saw its biggest swing in years, dropping from $145MM in FY 2011 (again, ex-WC) to $28MM in FY 2012, with the change being almost entirely caused by the change in net income. (For what it's worth, the $145MM figure in 2011 was the largest in years - twice the max value from the previous five years.)
Slow markets did not impede the company's growth strategy, however. The company made or announced three acquisitions: Balloch Group (an investment bank in China), a 50% interest in BGF Equities (an investment dealer in Hong Kong and Australia) and the $405MM acquisition of Collins Stewart Hawkpoint plc ("CSH" - U.K. wealth management and investment banking). (These acquisitions caused a large need for cash, and they are the origin of the preferred shares being discussed.)
The company spent much of FY 2013 dealing with the impact of FY 2012, focusing on realizing synergies from its acquisitions and cutting costs in general. The dividend was halved. However, revenue grew 32% in fiscal 2013, primarily on account of the previous year's acquisitions.
How does this downturn differ?
Maybe my view is simplistic, but my simple answer is it doesn't. Yes, FY 2016 was another tough year for the company; however, it's reacting how it always has: focusing on cost savings and efficiencies, cutting the dividend and preserving capital.
To that end, I think the company did well enough: it increased the cash balance by ~$100MM, reduced debt by ~$20MM and sustained positive FCF ($33MM; -62% YoY, although not unprecedented, as I've explained).
The (potential) good news is that previous downturns have often been followed by strong rebounds, with revenue bouncing back strongly, and operating profit margins have generally reacted positively to the company's right-sizing efforts. While it is not a guarantee that FY 2017 follows this pattern, it is good to see recent history of positive changes after poor results.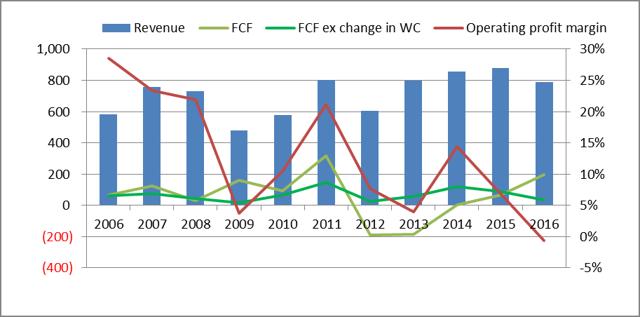 Click to enlarge

Click to enlarge
Looking ahead
I'm not overly concerned with Canaccord's business model - the market in which it competes is inherently volatile, and the company has been through this before. I think the company has made some good moves, like expanding the wealth management arm of the business, which provides (generally) steadier commission- and fee-based revenues.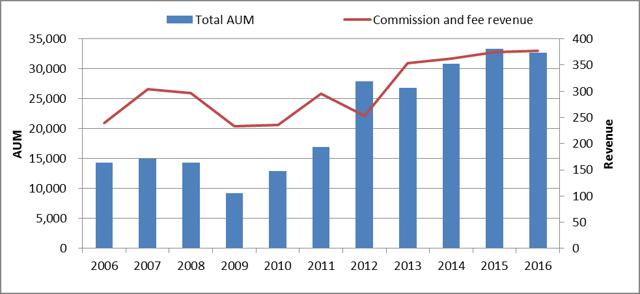 Click to enlarge
AUM is on an uptrend, as is the associated revenue, and I think the company will continue to focus on this business segment. (It's worth noting that the acquisition of Collins Stewart Hawkpoint closed on March 21, 2012, 10 days before the company's year-end. Thus, in the chart above, 2012 AUM received a boost while revenue appears to underperform. It is also worth noting that, all things equal, a market downturn will reduce AUM.)
I believe the rest of the business will be business as usual - competing for underwriting and advisory business - and things will swing around in time.
Another aspect of the turnaround plan is gaining buy-in from employees. To that end, the company has completed a private placement geared toward employees, with a half warrant attached to each common share. This theoretically aligns employee interests with shareholders. While it will dilute existing common shareholders, it does not impact the preferred shares I am discussing.
Speaking of which, when are we going to discuss these preferred shares?
My analysis of preferred shares is developing. I view it as a hybrid analysis - part credit and part equity. Preferred shares do not behave like common equity. With common shares, I want to know that the business will survive and continue improving, and, hence, give me capital appreciation. (I also like dividend paying stocks, so I look for that, too.) I also like to pay what I think is less than fair value, so much of my work is focused around valuation.
With preferred shares, my analysis is different: valuation is not a focus in the same way as with common shares. I view preferreds as fixed income in the sense that I am buying the shares primarily for the yield. Yes, I want to be comfortable that the company will survive and continue paying dividends (hence my discussion of previous downturns above), but having the company grow in order to realize capital appreciation is just not as important to me. That said, capital growth is definitely a nice-to-have, and I view there being two ways to get it: 1) Sentiment turns and people are more confident in the company; and, 2) The company decides to redeem the shares. Generally, I focus on the latter and let the market worry about the former.
Why do I like these preferred shares?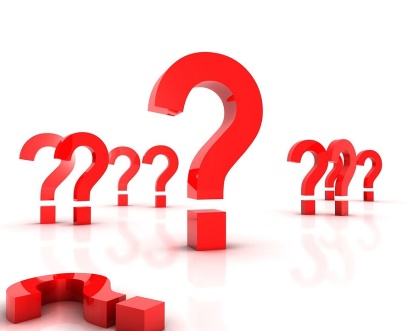 Probably like you, the yield of these shares had me pretty skeptical from the start, so I developed a quick screen.
Company debt - is the company in a liquidity crunch?
No. Canaccord has $30MM of balance sheet debt, compared to $428MM of cash ($381MM of working capital).
Historically, the company has operated with minimal debt. In fact, the maximum level of balance sheet debt in the past 10 years was at FYE 2012 ($240MM) on account of the CSH acquisition. Since that time, average balance sheet debt at the end of the year is $40MM.
Why do I care? Debt ranks higher in the capital structure than preferred shares. The lack of debt means that the preferred shares currently rank fairly high in the capital structure. (Of course, this can change if the company issues more debt. Looking at historical levels gives me some indication of management's attitude toward debt; however, it does not ensure debt is not issued.)
Existing balance sheet debt is primarily comprised of call loans or overdraft positions in order to facilitate the settlement of client and company trades and this debt is collateralized by client and/or company securities. The company also mentions that subsidiaries have additional credit facilities in the aggregate amount of $697MM. These facilities consist of call loans, letters of credit and daylight overdraft facilities, and are currently undrawn. While this represents a substantial potential increase in debt, the facilities have specific uses and are not for general corporate purposes. This means the company can't simply draw down the facilities because it needs money; the concern being in a bankruptcy scenario where the company may suddenly add debt and push the preferred shares further down the capital structure. However, as of FYE 2016, the company does not mention having a revolver or other debt facilities for general corporate purposes. If things go downhill and I'm worried about bankruptcy, odds are nobody will lend the company money, which provides me some comfort of the relative position of the preferreds.
Dividends - is the company able to cover the dividends?
Yes. Yearly preferred share dividend obligations are $12MM (combined for series A and C). Ignoring the cash balance as a source of payment, the company has healthy cash flow generation, ending FY 2016 with FCF of $33MM (again, ex-WC; the 10-year average is $70MM).
Why do I care? Simple: the point is to get paid.
Suffice it to say, the results of my quick screen surprised me: I was expecting to find a company under crushing debt that could barely pay its dividends.
The results encouraged me to continue my research.
What else did I consider?
Why do I like the Series C shares over the Series A shares?
A quick stock quote will show you that the Series A shares are cheaper ($11.06) and have a higher yield (12.4%) than the Series C shares ($13.7 and 10.5%, respectively). (Data as of July 6, 2016.)
My preference for the Series C shares takes me back to my point about capital appreciation due to share redemption. With a spread of 4.03%, I believe the Series C shares have a better chance of being redeemed than Series A (3.21% spread). The underlying rate for both series is the 5-year Government of Canada Bond, which makes the Series C shares more expensive than Series A. I can't say when redemption will occur, but I am reasonably confident that, when it does, the Series C shares will be redeemed first.
If I like the company so much, why don't I buy the common shares?
While I believe the company is not in dire straits, I don't like it enough to buy the common shares. There is more risk there (based on the position in the capital structure) and the company has a history of cutting the common share dividend. The preferred dividend is not likely to be cut; and if it is, dividends are cumulative, meaning I will (hopefully) receive them in the future. (I will say, however, that if the preferred dividend is cut, I will not be holding my breath for the payment of back-dividends.)
Additionally, there have been a number of times in the past few years (including currently, with the private placement) where common shareholders have been diluted.
When do I think the shares will be redeemed?
This is a difficult question to answer. Unlike my thesis with Canada's Big Banks, I don't see an obvious driver to encourage the company to redeem these shares. Based on historical capitalizations, I do get the sense that the company does not like debt; however, the history with preferred shares is relatively short. Maybe at some point the company will get fed up paying fat dividends and choose to redeem.
There are two factors that I believe are most relevant to the question of when Canaccord might redeem these shares:
Regulatory capital - as an investment dealer, Canaccord and its subsidiaries are subject to various regulations surrounding capital requirements set out by regulators such as IIROC, the FCA, FINRA, and the OSC, among others. IIROC, for example, requires risk adjusted capital of not less than zero and minimum capital of $250k. Other than to state that its subsidiaries were in compliance with requirements, Canaccord does not provide much information regarding its regulatory capital position. According to IIROC, non-retractable preferred shares (i.e. the preferred shares in question) count as regulatory capital.
Cost of funds - the Series C preferred shares cost Canaccord 5.75% per year. Assuming a 5-year Government of Canada bond yield of 0.54% (July 5, 2016), the shares will reset at a rate of 4.6%. This is relatively cheap money for a firm like Canaccord. The closest, most recent comparable I can find is Dundee Corp., which early this year issued fixed-rate preferred shares at 7.5% (yielding 7.8% at current market prices). The incentive to redeem is certainly stronger if the company could find cheaper money elsewhere; this does not seem to be a driver at this time.
A third factor that intertwines with the two above is ability. Does the company have the ability to redeem the shares? Ignoring the regulatory capital implications, the company currently has the financial capacity to redeem the shares: as of FYE 2016, $111MM of Series A shares and $97.5MM of Series C shares are outstanding, versus a cash balance of $428MM. However, ability does not equal intent; like I said before, these shares provide the company with pretty cheap money.
What are the potential returns?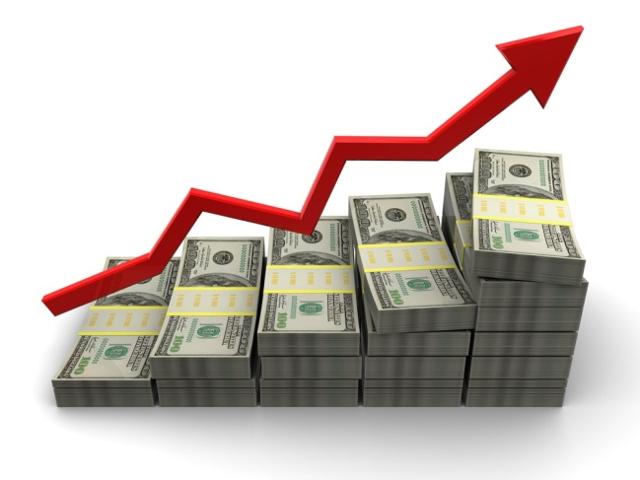 My analysis would be incomplete without investigating potential investment returns. The Series C preferred shares are perpetual shares, meaning the company never has to redeem them. I don't believe the company will leave the shares outstanding forever; however, I cannot identify a near-term catalyst that would prompt the company to redeem them. Therefore, my analysis involves calculating the potential return assuming redemption at various reset dates. The first possible redemption date is Jun. 30, 2017, with the subsequent dates being every five years thereafter.
I can't say which scenario (if any) will play out in the real world. However, if I am comfortable that the company will redeem the shares during one of my timeframes, and I am comfortable with the return over each timeframe, then I don't have to worry about which scenario will play out; I just need to feel confident that one of them is likely.
Because these are rate reset shares, assumptions are required for the 5-year Government of Canada rate at the time of reset. For this purpose, I assume the rate at the next reset (Jun. 30, 2017) is unchanged from today (0.54%), the rate at the second reset date (Jun. 30, 2022) is 1%, and that subsequent rates increase by 0.5% and are capped at 2%. Basically, I am assuming a low interest rate environment persists for the next 25 years, which I believe is a conservative assumption.
The chart below shows the annual return over various timeframes. Note: I have hidden many of the rows to save space in the screenshot. The IRR value does account for all of the rows.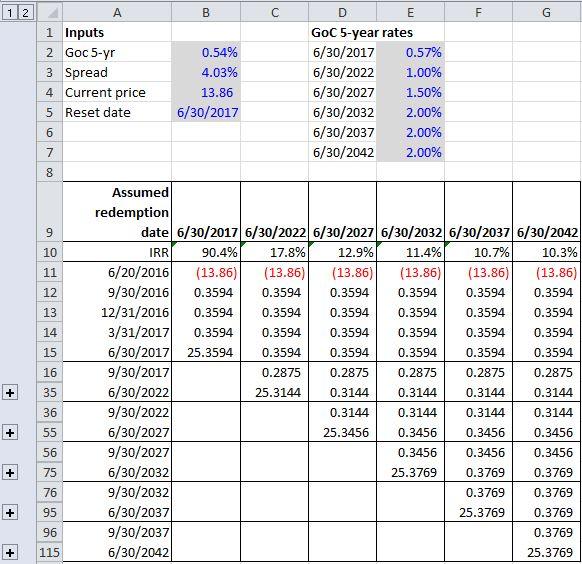 As expected, the long-term IRR begins to converge on the long-term dividend yield.
I thought it would be interesting to run the same numbers under the unrealistic assumption that the Government of Canada 5-year rate was 0% at all reset dates. Short of bankruptcy, this is the worst-case scenario (assuming the company redeems the shares within 25 years).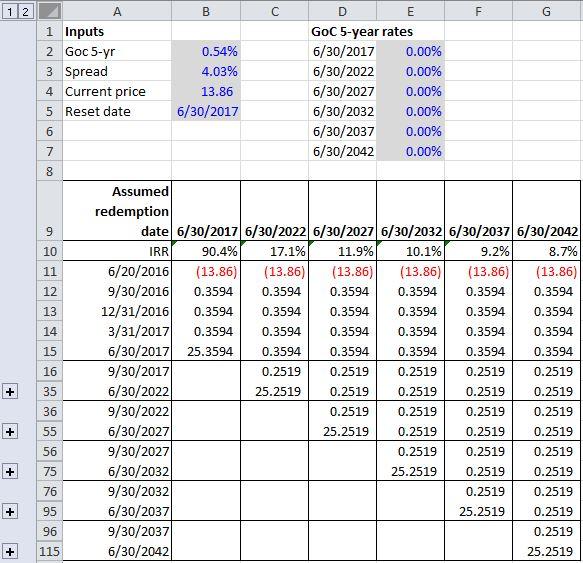 What could go wrong?
Obviously with investing, things can go wrong. The most drastic outcome in this case is bankruptcy.
I don't want to gloss over the credit rating on these preferreds; a Pfd-3 rating at DBRS is considered Adequate, and the negative outlook means the shares are subject to downgrade into the Speculative category. I have not read the DBRS report (I don't have access), although I suspect the rating is a function of Canaccord's size and the industry in which it competes. The negative outlook is likely reflective of difficult market conditions.
I don't think the company is going bankrupt any time soon; however, conducting a liquidation exercise is worthwhile.
I am not a bankruptcy pro, but I have run a scenario that seems reasonable. The bulk of Canaccord's assets are in cash and equivalents, securities owned and accounts receivable. I assigned a recovery rate of 100% to cash, 95% to securities owned (these are generally liquid, although I assume a small haircut for a quick sale) and 90% to accounts receivable (generally speaking, these are amounts sound to be very collectible - they are due to Canaccord as the result of some settlement process - e.g. from brokers and dealers or from securities loaned and borrowed). I assume all liabilities are paid in full.
The end result is a recovery rate for preferred shareholders of 70%. While this figure is not something to brag about, it is likely a decent outcome for preferred shareholders in a bankruptcy scenario.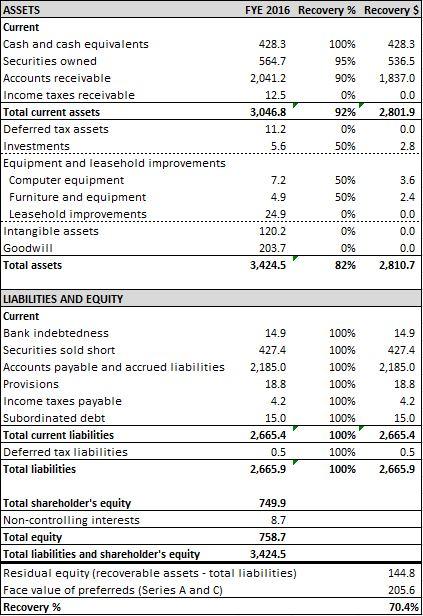 I fiddled with my A/R recovery percentage a bit and discovered that if the company could collect 93% of this balance, preferred shareholders would be made whole. Since the bulk of the company's assets are in A/R balances, the recovery rate for the preferreds is very sensitive to the assumed recovery rate for A/R.
Another scenario is that the company continues to muddle along in the difficult market. In this case, I believe the dividend is fairly safe - the company typically has good cash flow and the payments are not too onerous. In this case, the shares basically turn into a perpetual bond and you continue to collect solid dividends.
On the other hand, if the market picks up and Canaccord's results follow, I believe these shares will be seen as less risky, and, with a large yield, I think investors would start to jump in.
And then we have Brexit - Canaccord's large acquisition of CSH was a move to expand into Europe and the U.K., a region that now accounts for roughly a quarter of revenue. I'm not an economist, and my thinking regarding these issues errs on the side of simplicity. In this case, my simplistic view is that not much is going to change; heck, we don't even know if the U.K. will actually follow through with Brexit. What I can say for a fact right now is that the Pound has dropped about 12% versus the CAD since the referendum, which, at the very least, will put a dent in GBP-denominated revenues.
Many preferred share investors may flag rising rates as a concern; however, unlike fixed-rate preferreds that drop in price during rising rates, the yield on rate reset shares will eventually catch up to the market and the share price should do the same.
Conclusion
I was surprised what I turned up in my research. While preferred investing is still fairly new to me, I believe these shares offer an attractive yield that is fairly safe, from both dividend and capital preservation perspectives. Therefore, I have dipped my toe in the Canaccord waters and opened a small position.
This article is just my opinion - let me know yours in the comments section! Also, if you like what you've read and want to receive notifications of when I post new content, click the Follow button at the top of the article next to my name.
Disclosure: I am/we are long CF.PR.C.
I wrote this article myself, and it expresses my own opinions. I am not receiving compensation for it (other than from Seeking Alpha). I have no business relationship with any company whose stock is mentioned in this article.
Additional disclosure: This article is not intended as investment advice. You are responsible for deciding whether an investment suits your investment style and portfolio.
Editor's Note: This article discusses one or more securities that do not trade on a major U.S. exchange. Please be aware of the risks associated with these stocks.