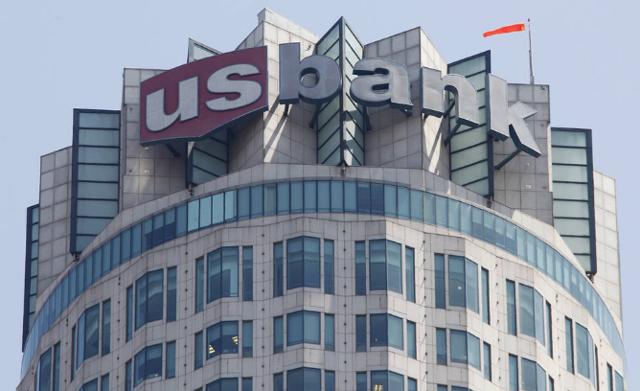 Click to enlarge
US Bancorp (NYSE:USB) is one of the better banks our nation has to offer from an operational standpoint. USB is routinely near the top in terms of profit metrics including very high ROA and ROE and it is certainly one of the better regional banks around. However, investors have bid USB up to trade at a significant premium to its competitors in the past, a fact I lamented as USB's relatively weak Q1 this year caused me to call the stock a sell. Any company, no matter how great, has a price at which it isn't worth owning and considering what has happened to other, mere mortal banks' stock prices of late, the premium to own USB hardly seems worth it. And given weak results from this year's CCAR exercise, another potential reason to own the stock has been removed.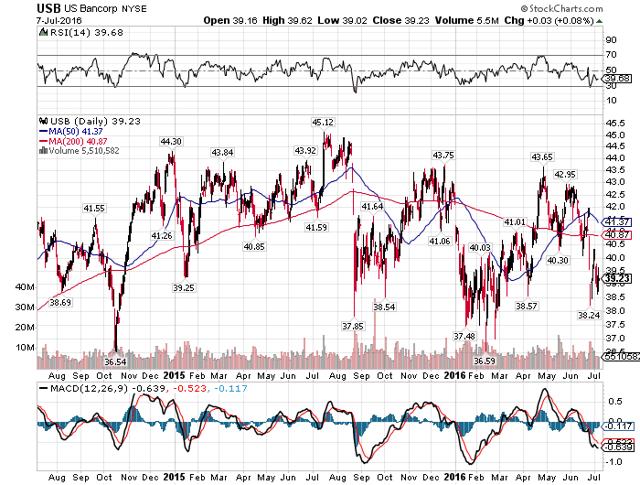 Click to enlarge
USB came out of the financial crisis relatively unscathed (emphasis on relatively) as many of its peers struggled mightily or even went out of business. Owed to its prudent management team, USB was stronger and in a better competitive position thanks to the crisis, as backwards as that sounds, and that reputation has helped it earn its premium valuation. But shares have quite literally gone nowhere for the past two years and after a CCAR that I characterize as weak on a couple of levels, I don't see any catalysts for the stock to move higher.
In the LISCC and large and complex BHCs category of the CCAR - of which USB is a member - it has the lowest starting CET1 ratio of any of the 16 participating banks. This is owed not to USB's unprofitability- that is certainly not a problem - but rather USB's propensity to return large amounts of its earnings each year via dividends and buybacks. That's obviously great for existing shareholders but when the Fed's tests are run, those distributions mean that valuable capital is leaving the bank at a time when it may potentially need it. And with USB starting at the lowest level among its peer group, the results aren't pretty.
Under the severely adverse scenario, USB's CET1 ratio would fall all the way to 6.2%, putting it at the second lowest in its peer group, with only Wells Fargo coming in lower at 6.1%. The point is that USB's capital base is volatile under the stress test scenarios to the extent that it is returning capital; not that it would produce massive losses. Other banks that have extremely volatile capital bases like Citi (NYSE:C) or Amex (NYSE:AXP) are that way at least in part because they would incur sizable losses on admittedly much higher capital levels than USB would. But USB is starting from such a low point that it makes little difference that its losses would be rather minimal; it doesn't have the capital to spare.
As I said, I'm certainly not worried that economic malaise would paralyze USB with losses; history would suggest otherwise. However, from a capital return perspective, its low current level means that it doesn't have any levers to pull to produce upside catalysts. Its earnings growth is at the mercy of the economy like everyone else in the industry and its capital returns are subpar not only because its current base is so low but also because its stock is so expensive. This combination means that whatever USB produces each year is going to be underwhelming until one or both of those conditions abate.
USB's new dividend of 28 cents would produce a ~2.9% at today's prices, certainly a strong showing among the banks. That kind of yield is getting to the point where people may become interested in owning the stock simply as an income vehicle with the 10 year Treasury at just about half that level. The 9.8% raise this year certainly puts USB in a good position to show investors it is serious about the yield and that may very well attract some buyers.
The dividend is nice and I have no complaints there but where USB's relative deficiency in excess capital shows up is in the buyback. USB was granted a $2.6B buyback this year, good for about 3.8% of the float at present prices. That is the lowest buyback amount I've seen relative to market cap of the banks I've looked at in detail so far this year and it means that USB's total yield on this year's capital plan is under 7%. Again, that's very low as several banks produced buybacks in that range exclusive of their dividend yields. In short, the combination of USB's inability to produce sizable distributions due to its low current capital base and its premium valuation means that its capital returns are very weak by current standards.
USB isn't sporting its normal 13 or 14 PE but it is still at a vast premium to the rest of the group at 11.2 times next year's earnings. And given that its earnings trajectory looks rather like many other banks at this point and the fact that it is necessarily constrained to relatively lower capital returns than the others, where is the upside? I couldn't see paying a premium for USB right now but given that it has no real upside catalyst, I think more sideways action is the best longs can hope for from here .
Disclosure: I/we have no positions in any stocks mentioned, and no plans to initiate any positions within the next 72 hours.
I wrote this article myself, and it expresses my own opinions. I am not receiving compensation for it (other than from Seeking Alpha). I have no business relationship with any company whose stock is mentioned in this article.