I'm feeling bullish on China.
No, really. Do you know why? Because the imminent default cycle that's about to run roughshod over the country's banking system is going to resemble what you'd expect might happen if a you let a bull loose in a... well, in a china shop.
A few days ago I described China as the guy (or gal) at the party who gets too drunk and falls through a table, ruining things for everyone. But they're not drunk on good tequila (Tres Generaciones for me please, Patron is a just a cliche in a pretty bottle). They're drunk on debt. Specifically, on corporate debt. More specifically still, drunk on corporate debt racked up by SOEs and private sector corporate borrowers operating in sectors suffering from an acute overcapacity problem.
I've been over every facet of this story. The shadow conduits, the channel lending, the WMPs, the trusts, the incidence of evergreening, the bad habit of carrying credit risk as "investment receivables," all of it.
I've also covered the ongoing "controlled" devaluation of the yuan (NYSEARCA:CYB) and its implications for risk assets in exhaustive detail.
Fortunately, China is the gift that keeps on giving when it comes to news flow. The market mayhem that unfolded last August in the wake of the PBoC's move to devalue the yuan was kind of like creeping up on someone who's fast asleep and slapping them as hard as you can in the face. Overheard at every single daytrader's house in America at 9:45 on August 24: "Wait, so China's currency just caused a 1,000-point Dow drop?!" Remember, as goes China, so go your stocks.
Now, the market is hypersensitive to every single data point emanating from our friends in the east. And no two data points are more important than FX reserves and non-performing loans.
Well, we got a reading on both this week. Let's start with FX reserves.
As you well know (hopefully), China has been burning through its reserves in a kind of leaning-against-the-wind-ish effort to put the devaluation genie partially back in the bottle. Now don't get me wrong, the country needs, and wants, a weaker currency. A dollar peg is a killer for export-driven economies when you have: i) lackluster global growth and trade, and ii) the conditions for broad dollar strength (think DM monetary policy divergence). But what China doesn't want is an abrupt, "disorderly" devaluation. That would contribute to capital flight and throw global markets into a panic. So the PBoC uses its reserves (i.e., sells dollars and depletes its rainy-day fund) when it looks like the yuan is coming under "excessive" pressure.
Anyone long risk (NYSEARCA:SPY) was cheered early Thursday morning when this hit the terminal:
CHINA END-JUNE FOREX RESERVES AT $3.21T; EST. $3.17T
So apparently, China didn't have to intervene all that much last month to prop up the yuan. But not so fast. As Commerzbank's Zhou Hao wrote Thursday, the "surge in China's June FX reserves may be mainly due to rising value of its JPY portfolio [as] reserves suggest China has substantial yen assets exposure [and] JPY gained 7.3% last month as flows chase haven amid Brexit."
Phew. Thank God for Brexit.
But Citi ain't buyin' it:
China's June FX reserves increased by US$13.5bn, way above market expectation -- FX reserves inched up by US$13.5bn to US$3,205.2bn in June versus consensus for a US$ 24.7bn decline. The increase of FX reserves is fairly abnormal given the RMB has depreciated substantially in June after the Brexit event, and the PBoC is reported to have intervened in the off-shore RMB market to curb the large depreciation expectation. The RMB depreciated by 0.8% against the USD, and the CEFTS index declined by 2.2% in June.

Our FX valuation calculation alone would have caused June reserves to drop by $2.3bn: If we assume that China's FX reserve composition is similar to the latest IMF COFER survey in 4Q15 (64% in USD, 19.9 % in EUR, 4.9% in GBP, 4.1% in JPY, and 7.1% in other currencies), this would mean that valuation effects alone would have caused China's FX reserves to drop about US$2.3bn in June amid a 0.3% appreciation in DXY (versus -US$33.1bn in May).

Click to enlarge
It's worth noting that Commerzbank is assuming a 10% JPY exposure, versus 4.1% for Citi.
Meanwhile, Yu Xuejun, chairman of the Board of Supervisors for major state-owned financial institutions, under the China Banking Regulatory Commission (CBRC), told an industry forum in Beijing that while some "commercial bank governors share the hope that the Chinese economy will improve and alleviate the NPL pressure," that is "in fact impossible short term."
Right. It's now "impossible" for China to avoid an NPL explosion. But damned if they won't try, which is why the CBRC is still putting the NPL ratio at just 2.15% (and that's still the highest level in more than a decade).
(Chart: SocGen)
Let's look at why that's implausible. Consider the following discussion of China's grossly inefficient, elephantine SOE complex from SocGen (emphasis mine):
Although contributing to less than one-third of economic output and employment, SOEs take up nearly half of bank lending and more than 80% of corporate bond financing. That is CNY37tn in loans and CNY9.5tn in bonds. While the inefficiency of SOEs is gradually dragging down economic growth, recognising even a small share of SOEs' non-performing debt would easily overwhelm the financial system.

It would be reasonable to assume that 25% of industrial SOEs' debt is at risk. Reconciling the low profitability of all service SOEs and the low debt-at-risk ratio among listed service SOEs, we assign a 15% NPL ratio to all service SOEs' debt. This puts the share of debt-at-risk of all SOEs at 18%.

Click to enlarge
So that's not good. And neither is the ad hoc fashion in which Beijing is addressing the problem. Here's SocGen again:
So far, the government has been dealing with the restructuring of bad SOEs in a rather decentralised and reactive fashion, with little reform coordination. The capacity reduction programmes for steel manufacturing and coal mining were announced and launched at the beginning of the year, with little clarification about any policy support for debt restructuring.

Banks quickly responded by cutting credit lines to steel and coal companies, before policymakers had time to follow up with more measures. This was one key factor that triggered the sudden acceleration in bond defaults among SOEs recently.
As noted above, the problems are, of course, concentrated in sectors suffering from overcapacity, thanks to the global deflationary supply glut: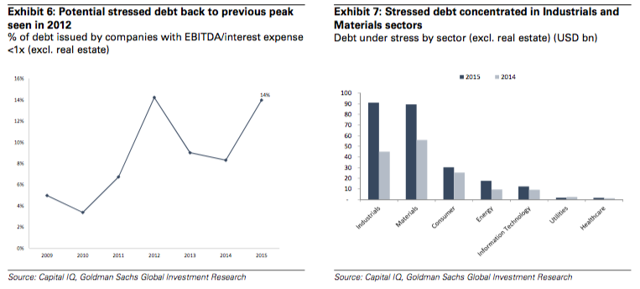 Click to enlarge
(Charts: Goldman Sachs)
But it's by no means isolated. Here are some aggregate figures on EBITDA margins and interest coverage: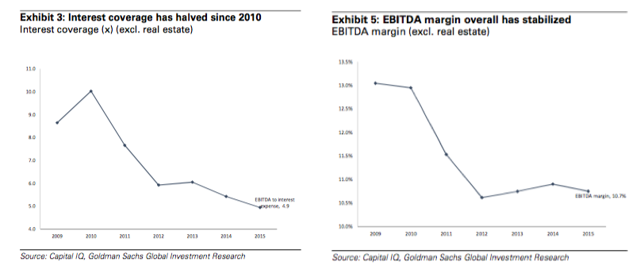 Click to enlarge
(Charts: Goldman Sachs)
Ok, so what comes next? Well, eventually banking sector losses are going to have to be realized. Especially on SOE debt. "The beginning of SOE debt restructuring also brings the possibility of bank restructuring that much closer, because SOEs are the biggest borrowers and their debt risk in only starting to come to the fore," SocGen goes on to note, adding that "if the authorities do not foot the bill of SOE restructuring upfront, the recognition of credit risk on banks' balance sheets will accelerate and overwhelm the system."
Right. So how much is this going to cost? Not as much as Kyle Bass thinks, according to SocGen (emphasis mine):
According to the Doing Business Survey, the average recovery rate in China is about 35% at present. However, once NPL recognition picks up the pace, this rate could be compressed. Assuming the recovery rate drops to 30%, the potential losses on the CNY15tn nonperforming assets would be CNY10.5tn. Regardless, the first line of defence should be banks' loan-loss reserves, which stood at CNY2.3tn at end-2015. That leaves about CNY8tn in losses (equivalent to over 60% of commercial banks' total capital, and close to 50% of annual fiscal revenues and 12% of GDP).
And here's where things get really tricky. If we assume that China recapitalizes the banks the same way it did from 1999 through 2010 (i.e., through a combination of AMC buying, central government bond issuance, and FX reserve injections), around $480 billion in FX reserves would be used:
The CNY8tn in losses is equivalent to $1.2tn at today's exchange rate. The same ratio as last time means $480bn FXRs of the $3.2tn stock for recapitalising banks - not implausible technically.
No, not "implausible," and certainly well below the number Kyle Bass anticipates, but there are some issues here. First off, what happens to the dollars the PBoC injects? As SocGen goes on to say, banks would likely be under pressure to put the capital to work domestically, and that means converting the injected dollars to RMB. Of course, that puts upward pressure on the currency, in turn reversing the trend Beijing is desperately trying to maintain: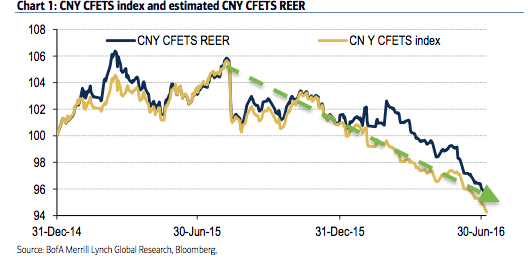 (Chart: BofAML)
Simultaneously, it depletes the PBoC's ability to fight depreciation pressure. So, it's doubly deleterious. It puts short-term appreciation pressure on the currency and curtails the central bank's ability to fight medium- and long-term depreciation.
Now, China could issue bonds to fund the recapitalization, but if the PBoC buys them (i.e., implements outright QE), well then that's currency-negative. As always, they're damned if they do and damned if they don't at every single turn. SocGen sums things up perfectly (emphasis mine):
The solution to the currency issue might be a mix of two: basically, banks selling the PBoC's dollars (obtained from FXR injection) to dampen the depreciation pressure on the renminbi caused by the expansion of the PBoC's balance sheet, which is a result of the PBoC's acquisition of CGBs issued for bank recapitalisation. However, it is impossible to make the mix just right so that there is no or little impact on the currency - this would require an unrealistically high degree of PBoC control over banks and/or an incredible amount of foresight.
In other words, this will be China's final juggling act. And the degree of precision required is superhuman.
On the bright side, fewer reporters are writing about "hard landings," apparently: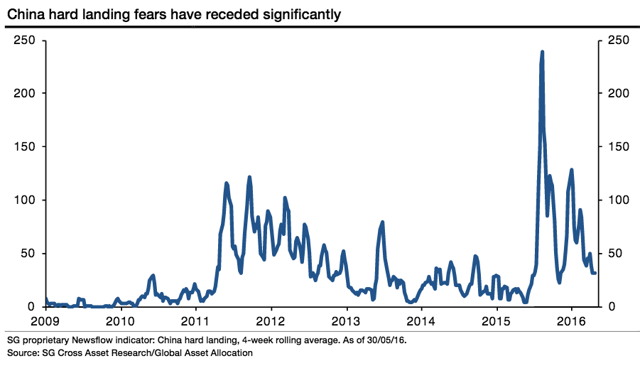 Click to enlarge
(Chart: SocGen)
So we've got that going for us...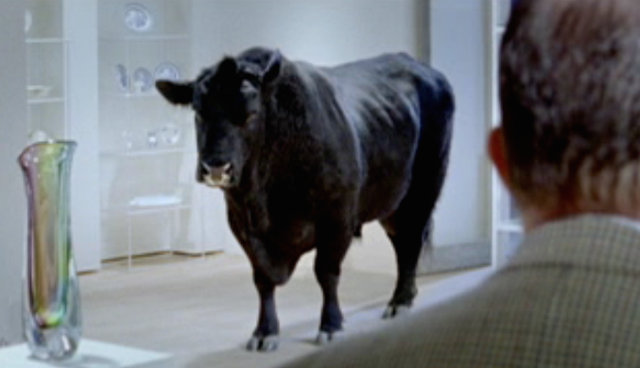 Click to enlarge
Disclosure: I/we have no positions in any stocks mentioned, and no plans to initiate any positions within the next 72 hours.
I wrote this article myself, and it expresses my own opinions. I am not receiving compensation for it (other than from Seeking Alpha). I have no business relationship with any company whose stock is mentioned in this article.