Subscribers to Income From Covered Option Writing got an advanced look at this material.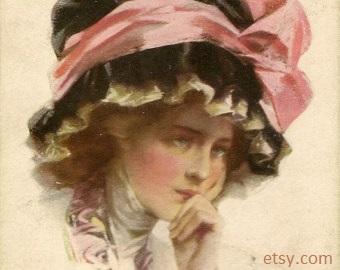 Always a bridesmaid, never a bride. We all know someone like that. Attractive, well liked, a real winner, but they never seem to find the right match. The Hershey Company (NYSE:HSY) is like that. An endless line of suitors come and go but none seem to offer what is needed to win her hand. A successful suitor will need to offer a package designed to please the Milton Hershey Trust, not Wall Street.
Company: Mondelez International, Inc. (NASDAQ:MDLZ)
Current Price: $45.20
Dividend: $0.68 (1.05%)
Fair Value (Peter Lynch Value): $69.60
DCF Model (per gurufocus.com): $49.66
Prior Research: NONE
Company: The Hershey Company
Current Price: $89.35
Dividend: $2.33 (2.56%)
Fair Value: YDP (midpoint of high/low yield: $110)
($119.00 at 1.95% yield trend)
($99.15 at 2.35% elevated uncertainty yield)
Prior Research:
7/18/15 (private subscription only)
3/23/16 (private subscription only)
Current Situation & Outlook:
The Hershey Company once again became the focus of an active suitor this past week when confectionery giant, Mondelez International Inc. extended an offer of approximately $107.00 per share. The offer, consisting of half cash and half stock, was immediately unequivocally rejected by the prospective bride's guardians, the HSY board of directors.
Hershey offered no discussion of the rejection other than to flatly state that it held no features meriting further exploration. It can be safely assumed that the Milton Hershey Trust, which holds over 80% of the voting Class B shares of HSY, is united in this rejection.
Where is the courtship going from here? Nobody can state for certain. Some have speculated that a higher offer may be coming from MDLZ or another suitor. Others have posited that MDLZ's offer was a simple tactical feint as a defensive move, the HSY rejection largely insuring that Hershey will not be any part of a hostile bid for Mondelez itself.
Consolidation is likely to continue in the global confectionery industry. However, Hershey is not likely to be a participant in any opening foray and is far more likely to remain aloof from the fray unless a carefully engineered offer is crafted to recognize and meet the desires of the Milton Hershey Trust, an entity not aligned with Wall Street values, nor even the interests of the publicly traded common stock class shareholders.
The Art Of The Deal:
I have sat on boards and advised clients on structuring merger and buyout bids where cash money would not work as the motivator. I believe that four key criteria would need to be met in order to find a receptive ear among the Milton Hershey Trust governors and the officers and directors of The Hershey Company;
The offer must lock in perpetual guarantees to the cash flow of the HSY unit to the trust so as to never potentially disrupt its mission and fiduciary duty to the beneficiary, the Hershey School. This alone makes a takeover a very hard and sour candy for any suitor to swallow.
The trust must gain a structural advantage if it agrees to part with its cherished ward. Any new corporate association gained by trading its stewardship of Hershey must provide it a higher quality future than its already outstanding existing one. The suitor will need to create a vehicle which is more stable than the current HSY, grows faster, is economically more sound, and brings new added benefits to the Hershey School (the ultimate focus of the Hershey Trust).
Any offer must provide a significant premium to fair value, not just current market. Value and price often have little correlation. This is especially true in the case of HSY, which tends to trade at a significant discount to fair value due to the absolute control of the Trust class A voting shares. The lack of motivation to pocket a good return leaves the Trust with a very long value vision. With the upper fair value limit at $119 currently, a successful offer probably needs to aim above that minimum, probably targeting something nearer $130 to $140 (20% to 30% current market premium). Even at those prices, money alone will not suffice.
Any deal must do all this while at the same time satisfying the regulatory and political realities of the hometown and State of Pennsylvania.
When first heard, these criteria may sound like impossible hurdles for a reasonable suitor. Let me lay out a rough outline of possible structure which attempts to address each and all of them. This is my suggestion of what an ultimately successful deal will look like, whether next week or 20 years from now.
The suitor will partition off a core section of its holdings which represent a good fit with HSY assets and operations. This includes products lines, both similar and complementary; distribution chains, operational synergies and efficiencies; diversity of growth pathways.
The partitioned unit would be merged with Hershey and held in a similar structure, with voting stock held in a charitable trust. This would align the interests of the new target SPINCO with those existing at HSY now, both internally and in the equities marketplace. Existing non-voting shareholders in Hershey would benefit from the expanded company with synergies and leveraged efficiencies driving immediate and sustained improvements in growth. The suitor, as holder of both voting shares of SPINCO and non-voting stock participating in the cash flow of SPINCO, would also realize all of the goals of a merger or buyout of HSY except for the potential future dismemberment and disposal of parts or all of HSY assets.
Potentially, a royalty trust structure with a guaranteed and independently insured minimum annual distribution might be explored for the asset held by the trust(s). This would insure the perpetual cash flow and durability of the financial resources of the trust(s), assuring Hershey Trust of continuing resources for the School and a secure stream for paying the SPINCO parent shareholders.
The adoption of the structures suggested above would not impair the ongoing or future operations of the new merged company other than to ensure its continuity going forward, preventing dissolution and distribution of assets by the suitor merely for financial engineering (unless agreed to by both trust(s).
Practical regulatory hurdles are not significant, and the political realities will be addressed by retaining the Hershey product identity and potential for the suitor company to agree to retain and grow operations in Hershey, Penn. Additionally, the bait of what and where the new SPINCO trust beneficiary will be could make a powerful political inducement tool.
All of these elements can be engineered to provide the assurances and benefits important to the Hershey Trust while preserving the benefits and financial rewards to the suitor. Structure is the key here as much as dollars.
Let's Do Some Math:
An example of the financial benefit MDLZ could immediately expect from the simple merging of HSY cash flow into the MDLZ treasury is the difference in trading multiples for the two company's FCF/share. With HSY trading with an FCF/share ratio of 27.29 and the MDLZ ratio at 45.57, the $857.65 million of free cash flow which HSY brings to the table is instantly worth $39.08 billion in additional market cap for Mondelez at its higher ratio. This would boost the MDLZ cap to $109.23 billion. At a deal price of $135/share offering 50% cash and 50% MDLZ stock, the $135 X 213,370,000 HSY shares is a total offer of $28.8 billion. Even at the elevated offer of $135/share, the instantaneous net gain on MDLZ market cap based on FCF/share would be a net gain of over $11.72 billion. With 318.58 million new shares added to the existing 1.55 billion MDLZ shares, the new total shares outstanding would be 1.86858 billion shares and the new market cap of $109.23 billion. This suggests a merged company value of $58.46/share, a gain of $13.26/share (29.3% premium over the current $45.20 MDLZ price).
It is quite apparent that even at a $135/share offer, the excess instantaneous market cap boost of $13.26 per MDLZ share leaves plenty of room to use 50% to 75% of that boost to fund the SPINCO trust "handcuffs" while still retaining instant benefits for MDLZ and HSY shareholders in the merged company.
The FCF/share ratio boost available to fund such a structure best fits with MDLZ due to its high FCF/share ratio. Among the most frequently suggested suitors, none enjoys a similar FCF leverage ratio advantage to convert the Hershey FCF into significantly boosted market cap. Others such as Nestle (OTCPK:NSRGF), General Mills (NYSE:GIS), or Coca-Cola (NYSE:KO) do not enjoy the FCF ratio boosting power to pull off a Hershey deal. Mars owner, Grupo Bimbo (OTCPK:GRBMF) is too small, and has too short of a history with an erratic P/FCF ratio, for it to be a potential suitor.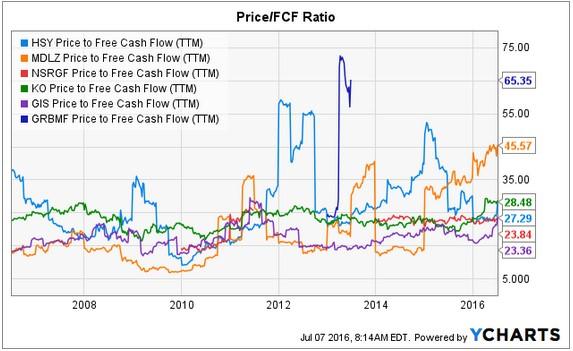 This art of a deal shows there is a picture which can be painted to color all sides winners. All of the Historic, fiduciary, regulatory, and, social, and motivational elements are readily available to deliver an offer Hershey can't refuse. Will Mondelez wise up and bring a real offer with simple but non-linear creative thinking to the table?
On the counter side, time may be limited. Slow to act may see MDLZ left behind. There is another company in an even better position and with good synergies and operational leveraging that could elbow all others off of the Hershey verandah. I will reveal and discuss that company in my next report, later this week.
In the absence of any deal, I expect Hershey shares to remain trading near the current fair value of $109 in the short term. Resumption of a slow decline drifting towards the lower fair value boundary around $100 over the next 6 months is likely if nothing is seen in the way of even more strengthening of an already positive year-end outlook. Hershey will remain a cash cow with slow long-term appreciation accompanying good dividend growth and opportunities for covered option writing income boosts raising the 2.13% dividend to about an 8% annualized yield rate.
If you find this article thought provoking, please consider becoming a follower by scrolling back to the top and clicking the <FOLLOW> link next to my name. This insures you get a notice of all my work as it is published and gives me feedback to know what readers find of interest. Thanks for taking the time to read. Join the comments section below to continue this discussion and share your thoughts and experience.
I am not a licensed securities dealer or advisor. The views here are solely my own and should not be considered or used for investment advice. As always, individuals should determine the suitability for their own situation and perform their own due diligence before making any investment.
Disclosure: I am/we are long HSY.
I wrote this article myself, and it expresses my own opinions. I am not receiving compensation for it (other than from Seeking Alpha). I have no business relationship with any company whose stock is mentioned in this article.
Additional disclosure: I may go long MDLZ in the next 72 hours
Editor's Note: This article discusses one or more securities that do not trade on a major U.S. exchange. Please be aware of the risks associated with these stocks.