Overview
June has been a tough month for the markets. Trading places, excessive optimism and (reasonable?) pessimism have been moving the major indices in a volatile fashion. As argued in my recent articles, I continue to have a view that the most reasonable strategy for the current market conditions is to maintain exposure to commodities and short individual companies and/or sectors that are expected to underperform whatever the near-term performance of the markets is.
Let's see what the market is offering us today.
The tremendous rally in Nike's (NYSE:NKE) stock has been put to a halt
After having increased almost 7-fold since the 2009 lows, the stock seems to have exhausted its potential and has been underperforming the market since late 2015.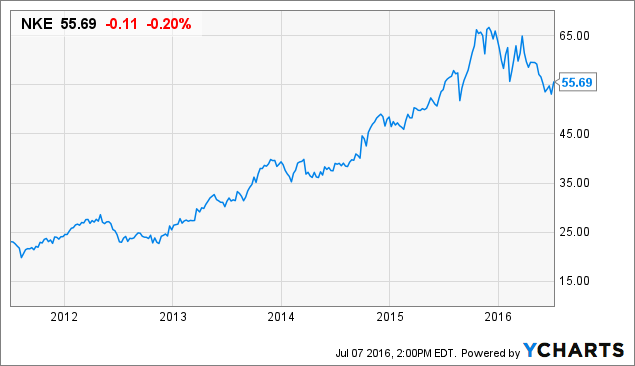 NKE data by YCharts
Maintaining strong top- and bottom-line growth for years, the company - a long-time market darling - has finally left some room for concern. Losing the image of a top performer would trigger (1) a sharp sentiment reversal, (2) an increase in negative news coverage and stock rating adjustments and (3) increased selling by momentum-focused funds. It is quite probable that all of the 3 listed developments are taking place simultaneously while I am writing this given the increasing institutional selling.
However, unless the market continues underperforming, the recent downturn might be viewed as a strong overreaction. Despite the increasing competition from Adidas (OTCQX:ADDYY) and Under Armour (NYSE:UA) - rally of the latter has been interrupted in a similar fashion recently - the brand continues to demonstrate solid revenue growth and benefits from operating 2 different yet strongly successful brands (with Converse demonstrating a 18% currency-neutral revenue increase year-over-year in the latest quarter). Sneaker demand cyclicity? Accompanied by Adidas' Stan Smiths, Nike's Converse brand is well-positioned for the emerging heritage shoe trend with its Chuck Taylors. Outperforming the S&P 500 (NYSEARCA:SPY) over the last month, the 3 competing stocks might be viewed as compelling short-to-medium term holdings if held with tight stop-losses. Nike and Under Armour are more attractive after the recent downturn, while Adidas' performance demonstrates the strength in sector's sentiment. Being the most volatile among the 3, Under Armour might overshoot on the upside, while Nike - the least volatile stock - has only been on average experiencing a -0.57% change during the down days for the market since the beginning of June, vs. -0.96% for Under Armour and -0.77% for Adidas.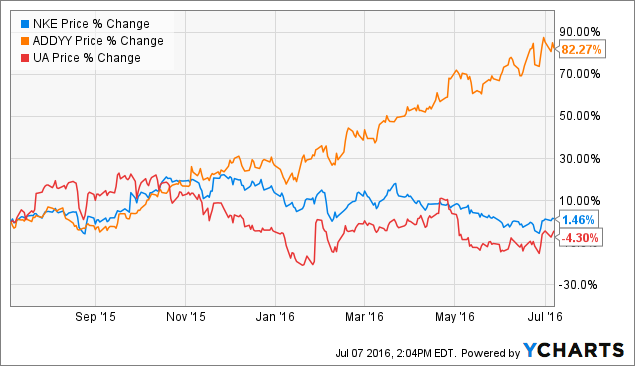 NKE data by YCharts
Ford: the dividend is tempting, but… the stock is heading lower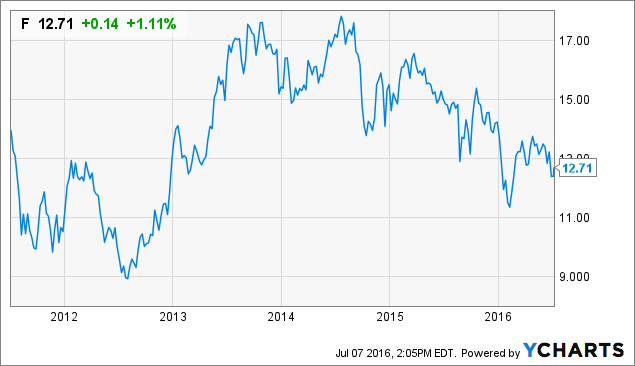 F data by YCharts
Missing most of the market's gains since 2013, Ford (NYSE:F) continues to be a casualty of investor sentiment. Despite the great operating performance and a generous 4.8% dividend yield, the stock might continue to be a laggard given the industry-wide pessimistic sentiment. Even though the falling valuations might suggest a good timing for a long-term entry, they are also demonstrating the broad ignorance of the sector's potential - not a good sign for the short-term.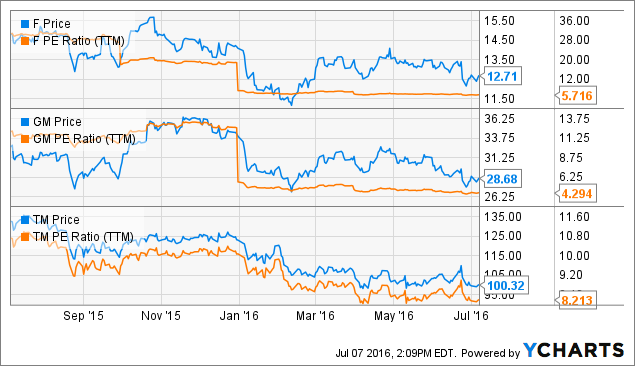 F data by YCharts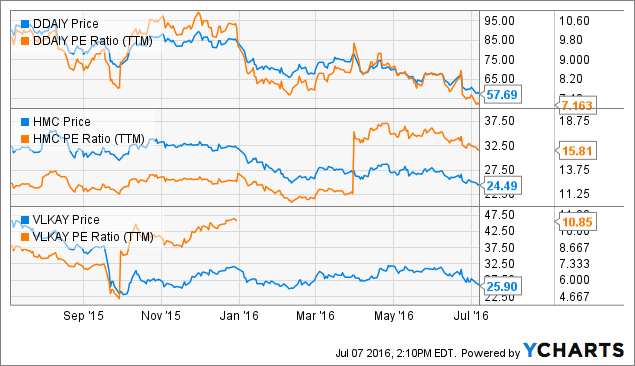 DDAIY data by YCharts
Should we reach a top in automobile sales in the nearest future, the sector might move even lower, which seems quite probable given the emerging auto loan bubble. At current conditions, the stock might represent a reasonable short candidate on sentiment and future quarters' profitability concerns. A solid long-term pick, shares of Ford might offer a better (cheaper) entry point in the future, and the dividend cannot cover the paper losses the stock seems likely to produce over the coming quarters. Despite performing better than the peers recently, Ford and General Motors (NYSE:GM) might still have further downside potential.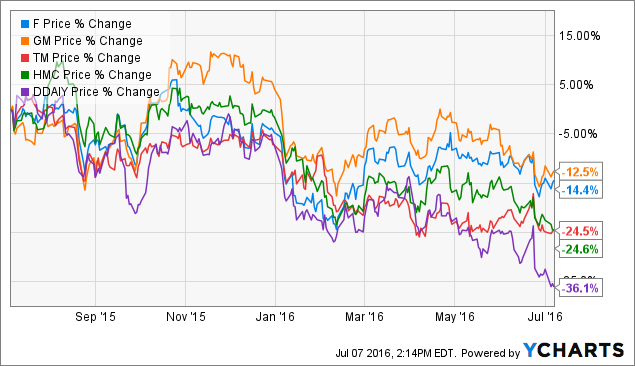 F data by YCharts
WTI continues to outperform: assessing the ways of benefiting from the rally
Despite the slow pace of improvement in supply and demand fundamentals, it seems that the market is tired with oil underperforming, while the commodity is ready to repeat the same trick it had performed just before the Great Recession. Higher oil prices would result in a continuation of the recent Exxon's (NYSE:XOM) rally. A top sector pick, only recently has the company lost the AAA rating it was awarded by Standard & Poor's back in 1930. Despite the revenue and margin contraction, the company continues to demonstrate a strong operating and share price performance while continuing to pay the 3.12% dividend. The stock seems to be quite fairly valued, but momentum and continued oil price strength might translate into further appreciation.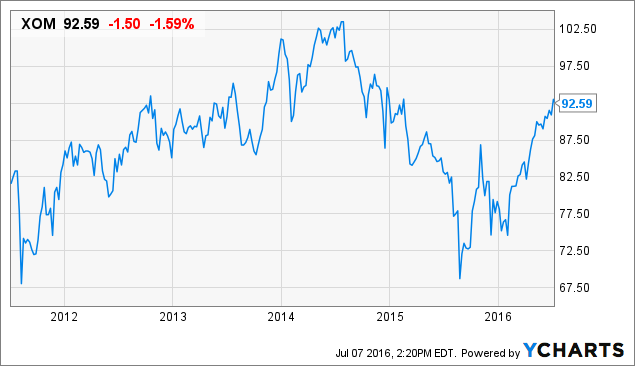 XOM data by YCharts
However, being just 9.38% below its all-time-high as of this writing, the stock might offer a reasonably low potential reward for the risk of another oil price downturn. Performing better during the down days for oil, Exxon has experienced a quite gradual uptrend and benefited from the relatively low annualized volatility value of just 21.4% over the last two years.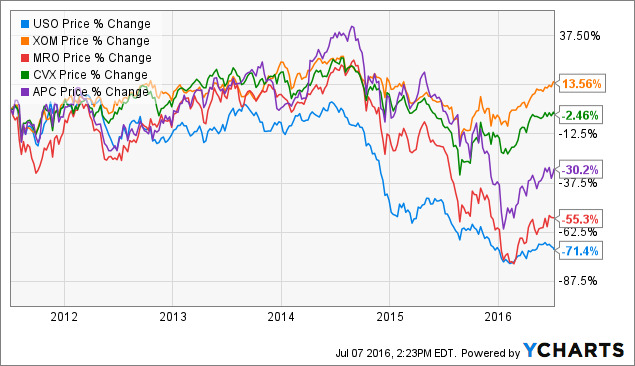 USO data by YCharts
More aggressive risk/rewards might be offered by Marathon Oil (NYSE:MRO) and Chevron (NYSE:CVX). With dividend yields totaling 1.25 and 4.09 percent, respectively, the stocks might be viewed as high risk, high reward speculative opportunities for those expecting higher oil prices this year. While both companies' balance sheets remain relatively strong, achievement of the profit break-even might be celebrated with a significant rally.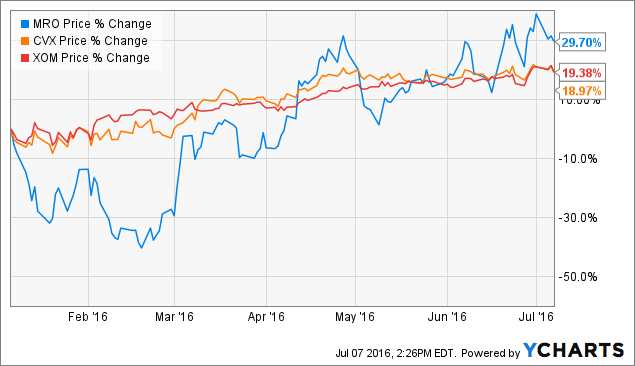 MRO data by YCharts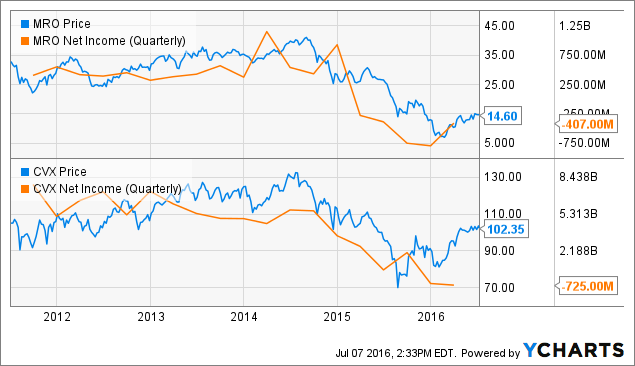 MRO data by YCharts
The precious metals are getting more precious with each passing day
Despite the massive rally in gold and silver prices, I remain strongly bullish on precious metals. Worsening market sentiment, recession fears and central bank policy-fueled rallies make the case for holding gold since the metal is finally responding to the market participants' fears with a solid performance. Silver, being of a more speculative (and cheaper) nature, is already outperforming gold year-to-date, while platinum might be on its way to retain the historical premium over gold, which would mean a 20+ percent appreciation from current levels. iShares Silver Trust (NYSEARCA:SLV), SPDR Gold Trust (NYSEARCA:GLD) and ETFS Physical Platinum Shares (NYSEARCA:PPLT), with gross expense ratios of 0.5, 0.4 and 0.6 percent, respectively, might be of use for the investors willing to add more protection and/or bet on additional uncertainty in the short-term, as I do. With a 80 and 20 percent allocation to gold and silver, PowerShares DB Precious Metals ETF (NYSEARCA:DBP) might be viewed as a useful tool as well. It has a 0.78% expense ratio and a chart close to that of GLD, with the main difference being its tendency to overshoot GLD on the upside given the exposure to silver.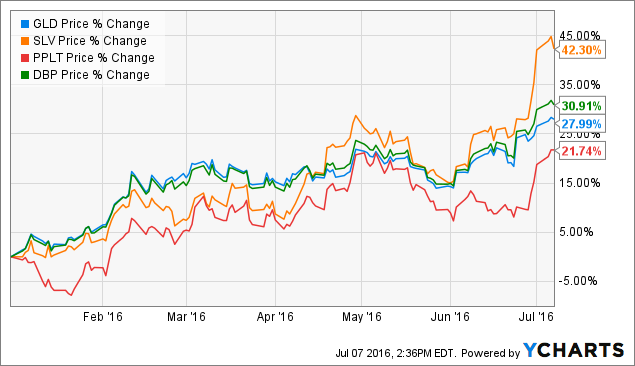 GLD data by YCharts
Please note that PPLT and DBP are only suitable for small positions because of the low trading volume.
Conclusion
The post-Brexit rally did not bring too much relief. The markets continue to be dangerously overvalued, while the bear market seems to be already up and running in certain sectors and individual stocks. Whatever it means for the individual securities that are still capable of squeezing a decent rally, the fluctuating sentiment and awareness of worsening fundamentals will start to matter at some point in the future. The today's stock market is strongly dependent on the level of central bank intervention and is vulnerable to any kinds of economic shock, and that is not sustainable. Even thought it might not be too wise to maintain an overweight cash and/or shorts exposure at this point, one might want to spend more time reassessing the strength of the portfolio before expressing optimism in the current rally.
I continue to be long sugar through SGG (NYSEARCA:SGG) and Nevsun Resources (NYSEMKT:NSU), as well as to keep a certain exposure to inverse (short) ETFs. I might initiate new positions - most probably in the securities described above - as soon as I have free capital to deploy.
Disclosure: I/we have no positions in any stocks mentioned, and no plans to initiate any positions within the next 72 hours.
I wrote this article myself, and it expresses my own opinions. I am not receiving compensation for it (other than from Seeking Alpha). I have no business relationship with any company whose stock is mentioned in this article.
Additional disclosure: I am not an investment advisor. This is not an investment advice.
Editor's Note: This article discusses one or more securities that do not trade on a major U.S. exchange. Please be aware of the risks associated with these stocks.