Starbucks (SBUX) announces earnings on the 21st of this month and I am definitely leaning towards a bullish stance. Why? Well despite the fact that the stock is down 5.2% year to date, I like some of its recent announcements such as opening up to selling Teavana in its Chinese stores plus partnering with Nestle to sell Nespresso initially in Europe (as that is where Nespresso has most of its market share which consists of 25 million users worldwide).
I really like the second initiative as up to now, Starbucks didn't have a presence in the single serve market but the Nespresso deal turns that on its head. I expect Europe to be successful (as they are avid home coffee drinkers) and then the product will branch out to other markets no doubt over time.
This stock has had a monster run since March 2009 (up 1142%) but has been trading flat or worse since October of last year. In April when the company announced its latest set of earnings, the market didn't take very favorably to comments about a perceived drop in store traffic due to the changeover to the new loyalty program. I however believe the market may be reading too much into this, which is why I see a rebound in the share price shortly.
Starbucks has been the perfect stock to take advantage of the "wealth effect" the Fed has created since it starting its money printing programs back in 2009. However, it's a stock that is most definitely not recession proof, which is why the downside must be protected. Earnings per share fell to $0.21 in 2009 and operating margins fell to 4.9% in the great recession, but despite this speed bump, the company's fundamentals since then look very strong indeed.
Years Of Dividend Increases

7 Years - Pass

Free Cash Flow

$2.56 billion (10-Year Trend Is Up) - Pass (Very Important For Dividend Investors - Dividend Currently Is 1.4%)

Revenues

$20.16 billion (10-Year Trend Is Up) - Pass

Operating Margins

19% - (10-Year Trend Is Up) - Pass

Price History of the stock

Up 216% in the last 10 years excluding dividends - Pass

Healthy balance sheet

Total assets = $12.45 billion (10-Year Trend Is Up) - Pass

Competitive Advantage

Customers For Life
Premium Pricing

Economies Of Scale - Pass

Resistant to recessions?

Earnings Badly affected during the recession of 2008 - Fail
The only metric that doesn't come up to scratch over the last 10 years has been its earnings in times of economic contraction. However, as I pointed out above, these new income streams should protect the stock to a better extent if a tough recession were to suddenly find itself at our doors. Starbucks' brand is a completely different brand at present compared to what it was in 2009 so investors need not be overly concerned about downside risk.
Furthermore, a rising stock market should be a nice tailwind for Starbucks going forward. The Brexit vote recently put a bottom in the market as we are up more than 100 handles from where we bottomed on the 27th of June. Sentiment reached levels similar to the last intermediate bottom in February and what I liked was that Starbucks actually is up 4%+ (outperforming the S&P 500) since markets bottomed almost 2 weeks ago.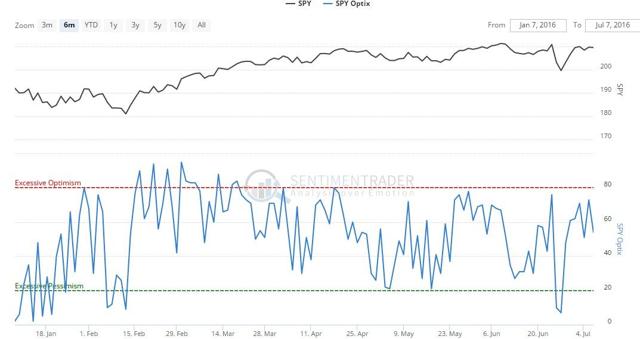 Click to enlarge
Source: Sentimentrader.com
So how do we play Starbucks as an earnings play? Well this stock is perfect as its liquid and implied volatility usually spikes prior to earnings meaning we can sell options for more premium. There are many ways you can play this but since Starbucks only pays out a 1.41% yield, earnings provide us an excellent opportunity to increase this yield over a longer time frame. For example the January 20 - 2017-$60 - call is selling for $2.23 per contract but this should go up even more as we close in on earnings.
If you initiate a covered call trade before earnings (by buying 100 shares of stock and selling the above-mentioned call), you will add $223 to the expected $45 you will receive in dividend payments as long as you agree to potentially give up your shares at $60 a share. This substantially boosts your yield and is a good strategy for a company like Starbucks. We will probably enter into a similar trade on the 21st depending on what the stock does between now and then.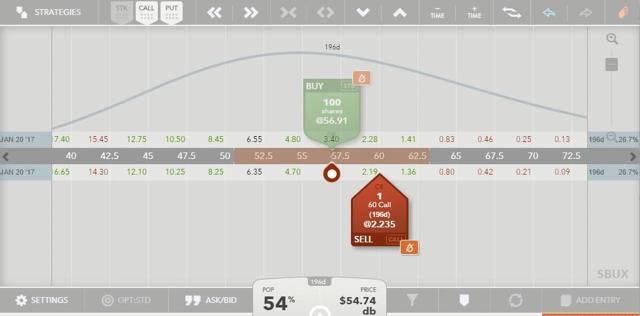 Click to enlarge
Source : Dough.com
To sum up, I'm going to be adding a few good dividend and growth stocks to the Elevation Portfolio over the next several weeks when I see value. In order to ensure that income is brought in every month, it's imperative that they are not correlated and all don't have similar valuations. You can follow along by pressing the "Follow" button above.
Disclosure: I/we have no positions in any stocks mentioned, and no plans to initiate any positions within the next 72 hours.
I wrote this article myself, and it expresses my own opinions. I am not receiving compensation for it (other than from Seeking Alpha). I have no business relationship with any company whose stock is mentioned in this article.