What's in the stock price right now?
In recent years, AMD (NYSE:AMD) has attracted investors' attention more for its weak balance sheet and operating difficulties ($1.3bn net debt and negative shareholders' equity at end 2015 for a negative EBITDA) than for its graphics cards/artificial intelligence exposure. That said, the stock has enjoyed an impressive rally since delivering reassuring Q1 earnings and a strong Q2 guide, driven notably by significant short covering.
While some investors consider that the relief rally has gone too far, others believe this is just the beginning of a sustainable operating and balance sheet recovery. In this article, we try to assess whether the stock has still upside potential left.
The first step is to figure out what's in the stock price right now. To that end, we performed a reverse DCF (8.6% cost of equity with a 1.2 beta) that shows that the current stock price factors in 5% revenue growth on average over the next ten years and a long-term operating margin of 10%.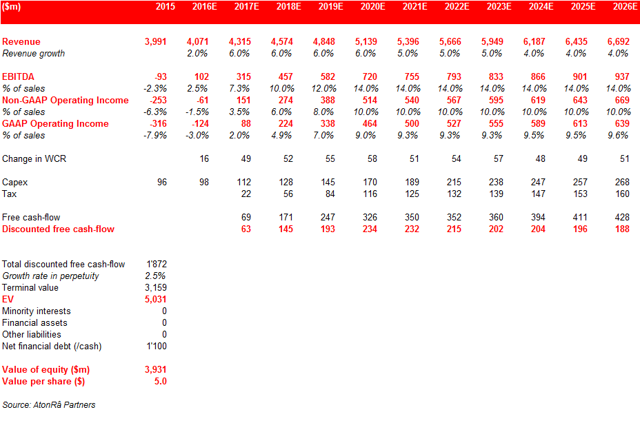 Click to enlarge
In our view, 5% average revenue growth makes sense. Despite the PC market weakness, AMD should be able to grow its GPU business thanks to a bunch of catalysts including virtual reality, upgraded versions of gaming consoles and artificial intelligence applications.
First, the virtual reality takeoff and the subsequent need for PC gamers to upgrade graphics cards will probably more than offset any continued PC shipments decline a soon as 2017. Indeed, VR hardware shipments are expected to reach ~10m units in 2016, 20-30m in 2017 and 65m units by 2020, well above the current pace of PC shipments decline (5-10%, or an impact around -20m units for GPU vendors in 2016-17), and to spark a material ASP expansion for GPUs.
In console gaming, even assuming flattish shipments of PS4 and Xbox One, the upgrade toward VR-ready consoles will give a major boost to ASP and have a positive impact on the segment's revenue growth.
Last but not least, graphics cards' rising role in artificial intelligence applications is likely to sustain AMD's revenue growth over the medium and long term, even if AMD has not yet significant clout in growth segments such as autonomous driving.
On the profitability side, a 10% margin assumption appears within reach as it is in line with AMD's previous margin highs (in 2010 and 2011). Even if AMD has never been able to post consistent margins in the past, such a margin is sustainable in the long term in our view in light of the strong growth outlook for graphics cards (that will provide a solid leverage on fixed costs) and improving product mix (rising contribution of GPUs at the expense of CPUs and of high-margin licensing revenues).
$7.90 in a bull case
In a bull case, we believe investors could be tempted to model slightly higher revenue growth (at least 6% on average) and operating margins in the mid or high teens for AMD.
Indeed, AMD's gross margins could get a massive boost should the company get a significant chunk of its revenues from high-end GPUs (for VR and artificial intelligence applications) and/or from licensing. We note that the recent $293m deal with the Chinese THATIC is highly encouraging for licensing revenues and we estimate that any $100m additional licensing revenues would bring at least 200bps of margin expansion.
Importantly, operating margins in the mid or high teens would appear reasonable in light of Nvidia and Intel's margins, which are well above 20%.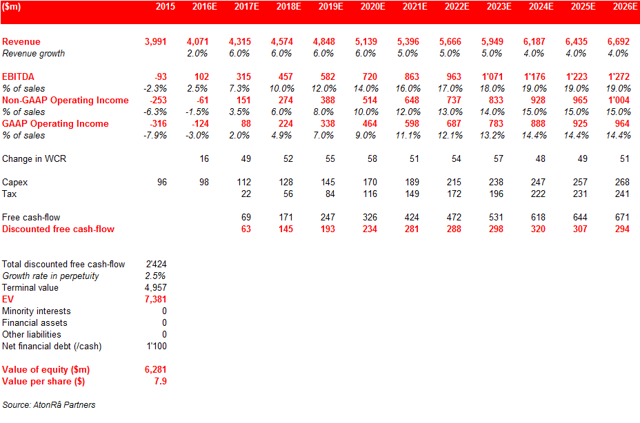 Click to enlarge
In conclusion, we believe that despite the recent rally and macro concerns following Brexit, the risk/reward remains attractive on AMD (limited downside, close to 60% upside). In addition, the product pipeline is attractive and should fuel both short and long term expectations.
There's just one caveat. The odds of an equity issue are quite high, as the company will have one day or another to restore its shareholders' equity.
Disclosure: I am/we are long AMD.
I wrote this article myself, and it expresses my own opinions. I am not receiving compensation for it (other than from Seeking Alpha). I have no business relationship with any company whose stock is mentioned in this article.