By Scott Tzu
Twitter has had one of its best ideas, possibly in years, in going after streaming content from major U.S. sports leagues. Those who read us know that we are long Twitter (NYSE:TWTR) and have been mostly critical of the company since Dick Costolo stepped down and his predecessor Jack Dorsey came in to continue what appears to be a stunning run of poor operating results.
Twitter has been mired by an inability to generate new users to its service while other social media platforms like Instagram and Facebook (NASDAQ:FB) continue to push boundaries in the sector and grow users aggressively.
This visual from Statista shows Twitter's user growth in North America clearly flattening out.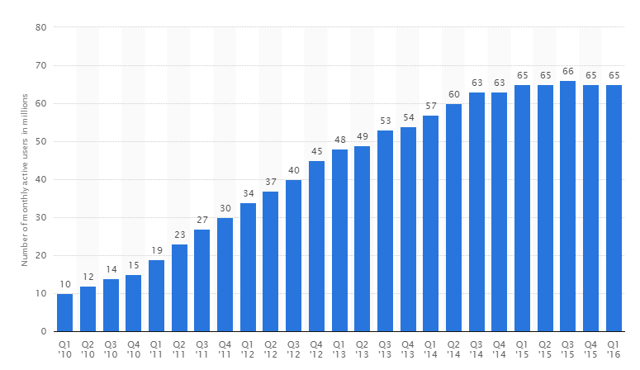 Click to enlarge
While the same visual for Facebook shows continued growth in North America.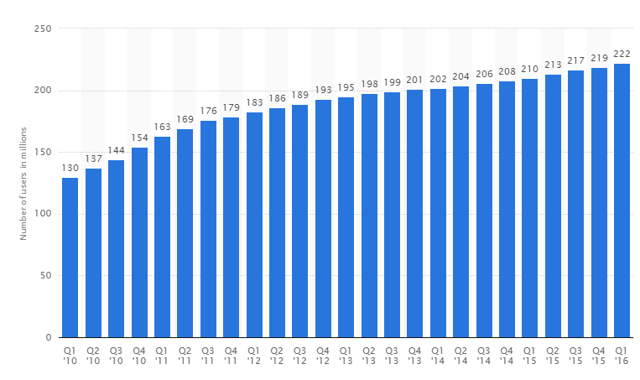 Click to enlarge
The problem of generating organic growth becomes clear when these two are compared, and Twitter doesn't have a case to make for simply "running out of runway."
Up until yesterday, most of the tactics being used by Twitter to try and modify their business have been ineffective and sometimes downright nonsensical. The company has tried a host of options to try and generate new users, including getting rid of its patented 140 character limit and including new features like Moments, a tab that allows users to stream live news and happenings across the world.
The company's addition of Periscope also is arguably its most coveted asset. As news breaks in real-time, as we unfortunately saw last night in Dallas, Periscope has been a way to broadcast what's going on, on site, live. It can turn anybody into a live news broadcast, a powerful tool that we believe can have a profound effect for Twitter going forward.
But yesterday news broke that Twitter is going to be approaching various US sports leagues to try and increase the amount of streaming sports content that is found on the social media platform. We think this is a fantastic idea, and we would love to see Twitter bid for the rights to an entire game or two, versus just adding highlights and ancillary content. CNBC, via recode, reported,
Twitter wants to stream more TV-like live video around major sporting events, so it's approaching the folks who control those rights to cut a deal.

The company is in talks with the NBA, Major League Soccer and cable network Turner about acquiring digital streaming rights for content related to live sports and events, according to several sources familiar with the discussions.

That could include things like actual game footage similar to the deal Twitter struck with the NFL to stream some of its Thursday Night Football games later this fall. Or it could be fringe content, pre- or post-game material similar to the live interviews and analysis Twitter streamed around Wimbledon earlier this week. (It couldn't stream live tournament matches because ESPN holds those rights.)

Twitter is talking to Turner because it already locked up sports rights from a number of sources, including the NBA, MLB and the NCAA Men's Basketball Tournament. Turner also has its own eSports league, called Eleague, and broadcasts professional video game competitions, which could make sense for a platform like Twitter.
Yahoo did something similar to this last year when they streamed exclusively a live NFL game from London. Most of us here in the office logged onto Yahoo in order to watch the game, and one of us had to create an account with the site because we didn't already have one. This is the theory in practice - driving new users to the platform is going to result in continued growth and a small subsection of users that stay with the platform going forward. Getting them to the platform in anyway possible is the most important strategic move that any social media site can make, right next to retaining them once they are there.
And it is a domino effect for social media. The larger they can grow their user base, the more they can charge for advertisements, the more they bring in revenue. There is a direct correlation between growing your user base and how the street is going to gauge the company's performance thereafter. There didn't seem to be an emphasis on this while Dick Costolo was in the CEO seat and thus far Jack Dorsey seems distracted and occupied with his other projects so much so that many think Twitter shareholders are not getting a fair shake. We tend to agree - run one company successfully before trying to run two.
It looks as though buyout rumors for the company are all falling flat, too. There was a bidding war over LinkedIn as it was reported that both Microsoft (NASDAQ:MSFT) and Google (NASDAQ:GOOG) (NASDAQ:GOOGL) were interested in the company's data, but at this point we think we would have heard something about a bidding war for Twitter and it is possible that it simply does not exist at this point. While it is unconscionable for us to think that somebody may not see the potential in Twitter the way that we do, sometimes Mr. Market simply just doesn't agree with the consensus.
We still continue to think a Twitter buyout makes sense, as we said in our article out about two weeks ago. We reasoned that,
From a valuation standpoint, one has to look at the company as a potential acquirer would. The company's enterprise value to sales of 3.9X makes it extremely attractive to another company in the same field that would be able to unlock synergies going forward.
Twitter currently has almost $4 billion in the bank and just $1.6 billion in total debt. Its enterprise value of $9.47 billion means that it could likely be acquired for the neighborhood of $15 billion, which is a sum that many large companies have laying around.
It would be very easy for in an acquirer to come in and make an all-cash bid for the company here and immediately start to recognize the benefits of owning the company's data, owning Periscope, and having synergies with research and development to help monetize Twitter more on an earnings basis going forward.
Other media companies could unlock substantial value in the platform as a news aggregator, instead of just a social media platform
Despite this, we think Twitter is moving in the right direction by pursuing new live streaming content from all of the major sports networks.
This has been a very small supplemental move in the right direction and a very small positive for the company, we believe. However, the company still has a long track in front of it and needs to execute on many different initiatives going forward aside from this to build its user base. This is in no means the solution to Twitter's giant active user problem, but it is a step in the right direction.
Looking at the valuation continues to make Twitter attractive.
Although it's not a hugely profitable company, its revenue could potentially make it a attractive opportunity to an acquirer that could recognize synergies with the company and incorporate its technology seamlessly. This is what makes companies like Google such obvious choices for potential buyout candidates.
Even with the buyout rumors fading, it's nice to see signs of life from the Twitter executive suite. Streaming sports and Periscope are two nice positives in a sea of otherwise negative critiques we have for the company that we can't help but stay long.
Disclosure: I am/we are long TWTR.
I wrote this article myself, and it expresses my own opinions. I am not receiving compensation for it (other than from Seeking Alpha). I have no business relationship with any company whose stock is mentioned in this article.