I am calling the bottom for business development company Triangle Capital Corporation (NYSE:TCAP). If you aren't following business development companies much these days, here is what happened: Triangle Capital is a BDC lending money to lower middle-market companies with revenues ranging from $20 million to $200 million and EBITDAs ranging from $3 million to $35 million. Since BDCs pay out most of their earnings to shareholders, Triangle Capital is a high-yield income vehicle. And here comes the kicker: The company decided to slash its dividend payout by 17 percent in May on the back of compressing yields for its debt investments.
Stocks often tumble when the company announces a dividend cut, and that's especially true when it comes to high-yield income investments whose value is defined by the dividend the stock throws off over time. If a company with a high-yield security in fact slashes its payout, it rarely goes down well with shareholders, most of whom bought for one reason: The dividend.
Triangle Capital's shares got massacred immediately after the dividend adjustment. While existing shareholders at the time had to take it to the chin, the resulting lower market valuation (read, lower share price) afforded investors with a compelling entry opportunity.
Triangle Capital Has Bottomed Out
Triangle Capital's shares crashed 17 percent after the company informed shareholders that the quarterly dividend would be adjusted from $0.54/share to $0.45/share.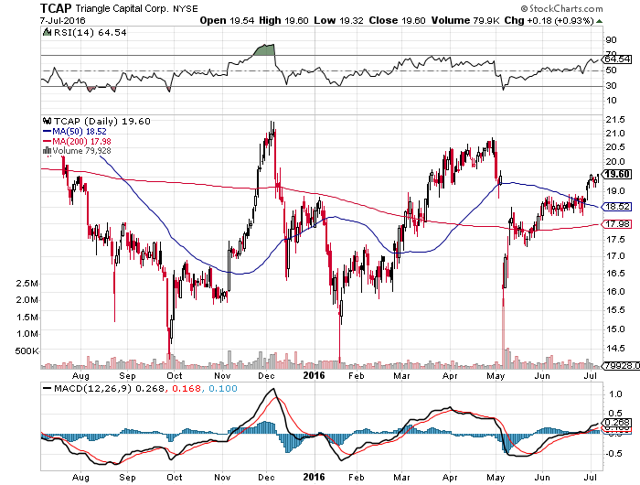 Click to enlarge
That said, though, Triangle Capital has built out a bottom in the mid-$18s, and most recently managed to break out, a bullish indicator that the dust has settled from the crushing sell-off two months ago, and that investors are comfortable again buying the business development company for income and yield.
And a point they have. Triangle Capital pulled in $0.45/share in adjusted Net Investment Income (adjusted for retirement expenses) in the 1st quarter. Therefore, on a run-rate basis, Triangle Capital's shares are changing hands for ~10.9x adjusted Net Investment Income.
Granted, Triangle Capital is not as cheap as it was when the stock slumped in May, but income investors get a good deal here. After the latest dividend adjustment it is unlikely that the business development company will have to cut its dividend again any time soon, and income investors are running a low risk of overpaying for the BDC at less than 11x adjusted NII.
Your Takeaway
Income investors threw Triangle Capital off the cliff in May when the company announced a rather steep decline in its quarterly dividend. But Triangle Capital's shares look to have bottomed out now, which sort of makes the company an interesting BDC to buy. The risk of another dividend adjustment at this point is rather low in my opinion, and the shares are moderately priced at less than eleven times run-rate NII. Buy for income and capital appreciation.
Disclosure: I/we have no positions in any stocks mentioned, and no plans to initiate any positions within the next 72 hours.
I wrote this article myself, and it expresses my own opinions. I am not receiving compensation for it (other than from Seeking Alpha). I have no business relationship with any company whose stock is mentioned in this article.