Recent analysis from Counterpoint Research indicates that Apple (NASDAQ:AAPL) lost market share in China in Q2 while four Chinese smartphone makers gained share. Based on Qualcomm's (NASDAQ:QCOM) presence in the Chinese makers' phones, AAPL's market share loss in China may be QCOM's gain.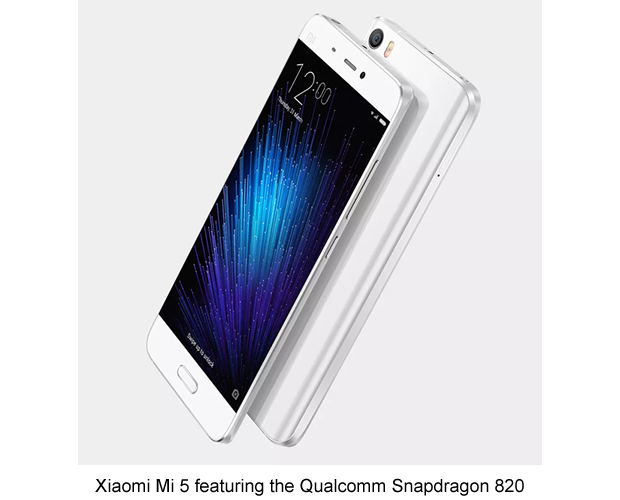 Source: Xiaomi
Counterbalancing Apple
Bloomberg published the Counterpoint Research results, highlighting the rise of the local Chinese makers, Huawei, Xiaomi (Private:XI), Vivo, and Oppo. These are now the top four smartphone makers in China with a combined market share of 53%. Apple is in fifth place, with a market share of 10.8%, a decline from 12% a year ago.
These results may not represent much of a change from Q1 however, as they're very consistent with what Strategy Analytics reported for 2016 Q1:
| | | |
| --- | --- | --- |
| Smartphone Vendor | 2015 Q1 | 2016 Q1 |
| Huawei | 10.2% | 15.8% |
| OPPO | 7.2% | 12.6% |
| Xiaomi | 12.8% | 12.2% |
| Vivo | 7.3% | 11.9% |
| Apple | 12.3% | 11.0% |
| Others | 50.3% | 36.5% |
| Total | 100.0% | 100.00% |
The top four Chinese vendors' market share in 2016 Q1 stood at 52.5% while it was 37.5% a year ago. The growing strength of the Chinese brands represents a continuing challenge for Apple, but at least the data suggests stabilization, since AAPL's share remains about 11%.
Whether Apple can turn the situation around with the release of iPhone 7 in calendar Q3 remains open to question. Part of the reason that Apple lost share in China this year is that the Chinese makers fielded a number of highly competitive Android phones that featured Qualcomm processors, including the flagship Snapdragon 820, quite possibly the best smartphone processor currently available.
With the rise of the new Chinese makers Vivo and Oppo has come stronger representation for Qualcomm's processors in the Chinese branded handsets. In order to quantify that representation, I surveyed the global sites of the four brands in order to determine the percentage of phones using Qualcomm processors. With the exception of Xiaomi, the brands continue to feature a bewildering array of device models, often including legacy models from several years back. For that reason, I also separately report the Qualcomm processor percentage for newer, better selling devices.
| | | | | |
| --- | --- | --- | --- | --- |
| Brand | Qualcomm % of all devices | Qualcomm % of newer devices | Qualcomm market share for newer devices | Site Reference |
| Huawei | 25.00% | 20.00% | 3.20% | |
| Oppo | 68.96% | 87.50% | 11.02% | |
| Xiaomi | 80.00% | 80.00% | 9.76% | |
| Vivo | 48.15% | 100.00% | 11.90% | |
The Qualcomm market share is weighted by the Strategy Analytics market share for 2016 Q1, assuming that it's a good approximation of the market share for Q2. The top four Chinese vendors combined give Qualcomm a 35.84% share of the market for Q2.
Risk Reduction
My main reason for going long on Qualcomm in addition to Apple was that I saw the companies as being complementary in market strategy. Qualcomm represents the traditional commodity processor approach applied to smartphones. Qualcomm operates through OEMs, selling chipsets rather than whole devices. Apple represents the newer paradigm of integrated device maker that designs its own processors, and also the operating system and device.
Huawei's relatively low utilization of Qualcomm is a consequence of its embracing of the Apple paradigm. For the most part, its flagship devices use its own custom designed Kirin processors. In addition, Huawei is reportedly even working on its own mobile operating system, bringing it closer to the Apple model.
However, the rapid rise of Oppo and Vivo required an application of the commodity model, which was made to order for Qualcomm. In investing in Qualcomm, I'm acknowledging that there will likely be a commodity component to the overall smartphone market for some time.
In case the commodity component of the smartphone market grows at Apple's expense, Qualcomm represents a reduction of that risk. Given what Huawei is doing, it's not absolutely clear that the commodity model will be triumphant, either in China or globally.
Some believe that the People's Republic of China (PRC) is out to drive Apple from the marketplace, and cite various regulatory actions that have been taken. I actually think Qualcomm represents a good counter argument. Qualcomm has been put through the regulatory ringer in China. It reached a settlement of anti-competitive business practices with the PRC that has allowed it to continue to do business in China. As difficult as the process was, Qualcomm was clearly not driven out of China.
There's a certain stereotype of the PRC in the West that it's a lawless Communist dictatorship. While the Communist Party represents the most powerful political institution in China, it has not been able to undo centuries of Chinese culture, which embraced the rule of law in government (Confucianism). The idea that the PRC is going to toss aside its international trade agreements and membership in the World Trade Organization in order to drive Apple, or any other US company out of China, is ridiculous. Qualcomm is living proof of that.
Investor Takeaway
Unfortunately, the market share data is a little fuzzy, making it difficult to come up with an exact estimate for chipset shipments (MSM) by Qualcomm to Chinese OEMs. If Counterpoint's data holds up, and if the smartphone market hasn't declined too dramatically, then this amounts to about 35 million units in Q2. This assumes about 100 million smartphone shipments in the quarter. In Q1, smartphone shipments were 105 million according to Strategy Analytics.
Qualcomm guided to 175-195 MSM shipments for the June quarter. Qualcomm will probably get a boost from Chinese OEMs, but this may be counterbalanced by the reported partial loss of Apple's modem business to Intel (NASDAQ:INTC). I continue to be skeptical about the Intel modem reports since I don't think it would make sense for Apple.
Growth in China this quarter could lead to a surprise to the upside in MSM shipments and revenue. Samsung's (OTC:SSNLF) earnings pre-release also suggests some good news in the offing for Qualcomm. Samsung reported that operating profit rose by 17.4% y/y. Most of it is attributed to its mobile division, but its foundry business has been strong recently as well. Qualcomm is fabricating its newest Snapdragon 820 processor on the Samsung 14 nm node.
The presence of the 820 on some models of the Galaxy S7 as well as most other Android flagship devices is also a plus for Qualcomm. The good news from Samsung, combined with China, encourages me that Qualcomm will do well this quarter. I continue to be long Qualcomm and rate it a buy.
Disclosure: I am/we are long QCOM, AAPL.
I wrote this article myself, and it expresses my own opinions. I am not receiving compensation for it (other than from Seeking Alpha). I have no business relationship with any company whose stock is mentioned in this article.
Editor's Note: This article discusses one or more securities that do not trade on a major U.S. exchange. Please be aware of the risks associated with these stocks.