With the stock almost 50% off its 52-week highs, shares of Shake Shack (NYSE:SHAK) might look interesting to some investors. That interest, though, should stop once investors look at the stock's valuation. Despite the company's terrific growth prospects through both sustainable, strong comps and a long runway for unit growth, I am going to side with Wedbush on this one and say sell the Shack. The valuation just doesn't make any sense for a burger chain.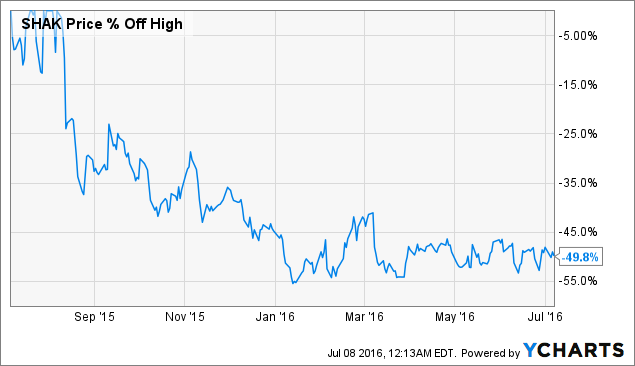 SHAK data by YCharts
Even at these depressed prices, insiders don't like the stock. There is a significant amount of bearish insider activity in both the trailing 3 month and trailing 12 month windows. There have been 9 insider buys in the past 3 months for a total of 2 million shares compared to 101 insider sells for a total of 5 million shares. It isn't much prettier in the trailing 12 month window, with 78 insider buys to 346 insider sells.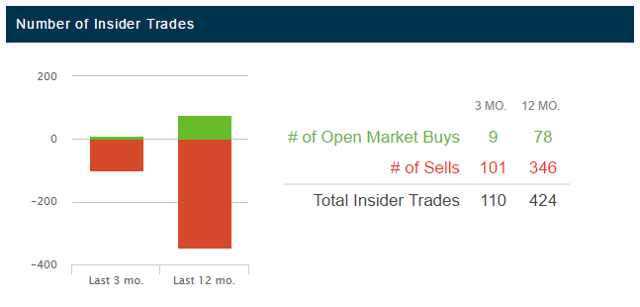 Click to enlarge
This is especially concerning because the stock has been range-bound over the past 3 months, ranging from $33.50 to $38.50, so this heavy insider selling has been at prices around the current market quote. More specifically, insiders have unloaded more than 5 million shares of SHAK in the past 3 months at around the same price the stock is currently trading at.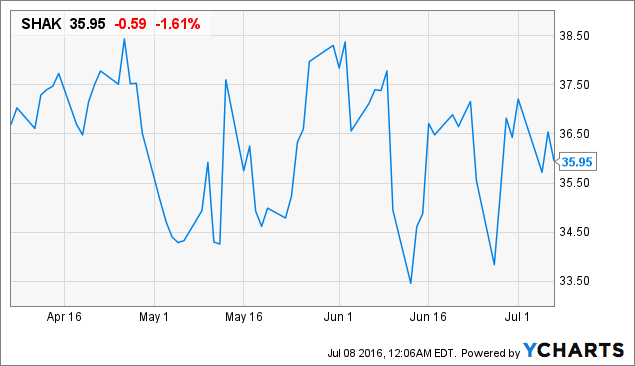 SHAK data by YCharts
If insiders don't like the stock here, why should you? LGP, one of SHAK's significant shareholders, is currently in the process of unloading 2 million shares through December 2016. I think investors should follow LGP and ditch this overvalued stock.
The stock is trading at 65x forward earnings that are projected to grow only 25%. I say only "only" here cautiously, because while 25% growth is an exceptional growth rate, it's still a dramatic discount to the 65x multiple. That is a forward PEG of 2.6, implying significant valuation risk. For EBITDA guys, the 39x EV/EBITDA multiple is equally unattractive.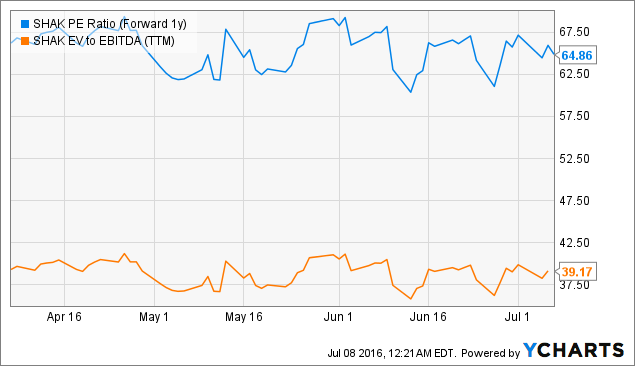 SHAK PE Ratio (Forward 1y) data by YCharts
The valuation gets especially unattractive when looking at fast casual service comps. From expanding chains like The Habit (NASDAQ:HABT) to technologically innovative chains like Panera (NASDAQ:PNRA) to seasoned giants like McDonald's (NYSE:MCD), all fast casual stocks trade around a high-single-digit to low teens EBITDA multiple. SHAK is the only one that doesn't, and its 39x EBITDA multiple makes it look like a hyper-growth tech company compared to its peers.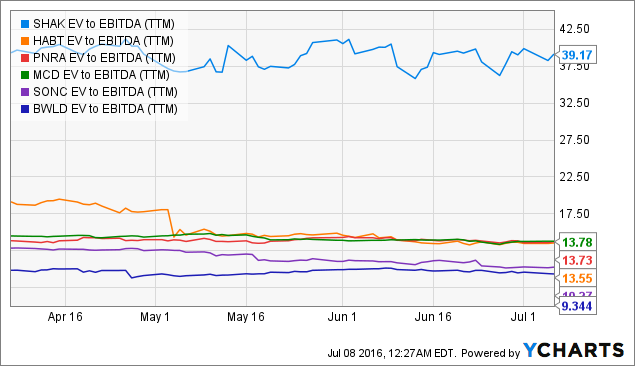 SHAK EV to EBITDA (TTM) data by YCharts
The truth is that SHAK is not a hyper-growth tech company. It is just a hot, upstart burger chain supported by healthy eating trends. GMO-free is a big draw for health-conscious consumers, and provides a nice moat against current popular burger chains like MCD, but as SHAK expands, it will just run into more competition. California is a market dominated by In-N-Out, HABT is only expanding, MCD is revamping its menu and offering more promotions, and PNRA is aggressively pushing tech integration. Competition in this space is only intensifying, and SHAK's valuation does not reflect this.
Shares of SHAK just aren't attractive here at 39x EBITDA versus the rest of the industry's 9-13x EBITDA multiple. SHAK is good and has better growth prospects than the majority of its industry, but not that much better to warrant a 255% higher multiple. I think investors should follow the insiders and ditch the stock until the valuation looks a little more realistic.
Disclosure: I/we have no positions in any stocks mentioned, and no plans to initiate any positions within the next 72 hours.
I wrote this article myself, and it expresses my own opinions. I am not receiving compensation for it (other than from Seeking Alpha). I have no business relationship with any company whose stock is mentioned in this article.