The post-Brexit flight to safety saw a lot of investor interest in utility companies as a comparative safe haven. That appears not to have extended to the Pacific, where Huaneng Power International (NYSE:HNP) is touching new 52-week lows, down more than 50% off its highs.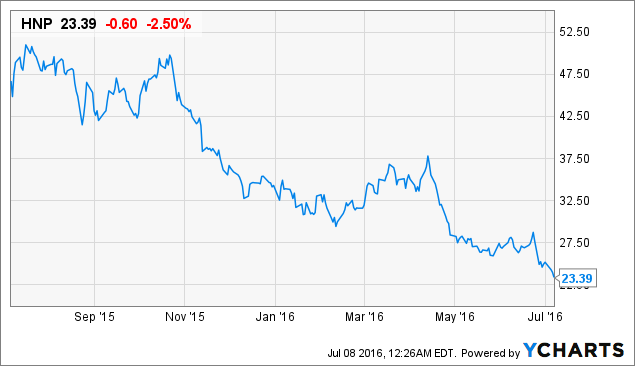 The pessimism isn't surprising, on the surface, as the consensus is that China is facing a significant downturn, one which has driven down commodity prices and, by extension, the price of electricity in China.
The price decline, naturally, has been a drag on Huaneng's prices at the plug. Today, we'll be taking a close look at the company's financials, and figuring out whether this general decline in per-plant revenue is really a problem.
Huaneng's Hidden Growth
If one was analyzing Huaneng purely on a revenue basis, it would be easy to conclude the company is not growing. Operating revenue in 2011 was actually a bit higher than in 2015, and analyst estimates show that revenue continuing to decline slightly in 2016 and 2017.
That's because of the aforementioned decline in electricity prices in China, and planned reforms which are expected to drive prices down even further. Is Huaneng, then, a shrinking business?
Not so, as Huaneng has continued to expand capacity throughout the downturn, keeping their revenues up by selling a lot more power than they were at the start of this decline in prices. The company controlled 82,381 MW of capacity as of the end of 2015, up from just 54,402 MW back in 2011.
With the capacity growth not showing up as revenue growth yet, it's easy to ignore, but when prices eventually solidify and recover, Huaneng's growth will become much more readily apparent.
Growing margins
| | | | |
| --- | --- | --- | --- |
| | 2013 | 2014 | 2015 |
| Op. Revenue | $20 billion | $18.8 billion | $19.3 billion |
| Op. Income | $3.62 billion | $3.64 billion | $4.37 billion |
| Op. Margin | 18.1% | 19.4% | 22.6% |
| Net Income | $1.56 billion | $2.03 billion | $2.59 billion |
| Net Margin | 7.8% | 10.8% | 13.4% |
Margins are steadily rising, because while prices are on the slide, fuel prices are falling even faster, and fuel makes up some 60% of the operating expenses of Huaneng.
From 2013 to 2014, fuel costs dropped 12.25%, and then another 8.52% from 2014 to 2015. This, again, is an overall drop in costs, despite a significant increase in capacity, and subsequently in fuel consumed, over the same period.
The 2015 PE ratio is 8.35 at current prices, which is a nice value proposition for a company experiencing such improving margins. The forward PE by current estimates is down to just 5.16.
According to Q1's balance sheet, the stock is trading at 0.68 times book value, and 0.93 times tangible book. That again puts the company into the category of a value stock.
Cash cow and dividends
So Huaneng is a value proposition, but so are a lot of companies. We don't really need to get excited over them until we look at their dividends.
In 2013, Huaneng paid $1.367 per share. In 2014, that rose to $2.44, and rose a bit more to $2.448 in 2015. The 2016 payout was all the way up to $2.871, a whopping 12.3% dividend yield at current prices.
That sort of yield is usually suspect, because it often suggests an unsustainable high payout, but when we take a look at the net cash generated from continuing operations, we see that's not the case.
| | | | |
| --- | --- | --- | --- |
| | 2013 | 2014 | 2015 |
| Net Cash from Operations | $6 billion | $5 billion | $6.3 billion |
| Dividends Paid | $442 million | $800 million | $830 million |
Obviously we don't know how much cash will be generated from operations in 2016, but in general the dividend payout has been a relatively small amount of the company's cash flow. Rather, much of the company's cash is being funneled to continued growth.
It's quite clear from the numbers that Huaneng has the capacity to readily maintain dividends at these levels, which puts them in truly select company as one of the best yielding income stocks out there.
Conclusion
Huaneng Power is all the things you want in a utility company, a discount to book, strong and improving margins, and killer dividend yields. Pessimism about China's near-term economy prospects have dragged on the company, but all of the underlying numbers are still strong, and the growing capacity should serve them well in the long run.
While it's hard to know where the bottom is in the continued selloff, it's very difficult to argue that Huaneng doesn't have a place in a portfolio focused on generating income. The main downside at this point is that the 2016 dividend has already been paid, but with the price decline far exceeding that dividend, it's only become more appealing.
Disclosure: I/we have no positions in any stocks mentioned, but may initiate a long position in HNP over the next 72 hours.
I wrote this article myself, and it expresses my own opinions. I am not receiving compensation for it (other than from Seeking Alpha). I have no business relationship with any company whose stock is mentioned in this article.