McDonald's (NYSE:MCD) U.S. business was in a funk until it introduced all-day breakfast. That was about a year ago, which means it's getting close to the time when McDonald's will need a second act. Only the second act looks a lot like the first one, which isn't very inspiring.
Eggs all day long
In October of 2015 McDonald's broke the mold of tradition and introduced "all day breakfast" in the United States. It was a modest change, in many ways, with just a few breakfast items being available after the traditional cut off time. But it had a huge impact on results.
In the fourth quarter of 2015 comparable store sales rose 5.7% in the United States. The number rose 5.4% in the first quarter, too. Comparable stores are restaurants that have been open for more than a year. In other words, adding breakfast notably boosted sales. To be honest, I hadn't expected that dramatic an uptick and I had concerns that the complexity of trying to cook breakfast and lunch/dinner at the same time on the same equipment would end up hurting service times so much that the change would be a net negative. Clearly, though, all day breakfast was a smashing success. McDonald's deserves kudos for pulling it off so well.
But here's the problem-what's next? McDonald's has been focusing on improving quality and service. Those are important, but they aren't splashy items that bring people in the door. For example, McDonald's switching from margarine to butter has been in the headlines-but that's not likely to get a customer to make an extra visit or lead him or her buy an extra item. New food options are the exciting changes that push the needle.
Which is why it was a little disheartening to see that the big new food news for McDonald's is expanding its all day breakfast options. That will take place in... September. Basically that's the anniversary of the original all day breakfast news.
Will McDonald's get more people in the door because of an expanded all day breakfast menu? Maybe, but I doubt it will be enough to push the comparable store sales numbers up like the introduction of all day breakfast. Which means that the comparisons for comparable store sales numbers could be pretty rough starting in the fourth quarter. Indeed, you shouldn't be surprised by that since there doesn't appear to be any truly new "thing" to raise the bar.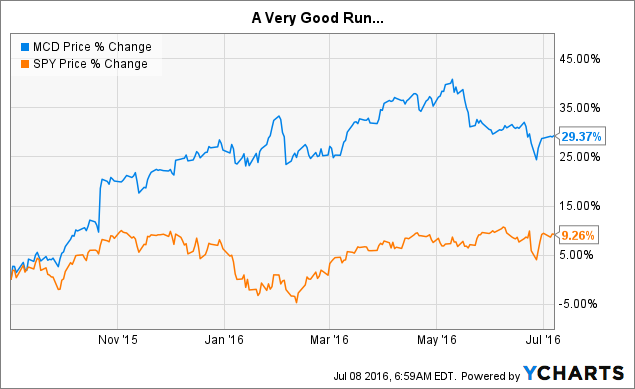 MCD data by YCharts
Taking the right steps
That said, it wouldn't be fair to suggest that McDonald's has been relying only on all day breakfast to cement its future. That's hardly true. Margarine to butter, range free eggs, simpler menus, and other hard to see changes are all vital to the turnaround. But better service and quality are long-term fixes, not the type of thing that will bring people in the door tomorrow.
In fact, it's almost a shame that breakfast was such a quick success, because it set the bar awfully high on a turnaround where getting the small things right is just as important as the big things, like new products. Although it doesn't seem like there's any new splashy item in the wings, there's one thing to hope for; grass roots innovation. That's really where breakfast came from, with customers asking for it and franchisees pushing the issue. There could be more where that came from if McDonald's listens carefully enough.
For now, however, investors will have to make do with an expanded all day breakfast menu and the very real potential for weak comparable store sales in the United States starting later this year. And with McDonald's shares still up nearly 30% since September of last year and no big new product on the horizon, be ready for a pullback if comparable store sales numbers are, as I expect they will be, weak.
Further, the price to sales ratio is around 25% above the five year average. Price to cash flow is 20% above the average. And the dividend yield is around 6.5% below the long-term average. Basically the stock looks expensive right now. And then there's the issue of debt, which has gone from around 45% of the capital structure in 2013 to around 75% in 2015. Add in the uncertainty of a potential sale of the company's Chinese stores and investors have plenty of reasons to be a little concerned about McDonald's right now. It might sail through all of this without missing a beat, but it's worth paying a lot more attention right now-just in case.
Disclosure: I/we have no positions in any stocks mentioned, and no plans to initiate any positions within the next 72 hours.
I wrote this article myself, and it expresses my own opinions. I am not receiving compensation for it (other than from Seeking Alpha). I have no business relationship with any company whose stock is mentioned in this article.