We took a look at eBay (NASDAQ:EBAY) as a possible investment but ultimately decided to pass due to concerns over the strength of eBay's economic moat. We thought we'd share some of our research so other investors can better analyze eBay and understand the risks we believe the company is facing.
At first glance eBay seems like it could be a good investment. The company trades at a P/E below 15 and sales are projected to grow a little over 4% next year. eBay also has a hidden high growth gem in its StubHub business which saw revenue growth 34% quarter over quarter. However, what concerns us are some signs we see of eBay's competitive advantage or economic moat in the form of its network effect becoming weaker.
Analyzing eBay's Network Effects
The key to eBay's dominance is the network effect. The network effect is a type of competitive advantage where a product or service becomes more valuable the more people use it. People list items for sale on eBay because a large number or people go to eBay to look for things to buy. People go to eBay to buy things because there are a large number of sellers. It's a virtuous circle and provides a very high barrier of entry to competitors. Imagine trying to start an auction site today, it'd be virtually impossible. You couldn't attract large numbers of buyers and sellers without investment huge sums of money. So the competitors eBay has now are pretty much the only competitors it should have for a very long time.
Those three main competitors are Amazon.com (NASDAQ:AMZN), Etsy (NASDAQ:ETSY), and craigslist. Etsy is more of a niche marketplace focusing on custom crafts and artwork. It's more of an online version of your local art fair so we don't consider Etsy to be a big threat to eBay. Likewise, we don't view craigslist as a huge threat either. Craigslist has simply replaced the local classifieds. The main competitive threat is Amazon's marketplace.
We're a big believer in using what Philip Fischer called "scuttlebutt" when researching companies. We browsed various online seller forums to see how eBay and Amazon are viewed from a seller prospective.
Amazon's Strengths
According to our research Amazon has some advantages over eBay for many sellers. Many merchants preferred Amazon for selling new items due to its larger customer base. Additionally, larger companies seemed to prefer listing items on Amazon rather than eBay and have experienced faster sales growth on Amazon compared to eBay. For example Vivo Technologies which does millions of dollars in sales per year has seen Amazon take over from eBay as their largest sales portal. Larger, high volume merchants also prefer using Amazon's FBA (Fulfilled By Amazon) service which takes care of the logistics of warehousing and shipping items. Sellers also liked Amazon because of its different feedback system for buyers and sellers. One common complaint we saw was that the eBay feedback system was being abused by customers. For example customers would demand refunds they were not eligible for by threatening to leave poor feedback for the seller.
eBay's Strengths
According to our research eBay seems to be the consensus choice among sellers for unique lots such as vintage items, used items, and handmade items. Sellers said that these types of items tended to sell for the highest prices on eBay (not surprising given the auction aspect of the site). They also reported they got more repeat business when using eBay due to the more community type feel of the site compared to Amazon. Users on eBay can open up storefronts and repeat customers can use that as a way to keep up to date on sellers' new offerings. There have also been rumors that Amazon uses data from third party sales to help it undercut those same third party sellers on price. It has also been speculated that Amazon uses that same data on third party sales to help it decide which items it will sell on its own. I've read account of several sellers reporting that not long after they began listing and selling an item Amazon itself added that item for sale and undercut them on price. eBay also generally came out ahead in terms of fees charged to sellers for listing items.
What the Future Holds for eBay
Our research basically turned up no clear advantages for either eBay or Amazon. Both platforms had their strengths and weaknesses. This is what alarmed us. Most sellers seemed perfectly willing to use up to two platforms for their stores. A minority of sellers were only willing to use one platform but most large sellers ran eBay and Amazon stores simultaneously. So, things are not a winner take all situation and it seems that we may see the market split between eBay and Amazon.
eBay has around 25M sellers and about 175M active buyers. In 2014 Amazon claimed about 2M active sellers and currently has 270M active buyers. What happens if the market does indeed eventually become an even split for sellers? eBay stands to lose out substantially if there is any significant migration of sellers towards Amazon. We can also see that with about 50% more active buyers than eBay, Amazon already has the ingredients for half of a very strong network effect. In fact, it may even be able to construct a better network effect barrier to entry given its larger base of buyers.
We may be starting to see some of the effects of eBay losing ground to Amazon in eBay's latest results. We can see that revenue for eBay's Marketplace division has basically been flat.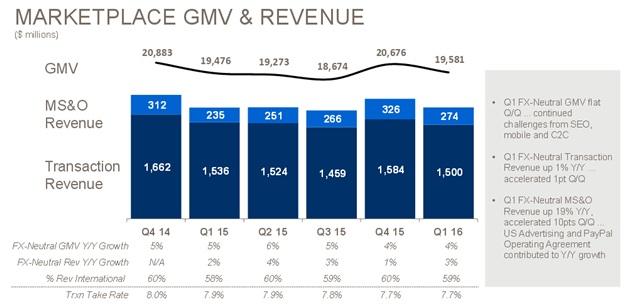 Perhaps more alarming is the take rate has been steadily declining. This could be a sign that eBay is under pressure to retain its seller base and is lower fees for sellers to avoid losing them to Amazon.
All of this leads us to believe that eBay's once impenetrable network effect barrier to entry may have been breached by Amazon. We decided to pass on investing in eBay despite the attractive price because of our concerns that eBay has a lot to lose if Amazon is able to continue to gain traction with third party sellers.
Disclosure: I/we have no positions in any stocks mentioned, and no plans to initiate any positions within the next 72 hours.
I wrote this article myself, and it expresses my own opinions. I am not receiving compensation for it (other than from Seeking Alpha). I have no business relationship with any company whose stock is mentioned in this article.