The latest monthly jobs report came out Friday. And boy, was it a good number. Much better than expected in fact, with 287,000 new jobs added to the U.S. payrolls in the month of June. It's always great to see people getting new jobs, and the U.S. stock market is fully participating in the celebration on Friday. But despite the apparent good news, investors may be well served to view the latest surge in stocks with a hefty dose of skepticism.
The following are five reasons to doubt the sustainability of Friday's stock market rally.
1. Stocks Love Jobs Day, But Not Necessarily The Days After
The fact that stocks are rallying on the latest employment report comes as no surprise. U.S. stocks as measured by the S&P 500 Index (NYSEARCA:SPY) have a 57% winning percentage since the calming of the financial crisis back in March 2009. And these wins have often come regardless of whether the monthly employment report was good - better-than-expected jobs numbers mean economic growth is improving - or bad - worse-than-expected jobs numbers mean that monetary policy makers will remain supportive. Perhaps the only thing notable about today's job report was the lack of any hesitation by the market, as a strong employment report often will make traders flinch in early trading before the buyers come storming in. Not so on this jobs Friday.
But just because stocks go soaring on a jobs Friday does not mean the ebullience will continue into the new week. In the 27 past instances since the financial crisis where the stock market has risen by +0.50% or more, the S&P 500 Index has gone on to decline over the subsequent two trading days in 18 out of these past episodes, or 67% of the time. This includes pullbacks of -1% or more in 10 out of these 18 instances.
As a result, if you are bullish on stocks following Friday's job report, by all means have at it. But if you are a bit more skeptical, chances are you may see better entry points in the coming days.
2. Sustainability Of Jobs Gains Going Forward
Indeed, the June employment report was a doozy. Even if 138,000 of the 287,000 new jobs created were likely more of the minimum wage service variety, it was still a good number. But it is worth highlighting an important point. This was a June payroll number. Not a July, August, September or October payroll report, but a June report. Why does this matter? Because it is a month that has already happened in the past that included 23 days when employers thought voters in the United Kingdom wouldn't be crazy enough to decide to leave the European Union. Now will the local shopkeeper change his hiring plans because the folks across the pond in England won't be part of a common market in two years? Probably not. But we may see spillover effects in the coming weeks that may eventually feed through to the economy in which the shopkeeper is trying to sell their products.
One potential divergence worth monitoring in this regard is the direction of oil prices (NYSEARCA:USO). For if oil prices start rolling sustainably back over, it may suggest a slowing pace of global economic growth. And while it is too early to say anything definitive, it has been notable that U.S. stocks have continued to push higher while oil (NYSEARCA:OIL) has been increasingly trending lower. This is a relationship worth watching going forward.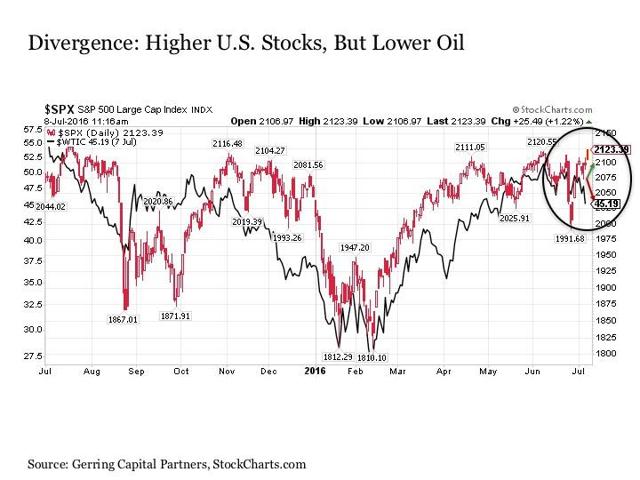 Click to enlarge
3. The Rest Of The World Left Behind
It is marvelous that the U.S. stock market continues to do so well. But what about the rest of the world? It has fallen decidedly flat and is well off the pace from where it was just a few months ago. And this is taking place at the same time that U.S. stocks are making their latest run at trying to take out new all-time highs.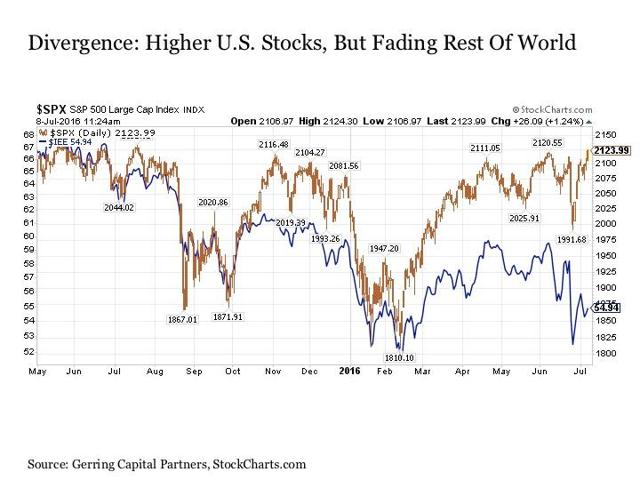 Click to enlarge
I've never been a buyer of the decoupling theory, and history has repeatedly shown that such supposedly reassuring theories turn out to be nothing more that wishful thinking in the end. This time is not likely to be any different.
4. Financial Crisis, Part Two? Or Zwei? Or Due?
While the party in the U.S. stock market continues raging, the European banking system continues to melt down. And since the "Brexit" vote, we have seen a rapid deterioration in the stock prices of European banks across the continent from Deutsche Bank (NYSE:DB) in Germany (NYSEARCA:EWG) to RBS (NYSE:RBS), Barclays (NYSE:BCS) and Lloyds (NYSE:LYG) in the U.K. (NYSEARCA:EWU) to UniCredit (OTC:UNCFY) and Monte dei Paschi (OTCPK:BMDPY) in Italy (NYSEARCA:EWI).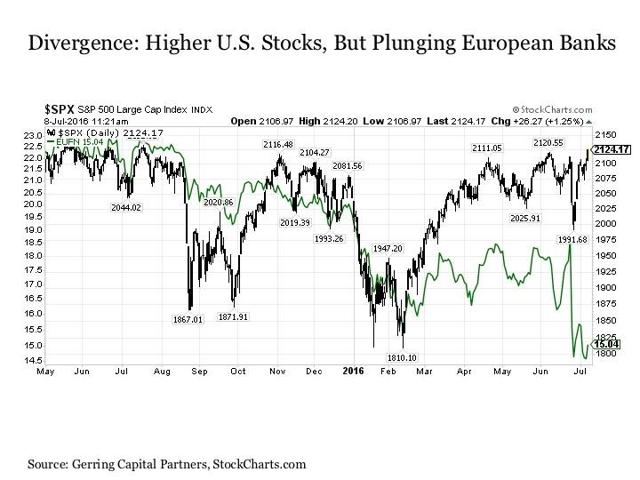 Click to enlarge
While the turmoil currently engulfing European financials may ultimately be assuaged by yet another bailout program by policy makers, it still remains to be seen. And I remember like it was yesterday watching the share prices of major financial institutions like Citigroup (NYSE:C), American International Group (NYSE:AIG), Morgan Stanley (NYSE:MS) and others steadily melt lower throughout the spring and summer of 2008 with reassurances that policy makers had their "bazookas" at the ready if needed to deal with the problem.
Now I'm not saying what's happening today in Europe is anything similar to what took place with Bear Stearns, Lehman Brothers, Wachovia and Washington Mutual in 2008. But given the alarming amount of leverage in the global financial system, thanks to the endless largesse of global central banks desperately trying in vain to achieve sustainable economic growth, the risk that we could see another destabilizing financial episode cannot be completely ruled out either. And if nothing else, the rising possibility of such a financial event is not something that is likely to get stock investors excited about buying more shares much less keeping hold of the shares they may already have.
5. Remember Me?
Remember when everybody was wringing their hands about the slowdown in growth in the Chinese economy? Despite all of the attention that has been focused on Europe these past few months, it turns out the challenges confronting the world's second largest economy haven't gone away. In fact, some signs suggest that the situation might be gradually getting worse. For example, since the April highs in the U.S. stock market, the Chinese renminbi (NYSEARCA:CYB) has been increasingly devaluing. And this is likely to continue at least as long as the British pound (NYSEARCA:FXB) continues to crater versus the U.S. dollar and the euro (NYSEARCA:FXE) also keeps fading.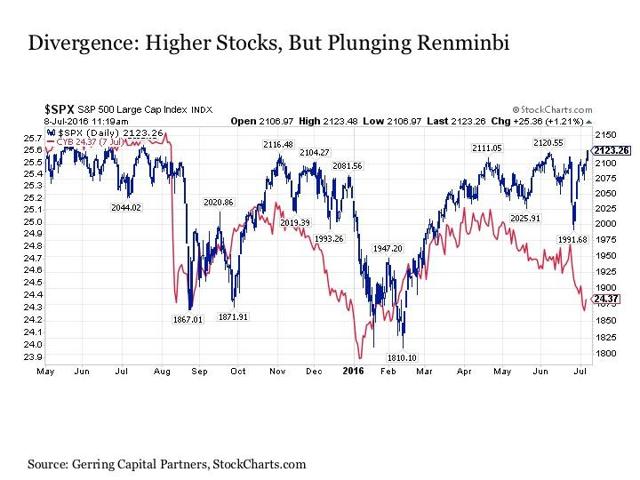 Click to enlarge
By devaluing its currency, China is effectively exporting its deflationary challenges to the rest of the world including the United States. And since deflation is a pricing environment that's particularly unfavorable for economic growth and corporate profitability, the continued devaluation of the Chinese currency remains worth watching, particularly since U.S. stock prices have yet to react to the downside as they have in the past.
The Bottom Line
A stock market party is going on right here in the U.S. But it's a celebration that does not appear ready to last very long. Sure, the report for the number of jobs that were added to the U.S. economy last month was a good one, but a lot has happened since then. And the world remains riddled with big and growing problems that a few extra minimum wage jobs here in the United States last month are not going to be able to offset.
So enjoy the jobs Friday party. It wouldn't be a jobs Friday without it. But remain cautious as we continue through the remainder of July.
Disclosure: This article is for information purposes only. There are risks involved with investing including loss of principal. Gerring Capital Partners makes no explicit or implicit guarantee with respect to performance or the outcome of any investment or projections made. There is no guarantee that the goals of the strategies discussed by Gerring Capital Partners will be met.
Disclosure: I/we have no positions in any stocks mentioned, and no plans to initiate any positions within the next 72 hours.
I wrote this article myself, and it expresses my own opinions. I am not receiving compensation for it (other than from Seeking Alpha). I have no business relationship with any company whose stock is mentioned in this article.