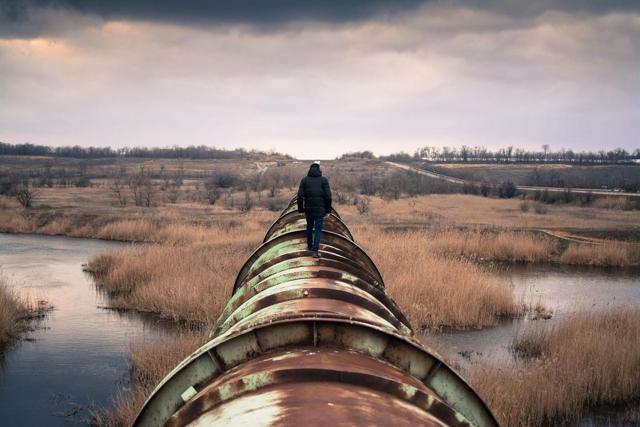 Click to enlarge
source: Stock Photo
Most of us are aware that economic growth in Asia is slowing down significantly, but recent data from Germany confirm Europe is coming under pressure as well, suggesting we're moving closer to a global recession, which will put downward pressure on oil because of falling demand.
In the U.S. the inventory draw was less than anticipated, pointing to demand not being as robust as the market was thinking. Gasoline inventory in the U.S. also showed signs of being stronger than expected, with refiners having no problem meeting summer demand.
Some OPEC countries and Russia have also been increasing supply to the market, with some production shrinkage in the U.S. offsetting that growth; although some of the stronger shale producers have been completing wells, which could bring more oil to the market than is expected.
We have no idea yet of how the addition of shale production from premium wells have affect oil, but at worse it can only make the inventory draw slower and supply higher. At best it could be disruptive if it adds enough oil to increase supply against demand.
Data collector OPIS said for the week ended July 1, 2016, the oil market was still being oversupplied, exceeding demand by 350,000 barrels per day.
With oil from outages returning to the market, a slowing global economy, OPEC and Russia increasing production, and shale producers completing more wells, it points to more supply than the market expects, with the pace of demand slowing with it.
Taken together, it will result in oil trading sideways for at least the remainder of 2016.
European economy
Germany's economy is starting to slow so much, some like Dekabank analyst Andreas Scheuerle believe it will contract in the second quarter. That's even if June data remains the same as May, which was very weak.
Even though it appeared Germany's economy was strong in the first quarter, allegedly growing by 0.7 percent, a significant part of that was from government spending on people from the Middle East being brought into the country - that was included in the data. On the positive side consumer spending was decent and investment in construction also increased.
For the second quarter, economic growth could plunge to only a 0.1 percent growth rate. That is probably the best-case scenario.
Exports in May plunged to a 9-month low, which followed a weak report for industrial output earlier in the week, where it experienced the largest monthly decline in almost two years. Orders were also down below expectations.
With the exception of the euro zone, German exports were weak everywhere else. According to data from the Federal Statistics Office, when seasonal adjustments were applied to exports, they were down 1.8 percent.
Global economies outside the euro zone are struggling to the point Germany has little in the way of growing exports with them.
Italy's economy is getting weaker and weaker, as government debt now accounts for 135 percent of the GDP, and the employment rate for adult workers the lowest in the EU with the exception of Greece.
Banks in Italy have bad loans valued at about $400 billion, which is about 20 percent of GDP. Of that, they can only handle about 45 percent of the loans if they go bad.
Since the problem is so large, it does set up a dangerous situation where some of them will probably be bailed out.
More important than the general economic problems is the populist uprising coming from the rules coming from Brussels that are increasingly resisted at the local and national level of a growing number of member states. This resistance will continue to grow, with a number of important countries eventually leaving the EU and euro zone because of some rules that conflict with national economic freedom and growth.
Europe is weakening economically and politically. It's going to get worse, and the EU that emerges after being abandoned by some in the years ahead, will be less important than some of the elites think it is even now.
Asian Economies
Slowing growth in Asia continues, as it has plunged from 8.3 percent annually from 2006-2010, to 5.7 percent so far in 2016. A recent report from the Asian Development Bank sees the potential growth rate for the region falling from 8.5 percent in 2007 to 6.7 percent in 2014. Even those weaker numbers may be too optimistic.
As for the why of the slowing growth, some of it is of course supply and demand, but internally in many of these nations, the flow of rural labor to urban centers has slowed down, as the bulk of those migrating to the cities - which are primarily younger workers - has dried up, which means there is now a shortage of labor in relationship to growth, and a battle for workers, which drives up wages.
This can benefit other countries who are now in the rural to urban migration stage, such as Vietnam, but overall, it has slowed down the formerly high-growth emerging Asian markets. It'll take time for this to balance out. It also requires a stronger global economy to do so.
Another factor is that birth rates aren't replacing the population at levels that support economic growth.
China is the key contributor to slowing Asian economies, when all factors are considered, as it continues to transition to a consumer-led economy, which will probably take at least another decade. Smaller Asian economies that had been feeding its prior growth will slow down in unison with it.
U.S. oil and gas inventories
A key gauge of supply and demand for oil and gas in the U.S. is the pace of the drawdown of robust oil and gas inventories. As has been the case over the last couple of years, the strength of the U.S shale industry in particular continues to surprise to the upside, even as a number of shale producers cut production.
The latest numbers from the Energy Information Administration (NYSEMKT:EIA) revealed crude stockpiles dropped 2.2 million barrels for the week ended July 1. Even though it was the seventh weekly decline in a row, it disappointed the market after the American Petroleum Institute, which had inventory levels dropping by 6.7 million barrels.
That created a scenario of high expectations, which because of the wide gap between the two reports, put pressure on oil prices.
I was a little surprised by this because API reports are known by most investors as being more of a gauge of direction than an accurate measure of inventory draw. The major reason for that is the information is given voluntarily by participants, and not all of the offer it or report consistently. It's similar to official economic data released from China. It will give a general snapshot of the direction of the economy, but you can never trust the specifics of the data.
With that in mind, the disparity between the two reports is what caught investors and analysts by surprise.
OPEC and Russian production growth
On the OPEC production side, a Bloomberg survey found it had climbed by 240,000 barrels per day to 32.95 million bpd in June 2016, against May's production level.
Another survey from Reuters had production from Saudi Arabia up 50,000 barrels per day to 10.3 million barrels per day in June, also as measured against May's production. Expectations are Saudi Arabia may boost production to 10.5 million barrels per day.
Iranian production was also up in June, rising by a modest 5,000 barrels per day sequentially to 3.6 million barrels per day.
According to the Russian Energy Ministry, production in Russia is now at 10.84 million barrels per day.
Conclusion
When taken together, major catalysts to watch are the pace of demand growth for oil, the amount of loss of shale production verses newly completed wells, OPEC and Russian production growth rates, and the health of the global economy.
At this time it appears the bearish catalysts are winning out, as gasoline and oil inventories in the U.S. remain higher than anticipated. Loss of supply from temporary outages are starting to work themselves out, which will increase the amount of oil coming to market in the short term.
There is no doubt the global economy is coming under more duress, and Europe may be the final push that brings it into recession. There is nothing in Asia or Europe that would justify a bullish outlook; it's going to get a lot worse before it gets better. With Germany faltering, there isn't any other country that could carry the weight of the region economically.
As a result of these various factors, I see oil remaining subdued for the rest of 2016 at least, with the price of oil likely to move in a range between $40 to $50 per barrel. I think using $45 per share in our models would be a useful tool for projecting the performance of oil producers. If a recession comes within a year or so, that number could fall, but at best it would mean a prolonged period of oil prices in the lower $40s at best.
Disclosure: I/we have no positions in any stocks mentioned, and no plans to initiate any positions within the next 72 hours.
I wrote this article myself, and it expresses my own opinions. I am not receiving compensation for it (other than from Seeking Alpha). I have no business relationship with any company whose stock is mentioned in this article.