The vote to leave the European Union has left investors facing huge uncertainty. But one clear trend in all this confusion has been the strength of large-cap stocks with broad international exposure. Big, well-financed companies that are cushioned from domestic economic gloom are precisely the types of equities that you might expect to do well in this environment. But not all large-caps are bulletproof, and general worries about possible dividend cuts mean that it's worth treading carefully in the search for safety.
A shift in focus
A quick scan of Stockopedia's 52 Week High Momentum screen (sorted by market cap) gives some clear signs about the types of shares that have pushed ahead in the wake of the EU vote. Consumer defensives, healthcare and utilities have generally done well. And given their strong flows of foreign earnings, mining and energy stocks have also jumped.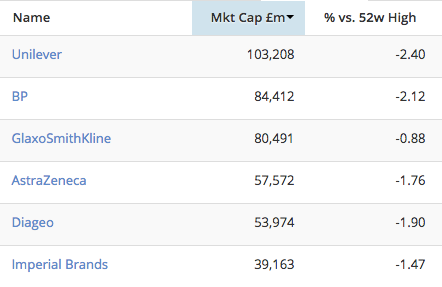 These sectors are home to some of the biggest companies listed in London, from Unilever (NYSE:UL) and BP (NYSE:BP) to Glaxo (NYSE:GSK) and Imperial Brands (OTCQX:IMBBY). They benefit from vast international exposure and may prove to be more profitable because of the weaker value of sterling.
This pattern is broadly repeated when you look at the one-month relative price strength of shares across the FTSE 350. Those suffering most in the volatility have tended to be domestically-focused cyclicals, technology, construction and finance stocks.
To a degree, this explains the strong rebound in the FTSE 100 since the EU referendum. Rather than signalling a bright outlook for the UK economy, it's been boosted by a few defensive sectors - and companies with extensive foreign exposure - that have surged on the hope they'll offer a safe haven in uncertain times.
Dividends under pressure?
Statistically, larger companies don't offer the sort of explosive earnings growth prospects as smaller stocks. But many make up for it with the comfort of strong, sustainable dividends. One fly in the ointment, however, is evidence that dividends are actually coming under pressure. One of the early warning signs is that dividend cover - a key measure of sustainability - is falling across the board.
Dividend cover measures how much of a company's earnings are paid out in dividends. A "safe" level of dividend cover is debatable, and larger companies do tend to pay out higher proportions of their income. But, as a rule of thumb, investors tend to look for a minimum cover of 1.2x earnings, with a preference for 2x or more. Anything less than 1x earnings means the company is distributing more than it earns. That means it's dipping into reserves or, worse still, using debt to fund payments. Occasionally, this is okay, but when low cover becomes a habit, it can be a major pointer to a future dividend cut.
The bad news is that new research shows that FTSE 350 companies in the year to the end of December 2015 (and reporting before the end of March 2016) paid out £78.4bn in dividends - but they only made £76.4bn in profits. So, in aggregate, the dividend cover was 0.98x earnings, down from 1.63x a year earlier.
According to figures from Capita and The Share Centre, falling earnings among mining, oil & gas and financial stocks was a major contributor to the average fall in dividend cover. But, even without these sectors, dividend cover across the remaining companies in the FTSE 350 has fallen to 1.65x from 1.84x over one year.
Keeping an eye on dividend cover
So what can investors do to avoid large caps that might be hit as a result of cutting their dividends? There are various safety measures that can be used in income strategies, but checking dividend cover is a good starting point. We have got a FTSE 350 Dividend Cover screen here that might be a useful guide.
From that screen, I've picked out a handful of stocks with the lowest dividend cover from a few key sectors. It's a bit unscientific, but even this snapshot shows that the defensive stocks have a slightly higher levels of cover. But mining and oil stocks look far more precarious, with major dividend payers like Royal Dutch Shell (NYSE:RDS.A) (NYSE:RDS.B), BP and BHP Billiton (NYSE:BHP) (NYSE:BBL) looking susceptible. Indeed, Stockopedia data shows that all three of those shares have either cut or are forecast to cut their dividends.
But low cover isn't always a problem. For instance, Pearson (NYSE:PSO) has a long record of making dividend increases, and further investigation finds that its dividend cover is forecast to go positive in 2016. But that cover will still be thin, so a dramatic change in its outlook could put Pearson's dividend at risk.
| | | | | | |
| --- | --- | --- | --- | --- | --- |
| Name | Yield % Rolling | Dividend Cover Rolling | DPS Increases (10 Years) | DPS Decreases (10 Years) | Sector |
| BHP Billiton | 2.9 | 0.70 | 9 | - | Basic Materials |
| Antofagasta (OTCPK:ANFGY) | 1.5 | 0.90 | 6 | 3 | Basic Materials |
| Pearson | 5.5 | 0.80 | 9 | - | Consumer Cyclicals |
| N Brown (OTC:NBWGY) | 8.8 | 1.18 | 7 | - | Consumer Cyclicals |
| AA | 3.9 | 1.44 | - | - | Consumer Defensives |
| Dairy Crest (OTCPK:DRCSY) | 4.1 | 1.47 | 7 | 2 | Consumer Defensives |
| BP | 6.8 | 0.55 | 8 | 1 | Energy |
| Royal Dutch Shell | 6.8 | 0.56 | 6 | - | Energy |
Into the unknown
Recent events have shown that large defensive stocks - and particularly those with low exposure to the UK economy - are very attractive to investors facing uncertainty. These traditional defensive plays are often well placed to withstand economic shocks and continue to pay dividends. But not all high-yielding large caps are as dependable. With evidence suggesting that pressure on earnings is making dividend payouts look precarious, venturing into this territory needs care.
It's not at all clear how the economic consequences of the EU referendum result will affect companies - and it's very possible that earnings forecasts will change considerably in the coming weeks and months. In all this uncertainty, keeping an eye on dividend cover could become increasingly important in dodging dividend disasters.
Editor's Note: This article covers one or more stocks trading at less than $1 per share and/or with less than a $100 million market cap. Please be aware of the risks associated with these stocks.