I saw opportunity and quick profits and sold both Hershey and Harley Davidson. Rumors, rumors and Brexit gave the stock market some unreliable pricing. When this type of opportunity knocks, I like to consider it. I did want and still like these "H" stocks. I haven't owned Hershey just too long and Harley-Davidson even for a shorter period of time, I bought them for a good reason, but they are investments and I don't fall in love with anything. I want to go over these companies with you and discuss my reasoning and even if I should buy them back when the price returns to a normal valuation.
Here is a quick chart of values from Morningstar (M*), S&P IQ 1 year out projection, Nasdaq 1year suggestion and the 3 year out Value Line price and current safety rating.
| | | | | | |
| --- | --- | --- | --- | --- | --- |
| Stock | M* Fair Value | S&P IQ | Nasdaq | Value Line | VL safety |
| | | | | | |
| Hershey | 103 | 126 | 90 | 110-145 | 2 |
| (NYSE:HSY) | | | | | |
| Harley-Davidson | 54 | 50 | 51 | 75-115 | 3 |
| (NYSE:HOG) | | | | | |
| Home Depot (NYSE:HD) | 125 | 134 | 150 | 140-170 | 1 |
HERSHEY
Sweet Kisses provided by Hershey has a quality credit rating of A by S&P and A+ by M*.
Here is the 7 year chart from FAST Graph showing 6 past years and into 2016.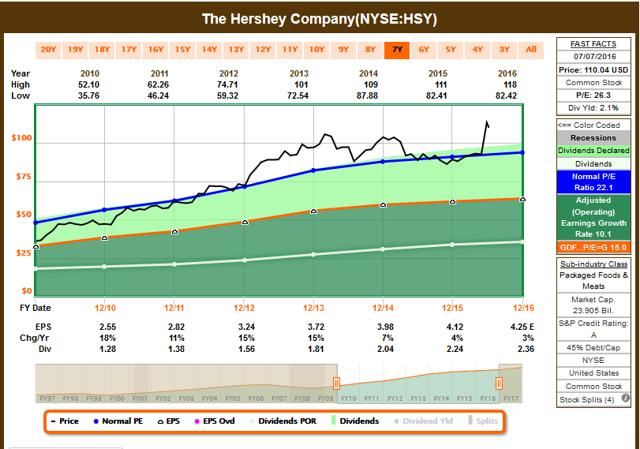 Click to enlarge
You can see the recent current spike in price. It went to $114 where I sold. You can see this has happened twice before. The price has been just been trudging along it's normal PE line of 22 or about $90. Most of my shares were at $89 and I had been earning a yield of ~ 2.5%.
It has a very nice DGR- dividend growth rate of 12% which I liked.
You might ask: why did I sell, if I like this stock.
I know from the past and the Hershey family trust history, that they are not inclined to sell this family owned company. They have been made such offerings at least twice before, that I know about, which have always been declined. I am banking on them doing this again and I might be able to buy it back again some day. The fact they were offered only $107 and some stock, also made the deal rather unlikely. Now could they be offered more, sure, so I had my sights set on putting the $ to work elsewhere if I couldn't buy it back.
HARLEY-DAVIDSON

Quality credit rating of A- by S&P, but BBB by M*
Having owned this very cyclical consumer stock twice now, my commitment, I admit, is really only superficial. I love the brand and the mystique it offers. It also has unique advertising and I do buy those shirts for my sons when I travel, as they both currently own Harley bikes. It had a yield of 3% @ 46.67, where I had purchased it. When I heard the rumor of a takeover bid and saw I could make $5 easy per share over the ~2 months I owned it this time, I sold. I did miss the final run up but still my 10.7% (equates to ~ 53% for a year). It was only an investment folks and it wasn't screaming for me to hold it. In fact, I think, I will wait for an even lower entry point if I buy it back. It does have 25% DGR which I do find attractive and low Pay Out ratio of 35%. It remains tempting.
Here is the 12 year FG that reveals it is indeed cyclical and some caution might be warranted.
In the short term, it looks good. I look at it in those terms and will continue to watch it.
Click to enlarge
I took my proceeds and added to Home Depot .
THE HOME DEPOT
Quality S&P credit rating of A and A++ on Value Line along with safety rating of 1 and $140-170 value.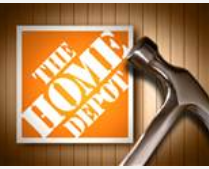 Here is the 12 year FG that clearly shows some over pricing with it.
It has a wonderful growing revenue stream and P/E average of 17.9.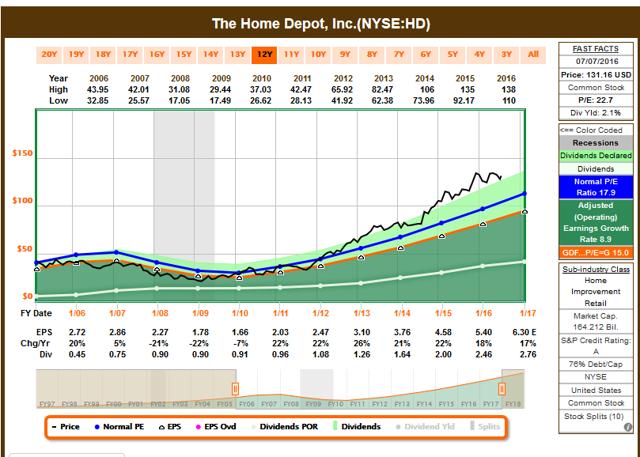 Click to enlarge
It has a 5year DGR of 17.4%.
Here is the 7 year FG (5 years past and 2 years current and future) with the PE sitting @ 20.2
The current price @ 131 has a 2.1% yield.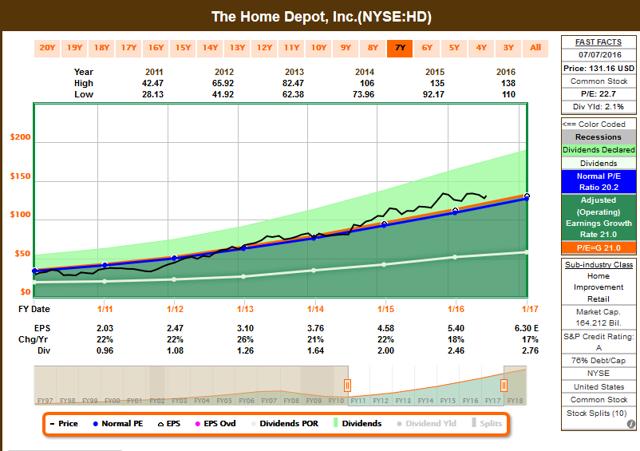 Click to enlarge
I bought my first shares a bit pricey @133.60, and have been lucky to average down with a purchase @ 124.56. My shares are now @ $129.73.
Analysts have done a good job predicting the future earnings @ 18.8% growth.
Home Depot remains a bit over priced, but not so much to keep me from a starter position.
I recently visited a Home Depot store in Georgia where they give Veterans a discount and allow owners to bring their dogs into the store on a leash. I like this company all around and I am now a proud owner.
Those are my most recent portfolio changes. I will be interested in your comments. I do realize the story isn't over for Hershey and maybe even Harley, but I am pleased with the change to The Home Depot and my sector allocations pretty much remained the same.
Happy Investing.
Disclosure: I am/we are long HD.
I wrote this article myself, and it expresses my own opinions. I am not receiving compensation for it (other than from Seeking Alpha). I have no business relationship with any company whose stock is mentioned in this article.