Click to enlarge
Seeing red. Image as presented by TeslaMotors.com
There have been several recent developments which would argue for a lower Tesla (NASDAQ:TSLA) share price. One of those developments, the large miss in Q2 2016 deliveries (14,370) versus guidance (17,000) even prompted me to re-open my short in the name again. I wrote about this event in my article titled "Tesla: Rivers Of Red Ink Coming".
What I didn't do in that article, however, was to quantify just how ugly things seem to be turning. You see, there were at least 4 events which seem likely to impact Tesla's Q2 2016 earnings over and beyond present expectations. These events were:
The removal of $57 million in ZEV credit sales which happened during Q1 2016.
The lower deliveries versus both guidance and Q1 2016 deliveries.
The large sequential drop in Model S deliveries.
And the large rework which Model Xs delivered during Q2 2016 required.
Expectations
As of today, consensus EPS expectations for Tesla are as follows: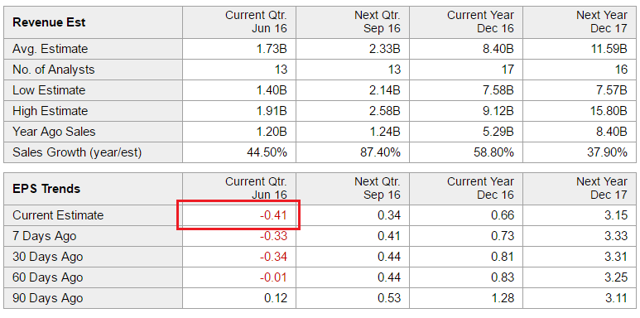 Click to enlarge
Source: Yahoo Finance
Back in Q1 2016, Tesla reported a non-GAAP loss of $0.57 per share. And actually even these $0.57 were slightly inflated:
Our Q1 non-GAAP net loss decreased 34% sequentially to $75 million, or $0.57 loss per share based on 133 million basic shares, while our Q1 GAAP net loss was $282 million or $2.13 loss per basic share. Both figures include a $9 million gain, or almost $0.07 per share, related mostly to unrealized gains from revaluation of our foreign currency transactions.
However, during Q1 2016 Tesla's loss was calculated just over 133 million basic shares, and when it reports it will have at least 141.2 million of those (from the equity raise), so let's call it a wash.
Impact - Removal Of ZEV Credit Revenue
This is pretty simple. Q1 2016 had $57 million in ZEV credit sales making EPS seem a whole lot better than it actually was. If Tesla had no such sales during Q2 2016, then these $57 million will disappear from the P&L and hit non-GAAP EPS directly.
Impact - Rest
I combine the lower deliveries, lower Model S deliveries and the Model X rework in a single estimate because they're all related (to achieving the lower margin estimate). Here's why:
Q2 2016 deliveries are lower versus Q1 2016, but not horribly so (14,370 vs 14,820). It's a 3% drop, thus it shouldn't lead to significant gross margin deleverage.
During Q4 2015, Tesla had adjusted automotive non-GAAP margin of 25%. Virtually all deliveries were Model S, and the "adjusted" part pertained to the Model X, so it's fair to say the Model S had a gross margin of 25% during Q4 2015.
During Q1 2016, Tesla had automotive non-GAAP gross margin of 20%. Of this, a 0.90% drop was attributed to the Model X. But remember, automotive non-GAAP gross margin during Q4 adjusted for the Model X was actually 25%, not 20.9% as reported. This means the entire drop from 25% to 20% was attributable to the Model X.
Now, 83.8% of Q1 2016 deliveries were Model S, and 16.2% of those deliveries were Model X. What happens if we apply a 25% gross margin to the Model S and a 0% gross margin to the Model X? Ah, we come to an overall automotive non-GAAP gross margin of 20.95%. Actual gross margin was even lower, at 20%, but remember, there was gross margin deleveraging between Q4 2015 (17,400 deliveries) and Q1 2016 (14,820), so some worsening was to be expected.
Extreme rework on Model Xs continued into Q2 2016. Indeed arguably this rework will be made even more punishing because a significant fraction of Q1 2016 deliveries will have been reworked on during Q2 2016 as well "after delivery".
Taking into account the above, we can roughly say that the drop in automotive non-GAAP gross margin dollars for Q2 2016 should be Model S ASP (Average Selling Price) x 25% x number of Model S units lost between Q1 2016 and Q2 2016.
I estimate Q1 2016 ASPs were ~$95,000 for the Model S and ~$123.500 for the Model X (given Tesla says Model X ASPs were 30% higher than the S and using these numbers accounts for all automotive non-GAAP revenue).
Model S deliveries during Q2 2016 were 2675 units lower than during Q1 2016.
Putting it all together, the impact from these changes should come to ~$63.5 million.
Conclusion
Just from these two effects, we can expect Tesla's losses to inflate by $118.5 million. There are many other possible factors such as:
Higher margins from charging extra for larger battery capacities even though those were probably free for Tesla, as described in my article "Tesla Likely To See Margin Improvement".
Higher SG&A as guided for by Tesla.
Total non-GAAP operating expenses in Q2 should increase slightly from Q1 as we grow our customer support infrastructure while maintaining our focus on expense management.
Plus, of course, equity issuance costs, but Tesla might decide to remove those from the non-GAAP numbers.
That said, there's good certainty regarding the $118.5 million. How much does $118.5 million represent per share? ~$0.84. How much is $0.84 + $0.57? $1.41. That's how much Tesla might lose (non-GAAP, per share) in Q2 2016.
Let's however be generous and state simply that Tesla is likely to show a loss in excess of $1.00 per share, versus the present expectation, as this removes the largest possible positive effect (improved margins from charging for larger batteries). The $1.00+ loss per share compares to present expectations of a $0.41 loss per share.
Disclosure: I am/we are short TSLA.
I wrote this article myself, and it expresses my own opinions. I am not receiving compensation for it (other than from Seeking Alpha). I have no business relationship with any company whose stock is mentioned in this article.