I sometimes wonder what the narrative of the financial media would be in a world without the S&P 500 Index. Granted, one cannot simply overlook an index that makes up the vast majority of the market capitalization of what is by far the largest stock market in the world. But if you remove this headline benchmark from the picture, the stock investing world suddenly looks like a vastly different place. And in many respects, it highlights why the next bear market in stocks has the potential to last longer and cut deeper than anything that we have seen in generations.
Growl
For the purposes of this discussion, we will identify a bear status for a market that has fallen by more than -20% on a daily closing basis from a recent high and has yet to rebound to reach a new high since.
The S&P 500 Index (NYSEARCA:SPY) is certainly not included in this discussion. While it last peaked in May 2015, it fell no more than -15% on an intraday basis from peak to trough in the year since. And it may very well set a new all-time high by the time the trading day ends on Friday. In short, the S&P 500 Index in the U.S. is a market that is certainly alive and well in July 2016.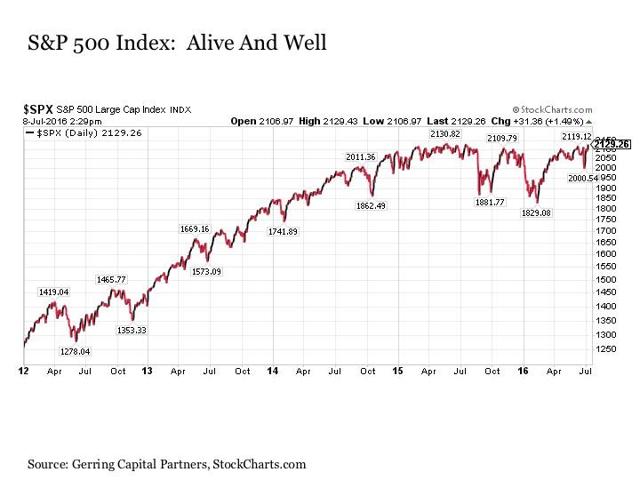 Click to enlarge
But what about the rest of the U.S. market place. Although certainly not as sturdy as the S&P 500, they are also holding up reasonably well on the most part. The broader NYSE Composite also peaked last May, fell by nearly -20% through February and has bounced since. But it still remains roughly -6% below its all time highs. Same with the Nasdaq Composite (NASDAQ:QQQ), which peaked a bit later in July 2015, dropped by -18% through February and is still -5% below its highs through today.
The situation for the U.S. small cap stock market as measured by the Russell 2000 Index (NYSEARCA:IWM) is not as reassuring, however, as we have our first official bear market case. Small caps peaked in June 2016 and since dropped by more than -26%. And while they have bounced solidly since, they are still nearly -10% below their all-time highs, certainly not matching the optimism of their large cap counterparts that are notably far more exposed to the global economy and the swings of the U.S. dollar (NYSEARCA:UUP).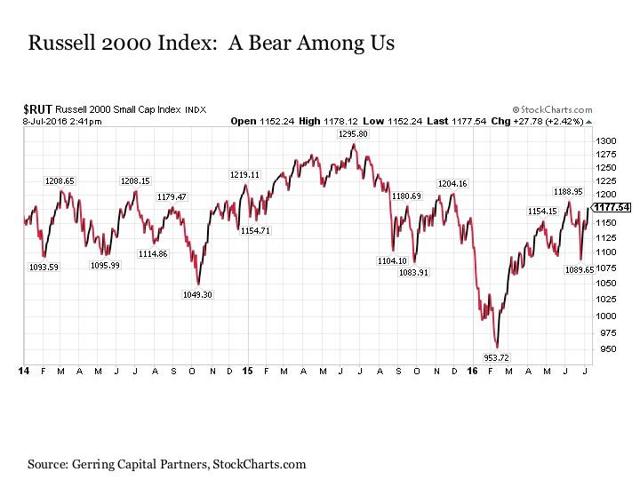 Click to enlarge
Bear Meets World
The far more notable bear market cases exist outside of the United States in markets across the developed and emerging world.
Japan
Let's begin with Japan. Japanese stocks (NYSEARCA:EWJ) as measured by the Nikkei 225 Index have been in a bear market since peaking on June 2015. In the year since, Japanese stocks have fallen by nearly -30% and are threatening to break to new lows.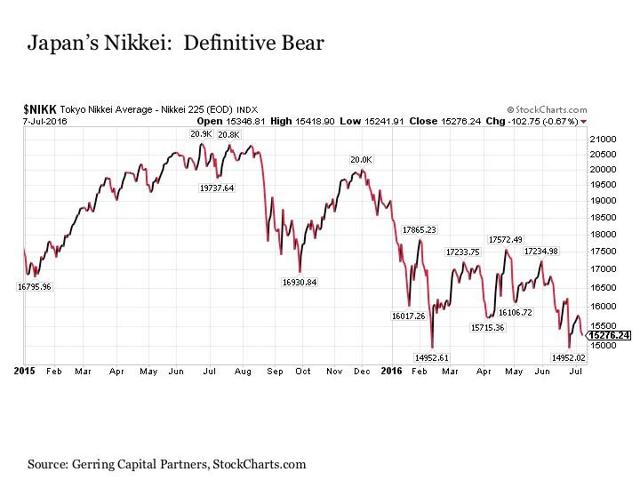 Click to enlarge
But what about the claims of the buy and hold crowd. Shouldn't we not try to time the market and simply hold through such volatility. Perhaps, but I'm guessing there were a lot of investors in Japan that we saying the same thing back in the winter of 1991. It's been a long wait since in trying to get their money back. But hey, what's a quarter century or two for those with a really long-term investment horizon, right?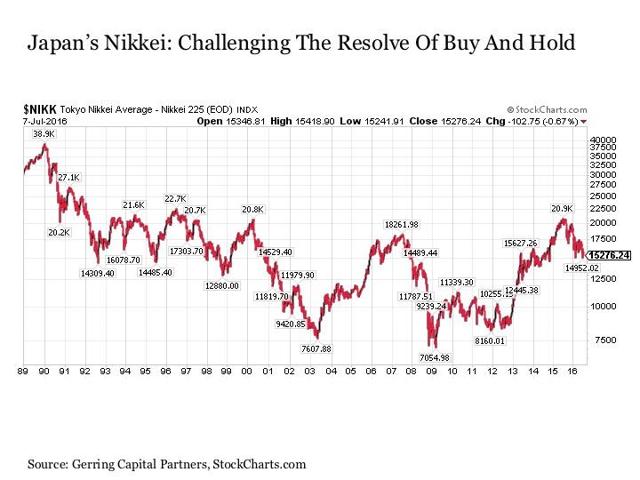 Click to enlarge
United Kingdom
Here's a market in the United Kingdom that peaked back in April 2015 and went on to fall by as much as -22% through February. Since that time it has bounced impressively and is now within -7% of its all time highs. This includes a defiance of all of the doomsday scenarios surrounding "Brexit" with a sharp rally literally ever since the last vote was counted. But one gets the sneaking suspicion that the final chapter in the post-"Brexit" saga has yet to be written.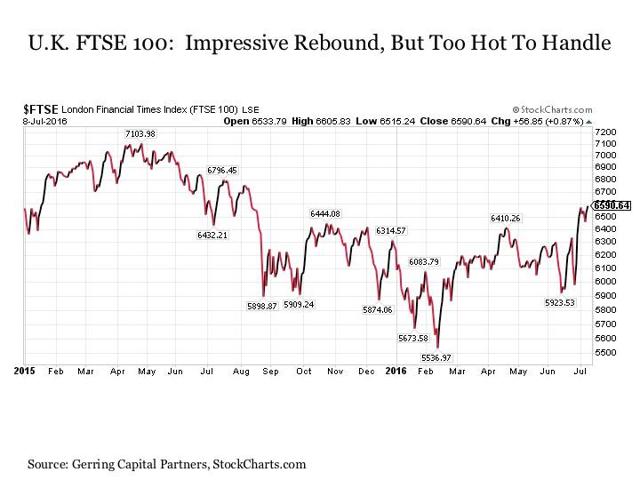 Click to enlarge
Switzerland
What about Switzerland, the traditional bastion of global economic and market stability. This is a market that peaked in early August and has since fallen by -21%. And unlike British stocks, it remains well below its all-time highs and has more of the look of a market that wishes to trend lower.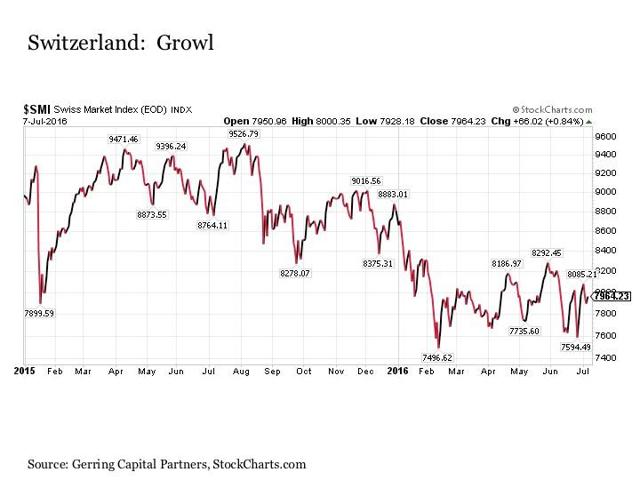 Click to enlarge
Germany
Germany (NYSEARCA:EWG) is struggling not only to keep its European Union experiment together but also to keep its stock market aloft. The DAX Composite peaked in April 2015 before going on to fall by nearly -30% through February 2016. Since that time, it has bounced and subsequently rolled back over. In the process, it is still more than -23% below it's highs and currently headed in the wrong direction.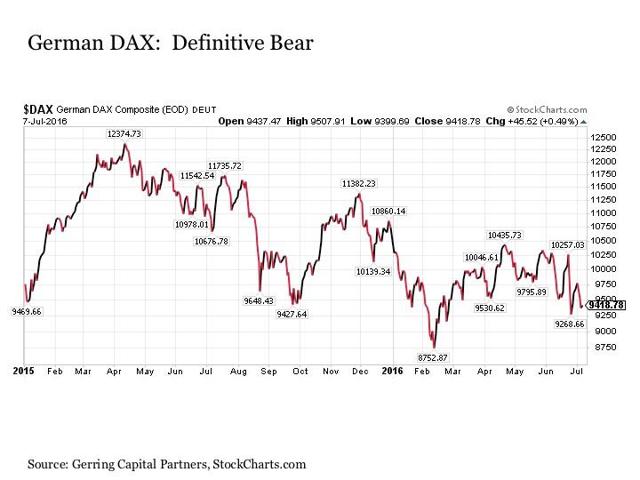 Click to enlarge
In fact, the German stock market looks a lot like many of the other bourses across the continent including France (NYSEARCA:EWQ) and the Netherlands (NYSEARCA:EWN).
Spain
The story is a bit different in Spain (NYSEARCA:EWP), however. Here is a market that peaked like so many others in April 2015, has since fallen by -30% and is threatening new lows. Looks like many of its European brethren.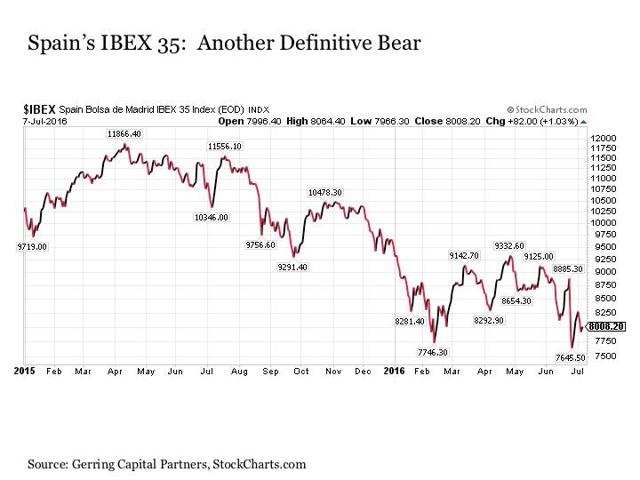 Click to enlarge
But it is on a longer-term view where Spain looks a bit more discouraging. Sure the market peaked in April 2015, but this was still way below its pre-crisis highs from 2007. To date, Spanish stocks are roughly -50% below their 2007 peaks nearly a decade on, which is another blow to the long-term buy and hold crowd.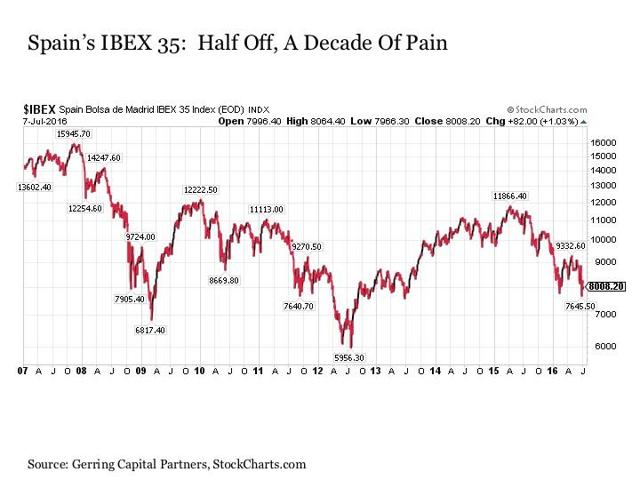 Click to enlarge
Italy
The images are even worse for at risk Italy (NYSEARCA:EWI). Yes, Italian stocks reached their final recent peak in July 2015 and have fallen by -37% through recent days.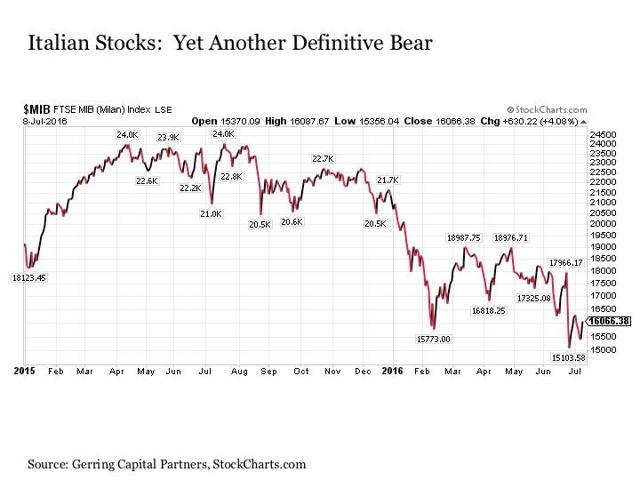 Click to enlarge
But it is the longer-term context that is much more troubling. For this is a market that reached its all-time highs in early 2000 along with the technology bubble. This was nearly two decades ago now. And to date, it is now nearly -70% below its all-time highs from so long ago. Once again, there is virtually no buy and hold strategy that can survive such a prolonged and ruthless blow.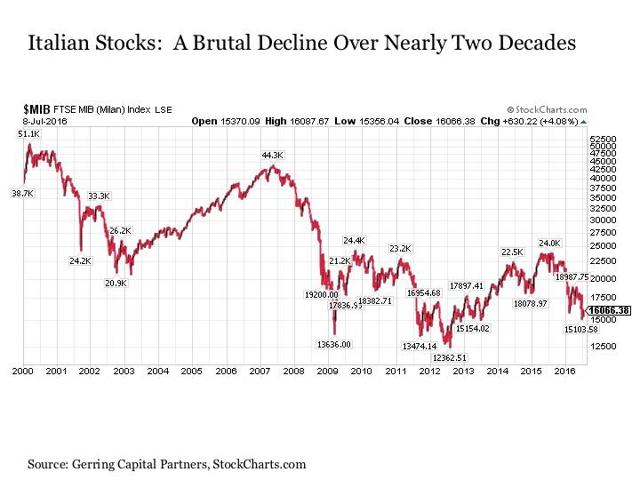 Click to enlarge
China
Then there is China, which is its own special case. This is a market that increased by more than +250% into its June 2015 highs with a little help from what could be described as accommodative monetary policy, only to give most of these gains back over the subsequent year. As a result, the China stock market is both -40% below its highs from a year ago, but also roughly +50% above its levels from two years ago. A notable contrast to say the least.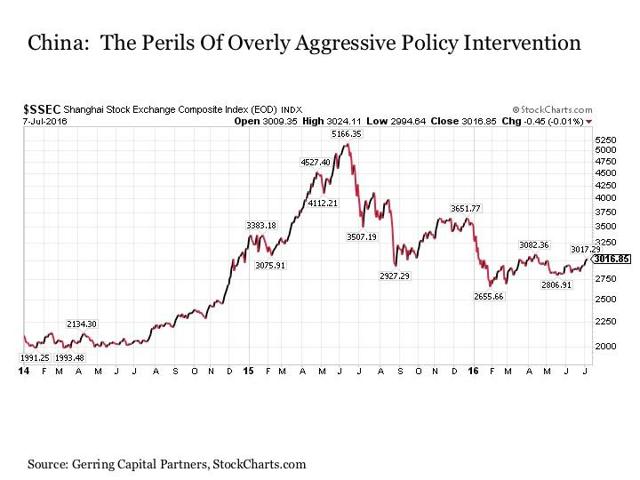 Click to enlarge
But from a longer-term perspective, we see that even at the peak of the burst higher last summer, China stocks were still about -20% below their pre-crisis highs from mid-2007.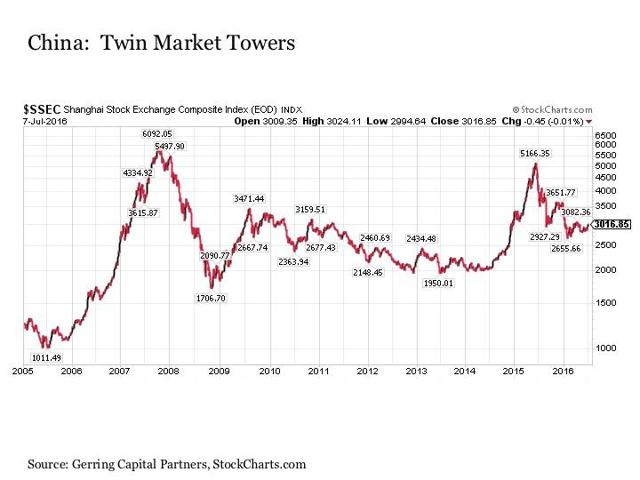 Click to enlarge
The Bottom Line
Indeed, the U.S. stock market as measured by the S&P 500 Index is holding up well and stands on the brink of new all-time highs. And this makes for a great narrative about a bull market that continues to run strong. But take away the S&P 500 Index, and suddenly we have an entirely different story.
We have a world outside of the S&P 500 Index that is currently in the midst of a bear market phase that is already running for at least a year if not longer. And instead of the bear helping to produce a regenerating cleansing of economic activity to provide the basis for the next phase of expansion and stock market gains, we have market conditions that continue to deteriorate. In short, these are bear markets that are already well over a year on, and they may only be at the very earliest innings of running their course. And in the worst cases, these are the latest waves in secular bear markets that are now stretching over decades.
What about fighting central banks? All of these markets around the world have been steadily supported by some of the most accommodative and supportive monetary policy regimes in history. Put simply, they have bent over backwards and sideways to do "whatever it takes" to inflate asset prices and generate economic growth. But it simply has not worked and if anything is showing signs of making things worse, not better. Maybe you still can't fight the Fed (although they have lost a few wars over the years), but investors apparently can succeed in fighting the European Central Bank, the Bank of Japan and the People's Bank of China among others. And if stock investors lose confidence in the day saving super powers of monetary policy, what will be left to inflate stock prices other than good old fashioned economic growth and profitability. Of course, if we're left with nothing more than that in the end, that would be a very good thing from a free markets standpoint.
Disclosure: This article is for information purposes only. There are risks involved with investing including loss of principal. Gerring Capital Partners makes no explicit or implicit guarantee with respect to performance or the outcome of any investment or projections made. There is no guarantee that the goals of the strategies discussed by Gerring Capital Partners will be met.
Disclosure: I/we have no positions in any stocks mentioned, and no plans to initiate any positions within the next 72 hours.
I wrote this article myself, and it expresses my own opinions. I am not receiving compensation for it (other than from Seeking Alpha). I have no business relationship with any company whose stock is mentioned in this article.