Some folks aint buyin' what Heisenberg is sellin'.
How do I know? Well, have a look:

Click to enlarge
(Charts: BofAML)
That's right, high yield (NYSEARCA:HYG) funds saw their largest inflows since March last week while HY ETFs had their best week inflows wise since February, bringing the YTD rise in AUM to more than 6%.
Risk. On. Man.
By now, you probably know why I think this is a problem. The bonds behind these funds aren't liquid and to the extent they are they won't be in a pinch. Just like the commercial office space backing the half dozen UK property funds that put the gates up on investors this week.
What makes me think they'll be in a "pinch" in the first place? Well, at the risk of being crass, the fundamentals suck. Plain and simple. But don't take my word for it. Here's BofAML:
So who will win the tug of war in HY- bad fundamentals or good technicals? The answer depends on the investment horizon. In the longer term, and self admittedly the jury's still out on whether or not this credit cycle will go to extra innings, fundamentals will win the war. In the near to medium term though, we need a (bigger than Brexit) catalyst to alter the course of the HY market. The trigger could come in the form of a series of bad employment prints, an oil slide, or a surprise non-commodity default, reminding investors that fundamentals are and will remain a problem through the duration of this credit cycle.
Of course Friday's NFP number ruled out a "series of bad employment prints."
But let's talk about the cycle for a minute. Here's some historical context: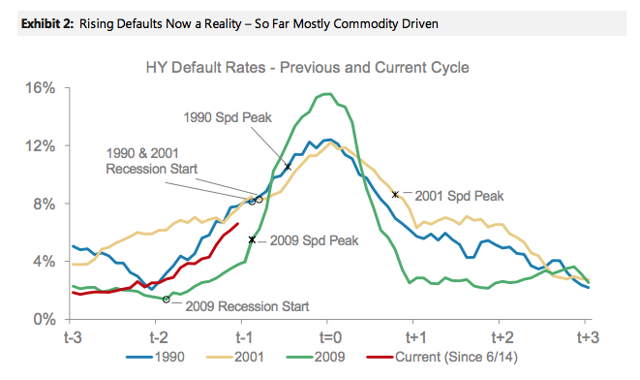 Click to enlarge
(Chart: Morgan Stanley)
And here's some color from Morgan Stanley:
Back in October, while the market was pricing in defaults at the time, the actual HY bond default rate was not very elevated, at 3.87%. That has changed over the past seven months. As we show below, the HY bond default rate has now increased to 6.61%, on par with the level two years before defaults peaked in the 2001 cycle, and one year before they hit the highs in the 1991 and 2009 default waves. Thus far, energy has accounted for a majority of overall HY defaults, but we think it is normal for the problem sector to drive defaults early on in a cycle.
Now let's look at three truly alarming visuals:

Click to enlarge
(Charts: Morgan Stanley)
The last time IG (NYSEARCA:LQD) leverage was even close to as high as it is currently, the HY default rate was nearly three times what it is today. Meanwhile, HY's cash position relative to debt hasn't been this low in 14 years and HY default rates have now risen above the last twelve month's CCC relative supply which, if the last cycle is any guide, presages more pain ahead.
So there's some quick perspective on where we stand. Let me leave you, for now, with a rather amusing look at CCC performance: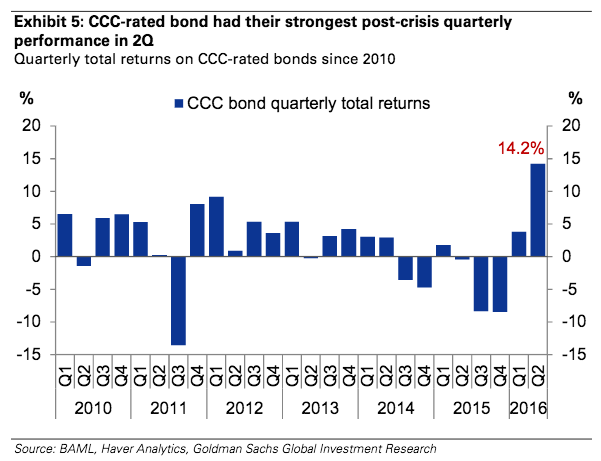 (Chart: Goldman)
Nope, nothing frothy about that...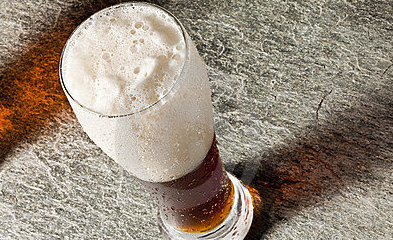 Disclosure: I/we have no positions in any stocks mentioned, and no plans to initiate any positions within the next 72 hours.
I wrote this article myself, and it expresses my own opinions. I am not receiving compensation for it (other than from Seeking Alpha). I have no business relationship with any company whose stock is mentioned in this article.