With all the talk these days about "growthier" DGI stocks, I decided to determine when these lower-yielding, faster-growing stocks could be attractive for our retirement portfolio. In Part 1, I compared DGI stocks with different forecast dividend growth rates in order to derive guidelines that determine which ones generate more dividend income over time.
An interesting feature of this analysis is how long it takes for the annual dividend income of a faster-growing stock to overtake the annual dividend income of a slower-growing DGI stock. A crucial insight emerged from the analysis -
Just because a stock has a faster dividend growth rate, it does NOT mean that it will eventually produce more annual dividend income than a slower-growing but higher-yielding dividend stock!
Please refer to Part 1 for a discussion about the assumptions and formulas used to calculate forecast dividend income streams for DGI stocks over time. Let me remind you here of one key definition - the "forecast" or "forward-looking" Chowder number is a stock's dividend yield plus its 3-year forecast dividend growth rate.
For easy reference, below is the table that summarizes Part 1's "lessons learned" that may help you decide when to add a growthier stock to your portfolio.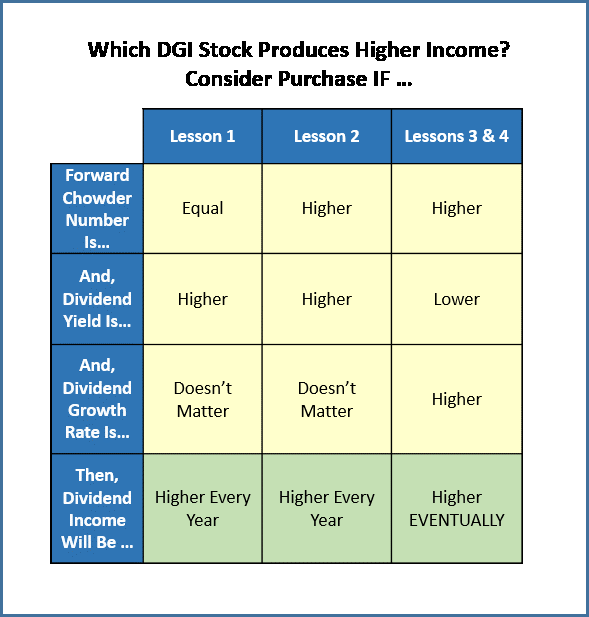 In Part 1, I promised a follow-up article that compares popular slow growth/fast growth stock groupings. This article delivers on that promise. In addition to calculating the number of years needed for one income stream to grow greater than another, in certain instances, I've added a new calculation that shows how long it takes for the cumulative income to catch up as well.
Please be aware that this analysis covers the dividend income streams of the stocks analyzed. It does not project capital appreciation. Therefore, it does not look at total market return. In the comment stream of the first article, there is a lot of good discussion about comparing total returns of various stock groupings as well. Eric Landis has very recently published an article that covers comparing total return, available here. Eric's article had one huge takeaway for me:
An important observation is that with reinvestment of dividends, the expected total annual return matches the Chowder Number for the different growth rates.
This is a handy shortcut for those of us who would like to understand, not only dividend income streams, but total return forecasts as well. Even though I plan to buy and hold the vast majority of my portfolio for the rest of my life (rendering total market return potentially a less valuable metric for me personally), I am interested in understanding which stocks are likely to provide a better return in my daughter's lifetime.
Spotlight on DGI Stock Comparisons
For the comparisons discussed below, as in Part 1, this analysis assumes that:
$10,000 is invested in each stock at the same time.
All dividends are reinvested back into each stock each year for the entire length of the analysis.
Each stock's dividend yield and dividend growth rate remain constant over time. This is equivalent to saying that a stock's price is growing at the same rate as the dividend. By the way, if you don't make this assumption, you'll have a stock like Johnson & Johnson (NYSE:JNJ) end up with an 8% or 10% yield in the future. Unless JNJ's business model is broken, this isn't realistic.
The 3-year forecast dividend growth rate is used to develop a forecast or "forward" Chowder number. As shown in Part 1, these numbers are used to calculate the dividend growth streams for each stock analyzed.
For each analysis, I have created a table and a chart. The table reflects calculations that may go as high as 100 years. The chart shows only the first 25 years for two reasons: 1) the longer the time horizon, the less credible the analysis is because dividend growth rates will almost certainly decelerate over time and 2) many of us are near or in retirement, making 25 years very relevant for decision-making purposes.
Without further ado, let's see which DGI stocks produce more income and determine how long it takes them to do so!
Healthcare
I took a sampling of seven popular stocks in the healthcare sector to analyze which produce more annual dividend income over time. They are Cardinal Health (NYSE:CAH), AbbVie (NYSE:ABBV), AmerisourceBergen (NYSE:ABC), Abbott Labs (NYSE:ABT), Medtronic (NYSE:MDT), Pfizer (NYSE:PFE) and Johnson & Johnson (NYSE:JNJ).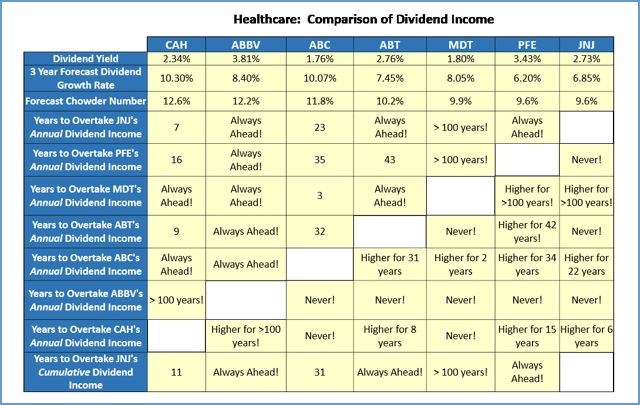 Click to enlarge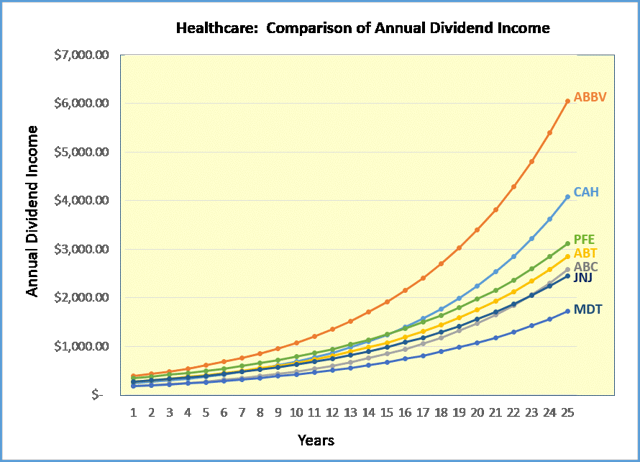 Click to enlarge
Based on the table and chart above, I was surprised to note that Medtronic does not look particularly attractive for my portfolio from either a total return (MDT's forecast Chowder number is less than CAH, ABBV, ABC and even ABT) or a dividend income perspective (as shown in the chart above). As a result, MDT comes off my watch list.
Retailers
I make no secret that I am not a big fan of retail stocks. I sold Walgreens (NASDAQ:WBA) and Target (NYSE:TGT) at a good profit. I sold half of my Wal-Mart (NYSE:WMT) position at slightly above breakeven. I am planning to sell the other half of my WMT position as soon as it is above water. But, many of our fellow DGI investors are interested in investing in retailers. As a result, I received several requests to compare various retail stocks. Based on input from SA readers, I selected the following seven retailers for comparison - Walgreens, CVS (NYSE:CVS), TJX Companies (NYSE:TJX), Ross Stores (NASDAQ:ROST), Costco (NASDAQ:COST), Target and Wal-Mart.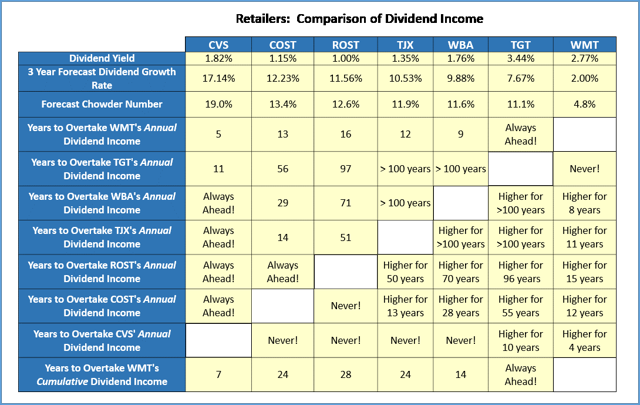 Click to enlarge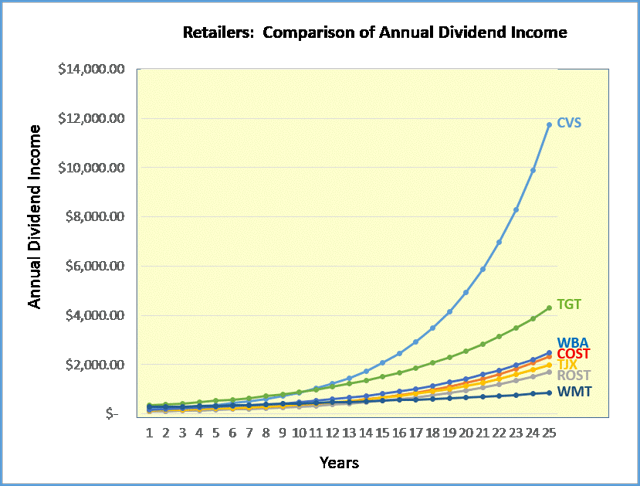 Click to enlarge
WMT looks like dead money, unless it starts growing its dividend more aggressively. You can see why I'm working on getting out of it!
Restaurants
The Dividend House portfolio holds two restaurant stocks - Cracker Barrel (NASDAQ:CBRL) and McDonald's (NYSE:MCD). Starbucks (NASDAQ:SBUX) and Yum Brands (NYSE:YUM) are often discussed on SA. So, all four stocks are compared below.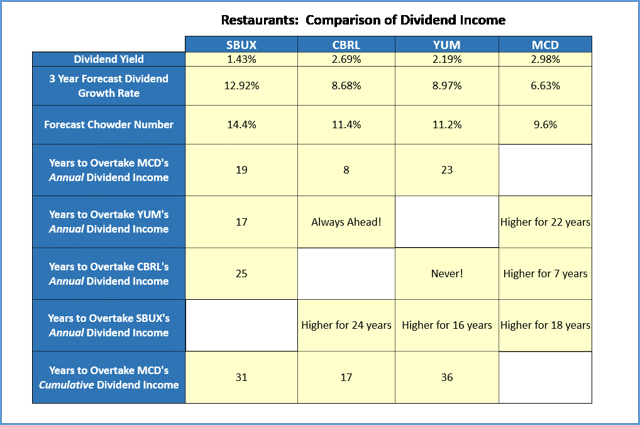 Click to enlarge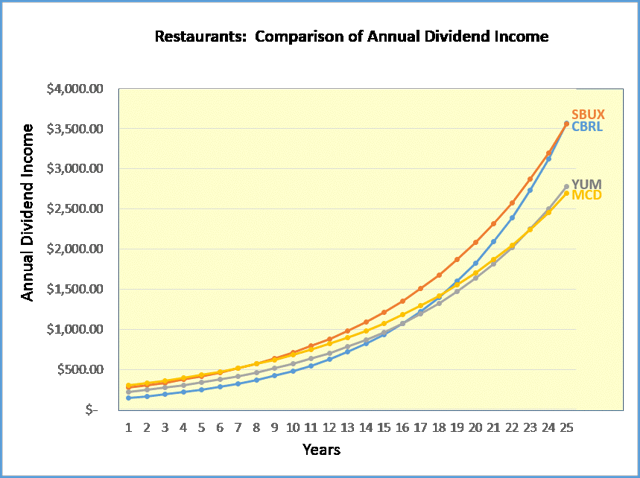 Click to enlarge
I am happy with my CBRL and MCD holdings. Given that it would theoretically take SBUX 31 years for its cumulative dividend income to exceed MCD's and YUM Brands 36 years, I am not interested in expanding my restaurant holdings at this time.
Financials
I don't like financials. In the last few months, I sold out of my only bank stock, Wells Fargo (NYSE:WFC). I also sold out of my only BDC - Main Street Capital (NYSE:MAIN). I no longer own any insurance companies. I did purchase Visa (NYSE:V) for my daughter's portfolio. That's the only financial we are in!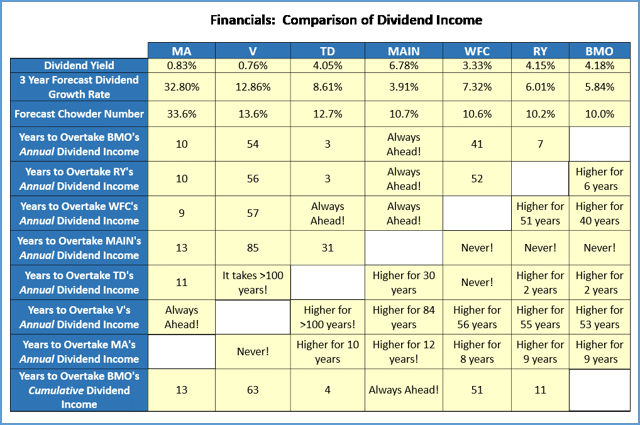 Click to enlarge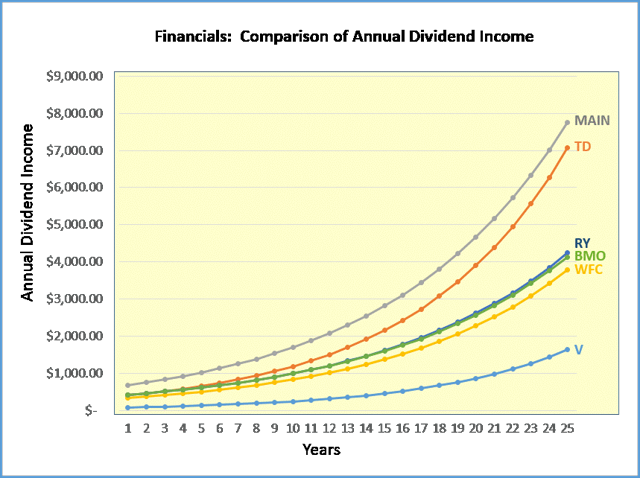 Click to enlarge
You will note that MasterCard (NYSE:MA) is not shown on the chart above. However, MA is included in the table. I excluded MA from the chart because its dividend growth rate is projected to be so high that it distorts the chart for the other stocks being evaluated.
My disappointing takeaway from this analysis is that my daughter owns Visa for its capital appreciation potential, not for its income. Since I am not a speculator by nature, I don't want to own too many of these!
Technology
Due to a historical employee purchase program, I've owned IBM (NYSE:IBM) stock for many years. Even so, as a general rule, I am skittish about technology stocks. (I remember the dot.com bubble too well!)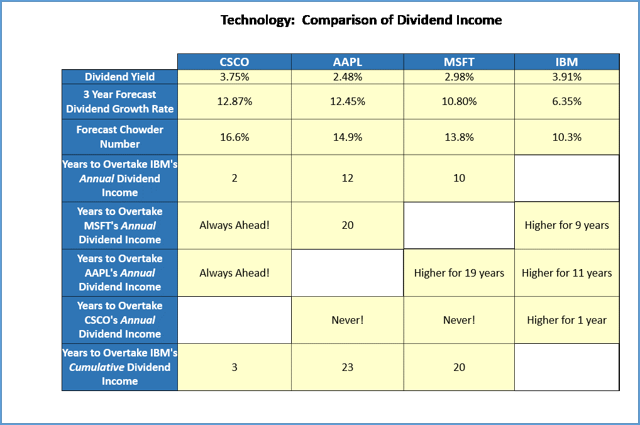 Click to enlarge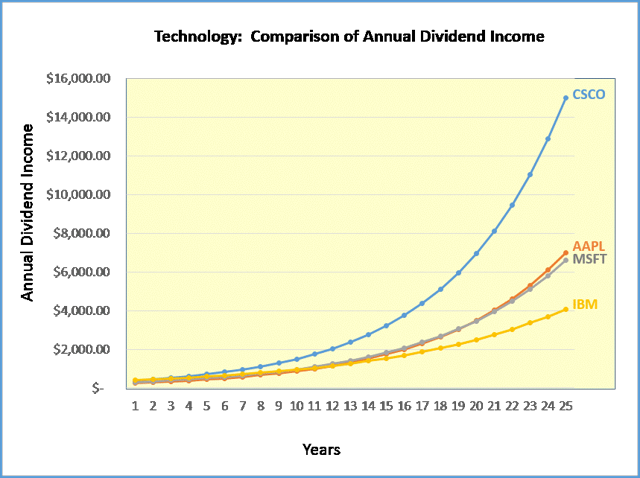 Click to enlarge
Given the chart above, I'm glad that I recently purchased Microsoft (NASDAQ:MSFT) for my portfolio and for my daughter's. I also purchased Apple (NASDAQ:AAPL) for my daughter's portfolio (although I consider Apple to be a consumer discretionary stock). While Cisco (NASDAQ:CSCO) looks interesting on the above chart, it just initiated its dividend six years ago. Therefore, CSCO's ability to grow its dividend under difficult conditions is untested. Of course, the same can be said for Apple. I've got CSCO on my watch list.
REITs
I own all of the REITs shown in the table below except Welltower (NYSE:HCN). In addition, we own Care Capital Properties (NYSE:CCP). CCP isn't included in this analysis because I could find no credible dividend growth projections for it.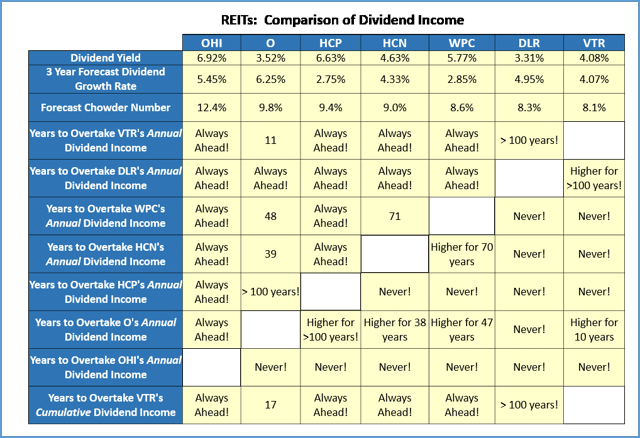 Click to enlarge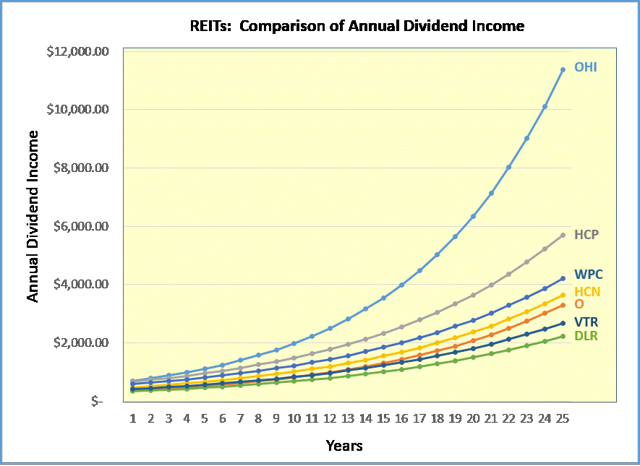 Click to enlarge
Frankly, with investments in four Healthcare REITs - CCP, HCP (NYSE:HCP), Omega Healthcare Investors (NYSE:OHI) and Ventas (NYSE:VTR), I feel overweight. As a result, I'm considering reducing our investment in HCP and/or OHI and selling CCP. Please note that I expect HCP's trajectory to significantly change (for the worse) when it spins off its ManorCare assets later this year. While OHI looks like a "keeper" from the chart above, I doubt it can maintain the performance indicated. But, if I decide to keep only one of either OHI or HCP, I'll probably keep OHI!
Telecoms
Having sold Vodafone (NASDAQ:VOD), I am long AT&T (NYSE:T) and Verizon (NYSE:VZ). Given exchange rate headwinds and their probable negative impact on dividend growth, I am unlikely to invest in foreign telecoms in the near term.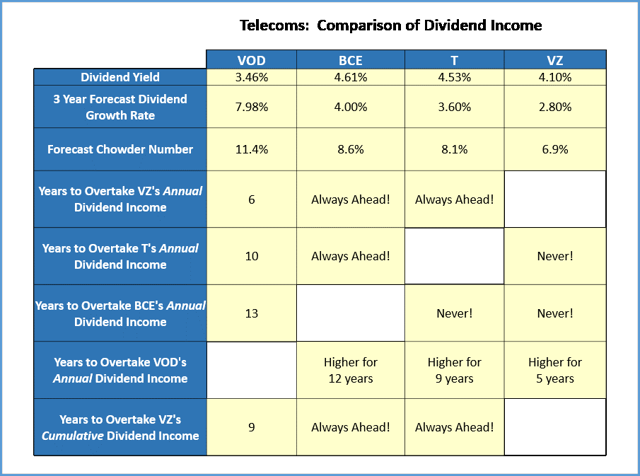 Click to enlarge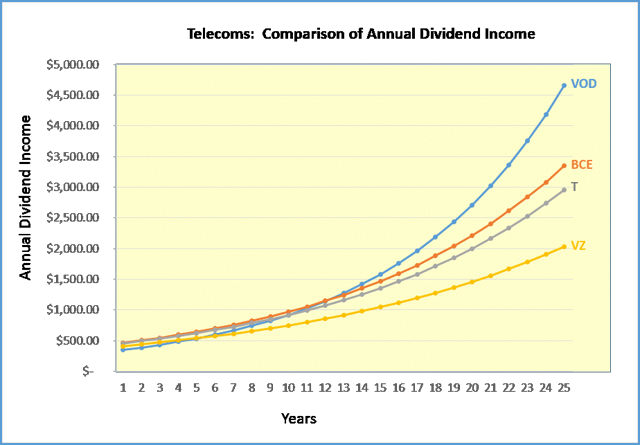 Click to enlarge
Miscellaneous
A commenter on Part 1's comment stream asked me to consider comparing Lockheed Martin (NYSE:LMT) versus Altria (NYSE:MO). I threw in Philip Morris (NYSE:PM), Boeing (NYSE:BA) and United Technologies (NYSE:UTX) for good measure!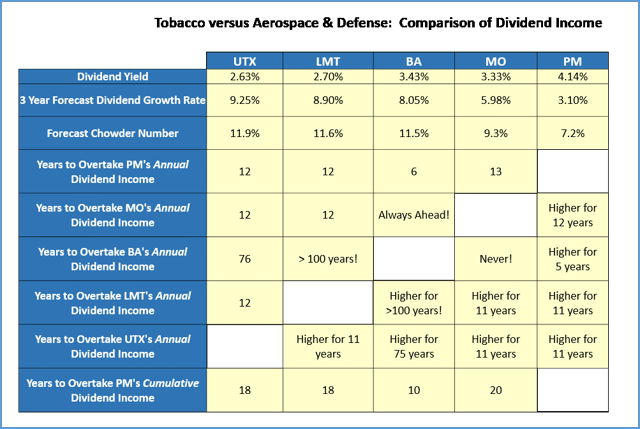 Click to enlarge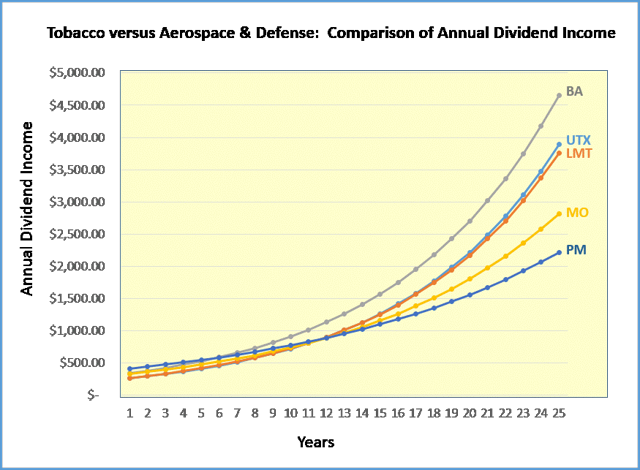 Click to enlarge
Comparing Big Tobacco companies with Aerospace & Defense provides an interesting look at potential crossover points where faster growing/lower yielding stocks can overtake slower growing higher yielding stocks. In this case, the aerospace & defense companies tend to overtake the tobacco stocks within 20 years!
Conclusion
My takeaways from this analysis boils down to the adage - "A bird in the hand is worth two in the bush!"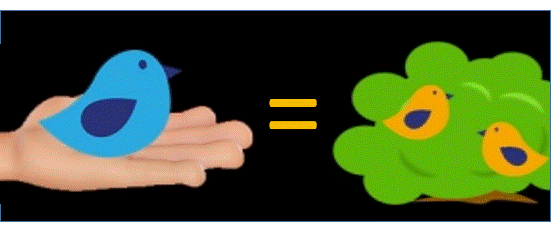 More specifically, my takeaways are:
Just because a stock has a higher dividend growth rate, it certainly doesn't mean that it will produce more income than a slower growing dividend stock within your investing time horizon.
Investors at or near retirement that need most or all of their retirement portfolio to generate enough income to live on may want to consider focusing on high quality, higher yielding/slower growing stocks rather than "growthier" stocks that may or may not generate anticipated income streams.
Even DGI investors with forty years ahead of them to reinvest dividends before they retire (like my 23 year old daughter) should consider limiting the number of stocks that they invest in for capital appreciation. Investing for capital appreciation strikes me as a speculative game that should be played only by those who can afford it!
While our portfolio's minimum dividend yield is 2.7%, this analysis underscores why I prefer stocks with a 3% to 5% yield. If a company is high quality with a long record of dividend increases, the higher the yield, the greater the income that can be reinvested today. (Of course, care must be taken not to reach for yields that cannot be sustained or grown faster than inflation over time.)
Please keep in mind that the analysis in this article holds the growth rate constant for each stock discussed. Realistically, almost all dividend growth rates will decelerate over a 25 year timeframe, some precipitously. Therefore, please look skeptically at those stocks whose income growth streams climb very rapidly due to forecast elevated dividend growth rates. Those anticipated income streams simply may never materialize.
As a result of this analysis, I plan to continue to overweight my portfolio with slower growing dividend stalwarts. I anticipate keeping 10% or less of the market value of my portfolio in "growthier" DGI stocks.
What is the optimal balance of "growthier" DGI stocks in your portfolio? Which "growthier" DGI stocks have caught your interest? I look forward to hearing your thoughts!
Disclosure: I am/we are long ABBV, ABT, AMGN, AVA, BBL, BMY, CAH, CAT, CBRL, CCP, CLX, CMCSA, COP, CVX, D, DEO, DLR, DUK, ED, EMR, EPD, GAS, GE, GILD, GIS, HCP, IBM, JNJ, KHC, KMB, KMI, KO, LMT, LNT, MCD, MMM, MMP, MO, MRK, MSFT, NEE, NOK, O, OHI, OMI, PEP, PFE, PG, PM, SCG, SEP, SO, SYY, T, TUP, UL, UPS, VTR, VZ, WEC, WMT, WPC, XEL, XOM, ZMH.
I wrote this article myself, and it expresses my own opinions. I am not receiving compensation for it (other than from Seeking Alpha). I have no business relationship with any company whose stock is mentioned in this article.