The 'Week in Review' series aims to fill the gap in the availability of easily digestible news, information and investment outlook on the scale of weekly updates. They are intended for investors who trade on a weekly timeframe rather than daily or monthly, or for investors who want to keep a closer eye on the markets with the convenience of a single read at their leisure over the weekend.
Each Week in Review is broken down into 3 major sections to enable investors to keep stay informed with minimal investments of time: a) recent price trends, b) global economic news, c) investor outlook.
Price Trends
Equities: US equities roughly flatlined early during the week after having recovered last week from the immediate impact of Brexit. A strong Friday jobs report saw equities finishing at week highs however, and they now stand at levels higher than pre-Brexit. European equities however continue to show signs of volatility- as should be expected for the time being as the full impact (or non-impact) of Brexit plays out.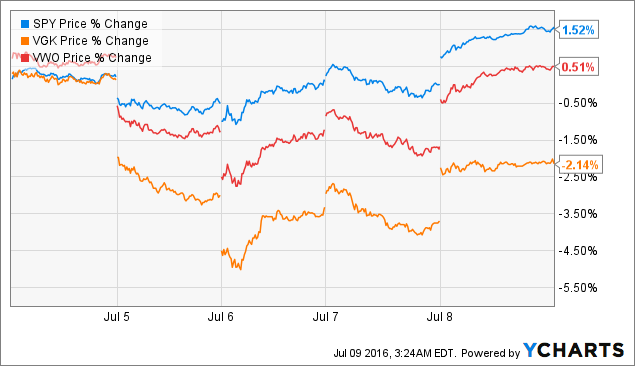 Oil, Gold and US Dollar: Oil prices continue to be volatile and struggle, falling sharply this week after retesting and failing to break above $50 a barrel in recent weeks. The recovery in prices over the last few months have largely been fueled by short-term shocks which disrupted supplies, and as these recover continued inaction by OPEC coupled with record level stockpiles and global macroeconomic growth concerns may see oil quickly falling back towards the $30-40 range. Gold meanwhile continued its strong performance and has been one of the few assets to consistently rally before, during, and after the immediate impact of Brexit- with political and central bank ineffectiveness playing key roles in this climb.
Bonds: Much like gold, Treasury prices have performed very strongly in the past few weeks, and this week was no exception. Even a strong jobs report on Friday (thus increasingly the likelihood of Fed rate hikes) did nothing to stop rallying prices this week, indicative of the severity of the global phenomenon of low rates. Negative yielding sovereign debt levels continue to climb, leading US and foreign investors alike to chase yields into Treasuries, while political volatility and risk in Europe have at the same time fueled a 'flight to quality'. These effects look like they be continuing in full force some time, and investors should be wary to bet against Treasuries even in the face of a Fed armed with bold rhetoric about rate hikes- time and time again their actions have told a far different story.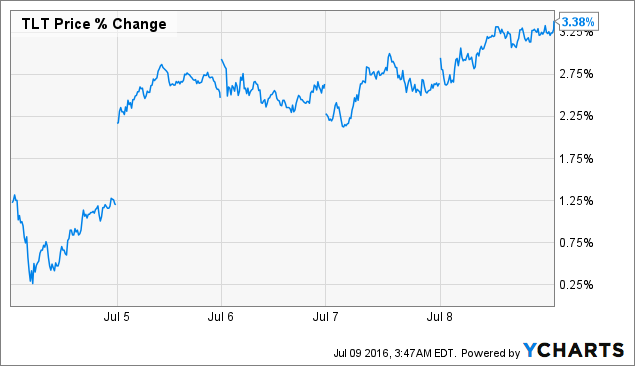 Economic News
Fed June Minutes
Minutes from the Fed's June meeting revealed a 6-9 split of members expecting one or two (respectively) further rate hikes this year. Discussion revolved around the May non-farm payroll report and the at-that-point-yet-to-occur Brexit vote. The market's immediate reaction was muted, but close reading of the minutes reveal ongoing concerns about the Fed's measures of inflation and the systemic threat of lower rates (and deflation).
US Jobs Growth
Friday's job growth numbers well exceeded expectations (287k vs 175k), while the national unemployment rate rose to 4.9%. This figure was particularly significant after disappointing May figures. The unemployment rate creeping up from 4.7% lows to 4.9% may be something to keep an eye on though, as a recovery in the labor participation rate could lead to an increase in the measures of unemployment the Fed uses even if job growth continues at better than expected rates. Yellen has previously hinted that this is something the Fed is aware of and concerned about- though their official metrics do not account for this, meaning rate hikes may be less likely than the numbers alone indicate.
Global Negative Yielding Debt
A Fitch report estimated that the Brexit vote and subsequent reaction in global government bond prices has now pushed worldwide negative-yielding sovereign debt levels to nearly $12 trillion, up over $1 trillion since May. This is significant news for investors as it may serve to only further lock into place the long terms trends of rising US Treasury prices and systemically low global rates.
Investor Outlook
While the US economy received some good news on Friday in the form of a strong jobs growth report, it also came with a hint about things to come as the overall unemployment rate rose. As I have previously written about, the low labor participation rate provides a hidden pool of potential job seekers that will only begin to return in greater numbers when (or if) economic growth continues. This hidden drag will likely prevent any sharp drops below target unemployment for the Fed, and yet their language regarding this has been nothing but outright confusing for investors. At times Yellen has hinted she is aware that the recession has led to many underemployed people and those who simply gave up looking for work- and that this is something to account for- however at the same time the Fed continues to use official figures which do not account for these effects, and continue to issue seemingly contradictory comments about concerns of the economy overheating.
Given the current global economic situation this seems very unlikely. What seems much more likely is a policy blunder by the Fed (who now have a long established track record of greatly overestimating economic conditions) and unsustainably rising asset prices on easy monetary policy. Now more than ever, investors should be wary for hidden risks- and with Brexit in the rear view of many US investors some are tempted to declare nothing but open waters ahead. This would be a grave mistake. The risk of global deflation has continued to grow, and US Treasury yields are in a prolonged march lower and lower. For now investors should continue to look to gold and Treasuries as the top bets for the remainder of the year (as they have been for the last several weeks), be wary of volatility, and be ready for inevitable missteps or misleading actions by central banks and policy makers.
Thank you for reading. If there is something you would like to see become a regularly recurring part of the Week in Review, please feel free to comment below or contact me directly. Please remember to click "Follow" at the top of this article for more stock and alternative asset analysis as well as macroeconomic and asset allocation commentary.
Disclosure: I am/we are long GLD, TLT.
I wrote this article myself, and it expresses my own opinions. I am not receiving compensation for it (other than from Seeking Alpha). I have no business relationship with any company whose stock is mentioned in this article.