The markets continue to stage a remarkable rally from the fear the unexpected outcome of the U.K. referendum or "Brexit" triggered on June 23rd. One sector that has been particularly strong since the nadir of that brief but deep decline is biotech which hit its bear market low two days after Brexit. The sector is up more than 10% from that low and posted a very strong week easily outperforming the overall market during the holiday shortened week.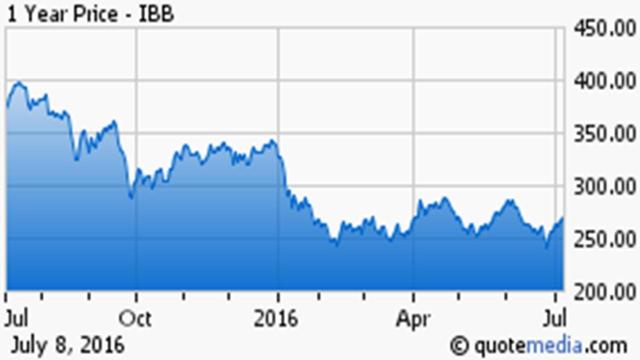 Click to enlarge
This is the fifth or sixth time so far in 2016 the biotech indices have bounced off the same floor. None of the previous bounces have led to a sustained rally. Will this be the upturn that finally breaks biotech out from the longest and deepest bear market since 2008? Here is what to watch.
Earnings Reports:
Obviously we need to see earnings reports from the large cap names in the industry come in with better than expected results. I am fairly confident in this happening when the big concerns start reporting at the end of the month as in general the industry has been very good at exceeding expectations over the past few quarters. In fact, the healthcare sector led by biotech is one of the three of the 10 industry sectors in the S&P to report earnings growth on a year-over-year basis while the overall S&P 500 remains locked in a "profit recession". The sector also has the best earnings & revenue growth of the 10 industry groups as well. With names like Amgen (NASDAQ:AMGN) beating expectations for nine straight quarters and expectations relatively low, this is probably the easiest positive event to predict that will happen in the weeks ahead.
Brexit Calm Remains:
This obviously is more difficult to forecast. This is especially true since I think investors have gotten remarkably complacent since the initial shock of the Brexit vote. It is almost as if the market has come to the conclusion that somehow some deal will be worked out between the EU and the U.K. that will prevent the divorce proceedings from commencing or that new leadership in England will renege on what was a non-binding referendum. While possible, I don't think either possibility is likely. When it becomes apparent that the U.K. is heading out of the European Union, a spike in volatility is more than likely.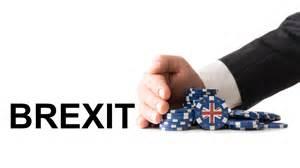 In addition, one had to be worried about the Eurozone before the outcome of the referendum. 10-year German Bunds are trading at zero and half the Eurozone's ~$6.4 trillion in sovereign debt is trading at negative interest rates. The stocks of Credit Suisse and Deutsche Bank are trading at 2009 levels. Finally, 17% of all loans in the Italian banking system are in arrears or default. To put in perspective, in the midst of our financial crisis that total was approximately five percent. Since Italian bank debt represents about 25% of the overall bank loans in the European Union, this is obviously something to watch.
M&A Activity Picks Up:
Provided that Europe can hold it together without sending another shock across the "pond", I believe in order to get out of this almost yearlong rut in biotech; we need M&A activity to pick up across the sector. Nothing gets the "animal spirits" flowing in this high beta sector as much as some high profile acquisitions with solid premiums. Given the Treasury Department has basically derailed mega-mergers like the Allergan (NYSE:AGN) and Pfizer (NYSE:PFE) tie up that it blew apart in April, I would look for action in the mid-cap space.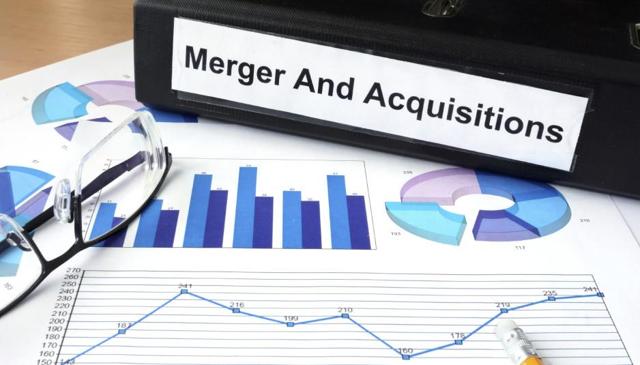 Click to enlarge
Medivation (NASDAQ:MDVN) is currently trying to fight off Sanofi (NYSE:SNY) who is mounting a hostile takeover effort after the former rejected a $9.3 billion buyout bid. If Medivation ends up going for more than $10 billion either to Sanofi or a "White Knight", I think that would be a positive for the biotech sector. This would be especially true if this event was followed in short order by buyouts of either Biomarin (NASDAQ:BMRN) and/or Incyte (NASDAQ:INCY), two more mid-cap stocks in the industry that been the target of frequent buyout rumors. Finally, if regulators finally approve Allergan's $40 billion sale of its generic business to Teva Pharmaceutical (NASDAQ:TEVA), this would be a positive. This would free up a lot of funds for Allergan to make a series of "bolt on" acquisitions in the small cap space; something it has signaled it wants to do with a portion of these proceeds.
Upward Resistance Level Cracks:
Provided the first three dominoes above fall into place, the next we need to see to confirm a sustainable rally is for biotech to break through technical resistance levels. I will be watching to see if biotech can decisively move through the ~290 level on the iShares Nasdaq Biotechnology (NASDAQ:IBB) ETF, which is the largest biotech ETF with some $9 billion in assets. This has proven to be a ceiling the sector has failed to broach in recent rallies. A significant move above that level would confirm the rally to me.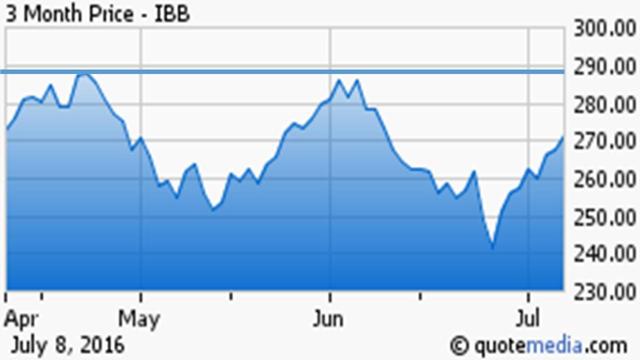 Click to enlarge
Outlook:
It is hard to predict whether the current rally in biotech will turn into a longer term move. This depends on some of the items I have detailed above. However, a floor definitely seems to been established just over 10% below current trading levels. Outside a major event like a global recession, I don't believe these levels will be breached given how many times they have been successfully tested.
In addition, the large cap names in the sector are selling collectively near their lowest valuation levels since 2011 and large cap biotech is one of the few areas of the market that is still seeing both revenue and earnings growth as a whole. Provided one keeps 50% to 75% of their biotech holdings in these large cap "Core" positions depending on risk preferences, I think it is prudent to overweight the sector within one's portfolio. This may not be the rally that gets us out of biotech's long term funk, but there is great long term value in the sector.
Note: To get these types of articles on attractive biotech and pharma stocks as well as macro overviews of the sector as soon as they are published, just click on my profile and hit the big orange "follow" button and choose the real-time alerts option.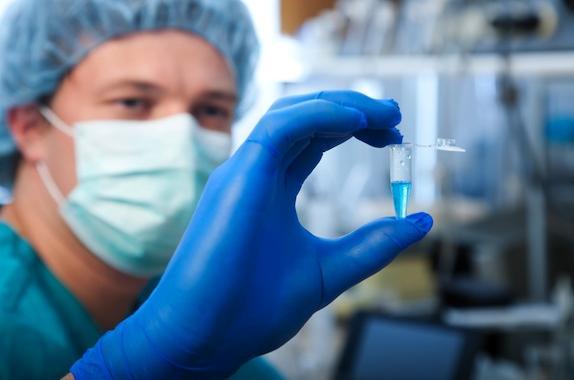 Thank You & Happy Hunting
Bret Jensen
Founder, Biotech Forum
Disclosure: I am/we are long AGN, AMGN, TEVA.
I wrote this article myself, and it expresses my own opinions. I am not receiving compensation for it (other than from Seeking Alpha). I have no business relationship with any company whose stock is mentioned in this article.