Retail stocks have taken a hit over the last few months as the growth of e-commerce has caused a slowdown in foot traffic in brick-and-mortar stores. J.C. Penney (NYSE:JCP) is no exception to this trend as the stock is down almost 15% in the past three months.
Although the overall retail sales environment is currently weak, I think all the headwinds are currently baked into J.C. Penney's current valuation. Thus, I think the downside to the stock is very limited and the attractive risk/reward ratio makes Penney a buy on the pullback. Let's take a look at the reasons why I think J.C. Penney should perform well going forward and investors should capitalize on the weakness in its stock price.
The real estate term loan refinance is good news
On June 10, 2016, J.C. Penney announced its intention to refinance $2.25 billion in real estate loans, and within a span of ten days, the company completed this refinancing under a five-year secured term loan credit facility. As per this refinancing, the company restated $1.688 billion of senior term loan credit facility for seven years. The most important thing about this refinancing is that the company was able to amend and restate this term loan facility at a lower interest rate than the credit facility it had announced in 2013. This represents a 75 basis points reduction in the interest rate and that too, with an extended maturity from 2018 to 2023.
Due to the lower interest rate, Penney can now save roughly $24 million in annualized interest expenses. This move should improve Penney's financial flexibility going forward. Now, J.C. Penney is a highly-leveraged retailer with a debt-equity ratio of 3.81, and it is necessary for the company to reduce its debt considerably due to the overall weak retail sales environment.
The good thing is that after having reduced its net debt by roughly $500 million last year, Penney's management remains confident to slash the debt further by anywhere between $400 million to $500 million in 2016. To achieve this, the company is planning to monetize a few of its assets.
For instance, Penney is looking to sell or lease out its home office facility in Plano, North Dallas. The following chart represents the impressive decline in its net debt to EBITDA.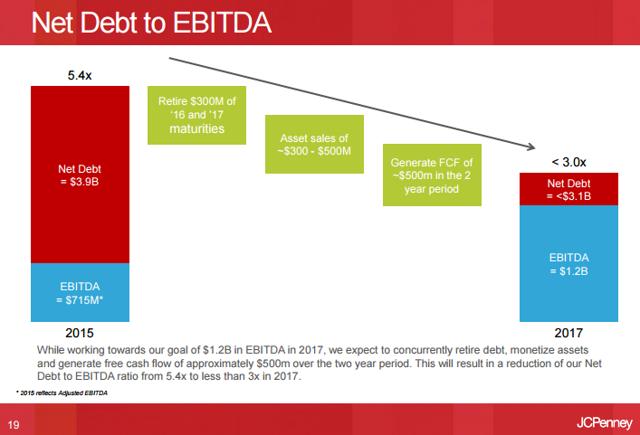 Click to enlarge
Source: J.C. Penney
At the same time, J.C. Penney expects that its refinancing will help it achieve its strategic goal of $1.2 billion in EBITDA by 2017. In fact, it remains on track to realize about $1 billion in EBITDA by the end of fiscal year 2016, as it sees a considerable improvement in its comparable store sales and a significant reduction in the SG&A expenses.
In the first quarter, J.C. Penney improved its EBITDA by $68 million to $176 million on a year-over-year basis, as it was able to decrease its SG&A expenses by $93 million to $872 million.
The important thing is that these cost reduction efforts are improving its bottom line performance. Penney's loss for the first three months of the year came in at $0.32 per share, reflecting an improvement of 42% as compared to a loss of $0.55 per share in the same quarter a year earlier. In fact, its loss was significantly better than the consensus estimate of $0.38 per share for the quarter.
Obviously, cutting costs is a short-term strategy and it cannot be sustained forever. However, J.C. Penney still has a lot of room to reduce expenses, which in turn will improve the company's bottom line going forward.
For instance, J.C. Penney sees a substantial decline in the SG&A costs as it plans to reduce corporate overhead and look for ways to lower its controllable costs. Also, it expects a significant reduction in the marketing and improvement in the process that should have a favorable impact on its expenses. Thus, the growth in the comparable sales, coupled with reduction in expenses, should improve its earnings substantially this year. The chart below illustrates its EBITDA guidance for 2016 with a clear emphasis on points that will drive its growth.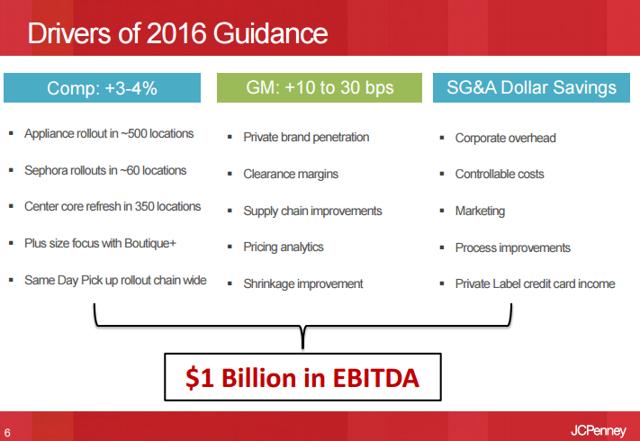 Click to enlarge
Source: J.C. Penney
Expanding window offerings will be a tailwind
J.C. Penney, as a part of its strategy on home-focused items, is expanding its window offerings to approximately 500 stores across the United States. These roll-outs of home improvement items, along with appliances in physical stores that are being rolled out to 1,200 major appliances online from major retailers such as Samsung, GE and LG, should drive sales going forward. The good part is that Penney won't be owning any of the appliances as inventory, as a result of which its risk of mark-downs and inventory turnover will decline.
In my opinion, the strong focus on home business with exclusive window coverage along with new offerings provided by Ashley Furniture and Empire should increase act as a tailwind for J.C. Penney. There has been significant growth for kitchen and laundry appliance in 2015, due to growth in the employment and housing market.
According to Euromonitor International, the consumer appliances in the United States saw a 2% volume growth in 2015, due to improved sales environment relative to 2014. As per Statista, the total unit shipments of major kitchen and laundry appliances will grow by 7% in the next couple of years to 64.61 million units by 2017 from 60.52 million units in 2015, as shown in the chart below.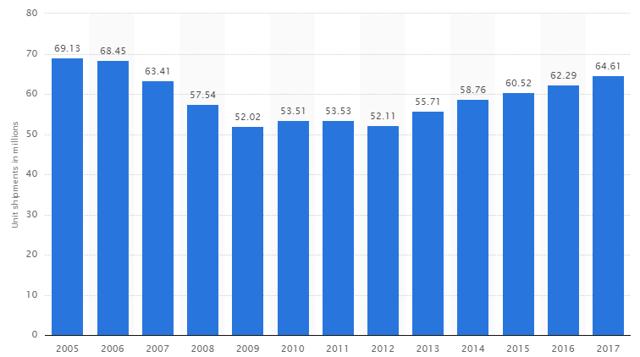 Click to enlarge
Source: Statista
Thus, J.C. Penney is taking the right steps by partnering with major retailers that occupy major shares in the kitchen and laundry appliances segment.
Conclusion
According to the points discussed above, I think J.C. Penney remains an attractive investment avenue, especially after the recent pullback. The company is reducing its debt in a smart manner and improving liquidity, while it has also undertaken smart moves to tap certain growth markets in the retail space. So, investors should be taking advantage of the drop in Penney shares and invest for the long run.
Disclosure: I/we have no positions in any stocks mentioned, and no plans to initiate any positions within the next 72 hours.
I wrote this article myself, and it expresses my own opinions. I am not receiving compensation for it (other than from Seeking Alpha). I have no business relationship with any company whose stock is mentioned in this article.