Ford Motor's (NYSE:F) vehicle sales in the U.S. have sent mixed signals to investors lately. In June, the auto company said that its May sales dropped 5.9 percent year-over-year, adding to concerns that U.S. auto sales are coming off a peak. Investors didn't like that at all, selling Ford Motor into the market weakness at the time. A month later, the automaker reported that its June sales surged 6.4 percent Y/Y on the back of strong truck demand.
Ford Motor said at the beginning of July that it sold 240,109 vehicles in the U.S. in June compared to 225,647 vehicles that were sold in the same month a year ago. The strength in total U.S. sales was supported by surging sales in Ford Motor's truck segment: Truck sales gained 24 percent Y/Y in June, and Ford's F-Series continued to shine with 29 percent Y/Y growth.
Year-to-date, Ford Motor's vehicle sales in America have climbed 4.6 percent to 1,353,048.
Ford's June sales were great, but concerns over a correction in U.S. auto sales are persistent...and that is unlikely to change any time soon. As a result of Ford's unexpectedly strong vehicle sales in the U.S. last month, I made the case again for Ford Motor as a high-class S&P 500 income play that investors should not trade in and out off.
When it comes to Ford Motor, whose sales either disappoint or delight Mr. Market, a 'do-nothing' approach seems to be best investment strategy at this point, and that is especially true in light of growing market volatility after the Brexit referendum (and who knows, other countries may also decide to hold new referendums).
In addition, the super strong jobs report from last Friday, which said that U.S. employers created 287,000 jobs in June, supports cyclical names including Ford Motor, or General Motors (NYSE:GM) for that matter. The jobs report crushed expectations of 175,000 jobs, and was driving stocks higher on Friday.
China Is Doing Just Fine
Good news for Ford Motor came out of China last week, too, when the automaker said that its sales in the first half of 2016 totaled 577,097 vehicles, marking an increase of six percent Y/Y.
While U.S. sales may or may not cool off, China's importance for global auto manufacturers is rising. The Y/Y increase in Ford Motor's China sales is respectable, and continued growth in China may to some extent offset choppy sales in the U.S. moving forward.
Nice Rebound, Ford Is No Longer Oversold
You can see a large drop in Ford's share chart that reflects investors' reaction to the Brexit referendum in Britain at the end of last month. However, Ford's shares have rebounded nicely, and strong job numbers deserve part of the credit.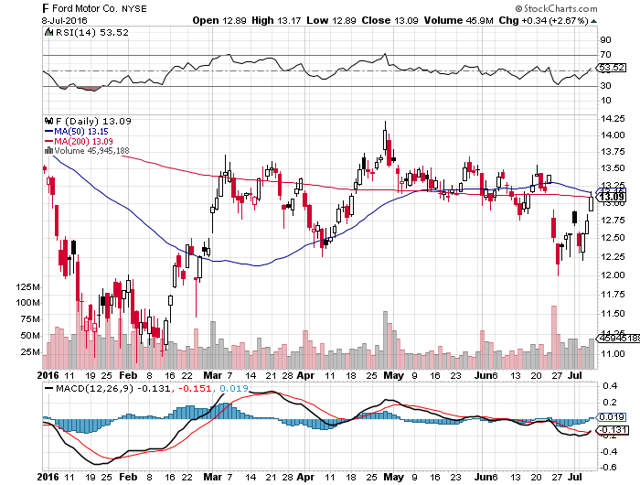 Click to enlarge
Your Takeaway
There is a lot of uncertainty attached to U.S. auto companies right now, but last week's jobs report proved that investors should not write cyclical investments off just yet.
Good news came out of China, too, last week when the auto company said that its 1st half 2016 vehicle sales were solidly in the green, just like in the U.S.
As far as I am concerned, investors shouldn't react to Ford's monthly sales figures that much, but rather take it easy and buy the stock purely for its dividend. Any potential capital gain a couple of years down the road is just the icing on the cake. Buy for income.
Disclosure: I am/we are long F.
I wrote this article myself, and it expresses my own opinions. I am not receiving compensation for it (other than from Seeking Alpha). I have no business relationship with any company whose stock is mentioned in this article.