C. R. Bard, Inc. (NYSE:BCR) is a manufacturer and marketer of medical and surgical devices. The company operates in four segments: urology, vascular, oncology and surgical specialties. BCR is headquartered in New Jersey, but sells products around the globe.
BCR started out as a one-man shop in 1907. Over 100 years later, the company has grown into a global life sciences giant, with a market cap over $17B. Impressively, BCR has paid, and raised, a dividend every year since 1972. Not many companies can boast that kind of track record.
So it's for that reason, plus the fact that shares are trading at all time highs, that I want to take a closer look at BCR. I also suspect that given the critical nature of BCR's products, the business should be pretty steady and predictable. I'm curious to see if the long term financial statements will reflect this.
One word of warning: some of the historical numbers with Bard look a little bit like outliers, due to various acquisitions and divestitures. That's why I like to focus on the trends to try and get a better look at the big long-term picture. I'll also put more weight on cash flow because the EPS numbers are more influenced by accounting.
But before we jump into that, take a look at the long-term price chart of BCR. It emphasizes that BCR presents an intriguing total return opportunity. The 0.5% dividend yield may not be enough for income investors but the historical capital appreciation has been impressive.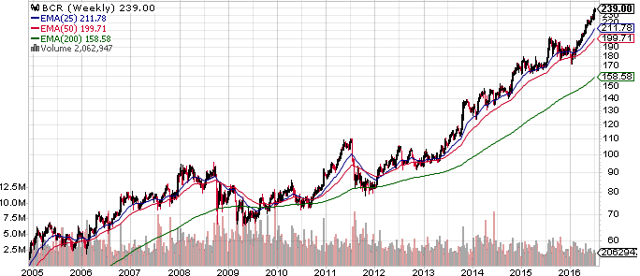 Click to enlarge
With that context in mind, let's look into the data (source).
Revenue, Cash Flow and Margins, Oh My:
When looking at trends in historical results, I like to start with sales. The top line gives a clear picture of demand. By looking at it over a 10 year period, we can see how demand for BCR products has fared through good times and bad. To my eye, the results look pretty good: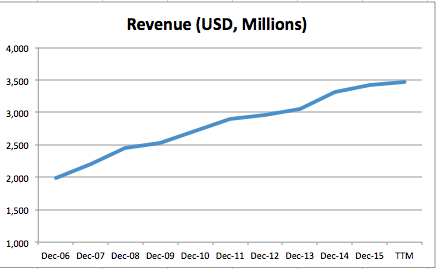 Intuitively, I think this revenue performance makes sense in the context of the company's business model. BCR's high quality, specialty products are focused on saving lives. No matter what's happening in the economy, these essential products will remain in demand. Additionally, with over 150 products in their pipeline across a diverse array of therapeutic areas, BCR is poised to continue growing (source).
Digging deeper into revenue, there are two other encouraging factors. First of all, as mentioned above, revenue is diversified across therapeutic areas. This gives me peace of mind because the company isn't dependent on a single product or service for a large portion of sales (source).

Click to enlarge
In addition to the diverse product mix, another appealing factor for me is that - in a world of slowing global growth and dollar strength - the majority of revenues are domestic (source). This also keeps the door open for emerging market growth, should those markets be able to afford these premium products.

Click to enlarge
So while sales look robust, as shareholders we obviously want to know if top line results are profitable. Although revenues are a great starting point that give me confidence in the long-term prospects of the company, I'm curious to know if this growth is converting to income growth. To get the clearest picture, I like to look at free cash flow, on a per share basis: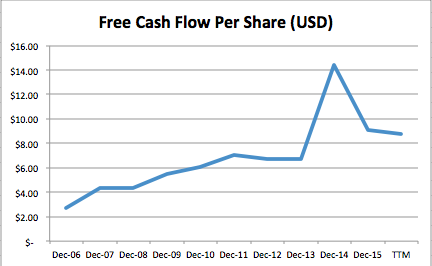 As you can see, BCR has been a cash-generating machine. The ability to consistently extract profits from sales like these speaks to BCR's stable and non-cyclical business. I like to invest in this kind of business because it gives me confidence the financial trends are more likely to continue in the future.
Plus, with this much cash, BCR has lots of financial flexibility to fund acquisitions and pursue organic growth through research and development. Given the innovative and cutting-edge nature of the business area BCR operates in, this flexibility goes a long way. As shareholders, there's less worry about dilution or excessive debt when ample cash is coming in the door.
Another way to confirm that BCR has a strong competitive position is to look at gross margins. And as you can see below, they're almost picture perfect. This high margin consistency is likely to continue because of the nature of the medical device business. These specialty products present significant barriers to entry, provide essential value and command a premium price point. Given the proven and consistent track record, I'm optimistic BCR will be able to continue charging a profitable price for their products.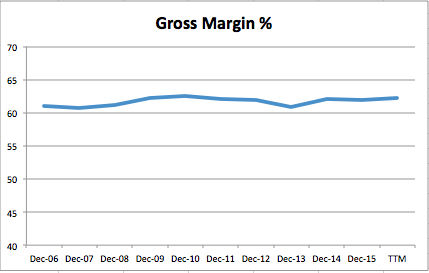 Another reason I suspect margins can sustain around these levels is because of the distribution model in this business. The majority of medical devices are sold to hospitals and clinics. So now that BCR has established distribution channels to these customers, they can continue to push new products within their circle of competence. The ability to leverage these distribution channels with cross selling is another appealing tailwind for the business.
Because of this well-run profitable business, BCR has been able to return value to shareholders through dividends and share buybacks. As mentioned at the outset of this article, dividends have been a particularly bright spot for BCR shareholders. Although the currently yield is only 0.4% and likely insufficient for income investors, it's definitely been a steady grower.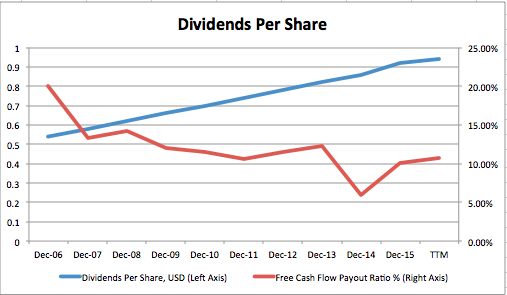 Given the strong dividend track record of BCR, as well as the reputation, I think it's safe to say the company will continue to prioritize dividend growth. This forecast is underwritten by the stability of the business, seen in both the top and bottom line. Further, the payout ratio on a free-cash-flow basis demonstrates the dividend is more than well-covered by cash.
Another way shareholders have benefited is by the reduction in share count. While I'm not always a fan of share buybacks, in this case the overall count has gone down. And this can be a tax-efficient and lasting way to improve per-share earnings. The 30% reduction in share count is likely to continue, given the over $700M in authorized buybacks (source). This brings total shareholder yield closer to 4%.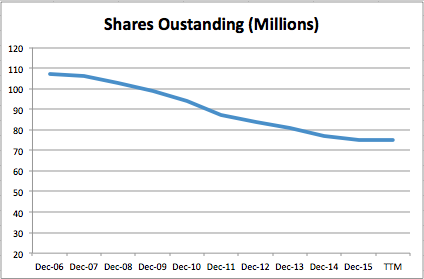 In addition to the above, the company also has a strong working capital position and current liabilities are well covered. Of course, no investment is perfect and while BCR looks good so far, there are still some risks.
Words of Warning on BCR:
As I alluded to above, BCR does have liabilities. And currently 12.8% of operating income goes to paying interest expenses. I'd like to keep an eye on this number and ensure it doesn't get too much higher.
Another red flag is that book value growth has been stalling as of late. As an equity owner, I want to see my stake in an investment consistently growing on a per-share basis. That said, in the case of BCR I understand the company needs to issue or assume debt periodically as a result of acquisitions, as well as fund ongoing operations and research and development. Plus, they're paying out a consistent earnings stream in dividends.
Finally, BCR's valuation is a little bit on the high side. With a cash flow yield below 5%, it's hard to get excited about BCR at these prices. And while buying stocks at all time highs can be profitable, in my experience it's usually uncomfortable. Historical valuation suggests that it might be wise to wait on buying BCR until it takes a dip: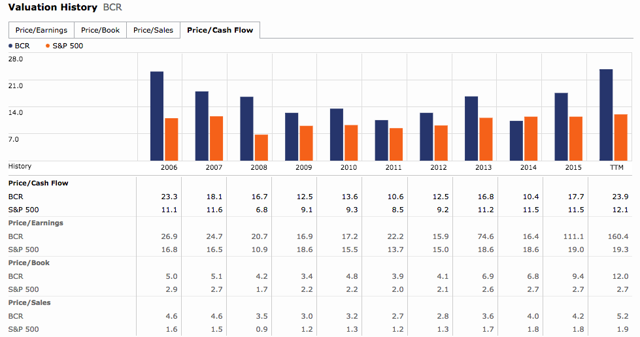 Click to enlarge
Conclusion: Buying into Bard
Given my long-term focus on total returns, and willingness to dollar cost average on pullbacks, I recently started a position in BCR. I'm eager to own a piece of this dividend aristocrat, and based on the trends above, it seems plausible the growth could continue. As far as I can tell, this is simply a high quality business that I want a piece of. I realize I might be in for some short term pain if the stock corrects but I will see that as opportunity.
Now I'm curious to hear what you think. Is BCR on your radar? Or if you are an income-focused investor, do you think the low yield isn't worth your time?
Disclosure: I am/we are long BCR.
I wrote this article myself, and it expresses my own opinions. I am not receiving compensation for it (other than from Seeking Alpha). I have no business relationship with any company whose stock is mentioned in this article.