I recently read an article by New Div on the Block where the new author talked about their lessons learned after recently starting DGI. The article made me look at my most recent transaction and realize that I too made a mistake during the year. However, we all make mistakes and making mistakes is the best way to learn. I guarantee that almost every individual on this website could tell a story where they either bought or sold a stock at the wrong time or held it when they should not have, but they learned from their mistake. I often don't include quotes in my articles because sometimes they feel forced, but I thought the quote below truly expressed my opinion on the matter.
"There is no end to education. It is not that you read a book, pass an examination, and finish with education. The whole of life, from the moment you are born to the moment you die, is a process of learning." - Jiddu Krishnamurti
This article is going to focus on my self examination of my current portfolio halfway through the year. I will be looking at my recent transactions, dividend goals, and portfolio makeup. I'll also discuss new money I have and companies I'll look to target.
Most Recent Transactions
I wanted to first start this off by looking at how the transactions I made last year have performed. My purchase of 31 shares of Phillips 66 (NYSE:PSX) at a cost basis of $58 has performed exceptionally well over the past year, returning nearly 30%. Additionally, in my taxable account the decision to sell my Kinder Morgan (NYSE:KMI) shares for $38.70 continues to look (so far) like a solid decision. Meanwhile, in my IRA I bought 14 shares of Pepsi (NYSE:PEP) that has returned 12% so far. More recently, I fell victim to looking at my portfolio too much and tinkered with it to try and get better returns. In that process, I sold my Procter & Gamble (NYSE:PG) shares for a small gain in order to accumulate a larger cash pile. I know that P&G is a stalwart and a juggernaut, but I was unhappy with my timing of the purchase (Nov, 2013) and the 8% return I had received in those three years. I saw so many other stocks returning much more than that and thought the money could be put elsewhere. Looking back, it was a mistake, but one that I can learn from and one that I made money on in the process. Ideally, I should not have sold, but in examining my portfolio too much I made a mistake by fixing things that didn't need to be fixed. P&G shouldn't be treated as a high flyer but more of a rock that keeps steady through thick and thin. In my time of analyzing, I didn't have that thinking because I was trying to chase high returns, but I do now.
Portfolio Update
Overall, I'm very happy with my portfolio. I'll need to rebalance it eventually because Phillips 66 and Chevron (NYSE:CVX) make up a large cash portion as well as a large amount of my dividend income. I don't have the money now to build up the positions around them so I'll need to look into either selling off and rebalancing that way or holding until I can add to the other positions in my portfolio. I still continue to hold the first purchases I've ever made (ABT & ABBV) as a reminder of where I've come, share count and all. I've become increasingly frustrated with Ford's (NYSE:F) lack of performance, but the dividend appears sustainable and the data and earnings continue to be very positive for the company. Lastly, I've gone back and forth with what to do with Realty Income (NYSE:O), my first 100% gainer. I've learned my lesson from P&G though and am not selling it because I believe it's best of breed and will continue to perform strongly in the future (the dividends are nice too). My portfolio is listed below:
Regular - Taxable Account
| | | | |
| --- | --- | --- | --- |
| Position | Shares | Cost Basis | Unrealized Gains |
| Apple (AAPL) | 12.295 | $85.60 | +12.94% |
| Abbvie (ABBV) | 7.802 | $37.28 | +72.13% |
| Abbott Labs (NYSE:ABT) | 7.487 | $33.03 | +26.84% |
| Ford | 57.097 | $14.45 | (9.44%) |
| General Electric (NYSE:GE) | 30.903 | $24.10 | +33.60% |
| Coca Cola (NYSE:KO) | 18.889 | $37.62 | +20.62% |
| Phillips 66 | 44.241 | $60.33 | +24.06% |
| Verizon (NYSE:VZ) | 11.53 | $45.75 | +22.20% |
Roth IRA
| | | | |
| --- | --- | --- | --- |
| Position | Shares | Cost Basis | Unrealized Gains |
| Celgene (CELG) | 20 | $86.85 | +20.94% |
| Chevron | 18.954 | $106.46 | (1.59%) |
| Disney (DIS) | 19.704 | $60.09 | +65.78% |
| Gilead (GILD) | 18.406 | $80.04 | +8.14% |
| Johnson & Johnson (JNJ) | 14.053 | $84.73 | +44.99% |
| Realty Income (O) | 29.395 | $34.68 | +101.60% |
| PepsiCo | 14.411 | $93.67 | +15.59% |
| Visa (V) | 24.435 | $53.22 | +43.58% |
As you can see from the table (and the chart below), PSX and CVX are heavily weighted in my portfolio. I originally had a smaller position in PSX but when it dropped to the mid 50's last year I decided to triple down on my position and I've been rewarded ever since. I ultimately plan to lower that position amount because it was never intended to be a larger position. I was just taking advantage in the drop of the price. I've also heard people suggesting I look at my portfolio weight with regard to the Healthcare/Biotech space as I do have quite a few positions in that sector. I'm not exactly worried about that at the moment because when I receive additional funds I will be looking to address that and diversify out into other sectors which would lower the percentage of those companies in my portfolio.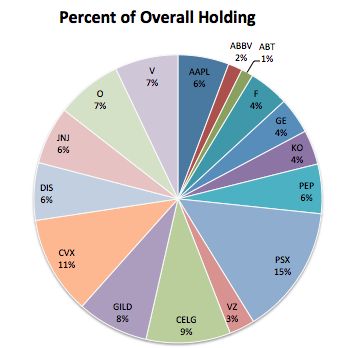 Yearly Dividend Totals Since Inception
There isn't necessarily much to report on in this category since I wrote my last article. I haven't bought any positions within the last six months so besides selling my seven shares of P&G the dividend projection is still somewhat near my goal of $600 this year. My yearly dividend totals have started to slow down as the transition to DGI stocks has become complete. I am projecting $592.68 in dividends this year, a little short of my goal but I am on the right track nonetheless. I realize $592 in yearly dividends for my whole portfolio may not mean much to some, heck, some may receive $592 in dividends from one company a year, but I look forward to watching this small amount grow.
Yearly Dividend Totals
| | |
| --- | --- |
| 2012 | $41.39 |
| 2013 | $245.44 |
| 2014 | $424.43 |
| 2015 | $561.56 |
Looking Ahead
With my mistakes in the past, I'm looking to the second half of the year. I have a good chunk of money I'm sitting on that will allow me to add 2-3 positions to my taxable account. As a student I'm very limited in the amount of money I have, so these would only be ~$1000 purchases, in line with most of my other positions. The valuations of many companies I'd usually look at are quite high and I don't like buying while the market is at an all-time high. Therefore, I will continue to hold the money and not force myself into buying a company because I have extra money around. I am very interested in adding CVS Health (NYSE:CVS) to my portfolio, especially after their recent purchases which has turned them into an integrated retail/healthcare services company. Additionally, I'm very interested in adding Nike (NYSE:NKE) or Costco (NASDAQ:COST) if the prices come down somewhat. I view both those companies as pioneers in their respective industries with enough staying power for years to come. I look forward to hearing everyone's comments!
Disclosure: I am/we are long AAPL, ABBV, ABT, F, GE, KO, PSX, VZ, CELG, CVX, DIS, GILD, JNJ, PEP, O, V.
I wrote this article myself, and it expresses my own opinions. I am not receiving compensation for it (other than from Seeking Alpha). I have no business relationship with any company whose stock is mentioned in this article.