Food Safety News and Eater have both reported anecdotal instances of possible outbreaks of food borne illness that may be linked to Chipotle (NYSE:CMG), based on Twitter posts.
Though very thinly sourced, the stories made it into more widely read media outlets by Thursday morning. The reportage is likely to continue in the coming week.*
If that happens, it will be the third-food borne illness outbreak at a Chipotle in recent memory to earn widespread media coverage, after a multistate outbreak of E-coli and an outbreak of Norovirus that sickened scores of students and others near Boston College.
The original tweet (from novelist Eric Van Lustbader @EVanLustbader) reportedly said his editor required a trip to the emergency room "after being deathly ill all night from eating at Chipotle's".
The tweet was reportedly time-stamped at 8:20 AM on July 7th. You can see the precipitous decline in Chipotle stock from its closing on July 6th ($401.05) to its opening price on July 7th ($393.99) in the chart below. By the end of the day, Chipotle had dropped $10.41 to close at $390.64, down 2.6%.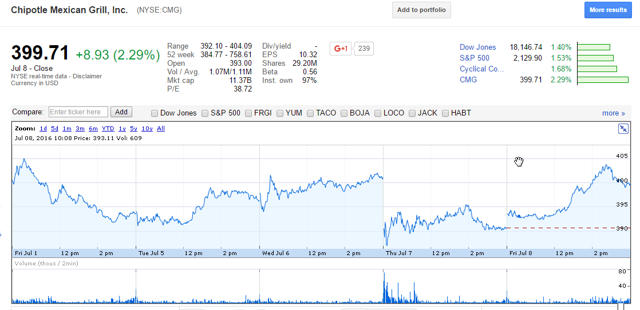 Click to enlarge
By Thursday, bargain hunters (and, perhaps, Chipotle's own share buy-back program?) had entered the market to return the shares to the $400 range.
According to Eater, a Chipotle spokesman they contacted about the story said the following:
"We are aware of the post made on Twitter, however there have been no reports of illnesses at any of our New York restaurants. Moreover, we have excellent health department scores throughout the city, and we continue to have the highest standards of food safety in our restaurants."
As Food Safety News points out, while the claim to "excellent health department grades throughout the city" is largely true for Chipotle's 60-odd NYC restaurants, it nevertheless has two "B" ratings, one for a Manhattan store near Union Square at Broadway and 17th Street and one at 5102 Avenue U in Brooklyn. New York City's website, below, also shows one store has its grade pending and three other stores have yet to be graded.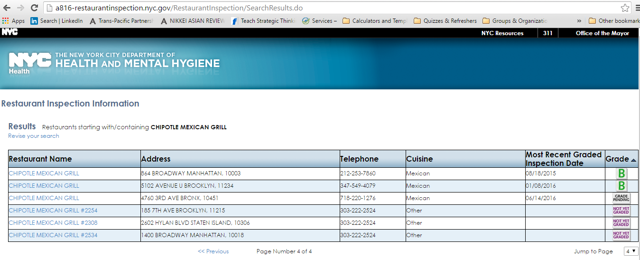 Click to enlarge
Lessons Learned:
Chipotle's Business Model Has Systemic Risk
While the company has made substantive and important changes to its food handling since its two prior food-borne illness outbreaks, the company's business model has systemic risk. Its ingredient menu contains two dozen items, with several items each encompassing ingredients of their own.
Moreover, the company's menu is complex. Recently adopted food-safety measures require additional steps, like blanching certain ingredients in boiling water. Recall that company was founded by a chef trained at the Culinary Institute of America, America's veritable "Harvard for Chefs". But the company is asking little-trained workers who may not even have a safe food handling certificate to replicate often complex recipes.
Finally, as I wrote in April, Chipotle seems willing to accept additional risk for only marginal improvements in the taste of food. The company reversed itself on chopping and bagging its lettuce and certain other ingredients at central locations and, instead, returning the lettuce preparation to local restaurants.
Chipotle's Risk Factors Can Make it a Volatile Stock
Surprisingly, CMG's beta is only 0.33, below that of McDonald's (NYSE:MCD). But the systemic risks of the company's business model, as outlined above, will likely increase that to be higher over time. In the world of the 24/7/365 business news cycle and social media, "buy on the rumor, sell on the news" can have whole new meaning for Chipotle (though more likely "short on the rumor…").
Chipotle STILL Doesn't Get the Importance of PR
When Chipotle suffered its first outbreak of food borne illness, one of its senior executives reportedly blamed the crisis on the CDC and the media, according to Ad Age.
Chipotle's spokesman's seemingly dismissive answer to Eater's inquiry that's quoted above seemed to continue that lackluster public relations messaging.
The spokesman's reply to Eater's inquiry should have been something along the lines of this:
We are aware of Mr. Van Lustbaders tweet on Twitter and we have contacted him and his editor, the person who became ill. As of now, there is no proven linkage between the editor's illness and a Chipotle dining experience. Nevertheless, because the health and safety of our customers is our utmost priority, we have chosen to exercise an abundance of caution. The restaurant in question has been closed and is undergoing a thorough cleaning under the direct supervision of our chief food safety officer, who is working with medical personnel and New York City Health Department workers to determine to what extent, if any, our food may have played a role in sickening Mr. Lustbader's editor. All workers from the restaurant are on paid training leave to ensure they are fully compliant with our industry-leading food safety standards and free of any communicable disease that may have played a role in this unfortunate incident. We will hold a press conference as soon as tests can determine the proximate cause of the editor's illness and have further comment then. In the meantime, we are confident our food is safe and wholesome and we will continue to enforce the hightest standards of food safety in our restaurants.
Chipotle's Next Steps
I've said previously that Chipotle will need to "settle" - that its "Food with Integrity" meme should be a thing of the past at this point. The company needs to accept that its business model is not completely scalable under its current manner of operation and that its ultimate positioning will be somewhere above McDonald's and somewhere below Panera Bread (NASDAQ:PNRA).
First, raw meat, pork, and poultry and produce should be prepared only by staff who have a current food safety handling certificate issued by local authorities and supplemented by on-line and in-person training offered by Chipotle. All food cooked needs to be temperature tested. All chopping and cutting of animal proteins needs to be done on a surface that can be cleaned immediately after each such cutting. Kitchen operations should be videotaped and reviewed periodically by regional management to ensure staff are in full compliance with the highest food safety standards.
Second, Chipotle should return the processing of lettuce and certain other ingredients to centralized locations. Lettuce should be washed with Tsunami (an antimicrobial water additive for pathogen reduction in vegetable processing water) if it is not being done today. Those centralized operations should also be videotaped and reviewed.
Third, if Mr. Lustbader's editor's illness is proven to be attributable to eating at Chipotle, the company should suspend its expansion plans and keep the number of restaurants steady for at least one full year after any food-borne illness outbreak.
Fourth, the company should establish a hotline whereby customers can report any instance of food-borne illness for investigation by regional food safety managers who can suspend restaurant operations and coordinate with local health authorities to address the report to determine the source of the outbreak.
The Long Term
Over time, Chipotle should move away from its current QSR model to a more sustainable casual dining model, where food can be more closely inspected and cooked to order much more carefully than it can be at a QSR and allow the higher ticket prices of a casual restaurant over a QSR.
Simultaneously, Chipotle should also go to an asset-light franchising model. This would allow Chipotle to return franchising fees to shareholders as restaurants are franchised to independent franchisees (thus effectively partially liquidating the company) thereby removing risk from the company to franchisees. Franchisees who are vested in the business success -- owners, in other words -- also tend to be more diligent regarding the care of their business than mere employees.
Over the short-term, about three months to six months, I suspect that CMG stock will drop substantially (say, 15%?) if it is found that the book editor's illness is traceable to a CMG restaurant and especially if many more people report becoming ill. Tests take several days. Any food-borne illness at a Chipotle restaurant in the media capital of the world will undoubtedly lead to a rough ride for the company.
________________________________
*To its credit, SeekingAlpha.com moved its story on the tweet at 9:42AM on July 7th, thus apparently earning "bragging rights" to the scoop on the story.
_________________________________
Author's note: My commentaries most often tend to be event-driven. I also write mostly from a management consulting perspective for companies that I believe are under-performing; that is, I sometimes lay out strategies that I would recommend to the company to improve its business and strategy were they my clients. I think this approach lends special value to contrarian investors who see the opportunities that I do in companies that are otherwise in downturn. My opinions with respect to the company here, however, assume the company will not change.
If you like my perspective, you might consider following me by clicking the "follow" link below.
Disclosure: I/we have no positions in any stocks mentioned, and no plans to initiate any positions within the next 72 hours.
I wrote this article myself, and it expresses my own opinions. I am not receiving compensation for it (other than from Seeking Alpha). I have no business relationship with any company whose stock is mentioned in this article.
Additional disclosure: The views expressed are the opinions of the writer and do not represent, and should not be considered to be, investment advice. You should not use this article for that purpose. Before making any investment decision you should consult your own business, legal, tax, and financial advisers.