Oil reached its two month low levels on Thursday with WTI and Brent trading at $45.41 and $46.76 at the time of writing this article. When we look at the markets, we can see that there are several factors that are driving oil prices. On Thursday, the U.S Energy Information Administration (EIA) came out with its oil data which showed that the U.S commercial crude oil inventories had decreased by only 2.2 million barrels against API's prediction of 6.7 million barrels. As I had predicted in my last article, the prices went down immediately after the EIA data.
Large drop in the U.S. oil production - EIA says so!
According to EIA's latest oil data, there has been a large drop in the U.S. oil production. Production has fallen by 194,000 barrels per day to be at 8.43 million barrels per day. If this figure is correct, then it means that U.S. production is down by 1.2 million barrels a day when compared to its peak in April 2015.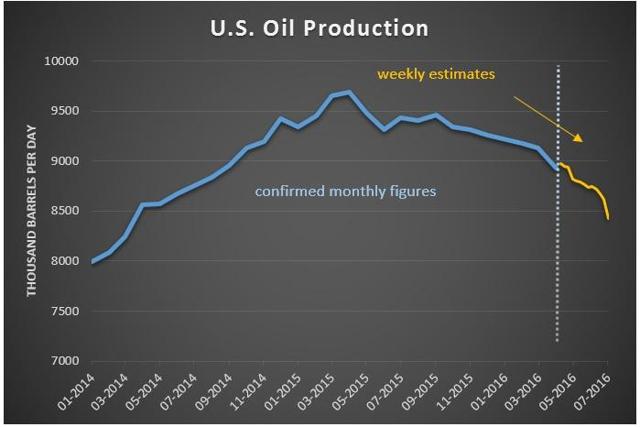 Image Source : oilprice.com
However, U.S. rig count is increasing
Although EIA suggests that U.S oil production has decreased, the rig data released by Baker Hughes reveals that the U.S oil rig count increased by 10 to 351. It needs to be noted that rig counts have now increased 5 times in the last 6 weeks. As U.S. rig count data are generally viewed as a proxy for activity in the oil sector, a consistent increase in rig counts suggest that production may be picking up. I wrote in my previous article that the increasing number of rig counts would put downward pressure on oil in the coming time, and this is exactly what is happening now.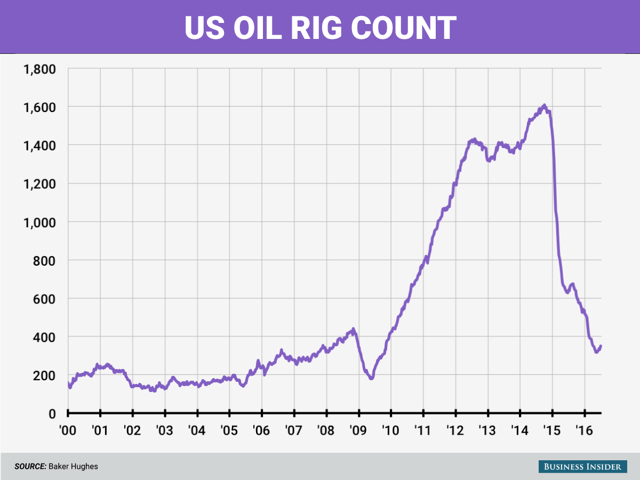 Uncertainty about Nigeria's future production numbers
To be honest, markets are a bit confused when it comes to Nigeria. On one hand, Nigeria's oil minister claims that his country's oil production has increased from 1.4 million barrels a day to 1.9 million barrels a day. On the other hand, despite its cease-fire with the Nigerian government, militant group Niger Delta Avengers keeps on attacking Nigeria's pipeline infrastructure. On July 06, Niger Delta Avengers attacked a pipeline system which was operated by Chevron (NYSE:CVX). However, there was some good news for Royal Dutch Shell (NYSE:RDS.A) (NYSE:RDS.B), as it lifted its force majeure on its Bonny Light exports. Although this development will further increase Nigeria's exports in the coming time, the amount of physical and economic damage caused by the latest militant attacks cannot be quantified fully.
Uncertainty over China's future oil demand
As per data obtained by Reuters, Asia's crude oil tanker imports (at around 20 million barrels a day) have fallen slightly below last year's levels. Many analysts believe that Asia's oil demand growth is falling mainly because of China. In fact, companies such as JP Morgan believe that China is about to completely fill up its strategic petroleum reserves (SPRS) which are close to 400 million barrels in capacity. Analysts believe that even developed Asian oil markets like Japan and South Korea will experience sluggish oil demand in the coming time.
Takeaway
Looking at all the major factors, I feel that oil is mostly driven by negative sentiments related to weak Asian demand (led by China of course). However, I am pretty confident that this outlook may change, as Asian oil demand may increase in the coming few months (once refiners come out of their maintenance activities). In fact, as per OPEC's oil market report, China's commercial crude oil stocks have actually witnessed a downfall in recent months. Besides China's demand, the increasing number of U.S. oil rigs and the continuing U.S. gasoline glut are two other factors that will put downward pressure on oil (NYSEARCA:USO) in the coming few days.
Disclosure: I/we have no positions in any stocks mentioned, and no plans to initiate any positions within the next 72 hours.
I wrote this article myself, and it expresses my own opinions. I am not receiving compensation for it (other than from Seeking Alpha). I have no business relationship with any company whose stock is mentioned in this article.