Back in March, I identified Eleven Biotherapeutics (NASDAQ:EBIO) as a company which appeared attractive based on the value of its current assets and liabilities. The company traded below an intrinsic value figure known as net-net working capital, granting it inclusion in my deep value portfolio. By the time I had written an article documenting the performance of this portfolio (about a month after I had created it), shares of Eleven Biotherapeutics had more than doubled. What I hadn't realize at the time was that the market was still mispricing this company by a fairly large margin.
Today, shares of Eleven Biotherapeutics within this portfolio have appreciated over 450%. The company has served as a perfect example of how firms can stage amazing comebacks, even when investors have lost all hope in them. There is a quote which summarizes the philosophy of value investing that comes to mind when thinking of the impressive rebound the company has made:
Many shall be restored that are now fallen, and many shall fall that are now in honor. - Horace, Ars Poetica
In this article, I hope to illustrate the qualities of Eleven which made it such an attractive investment opportunity. Although I cannot argue that the company still an obvious "buy," I do believe there are some valuable lessons to be learned by deep-value investors.
Background
Eleven Biotherapeutics is a preclinical-stage biopharmaceutical company that is currently focusing its efforts on a drug to treat diabetic macular edema and uveitis, both diseases of the eye. In this next paragraph, I will outline the history of the company, from its IPO to today. Hopefully, this will help explain why the company became such a bargain, and why its shares were able to emerge from such depressed levels.
November 7, 2013: Eleven Biotherapeutics announces that it intends to initiate a public offering of its shares with the company focusing on the development of its conjunctivitis drug, EBI-005. The company states that it depends heavily on the success of EBI-005, but also that it has two other preclinical product candidates, EBI-028 and EBI-029 (both collectively now known as EBI-031).
February 2, 2014: Shares of Eleven Biotherapeutics begin trading for about $11/share. The company raises over $50M.
May 18, 2015: Eleven Biotherapeutics announces the results of its Phase 3 study of EBI-005 for dry eye disease. In the study, the drug did not meet either of its endpoints. Abbie Celniker, the company's CEO, announces that the company will not initiate a second Phase 3 trial for EBI-005 in dry eye disease, but also mentions that the company is still exploring the drug's effectiveness in treating allergic conjunctivitis. Shares fall to about $3/share.
January 15, 2016: Eleven Biotherapeutics announces the results of its Phase 3 study of EBI-005 for allergic conjunctivitis. The drug failed to meet its primary end point. Celniker again announced the shift in focus of the company, leaving EBI-005 in its past and focusing all efforts on submitting an investigational new drug application for its EBI-031 drug for treatment of diabetic macular edema. Shares fall to under $0.50/share.
March 24, 2016: Eleven Biotherapeutics announces FY2015 results. The company loses $1.76/share, but more importantly, announces it's exploring strategic alternatives with the goal of maximizing shareholder value. This claim appeared believable considering the company's directors and executives collectively owned 28.9% of the company.
June 13, 2016: Eleven Biotherapeutics announces that it has agreed to grant an exclusive license to F. Hoffmann-La Roche Ltd ("Roche") to develop and commercialize EBI-031. The company received an upfront payment of $7.5M and can receive up to $262.5M assuming certain milestones are met in the development and commercialization of the drug.
July 7, 2016: Eleven Biotherapeutics announces the effectiveness of Investigational New Drug (IND) Application for EBI-031.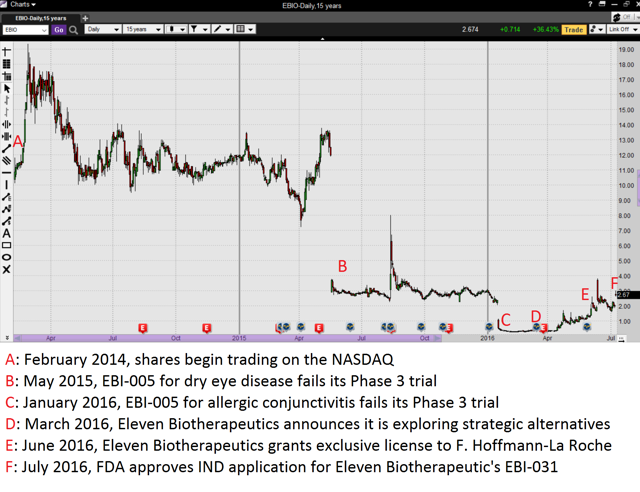 Click to enlarge
What can be learned?
The rebound of Eleven Biotherapeutics is a perfect example of why the net-net strategy can work so well. Due to relentless selling by investors, the company's shares deviated greatly from their value following the failure of EBI-005's second Phase 3 trial. Following this failure, the shares began trading below their net cash value (cash and equivalents less total liabilities). This phenomenon of trading for less than the value of a company's cash is not uncommon for failing clinical-stage biopharmaceutical companies. Usually, when all of the drugs in a clinical-stage biopharm's pipeline fail, they will tend to perpetually burn cash until the company is out of business. These companies can undergo a merger or acquisition, but an empty product pipeline usually isn't too attractive to potential buyers. There are two qualities of Eleven Bio which I believe made the company different from the average biopharm bust:
The size of the discount to net cash value
The company's still-existent product pipeline
Failing biopharmaceutical companies often carry a lot of cash and low levels of debt, making them potential net-net investment candidates. An individual could make a net-net portfolio specifically devoted to failing biopharms, including some of the ones below:
Avalanche Biotechnologies Inc. (NASDAQ:ADVM) - 60% discount to net cash
Biodel Inc. (BIOD) - 34% discount to net cash
Chiasma Inc. (NASDAQ:CHMA) - 40% discount to net cash
Chimerix Inc. (NASDAQ:CMRX) - 27% discount to net cash
Endocyte, Inc. (NASDAQ:ECYT) - 17% discount to net cash
Kura Oncology (NASDAQ:KURA) - 16% discount to net cash
Marinus Pharmaceuticals Inc. (NASDAQ:MRNS) - 27% discount to net cash
Neothetics Inc. (NASDAQ:NEOT) - 17% discount to net cash
ProNAi Therapeutics Inc. (NASDAQ:DNAI) - 53% discount to net cash
Tetraphase Pharmaceuticals Inc. (NASDAQ:TTPH) - 10% discount to net cash
Verastem Inc. (NASDAQ:VSTM) - 45% discount to net cash
All of these failing biopharms are trading below their net cash value, and many of them have an empty product pipeline. Usually, a larger discount to net cash is the result of a less attractive situation concerning a company's drugs in development. However, Eleven Biotherapeutics's price decline didn't seem justified by an especially poor position when compared to its peers. The company still had the prospects of EBI-031, a drug which was fairly different than EBI-005, and although it was still in the pre-clinical stage, investors had no reason to seem 100% positive the drug was positioned to be a failure. Not only did the company have a legitimate product in its pipeline, but at its lowest price, it traded at a discount to net cash of 82%. For this reason, I believe deep value investors looking at biopharmaceutical companies should be attracted to those with legitimate products left in their pipeline, especially when trading at such a large discount to net cash value. These companies have a better chance of emerging from the perpetual cash bleeding and are possibly capable of becoming businesses with legitimate operations.
In addition to the large discount to net cash value and the prospects of its product pipeline, I believe the participation of the company's insiders helped Eleven Biotherapeutics realize its underlying value. At the time of the company's annual report, when it had announced its plan to explore strategic alternatives, the company's directors and executives collectively owned 28.9% of the company's shares. The company's leaders had a lot of their net worth tied to the large amount of stock-based compensation. The company's motives and goals were closely aligned with those of shareholders, and for that reason, the plan to pursue alternative strategies held credence.
Similar Opportunities Today
There is no way to definitively say whether or not an equity investment in a clinical-stage biopharmaceutical company will pay off. Many times, knowing whether or not a company will receive regulatory approval is like flipping a coin, and even some industry veterans have a hard time making these predictions. However, many times the risk/reward outcomes can make them investments worth incorporating into your portfolio. I believe that holding a diversified portfolio of clinical-stage biopharmaceutical companies trading below their net cash value can potentially provide satisfactory returns for investors. These investment ideas are rooted more in speculation than assurance, but for those willing to try their hand, these companies could prove to be worthwhile.
Chiasma Inc.
| | | | |
| --- | --- | --- | --- |
| Net cash/share | Price/share | Discount to net cash | % of company owned by insiders |
| $4.99 | $2.99 | 40% | 3.2 |
Drug Pipeline
Octreotide Capsules (Mycapssa) for Acromegaly: Phase 3 trial for U.S./E.U. approval
Octreotide Capsules (Mycapssa) for Neuroendocrine Tumor: Clinical ready
CH2: Nonclinical
Shares of Chiasma Inc. fell 63% on April 18 of this year following the FDA's rejection of the New Drug Application (NDA) for its main drug, Mycapssa. I cannot analyze the situation for investors, but I can interpret the analyses of other investors and judge whether the situation looks bright. Altum Research wrote a marvelous article covering the implications of the NDA disapproval which you can read here. Today, shares trade at a 40% discount to the value of their cash less liabilities, and the company is still pursuing a government approval of the Mycapssa drug. On top of Mycapssa, the company has been exploring an orphan drug known simply as CH2. While investors know relatively little about the drug, the company plans to announce the status of the drug in 2H 2016. If it turns out the company has another legitimate drug in its pipeline, the situation could be reminiscent of Eleven Biotherapeutics.
An important factor to also consider when looking at a net-net investment is how quickly the liquidating value of the company is diminishing. Below is a graph illustrating the change in net cash value over time for Chiasma.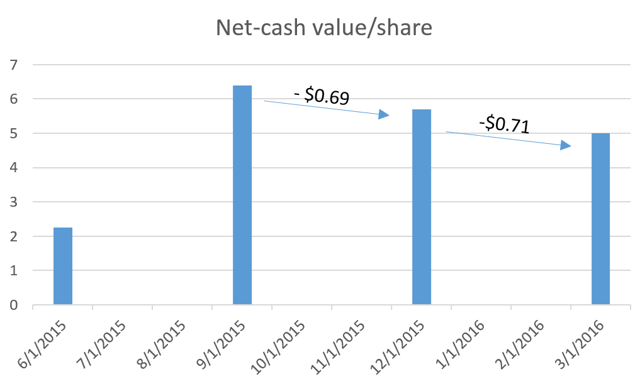 Click to enlarge
The company raised $100M in its IPO which occurred in July of last year. Since this capital was raised, the company has been burning cash at a rate of about -$0.70/share quarterly. This figure could become more burdensome following the launch of the new Mycapssa trial, but at the historic rate the company's net-cash value should stay above the current market price for at least another couple of quarters, during which time the effectiveness of Mycapssa for Neuroendocrine Tumors should become apparent.
For me, the Chiasma situation carries enough hope to make the investment seem attractive when shares are trading below a 50% discount to net cash value, but investors should make that call for themselves with the information provided.
ProNAi Therapeutics Inc.
| | | | |
| --- | --- | --- | --- |
| Net cash/share | Price/share | Discount to net cash | % of company owned by insiders |
| $4.43 | $2.06 | 53% | 22.2 |
Drug Pipeline
PNT141: pre-clinical
PNT2258: suspended
Shares of ProNAi Therapeutics Inc. fell 67% on June 6 of this year following the announcement of the suspension of its main drug, PNT2258. Again, there are many, more thorough analyses on Seeking Alpha, including this one from Maudes Capital. I will simply try to summarize the implications of an investment in ProNAi. The main reasons I am so drawn to ProNAi are:
The huge discount to net cash value
The large insider participation
The very low cash burn rate
Although ProNAi does not have any advanced drugs in its pipeline, I believe the company could present an attractive investment opportunity when incorporated into a diversified portfolio. The company has many different options it can take, and high insider participation within the company increases the chances of executives making shareholder-friendly decisions. The company trades at less than half the value of its cash less liabilities, representing an over 100% upside to its shares. I believe the chances of this value being realized for investors is relatively high due to large insider participation within the company. Collectively, the company's insiders own nearly a quarter of the company, meaning their net worths are tied more to the company's share price than the magnitude of their salaries. Let's take a look at the company's latest DEF 14A:

Click to enlarge
According to this filing, insiders at the company own nearly a quarter of all shares outstanding. Although some of the institutions holding shares in ProNAi have closed their positions, employees at the company still have their money tied up in it (and may purchase more shares at a discount in the coming months). Executives have "their skin in the game," meaning they have incentive to act more like shareholders and less like greedy executives, always an attractive quality for potential investors.
Another reason I like ProNAi is the low cash burn rate they have displayed in the past. At the current cash value burn rate of about -$0.34/share per quarter, the company should be trading below its net cash value for another 7 quarters assuming the cash burn rate does not change.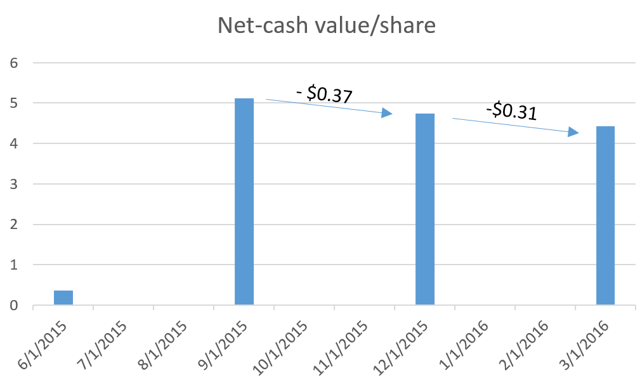 Click to enlarge
This low burn rate gives the company ample time to formulate a good decision. Although I believe it is unlikely that the company will be distributing cash back to investors in the form of a large dividend payment, I do believe it is possible that activist investors could get involved and push for ProNAi to sell out to a larger company. With so much cash on the books, the company could also begin attempting to climb out of the hole it has dug by exploring the licensing of other lucrative technologies. Investors should follow ProNAi closely for announcements of pursuit of strategic alternatives or any other plan which could potentially unlock the value of the company's cash for shareholders.
Portfolio Review
I originally included shares of Eleven Biotherapeutics in my deep value portfolio which focuses on companies trading below their net-net working capital.

Click to enlarge
Three months have passed since the inception of that portfolio, and the EBIO shares have had a very positive impact on its performance. Below is the composition of the annually rebalanced net-net working capital portfolio. Shares were purchased on March 15 of this year, and the portfolio will not be adjusted until March 15 of 2017.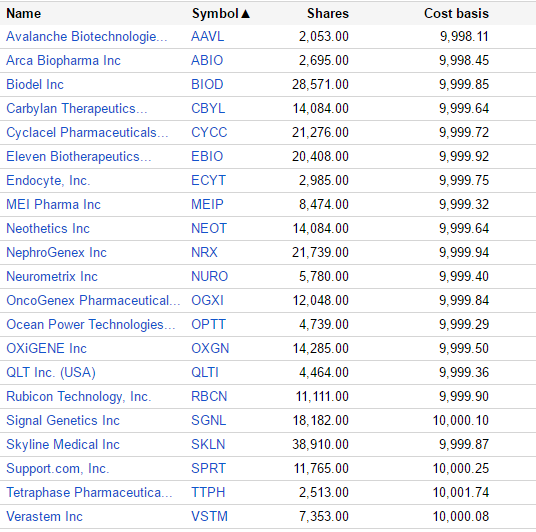 Each of the 21 positions were equally weighted with their market value originally equaling $10,000. Today, nearly four months later, the shares of Eleven Biotherapeutics are worth over $50,000. This appreciation in value has had a clear effect on the performance of this portfolio, which is handily outperforming the S&P 500 so far.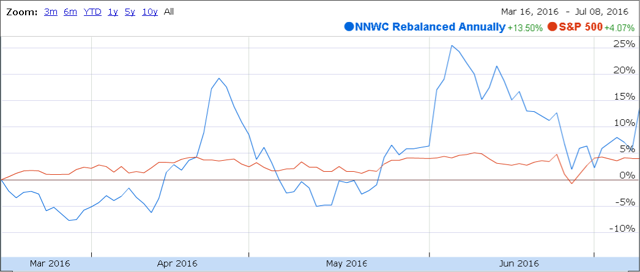 Click to enlarge
While this performance appears very satisfactory, I am not entirely convinced of the net-net working capital strategy's success under all market conditions for a couple of reasons. Firstly, this portfolio has only been in existence for three months. While its performance has been impressive thus far, one would have to test the strategy over a multi-year time frame, ideally through a market peak and trough, to understand how well it performs under all market conditions. Numerous studies have shown that Graham's net-net strategies beat the market by a large margin over very long periods of time, but that does not necessarily mean it performs well in all situations.
Another reason I have a bit of skepticism is the presence of an outlier within the portfolio. Some of the positions have experienced significant gains, others significant losses, but the overall performance of the portfolio can be mostly attributed to the performance of Eleven Biotherapeutics.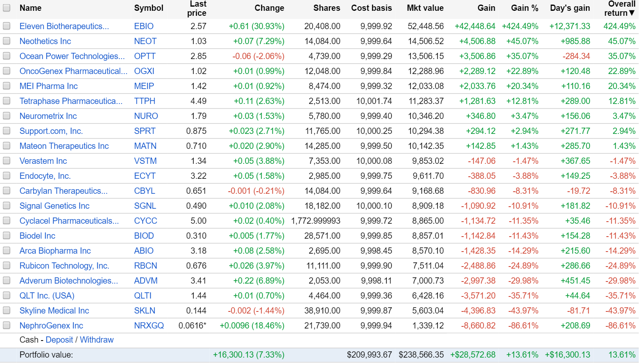 Click to enlarge
And when I analyze the performance of this portfolio when excluding the outlier, I find that the portfolio is underperforming the market. I understand that the NNWC formula was able to help me identify Eleven Biotherapeutics which has been a huge winner, but I could see a portfolio of this type underperforming the market in many situations. Below is what the portfolio's performance would have looked like if Eleven Biotherapeutics had never been identified as a NNWC opportunity.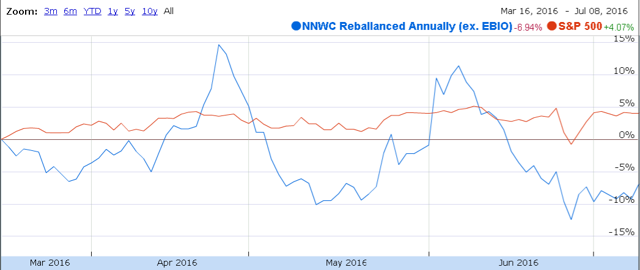 Click to enlarge
I will continue to track and document the performance of the NNWC strategy and hopefully gain more insight about how to make it produce more satisfactory results.
Readers can look at all of the companies on my watch list trading below their NNWC here: NNWC Analysis
Disclosure: I/we have no positions in any stocks mentioned, and no plans to initiate any positions within the next 72 hours.
I wrote this article myself, and it expresses my own opinions. I am not receiving compensation for it (other than from Seeking Alpha). I have no business relationship with any company whose stock is mentioned in this article.
Editor's Note: This article covers one or more stocks trading at less than $1 per share and/or with less than a $100 million market cap. Please be aware of the risks associated with these stocks.