August Natural Gas futures prices pulled back last week (ending July 5th to correspond to the positions data below) by 4.3% after having since by 82% from its low point in early March. Much of the rise came during June as hotter-than-normal weather forecasts began to materialize. After the sharp drop on Tuesday, prices held.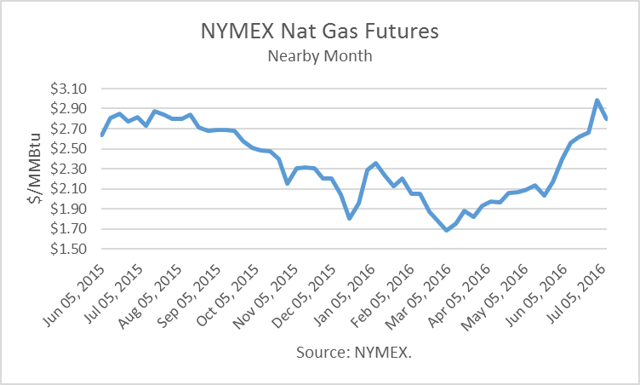 Click to enlarge
I had written about this expectation back in April and the size of the storage glut has begun to deflate. Based on normal weather forecasts, the EIA expects the year-over-year surplus to evaporate in the November-December timeframe. But if colder-than-normal weather is experienced this winter, we could go from surplus to deficit in one winter.
Commitments of Traders
Utilizing the Commodity Futures Trading Commission's (CFTC) Commitments of Traders (COT) reports for natural gas, I was able to dissect how traders were re-positioning last week.
The four groups I follow - Hedgers (Producer/Merchant/Processor/User) Longs and Shorts, and Speculators (Money Managers) Longs and Shorts - are defined below:
Hedgers: A "producer/merchant/processor/user" is an entity that predominantly engages in the production, processing, packing or handling of a physical commodity and uses the futures markets to manage or hedge risks associated with those activities.
Speculators: A "money manager," for the purpose of this report, is a registered commodity trading advisor (CTA), a registered commodity pool operator (CPO) or an unregistered fund identified by CFTC. These traders are engaged in managing and conducting organized futures trading on behalf of clients.
The latest data are for the week ending July 5th and include data for both options and futures combined for the New York Mercantile Exchange (NYMEX). All comments below pertain to each group as a whole, on balance, noting there are exceptions among individuals.
Findings
Last week changes in positions were dominated by speculators, as hedgers held tight after significantly boosting positions in the prior week. Speculative long positions were reduced the most, by 6,986 lots. Perhaps it was profit-taking or nervous longs who took losses after recently establishing long positions. The recent history shows some erratic changes in long speculative positions, so I tend to think the latter. After the meteoric rise in prices which attracted new longs, it seems we might experience more volatile trading as a result.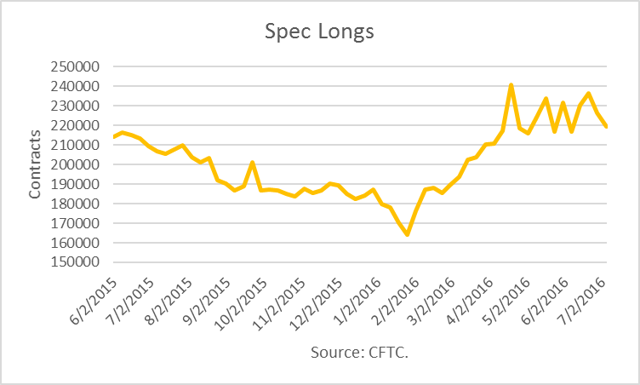 Click to enlarge
Short speculators have reduced their positions by 120,000 contracts since early March, propelling prices higher. Last week, they trimmed them by 4,990 lots. Since early March, the price is up by $1.16/MMbtu. Given the futures contract size, that ($116,000 per contract) is the equivalent of a $116 /barrel rise for NYMEX crude contact.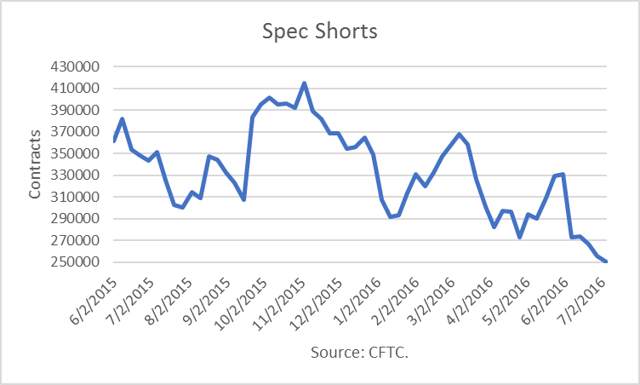 Click to enlarge
Hedge sellers (gas producers primarily) trimmed their net short position by 325 contracts. It is important to note that short hedger interest is close to its highest point since April 2014. That means that this production will be less susceptible to declining if prices were to drop off.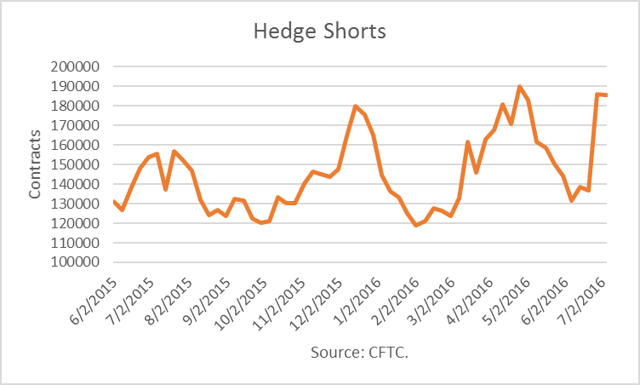 Click to enlarge
Hedge buyers trimmed their length by just 251 contracts. However, since early March, hedge buyers have added 72,780 lots, although much of that was during the last week of June.
Hedger length is near its highest level since the summer of 2006 and in the post-Katrina period when prices exploded as a result of that hurricane damage. This data reflects a strong belief in higher prices by industry participants, which is different than a price rise resulting from a speculative bubble.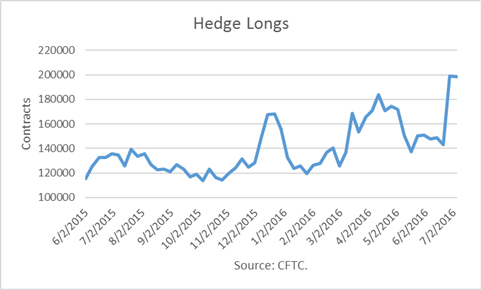 Conclusions
Short-covering by speculators was the principle reason behind the rise in natural gas prices since early March. Looking at current position sizes and comparing them to past positions, they may still have another 100,000 contracts to liquidate before they get close to being near the low-end.
Industry buyers (hedgers) hold long position comparable to pre-Katrina levels, reflecting their belief in higher prices. This is more important than prices being driven by speculative buying. However, much of the buying is recent and so they may be quicker to cut losses if prices fall than if they had a lot of unrealized gains in their positions.
Disclosure: I/we have no positions in any stocks mentioned, and no plans to initiate any positions within the next 72 hours.
I wrote this article myself, and it expresses my own opinions. I am not receiving compensation for it (other than from Seeking Alpha). I have no business relationship with any company whose stock is mentioned in this article.