In a recent Forbes article, I suggested that investors should consider the KISS (Keep It Simple, Stupid) principle as a means to generate above-average REIT returns. As I wrote:
I have learned that avoiding complexity is one of the secrets to success and trying to be too cute is oftentimes the opposite of smart, well I'll say it, "it's just dumb.
In a follow-up article on Seeking Alpha, I decided to write on the topic of my favorite KISS REIT, and in that article, I explained:
We all know that complexity risk can oftentimes lead to underperformance because many analysts and investors do not understand the highly complicated ingredients that make up the riskier REIT alternatives.
The truth is, KISS really boils down to risk tolerance. Some investors are perfectly content risking capital in the more volatile mREIT shares, while others are seeking out the "sleep well at night" alternatives that include my favorite "keep it simple" REIT, Realty Income (NYSE:O).
One of the things that makes Realty Income so simple is the fact that the dominating Net Lease REIT stays focused, only investing in the United States, with no conflicts of interest related to other businesses. By staying within its single lane of investing, Realty Income has been able to generate very stable and predictable returns. Chart Below: Since O's IPO (August 15, 1994):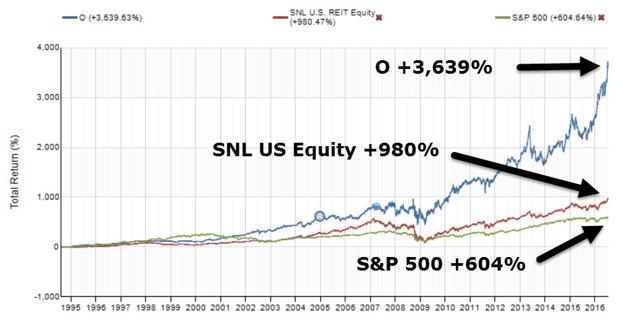 Click to enlarge
O's closest competitor is National Retail Properties (NYSE:NNN), and as illustrated below, O has almost doubled the returns of NNN during the same time period (since August 15, 1994):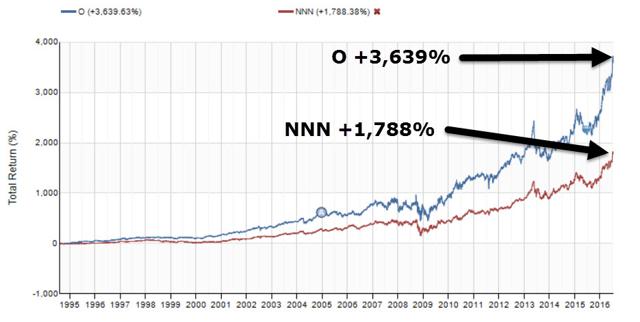 Click to enlarge
On July 21, 1998, W.P. Carey (NYSE:WPC) listed on the NYSE and became the third-largest Net Lease REIT (Carey was originally structured as an MLP). Here's how all three Net Lease REITs have performed since WPC's IPO (in January 1998):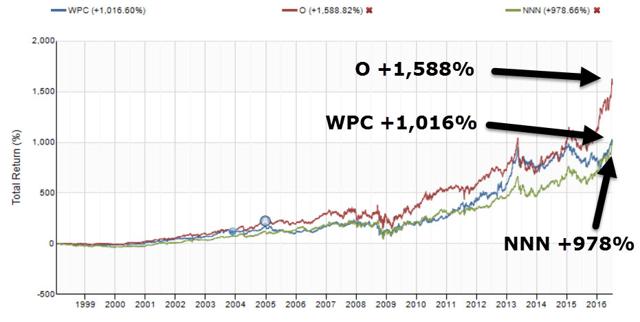 Click to enlarge
Over the last year, we have witnessed WPC underperform its two closest peers, O and NNN. The primary reason for the overhang is related to WPC's more complex business model. The purpose of my article today is to take a closer look at WPC to determine whether or not the risks will continue to impact the future performance of the New York-based REIT.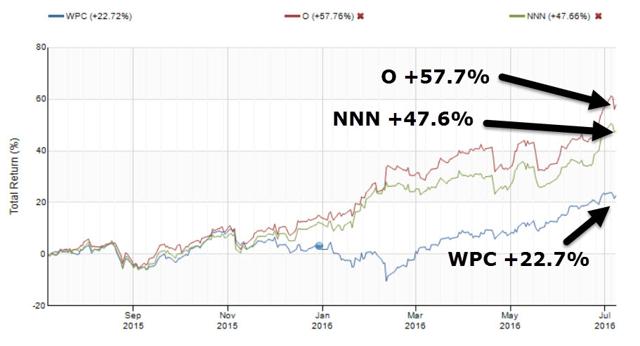 Click to enlarge
Is There a Margin of Safety with W.P. Carey?
Within our universe of REIT research, we maintain coverage on around 100 real estate companies. Within this group of stocks, we find many to be soundly valued, some even expensive. When we filter out these higher-quality names (investment grade-rated with a long track record of dividend growth), we see even fewer opportunities.
WPC is one such REIT that we consider to be attractive. Based upon our thorough fundamental research, we believe the company is a particularly compelling opportunity based on a number of reasons, all addressed in this article (below).
First, let's begin with the history and composition of the portfolio.
WPC is a leading global net lease REIT that provides long-term sale-leaseback and build-to-suit financing solutions for companies worldwide. As of Q1-16, the company had an enterprise value of approximately $10.8 billion. As illustrated below, WPC generates around 91% of revenue from its owned real estate operations and 9% from its investment management business.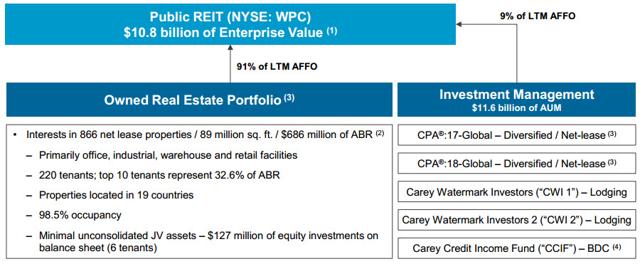 Click to enlarge
Prior to concerting to an REIT in 2012, Carey was structured as a Master Limited Partnership (or MLP), and since that time, the company has evolved into a diversified enterprise focused on six key priorities: (1) Organic growth - through acquisitions for its Owned Real Estate portfolio, and new and existing Investment Management products, (2) Diversification - of income, capital sources and within its real estate portfolios, (3) Operational efficiency and excellence, (4) Balance sheet strength and flexibility, (5) Proactive asset management, (6) Transparency - through disclosure and investor outreach.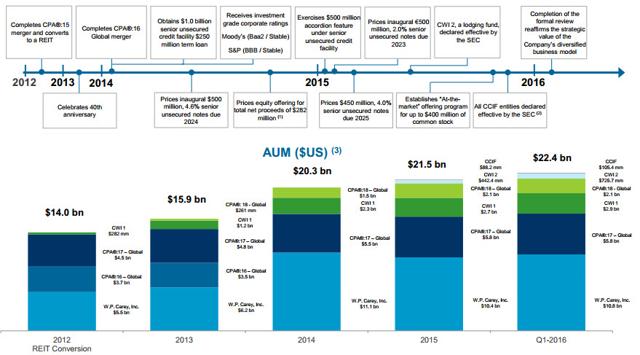 Click to enlarge
At the end of the most recent quarter, WPC's owned real estate portfolio consisted primarily of 866 properties across 19 countries, comprising 89 million square feet.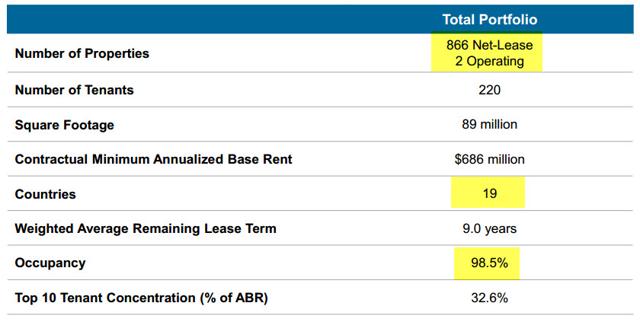 Click to enlarge
As you can see below, Carey invests in a variety of real estate categories: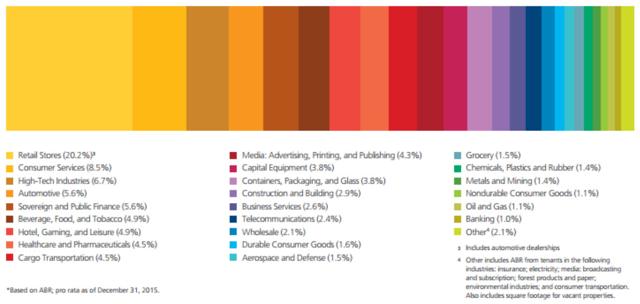 Click to enlarge
The company is diversified, with a majority of industrial (25%), office (30%), warehouse (17.3%), retail (15.7%) and self-storage (4.6%).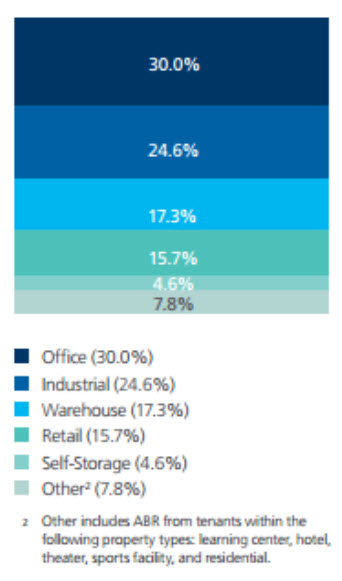 With over 800 properties in the portfolio, Carey has a diversified model in which no one tenant accounts for more than 5% in revenue.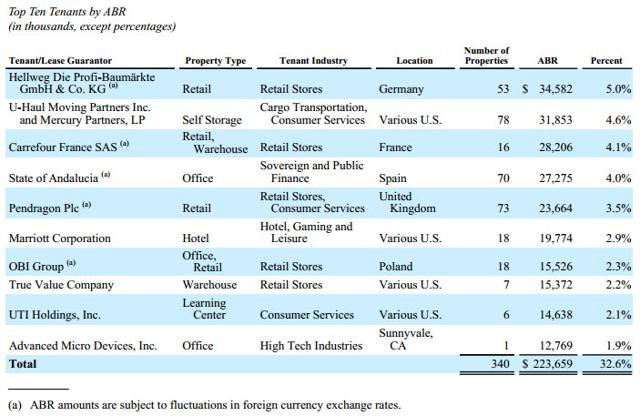 Click to enlarge
International Diversification or Risk?
W.P. Carey, Global Net Lease (NYSE: GNL), and Gramercy Property Trust (NYSE: GPT) own properties in Europe, making them more complicated and harder for Mr. Market to value. One primary differentiator with WPC is its international exposure - the company has been investing internationally for 19 years, primarily in western and northern Europe.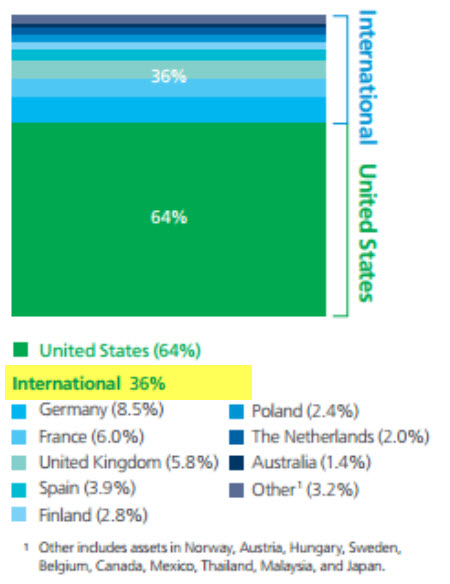 As you can see, around 36% of WPC's revenue is generated outside of the US, and the focus internationally has been in Germany (8.5%), France (6%), United Kingdom (5.8%), Spain (3.9%), Finland (2.8%) Poland (2.4%) the Netherlands (2.0%), and Australia (1.4%).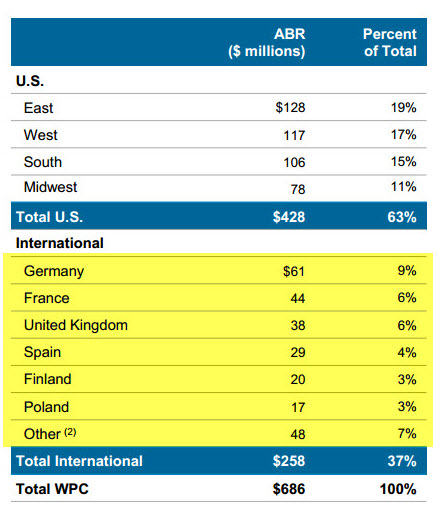 Following Brexit, we decided to revisit our bull case assumptions for WPC in our coverage with relatively high UK exposure. The UK represents 5.8 % of ABR for WPC (or $38 million in ABR). Given our view of heightened economic uncertainty, we see the following primary risks:
Declining Warehouse rents (most of Carey's buildings in Europe are not warehouses - see below).
We see potential retention and leasing risk (although the long-term leases mitigate these risks).
Our greatest concern is an increase in negative sentiment, as current prices imply a sharp increase in cap rates for the European portfolio.
One differentiator for WPC is that the company has an internalized business in Europe with two offices: London (7 people) and Amsterdam (30 people). Over the years, the REIT has essentially replicated its US operating model, and we like WPC's premium positioning as a differentiator long term. (Alternatively, GNL and GPT have JV offices in Europe.)
Also, most of WPC's European exposure is in emerging markets (mostly western and northern Europe), and assuming a recession does unfold in Europe, the company's long-term leases should provide a desirable margin of safety. We see near-term uncertainty, and our assessment of WPC's UK portfolio's asset quality and tenants suggests the portfolio is better positioned for weaker demand given high-quality tenants (more below) and longer-term leases (~9 years). 94.9% of WPC's rental revenue has built-in increases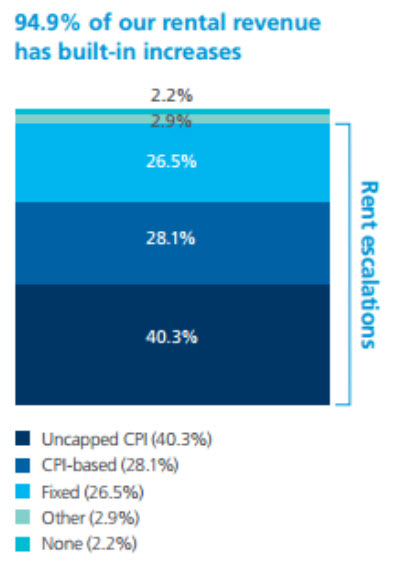 Foreign exchange translation risk is also a potential concern; however, WPC's European earnings are nearly 100% hedged, and the impact of FX moves on property NOI should be de minimus. There could be minor FX translation risks, though management has pointed out that YTD impact has been negligible, based on the moves in currencies ahead of the vote.
With the UK portfolio, the British pound real estate is around 5% of base rent ($38 million) and the European currency (euro-dominated) is around 35%. Based on our analysis, the euro should have relatively no impact to AFFO and the pound could have a 1% impact. WPC's hedging is relatively cheap given the company's highly predictable cash flows.
WPC's top tenant in Europe is Helwig (based in Germany), a retailer with 53 locations leased to the REIT. The second-largest tenant is Carrefour, a French retailer with 16 locations leased to WPC. The third largest tenant is State of Andalucia located in Spain. WPC leases 70 office buildings to this government tenant in Spain.
The fourth-largest tenant in Europe is Pendragon, a car dealer based in the UK. Pendragon is the UK's largest automotive retailer, offering a diverse range of automotive brands, new and used vehicles, and aftersales services. The 73-property portfolio represents almost one-third of its UK dealership footprint across key locations, which, in combination with the inflation-indexed long-term triple-net leases, meets WPC's investment criteria.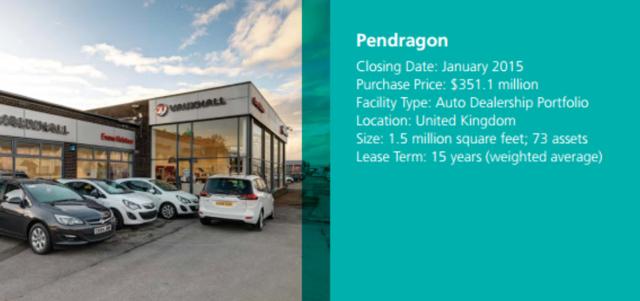 Click to enlarge
Europe's fifth-largest DIY retailer, Hornbach is an established tenant with an excellent track record of growth and profitability. The well-located facility on a long-term, inflation-indexed net lease provides an acquisition opportunity consistent with WPC's established criteria and represents the company's first transaction in Austria, further advancing its overall diversification strategy.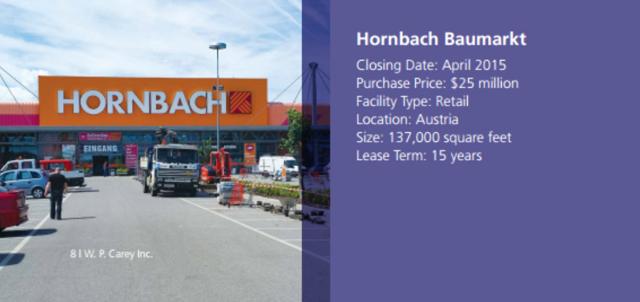 Click to enlarge
We are bullish on WPC's European exposure. A key driver of leasing is consumer demand and business sentiment, which could trend lower given the near-term uncertainty and a possible slowdown could actually benefit Carey. It's quite possible that the Brexit events unfolding could create more opportunities for CFOs in Europe who have been watching and waiting. As one of the first movers in the sale/leaseback arena, WPC could be in a good position to get back into transaction mode.
WPC is benefiting from US cyclical strength, its relationship with large global players, strong capitalization, and capable management. A retail or broader economic slump could weigh on warehouse and office demand, but Carey is positioned to take advantage of its diverse sale/leaseback model.
The Other Risk
In addition to international exposure, WPC is also unique to O and NNN because of its Investment Management business.
For many investors and analysts, multiple business models create confusion, and oftentimes, that leads to underperformance in the organization. One of the primary reasons for the confusion relates to conflicts of interest that can distract the goals and objectives, creating blurred management responsibilities.
One way that Carey has been able to successfully operate its two lines of business is because of its long track record. Mark DeCesaris, W.P. Carey CEO, explains on the recent earnings call:
We let our reputation and our track record stand on its own. While there have always been and in any industry I think you see bad actors that come and go in that industry. We've stayed the course throughout it and our investors have benefited for it. Our investors in W. P. Carey have benefited from that business as well.
By raising equity through the non-traded REIT channels, the company has been able to build an impressive collection of assets and then merge them with the public business, W.P. Carey. Since 1973, it has aggregated hundreds of properties for the purpose of forming entities that would ultimately be sold or merged with W.P. Carey. Here's a snapshot of the company's investment management products:
Click to enlarge
Carey has generated asset management fees, structuring fees and general partnership interests of $120-180 million in recent years. Accordingly, the company has been able to spread costs over a larger asset base. More recently, it has expanded its offerings by filing a registration statement for CPA®:19 - Global, a diversified non-traded REIT.
Two of Carey's entities, CPA 17 and CPA 18, own Net Lease buildings, and it is likely that CPA 17 will liquidate in the near term. The $5.5 billion portfolio has 446 properties. Here's a snapshot of its top tenants: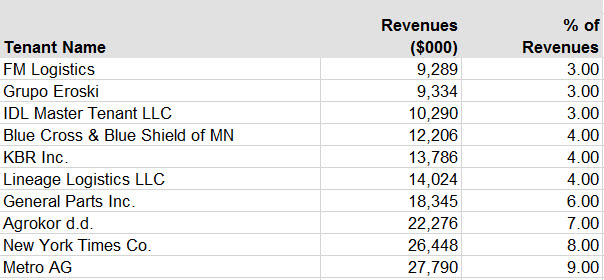 CPA 18 is smaller, and the property portfolio commenced raising equity just three years ago (in 2013). Carey plans to also include some Net Lease investments in its newly created CPA 19 fund.

I believe it's highly likely that CPA 17 will eventually merge with Carey's public REIT. As you may recall, on February 3, 2014, W.P. Carey merged with CPA 16 in a deal valued at around $4 billion upon closing. The combined company had an equity market capitalization of about $6.5 billion and a total enterprise value of approximately $10.1 billion. Here's a snapshot of WPC's total assets - we have included CPA 17 in the forecast:

Click to enlarge
At the time of the merger (in 2014), WPC's FFO jumped from $2.78 in 2013 to $4.56 in 2014, and the dividend grew from $3.39 per share to $3.69 per share.
Remember, CPA 17 will look to monetize the portfolio, and there will likely be other bidders; however, it is doubtful that a third party will have the inside knowledge of the portfolio and infrastructure to invest internationally that Carey has. Most importantly, I view this unique platform as an asset and catalyst going forward.
Arguably, there are conflicts of interest that should be recognized, but the benefits outweigh the disadvantages.
The Balance Sheet
At the end of the first quarter, Carey's pro rata net debt-to-enterprise value was 39.4%, and total consolidated debt to gross assets was 50.1%. The company's pro rate net debt-to-adjusted EBITDA was 5.5x.

Carey has a higher cost of capital than its two closest peers (O and NN), and that is primarily due to its equity valuation. The weighted average cost of pro rata secured debt was 5.4% (in Q1-16), and the overall weighted average cost of debt was 4%. During the first quarter, the company exercised the option to extend its $250 million term loan facility by one year.
At the end of the first quarter, Carey had approximately $312 million of debt maturing in the remainder of 2016, compared to total liquidity at quarter end of about $1.2 billion, which includes cash and cash equivalents and the undrawn availability on the credit facility revolver.
All of Carey's acquisitions going onto the balance sheet (since 2014) have been unencumbered, and all of the secured mortgages that have matured have been paid off with unsecured debt or equity. Carey is committed to an unsecured debt strategy and growing the asset pool of unencumbered assets, as well as maintaining access to public capital markets for both debt and equity.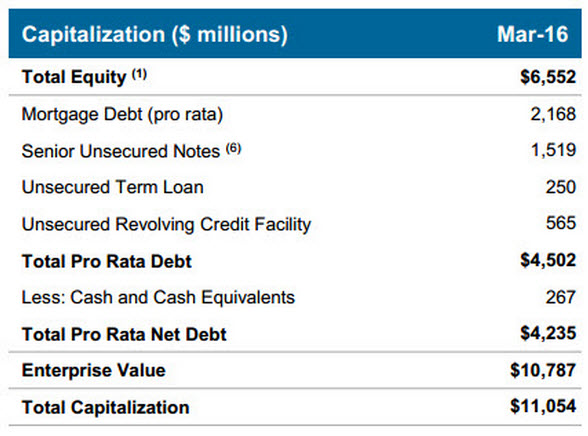 Carey expects to continue to fund all the acquisitions currently in the guidance on a leveraged neutral basis. Here's a snapshot of its overall capitalization: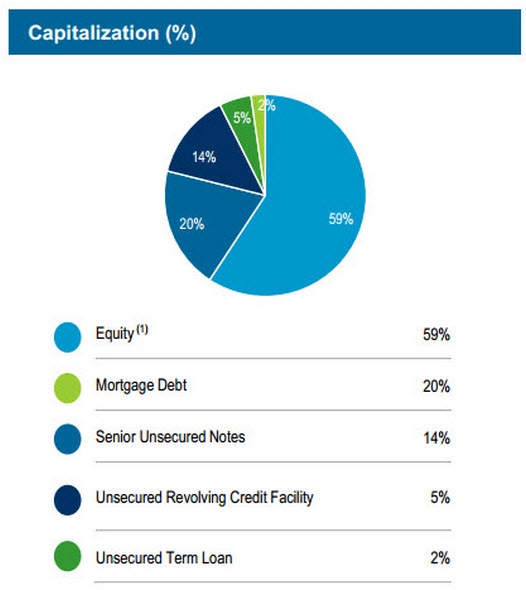 Some Complexity Risk, But W.P. Carey Remains A Buy
As referenced above, over the last year or so WPC has seen some volatility, mostly due to its decision to "pivot away" from its business, and more recently, to "pivot back". More recently, Carey had a shake-up in its management team as the previous CEO (Trevor Bond) left the company and was replaced by DeCesaris.
For the 2016 first quarter, Carey generated AFFO of $1.31 per diluted share, up 7.4% from the 2015 first quarter. The year-over-year increase was driven by two key factors: (1) The investment management business generated higher asset management fees and higher distributions in the managed REITs; and (2) G&A expenses were significantly lower compared to the 2015 first quarter.

Click to enlarge
As a result, Carey's investment management business generated adjusted EBITDA of $11.3 million for the 2016 first quarter and contributed 7.6%, or $0.10, to AFFO per diluted share. Also note that the company took a one-time charge of $11.5 million related to severance and restructuring costs, which is excluded from the first-quarter AFFO.
In terms of guidance, Carey announced AFFO for 2016 in the range of $5.00-5.20 per share (which assumes acquisitions of $400-600 million). As of the earnings call, it announced total acquisitions of $394 million and has completed dispositions of $162 million.

Click to enlarge
Also during the first quarter, Carey raised its quarterly cash dividend to $0.9742 per share, up 2.3% versus the year-ago quarter and equivalent to an annualized dividend rate of $3.90 per share. Here's a snapshot of the company's dividend history:

Click to enlarge
As you can see (above), WPC has grown its dividend modestly since 2013, but there could be another "pop" when CPA:17 rolls up.
The dividend appears safe, as illustrated by the quarterly payout ratio below:

Click to enlarge
Here's a snapshot of the company's annualized AFFO payout ratio:

Click to enlarge
Here's a snapshot of WPC's dividend yield compared with the peer group:

Click to enlarge
Clearly, the company's dividend yield (5.7%) is much higher than that of its closest peers. Take a look at the historical dividend chart below: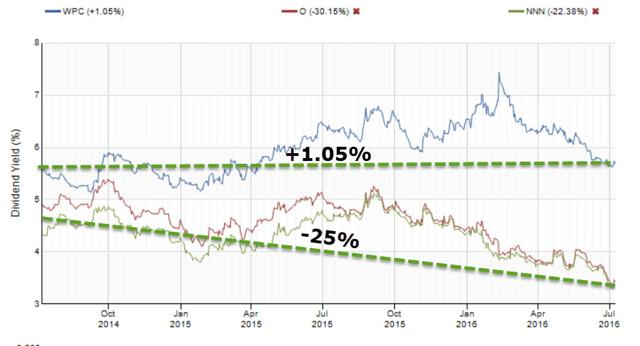 Click to enlarge
Now take a look at WPC's P/FFO multiple below:

Click to enlarge
Again, we see that the company is trading at 600 bps below its closest peers. Take a look at the historical chart below: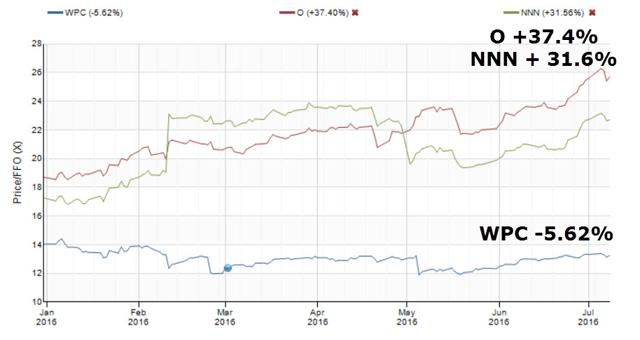 Click to enlarge
WPC's historical earnings performance is sound: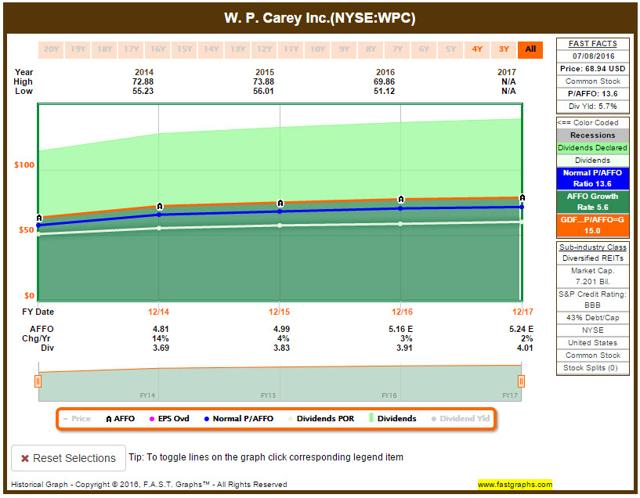 Click to enlarge
All things considered, I believe WPC is the best Net Lease BUY today.
While the European exposure and Investment Management business has increased the risks (and complexity) of the company, we believe the management team can continue to successfully manage these risks, driving shareholder returns. While Brexit may have tipped off the market that WPC has outsized concentration in Europe, the established track record gives us comfort. Also, we believe the company has a competitive advantage in which corporations with mission-critical real estate may turn to unlock value by monetizing assets under the proven sale/leaseback vehicle.
We believe the new CEO has demonstrated his competence, and the strength of Carey's overall business model can be reflected in the dividend record below:

Click to enlarge
In summary, we are reiterating a BUY call for this "sleep well at night" REIT: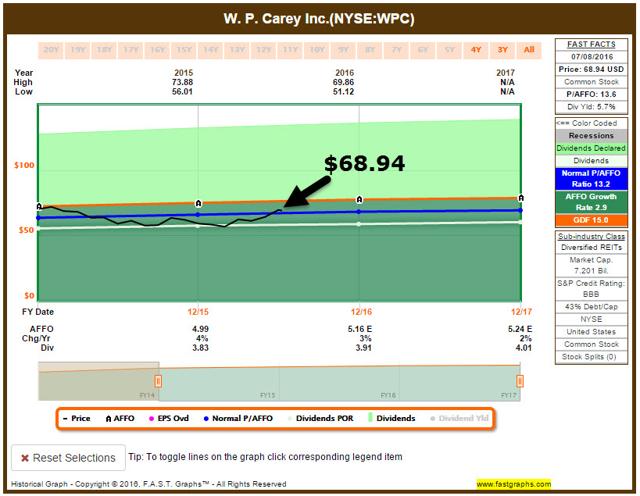 Click to enlarge
Author's Note: Brad Thomas is a Wall Street writer and that means that he is not always right with his predictions or recommendations. That also applies to his grammar. Please excuse any typos, and I assure you that he will do his best to correct any errors if they are overlooked.
Source: F.A.S.T. Graphs, SNL Financial, and WPC Investor Presentation (Annual Report).
REITs mentioned: One Liberty Properties, Inc. (NYSE:OLP), Monmouth Real Estate Investment Corp. (NYSE:MNR), Agree Realty Corp. (NYSE:ADC), Four Corners Property Trust, Inc. (NYSE:FCPT), Lexington Realty Trust (NYSE:LXP), STORE Capital (NYSE:STOR), Gramercy Property Trust, Inc. (NYSE:GPT), EPR Properties (NYSE:EPR), Spirit Realty Capital (NYSE:SRC), and VEREIT, Inc. (NYSE:VER).
Disclaimer: This article is intended to provide information to interested parties. As I have no knowledge of individual investor circumstances, goals, and/or portfolio concentration or diversification, readers are expected to complete their own due diligence before purchasing any stocks mentioned or recommended.
Disclosure: I am/we are long O, DLR, VTR, HTA , STAG, GPT, ROIC, HCN, OHI, LXP, KIM, WPC, DOC, EXR, MYCC, TCO, SKT, UBA, STWD, CONE, BRX, CLDT, HST, APTS, FPI, CORR, NHI, CCP, CTRE, WPG, KRG, SNR, LADR, PEB, BXMT, IRM, CIO.
I wrote this article myself, and it expresses my own opinions. I am not receiving compensation for it (other than from Seeking Alpha). I have no business relationship with any company whose stock is mentioned in this article.